Just in the month of December 2011 alone, Penang has another two new venues opened up with more eateries. One would be the Precinct 10 located at Tanjung Bungah just next to the Island Plaza, whereas the next one would be the Gurney Paragon Mall located along the seafront of Gurney Drive. Goku Raku Ramen with its first branch at Mid Valley Megamall, Kuala Lumpur has finally set its foot in Gurney Paragon Mall, Penang, since 24 December 2011. This restaurant is believed to serve one of the best broths for ramen, especially with its rich and aromatic Tonkotsu broth which had gone through ten of hours of tedious preparations and slow simmering.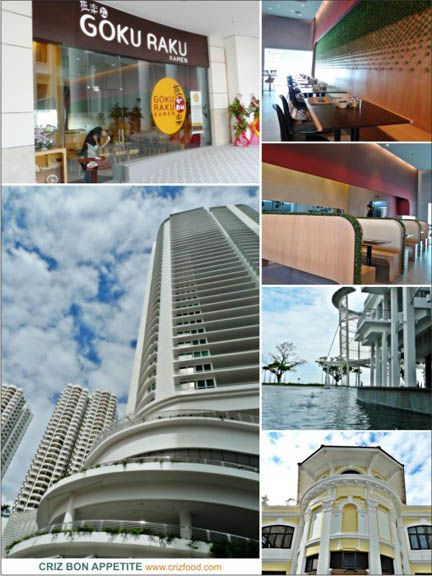 To start off as appetizer, I ordered their Pirikara Negi Char Siew (RM7.90++). It was just 5 thinly sliced Char Siew, laid on a bed of sliced romaine lettuce and leeks, garnished with their special spicy sauce, some sauteed onions, chopped spring onions and a sprinkle of deep fried garlic bits. I did not find this dish appealing, not because I'm not a total health freak who would take lots of greens, but because the whole concoction lacked a few distinctive flavors. The meat lacked a slight saltiness and fragrant that you would get from a bacon. The garlic bits did not have that aromatic strong flavor. The spicy sauce was not as spicy as I expected. One great example of a great meaty vegetable wrap dish would be the Korean styled Jokbal (족발) I had some time back at Sa Rang Chae (사랑채/舍廊居).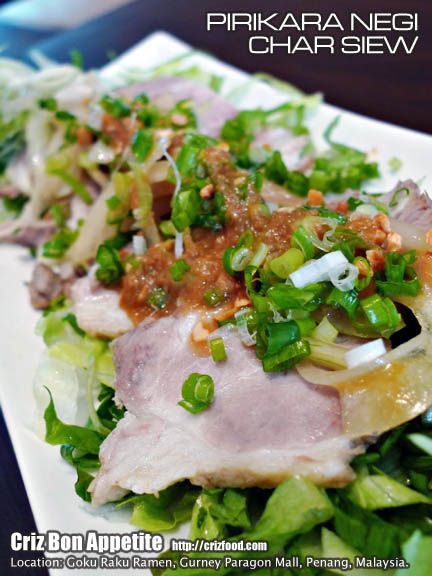 Since Goku Raku Ramen is also known as "The Ramen Haven", no doubt it was a must to try out their specialty. I ordered a bowl of their signature ramen which was the Ultimate Ramen (RM21.90++ Big Bowl or RM16.90++ Small Bowl). You would have 3 options for the soup base such as the traditional Tonkotsu Soup (the mother of all soup bases with the rich creaminess coming from the long simmering of pork, chicken and fish bones), Shoyu Tonkotsu Soup (Tonkotsu with added Japanese soy sauce) and Miso Tonkotsu Soup (Tonkotsu with added miso aka blended fermented bean paste). I opted for the Ultimate Ramen with Miso Tonkotsu Soup. The bowl of ramen came topped with a few slices of Char Siew (Grilled Pork), half a flavored hard-boiled egg, bamboo shoot, black fungus, spring onions, leeks and garnished with fragrant blended burned garlic in oil. Although the broth was not as much as how you would get from other ramen shops, you can be assured that this was cooked with ultimate passion. Each drop of the broth was rich in flavors, leaving a trace of gelatin like creaminess that would linger in your mouth for some time. The mild touch of miso paste added in set the taste to a totally different dimension. It was indeed a great bowl of ramen! The only setback was the texture of the ramen. I could be sure that those noodles were not made upon request. They could be frozen-packed and send over from their main outlet in Kuala Lumpur. Somehow, it had that slight powdery texture that might be the cause of frost-bite due to improper storages. Well, that did not deter me from slurping off the whole bowl within a few minutes.
Note: If you prefer a stronger and creamier version of this ramen, you could always order the Goku Raku Miso Ramen (RM24.90++ Big Bowl or RM18.90++ Small Bowl). The Goku Raku broth has been simmered almost twice the time used in simmering the Tonkotsu soup.
Other than ramen, there are many other rice based dishes available here, either in a bowl or in a stone pot. I ordered the Stamina Don (RM17.90++). It basically had some pan-fried pork slices in their special sauce, topped on some steamed rice and garnished with a poached egg, some chopped leeks and sun-dried chili slices. There was nothing special about this dish except for some sweetness from the special sauce. I would think that their other sister company, Miraku Japanese Restaurant @ G Hotel, which is also under the Texchem group, did fair better in rice dishes. The rice set came with some pickled radish and cucumber.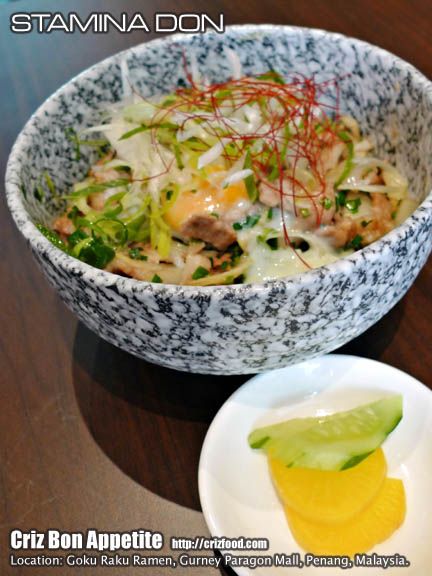 Only 2 desserts such as the Annin Tofu (Almond Jelly – RM6.90) and Rare Cheese Cake (RM8.90) were available. I opted for the latter since it impressed me more as seen from the menu. Unfortunately, the experience turned into a nightmare. How could the restaurant serve me with "discarded" stuff? What I saw from the menu was not what I got! It was just another plain tasting cheese cake on a terribly presented twirl of blueberry sauce. Again the dish had the right name – RARE CHEESE CAKE! It was really RARE to see a part of the base missing (look carefully at the base of the cake towards the end). Moreover, it was RARE to see INVISIBLE strawberries and blueberries. On top of that, it was such a RARE occasion to guess the identity of the brutally severed fruit used as the décor. I presumed that was part of a plum since it has red skin with orange flesh. The whole ugly scene would have been avoided if the staff would just inform me on their shortage of fruits for the presentation instead of throwing me something that was not fit to be served. I could have just taken the whole cheese cake plain as it was. What disappointed me most was the chef's lack of creativity in coming up with an alternative solution when faced with such a scenario. What amazed me too was that no one had the initiative to run down to the nearest supermarket (Cold Storage @ Gurney Plaza – 300m away) to temporary stock up whatever they were short of.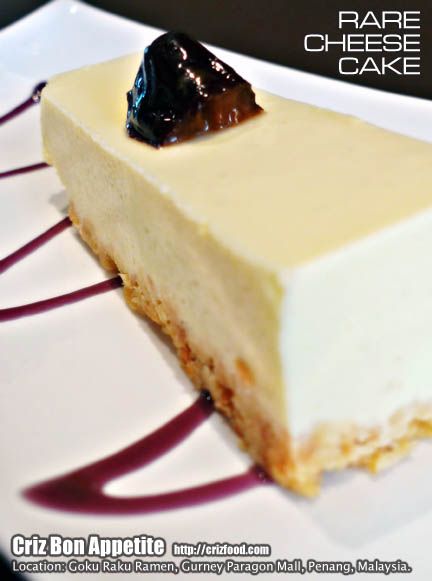 Just look at the menu photo. It's a world of difference right?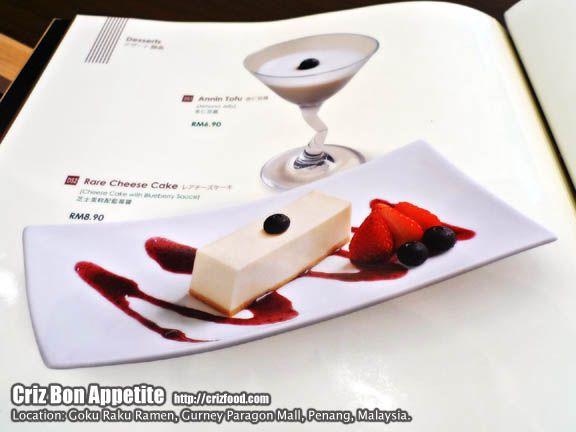 As for beverages, I opted for just a plain tall glass of Iced Green Tea (RM2.90++) since I have been reviewing one too many dessert shops recently.
Overall, I'm not too happy with the choice of food served here as a large quantity of dishes and beverages served at the Mid Valley Megamall, Kuala Lumpur outlet were not available here at the Gurney Paragon Mall branch. The whole menu would surely not worth my revisit unless I'm desperately in need of a good bowl of ramen soup. The pricing for some of the items is much higher than other Japanese restaurants, considering that it has an additional 10% + 6% tax imposed on all tags. Let's hope we'll see some improvements in the near future.
The Gurney Paragon Mall is just two blocks before the G-Hotel along the beautiful promenade of Gurney Drive. As you enter the place, you would see the east wing of the Gurney Paragon Residences/Condominium on your left and the west wing on the right. Walk right into the premises and you will see the skillfully reconstruction of the St. Joseph's Novitiate which former used to house the Upland's School. The restaurant is located at the left side of the building right up towards the end of the Gurney Paragon Residences/Condominium east wing.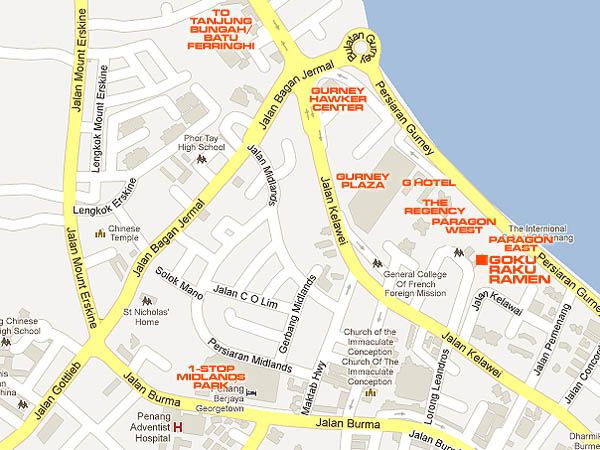 Name: GOKU RAKU RAMEN @ GURNEY PARAGON MALL
Address: Lot 163-D-1-05, Gurney Paragon Mall, Persiaran Gurney, 10250 Penang, Malaysia.
Contact: 604-226 0961
Business Hours: 10.00am – 10.00pm
GPS: 5.436072, 100.311693
RATING:
Ambience: 7/10 (1-4 cheap, 5-7 average, 8-10 classy)
Food Choices: 6.5/10 (1-4 limited, 5-7 average, 8-10 many choices)
Taste: 6.5/10 (1-4 tasteless, 5-7 average, 8-10 excellent)
Pricing: 7.5/10 (1-4 cheap, 5-7 average, 8-10 expensive)
Service: 7/10 (1-4 bad, 5-7 average, 8-10 excellent)