If you are a pork lover, you are in for a great treat as Sticky Bones from the reputable Morganfield's, Kuala Lumpur, has finally set its foot up north in Penang since 1 June 2011, with the opening of its second outlet at Gurney Paragon Mall, Penang. The Western dining outlet with an American Midwest concept is set in a rustic, raw and retro ambience, serving appetizing soulful cuisine while enabling diners to relax in a blue-jazz tunes environment. Basically, the restaurant would serve a huge selection of pork related dishes with Sticky Bones being the main attraction. Other choices would include some mouth-watering appetizers, crispy garden salads, succulent steaks & chops, matching combos, fresh seafood from the sea, innovative poultry meals and glam burgers to delightful sandwiches. There would surely be something palatable available here to suit the liking of any non-Muslims regardless of age. All the pork ribs are imported from Holland, Spain, Belgium and Germany, thus you can be assured of the quality.
We had quite a hearty appetizers and salad even before we started with the main course. The first dish that was served was the Spicy Chicken Wings (RM16.90++). It had 6 pieces of succulent deep fried chicken wing, tossed with spicy BBQ sauce and served with crunchy romaine lettuce and ranch salad dressing. They were reasonably tasty.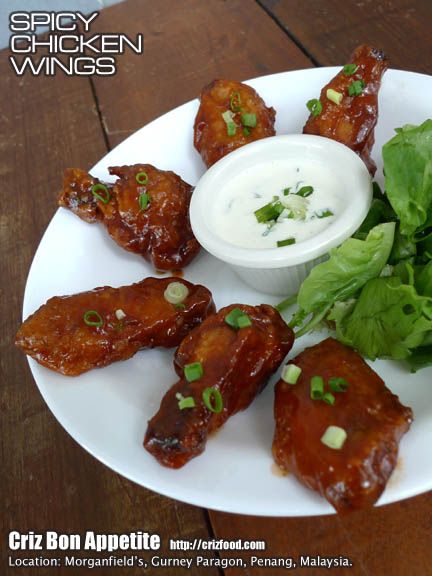 The next appetizer was the Sauteed Mushrooms (RM14.90++). I love Eryngii mushrooms a lot as the fresh mushrooms have that nice crunchiness and earthly flavors to my liking. Morganfield's would definitely be my next alternative venue to please my craving for Eryngii mushroom dishes other than at one of my most frequent café, Get'em Smack. This restaurant did a step further by infusing the flavors with merlot garlic butter. The mild flavors from the white and red wine used sure pepped up the mushy flavors in the dishes. The dish came garnished with some chopped spring onions and grated Parmesan cheese. Thumbs up!
We also had the Appetizer Platter (RM34.90++). The platter came with 4 pieces of the Spicy Chicken Wings, 4 pieces of baked Russet Burbank Potato Skins and a basket of Corn Tortilla Chips (about 20 pcs) serve with the dip of your choice, either Crab & Spinach Dip or Chili Con Carne Dip. Both options would come with some ranch dressing and BBQ ranch dressing.
Most of the diners would order the Crab & Spinach Dip, especially when you don't have to peel them. Haha! The dip indeed had the creamy and cheesy flavors, which complemented the corn tortilla chips well. There were some mild presence of drained and chopped spinach, Parmesan cheese, garlic, yoghurt, salt and pepper on top of some chunky crab meats. This dip will be best taken fast when it's served hot. I won't mind having a few twist of freshly grounded black pepper added in too. Alternatively, you could substitute the dip with the Chili Con Carne. This Texas state official dish had chunky minced pork cooked with some tomatoes, various chili peppers, garlic, onions, herbs, pepper and salt. Although this wonderful dip had all the chili peppers added it, it was not as spicy as I expected. Thus, it would still suit any ages of diners.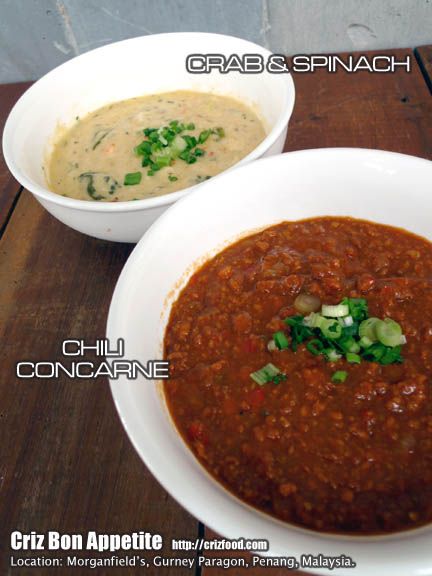 The next appetizer was the Pork Sausage Platter (RM32.90++) that would come with 4 different types of grilled pork sausages, namely the Spicy Hungarian (thick reddish brown), Bratwurst (thick beige), Smoked Sausage (thin & short) and Emmentaler Cheese Sausage (thin & long). These delicious pork sausages were served with garlic aioli, Dijon mustard and fresh coleslaw. Of the 4 sausages, I kind of like the Emmentaler Cheese Sausage as the meat was flavorful and has a mild cheesy flavor from the oozing Swiss cheese. As for the condiment, the garlic aioli was our favorite as it has that nice combination of minced garlic in mayonnaise with some mild mix of salt and black pepper and light squeeze of lemon juice.
We also had the Chicken Caesar Salad (RM19.90++). The salad had some fresh Romaine lettuce tossed with their homemade Caesar dressing, topped with tender grilled ranch chicken breast meat and garnished with some crispy pork bacon bits, croutons, some freshly grated Parmesan cheese and some freshly grounded black pepper. The salad dressing had some eggy texture with a light hint of Dijon mustard. The salad was simply refreshing but it would be great if those croutons were replaced with garlic croutons for the additional flavor.
Of course, a visit to Morganfield's would not be complete without ordering their signature BBQ spare ribs – the Sticky Bones (RM38.90++ half slab, RM68.90++ full slab)! These heavenly and succulent spare ribs would come in 3 flavors, namely the Hickory BBQ Spare Ribs, Tuscan Baked Spicy Spare Ribs and Smoked Peppercorn Spare Ribs. We opted for half slab of the Hickory BBQ Spare Ribs. It was huge and meaty with some presence of cartilages compared to the size of the baby back ribs I had tried elsewhere. The meat on the tender and flavorful slow cooked spare ribs in coal and hickory wood just fell off easily from the bones. It was perfect with some sweet, hickory and cider tanginess flavored barbeque sauce glazed on the meaty ribs. Maybe I'm a strong flavor eater but it would be more than perfect if a bit more of liquid smoke being added in the BBQ sauce for that extra smoky flavor. Anyhow, this dish would still remain as my all-time favorite and would definitely fit your palate for delicious BBQ spare ribs.
In case it might get a bit messy since the Sticky Bones are meant to be eaten the American way of using both the hands, a themed apron would be provided to avoid getting your attire dirty. Of so many versions, I kind of like this one most – "Money can't buy me love, but it can buy me pork ribs". Nice one there! 🙂
On top of all the porky dishes, there would also be some poultry dishes. One of my favorites was the Chicken Roulade (RM32.90++). The dish had grilled bacon wrapped chicken thigh meat stuffed with juicy sausage and served with red skin mashed potatoes, blanched garden vegetables with pommery mustard sauce. The slices were amazingly flavorful with the heavenly creamy pommery mustard spiced sauce. The red skin mashed potatoes was also great, considering that it was coarsely mashed to my liking.
There would also be some mouth-watering desserts to complete a meal. We had the Bread Pudding (RM12.90++), served warm in whiskey sauce with a big scoop of vanilla ice cream. Wow! The nicely baked bread pudding with some custard went so well with the whiskey sauce and ice cream. You would not have to worry on getting drunk as the alcohol content would have been evaporated after the whiskey has been sweetened on fire.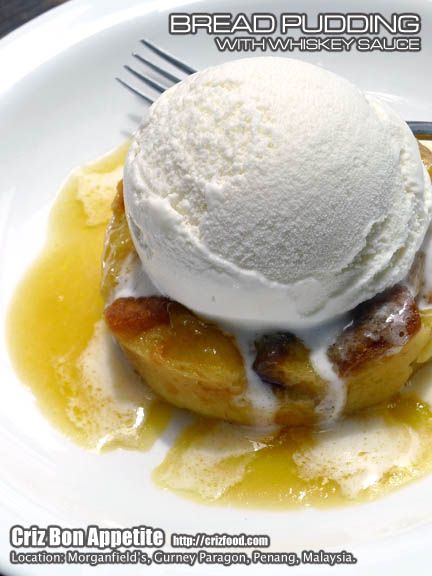 Another great dessert would be their Chocolate Lava Cake (RM14.90++). The moist and warm chocolate cake with rich oozing dark chocolate on caramel sauce, served with vanilla ice cream was simply fantabulous! As semi sweet 46% dark chocolate was being used in making this cake, it looked quite charcoal black but the overall taste was superb.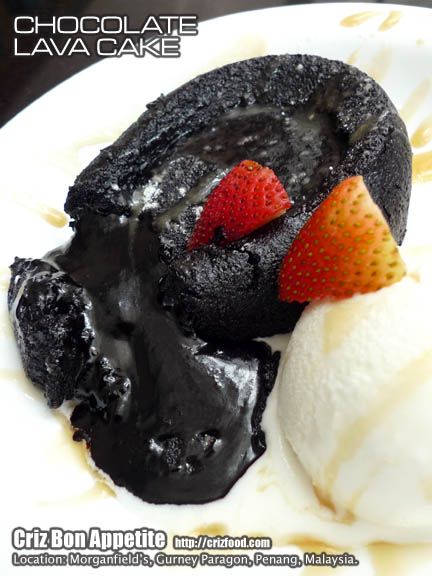 As Morganfield's is one of those relaxing venues with only sports and cartoon channels being shown as entertainment, it's a great place to unwind from the hustle and bustle of your busy schedules and spend some relaxing moments with the companionships of your group of friends, colleagues and guests. You can pick from more than 100 types of beverages such as mocktails, cocktails, wines, spirits and more for unwinding. They have the longest Happy Hours from 11.00am to 8.00pm (Monday – Saturday) and full operation hours on Sundays. Draught beers would be at "Buy 1 pint FREE 1/2 pint" and wines would be sold NETT per glass. Don't you think it's a great bargain to pair the alcoholic beverages with your meaty meals? For non-alcoholic drinkers, they do have some impressive chilled and blended coolers to quench your thirst. Some of those beverages we had included the Virgin Apple Mojito (RM13.90++: fresh apple juice, apple chunks, mint leaves & brown sugar in soda), Iced Cold Lemonade (RM9.90++: freshly squeezed lemon juice, splashed with lemon lime in soda), Mango & Lime Lassi (RM14.90++: mango puree with yoghurt, lemon and lime squeeze) and Lipstick (RM14.90++: blended strawberries, banana and crème of coconut). Well, I did not get my lips red after having this beverage. LOL!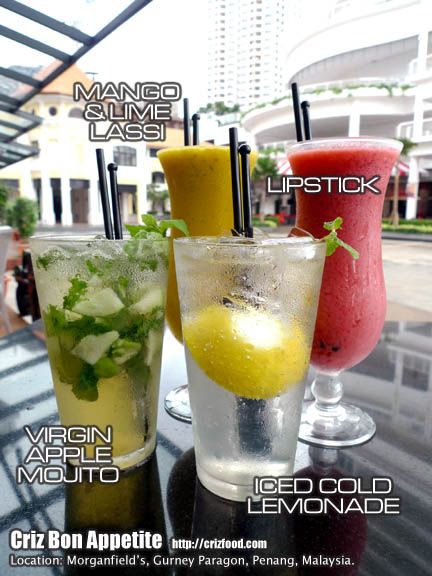 Do check out their 3 days promotion (15-17 June 2012) for Fathers' Day 2012. It's a great bargain at RM119++ for two persons. Please click on the menu below for a clearer picture on the menu.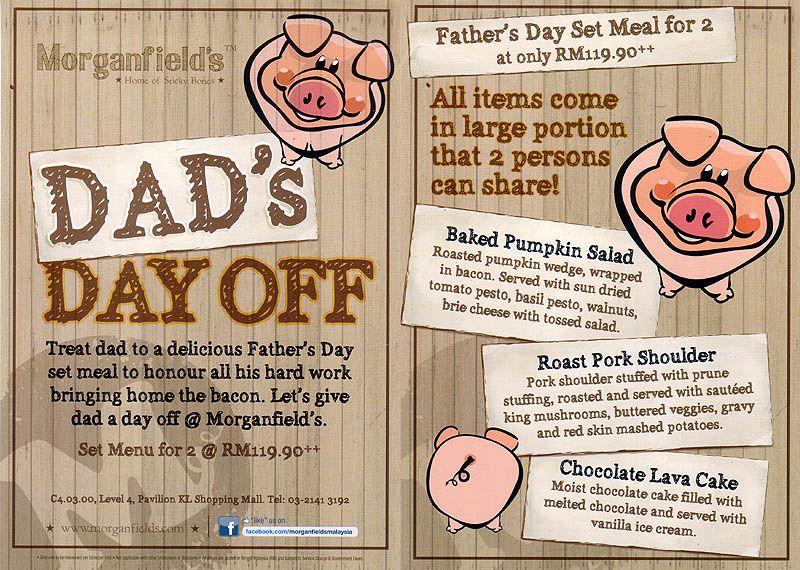 Overall, I'm quite happy with the choices of food served here compared to other quite related restaurants and the ambience was so cottage homely. Though the price might be a bit steep for some Penang diners, the portion served for major dishes can be quite filling. There would be 10% + 6% tax imposed on all items ordered. But no worries as Morganfield's is giving away a "RM10 voucher for your next visit" for every receipt above RM100 for a limited period.
The Gurney Paragon Mall is just two blocks before the G-Hotel along the beautiful promenade of Gurney Drive. As you enter the place, you would see the east wing of the Gurney Paragon Residences/Condominium on your left and the west wing on the right. Walk right into the premises and you will see the skillfully reconstruction of the St. Joseph's Novitiate which former used to house the Upland's School. The restaurant is prominently located at the left side of the building with ample seating places indoor as well as at the el fresco area. You'll surely get great views of the seaside as well as the fountain show daily.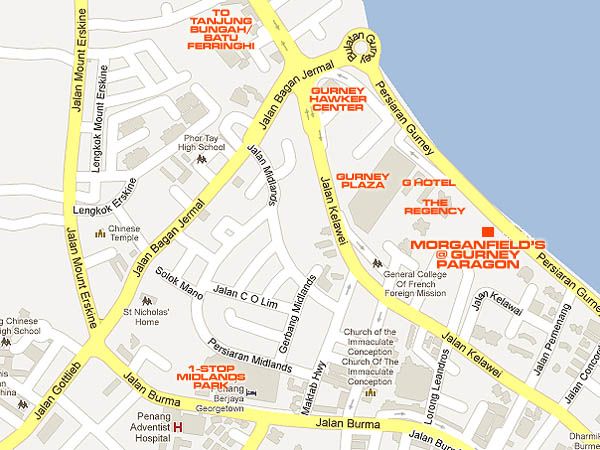 Name: MORGANFIELD'S @ GURNEY PARAGON MALL
Address: Lot 163-G-01, Gurney Paragon Mall, Persiaran Gurney, 10250 Penang, Malaysia.
Contact: 604-226 2487
Business Hours: 11.00am – 12.00am
Website: http://www.morganfields.com/
GPS: 5.436072, 100.311693
Other outlets:
Kuala Lumpur: C4.03.00, Level 4, Pavilion KL Shopping Mall. Tel: 603- 2141 3192
Singapore: To be opened at 1 North Buona Vista by September 2012
RATING:
Ambience: 9/10 (1-4 cheap, 5-7 average, 8-10 classy)
Food Choices: 8/10 (1-4 limited, 5-7 average, 8-10 many choices)
Taste: 8/10 (1-4 tasteless, 5-7 average, 8-10 excellent)
Pricing: 8/10 (1-4 cheap, 5-7 average, 8-10 expensive)
Service: 8/10 (1-4 bad, 5-7 average, 8-10 excellent)