Swez Brasserie @ Eastin Hotel, Penang, for the month of May 2013 (1-31 May 2013) will be having its Italian Flair Promotion to serve you the delectable spread of Italian cuisine from the Land of Michelangelo. This promotion would be under the skillful hands of the Jr. Sous Chef, Chef Kelvin Cheong and Chef de Partie, Chef Rizal bin Hashim.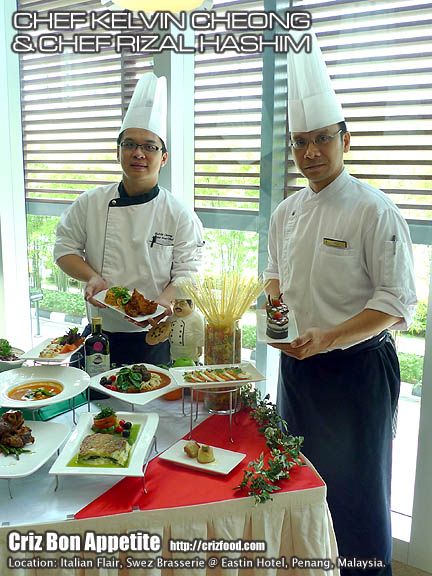 To start off the meal, there would be a few selections of appetizers for you to savor. One of them would be the Panzanella Salad (新鮮番茄乳酪沙拉), a fresh tomato salad with crusty bread and cheese. This Florentine salad which basically would consist of tomatoes and bread is also quite popular during summer in Italy. The version here had added mozarella cheese and sweet basils in some olive oil and vinegrette. It was simply refreshing.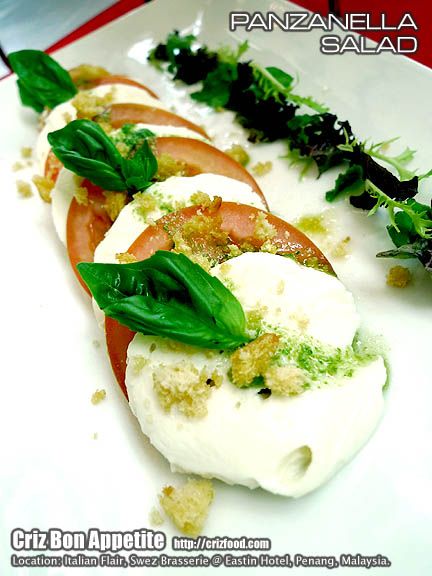 The next appetizer was the Assorted Bruschetta (意大利式烤麵包). Simple as it was, the bruschettas came in 3 variants such as mushroom, chicken and seafood. Taste wise, they were not bad except I personally felt the baguette slices were a bit too thick for such a small bite size. Luckily, we had some soup to moisten them up.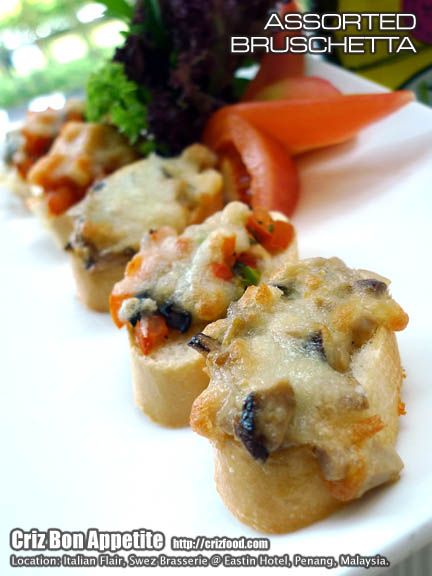 The Cream of Tomato & Basil Soup (番茄香菜奶油濃湯) was awesome. You can practically taste the freshness and sweetness of the tomatoes used. With the some added dashes of basil oil and cream, it was a great bowl of soup. I won't mind having more croutons in it too.
There would be some main dishes presented during the promotion too. One of the notable ones would be the Chicken Milanese (米蘭式燴雞) which you can have with other starch dishes such as Tomato Rice or with other green salads. The chicken was basically a lightly breaded piece of nicely marinated boneless chicken which would suit just any diner. There would be some gravy served with it as well.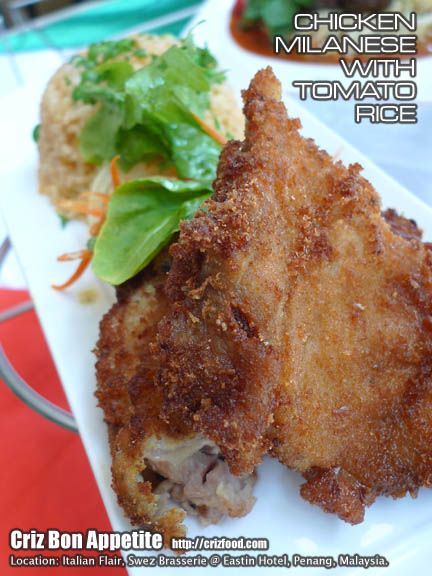 Another of the main dishes would be the Verze alla Capuccina (意大利式燜洋菜), a Capuchin Savoy Cabbage dish which basically had some boiled purple cabbage, carrots and tomatoes tossed in parsley, butter, Parmesan cheese, anchovies, salt, pepper with some toasted almond flakes. Though creamy, this dish was not to my liking as it was overpowered with saltiness. I would prefer to have some fresh greens salad instead.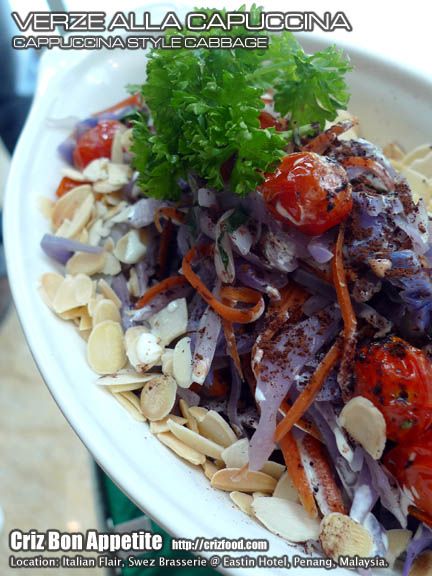 There would also be 3 options of main dishes available during their semi buffet dinners. One of them would be Lasagna al Spinaci (菠菜芝士千層面). This main course dish would be quite ideal for those who love to have something not so heavy. The lasagna sheets had some stuffed boiled spinach in creamy cheesy sauce. Though it was a nice combination, I found the spinach to be rather fibrous for a smooth bite. Either the kitchen should find a younger spinach sprout or the vegetables should be chopped finer to avoid choking any diner.
Another option would be the Braised Osso Bucco or you can just call it Italian Braised Lamb (燜燉小羊頬), a Milanese specialty of braised cross-cut veal shanks. Though the meat was braised to the perfect texture and tenderness with just the right usage of herbs, it somehow lacked a specific sweetness – white wine. How I wished the restaurant were to be "non-halal" to be able to apply the usage of alcohol in their dishes.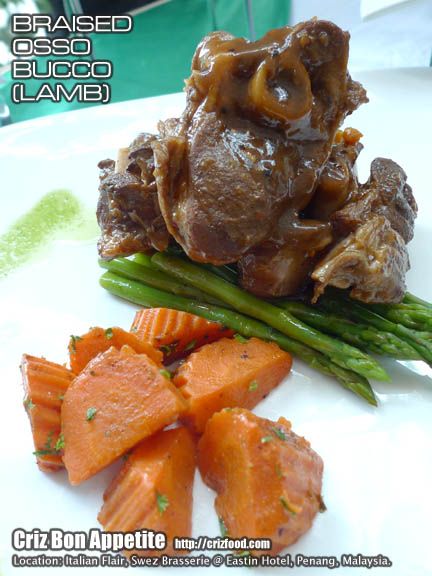 The last option would be the Beef Meat Balls with Cheese (芝士牛肉丸) served with pasta. The meat balls were rather flavorful with just the right amount of herbs and Parmesan cheese used. However, they have to tweak well on the usage of cheese as I personally found the meat balls to be rather salty. Moreover, I prefer my meat balls not to be so tough with the addition of some chopped onions.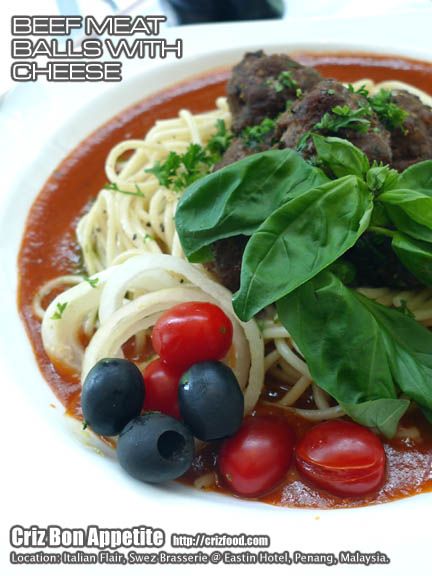 As for dessert, there would be quite a number of delicious treats. One of the dessert to aim for would be the Tiramisu (提拉米蘇). The non-alcohol version of the cake was still fine but with a rather heavily boosted coffee flavor. I somehow quite like the bitter sweet taste of the whole combination.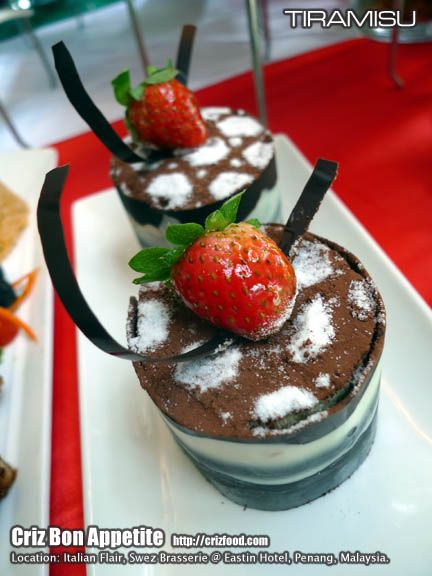 Another dessert we had was the Banana Pudding (香蕉布丁) served with vanilla sauce. It was not bad with some nice chunks of banana inside.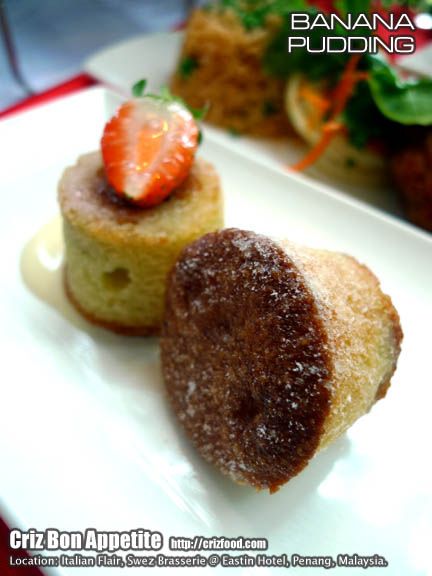 Overall, the taste and flavors of the dishes were still within the acceptable level. The only little thing they would need to monitor is on the usage of salt as some of the dishes were rather heavily salt infused for this round. I do also hope to see more dishes during this coming promotion such as the many kinds of bread, pizza, pasta, rice, seafood as well as cured meat available too.
Here's the summary on the promotion.
ITALIAN FLAIR PROMOTION (1-31 MAY 2013)
Lunch (12.00 noon – 2.30pm): Monday – Friday
RM48++ (adult), RM24++ (child)
Hi-Tea (12.00 noon – 3.00pm): Saturday, Sunday & Public Holidays
Normal weekend: RM55++ (adult), RM28++ (child)
Festive Occasion: RM68++ (adult), RM34++ (child)
Semi Buffet Dinner (6.30pm – 10.00pm): Monday – Thursday
RM48++ per pax
For MAYBANKARD, Standard Chartered Bank, OCBC Bank, CIMB Bank and CITIBANK card members, you can enjoy 15% discount for the Italian Flair Semi Buffet Dinner (Monday to Thursday) and Weekend Buffet Dinner (Friday to Sunday) from 6.30pm – 10.00pm.
The Swez Brasserie is located at the ring wing of Eastin Hotel, Penang (next to Queensbay Mall). If you are coming from Georgetown towards Bayan Lepas Free Trade Zone via Bayan Lepas Expressway, do watch out for the Pulau Jerejak signboard (leading to Pulau Jerejak jetty). Ignore the turning and drive on to the next left junction. Turn left into Jalan Aziz Ibrahim and drive on until you a roundabout. Turn 3 o' clock and drive on until you see a big Eastin Hotel signboard at the first right junction. Turn right and drive on. Park your car at the basement car park. Take a lift to the first floor lobby and you would see the restaurant there.
Name: SWEZ BRASSERIE @ EASTIN HOTEL
Address: 1 Solok Bayan Indah, Queens Bay, 11900 Bayan Lepas, Penang, Malaysia.
Contact: 604-612 1128, 604-612 1138
Business Hours: 12.00pm-2.30pm (Lunch), 6.30pm-10.00pm (Dinner)
GPS: 5.33643, 100.306345
RATING:
Ambience: 8/10 (1-4 cheap, 5-7 average, 8-10 classy)
Food Choices: 8/10 (1-4 limited, 5-7 average, 8-10 many choices)
Taste: 6.5/10 (1-4 tasteless, 5-7 average, 8-10 excellent)
Pricing: 8/10 (1-4 cheap, 5-7 average, 8-10 expensive)
Service: 8/10 (1-4 bad, 5-7 average, 8-10 excellent)