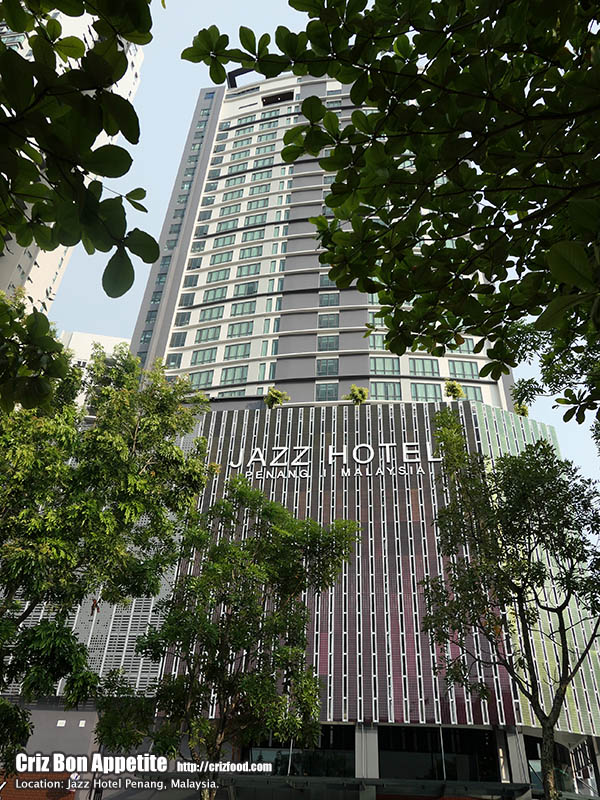 Jazz Feast Restaurant at Jazz Hotel Penang has recently launched its "Jazzy Gump Seafood Buffet Dinner", a unique and exciting seafood themed buffet dinner with a touch of New Orleans inspired delicacies.
The buffet dinner is only on every Saturday from 7.00pm until 10.00pm, with a price tag of RM108nett (with free flow alcohol) and RM88nett (without alcohol) for adult, while it's priced at RM68 for senior citizen (65 years old & above) and child (4-11 years old). Child below the age of 3 are entitled for a free dine in. Terms and conditions apply. Prior reservations are recommended to avoid disappointment. For enquiries/reservations, please contact +604-375 3333.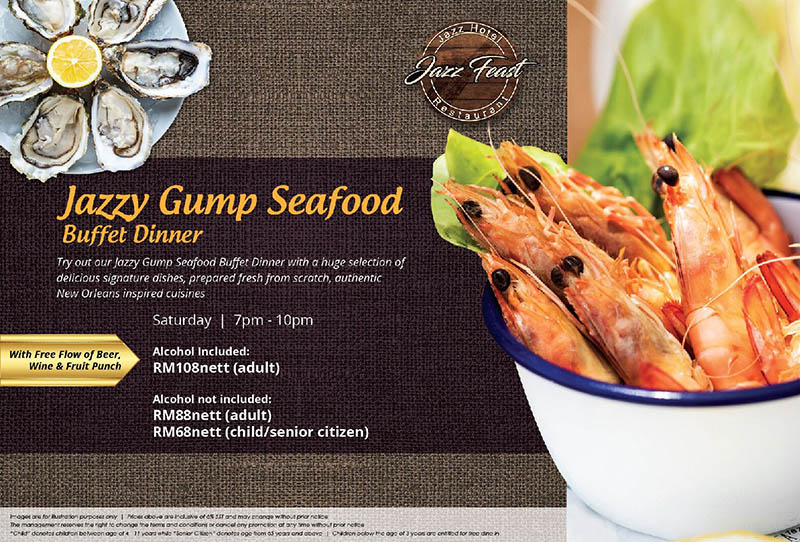 Basically, diners are pampered with great options from Appetizers (with lots of salad choices), Soup, Cold Cuts on the Mirror, Hot Dishes, Live Action Stalls (Chinese, Malay & Western), Carving Trolley as well as Desserts. The main meat highlights would surely be the Auto Sham stall featuring Roasted Marinated Sirloin accompanied with roasted root vegetables & baked potatoes, Roasted Chicken and Duck with various dipping sauces. Other than that, you should check out their variety of sashimi, Japanese unagi, seafood in pails and more. As for the Live Action Counter, "Panggang-panggang dalam Daun Pisang" aka Banana Leaves Wrapped Grill has many choices of seafood and vegetables in their homemade spices. The Hot Dishes section would also offer many international and local dishes such as Roasted Chicken with Percik Sauce, Lamb Chop with Chimichurri Sauce, Grilled Marinated Prawns with Garlic Paprika and Salsa, Seafood Pot Pie, Baked Fish with Capers Butter Sauce, Chili Crab with Deep Fried Mantao, Paella Rice and more. There's definitely something for everyone.
As for Desserts, you would have a mix and match of local and foreign delicacies with the additional of assorted mix tropical fruits, such as Penang Famous Ais Kacang & Teow Chew Cendol, Sago Gula Melaka, Assorted Mix Tropical Fruits, Baked Cheese Cake, Red Velvet Cake, Matcha Green Tea Cake, 2 Types of Jellies in a Cup, Creme Brulee, Profiterole, Bread and Butter Pudding and 4 Types of Ice Cream with Condiments.
For those who had ordered the package with alcohol at RM108nett per pax, you have additional free-flow access to the alcoholic drinks other than everything else available during the buffet dinner.
Jazz Hotel Penang is located along Jalan Seri Tanjung Pinang, a stone's throw away from the opposite Tesco Seri Tanjung Pinang. Though you could reach the hotel by turning right from Jalan Tanjung Tokong at the Tesco's traffic lights and by making a U-turn in front of Straits Quay Marina Mall, it advisable to turn right at the Island Plaza traffic lights and follow the flow until you reach the hotel entrance on your left. There are ample parking spaces in front of the hotel as well as within the premises. Just walk into the hotel lobby and head on to the hotel's elevator and press for level 2, where the restaurant is situated. More parking lots are available at Level 3-6A&7 near the Jazz Suites entrance on the left of the building. Parking rate is RM3 for the first 2 hours and RM2 for each subsequent hour.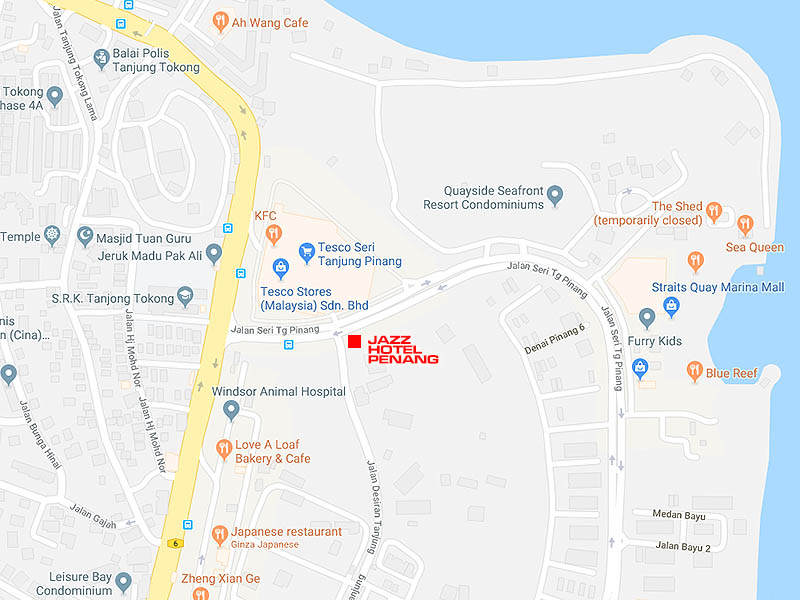 Name: JAZZ FEAST COFFEE HOUSE @ JAZZ HOTEL PENANG
Address: No. 1, Jalan Seri Tanjung Pinang, Tanjung Tokong, 10470 Penang, Malaysia.
Contact: 604-375 3333
GPS: 5.458091, 100.309252
Business Hours: 6.30am-11.00pm
RATING:
Ambience: 9/10 (1-4 cheap, 5-7 average, 8-10 classy)
Food Choices: 9/10 (1-4 limited, 5-7 average, 8-10 many choices)
Taste: 8/10 (1-4 tasteless, 5-7 average, 8-10 excellent)
Pricing: 7/10 (1-4 cheap, 5-7 average, 8-10 expensive)
Service: 8/10 (1-4 bad, 5-7 average, 8-10 excellent)
About Jazz Hotel Penang

: Ideally located in a residential suburb, Jazz Hotel Penang is a leisure stroll to Straits Quay and marina, whilst family attractions, shopping, and dining at Gurney Drive's famous street food are just minutes away. Stay pampered, in one of the luxurious 255 rooms and suites in the 30 stories hotel; optimized for the tech-savvy traveler with free
secure high-speed internet connection and 24-hour security. Experience New Orleans style soul-food @ Jazz Feast, bursting with the flavors of Southern comfort recipes and the ultimate must-eat Penang food. Savor Japanese cuisine @ Kitano, a unique taste of subtle fresh clean flavors and delicate texture. Celebrate smooth jazz, blues, swing, and ragtime @ String & Sax. A perfect jump-start for the fitness-enthusiast, prioritize morning 'me-time' with gym and a dip in the infinity pool against a backdrop sea view on the highest floor. Where there is Jazz, there is Life. Jazz is Life!