Laksa is another one of the great hawker dishes one should not miss if you were to be in Penang for a visit. Originated from the Peranakan (Baba and Nyonya) culture, this dish will come in two different flavors, namely assam (tamarind) soup base or lemak (in coconut milk) soup base. The fish used for this delicious delicacy may differ for each store as some may use ikan parang (wolf herring), belut (eel), ikan kembong (Indian mackerel) or ikan selar (yellow tail scad). Most commercially used would be the latter two as the wolf herring contained too many tiny bones to work with and eel would be rather expensive.
The most common Laksa you will get easily throughout the state of Penang, either in Chinese, Malay or Indian styles, would be the Assam Laksa. The other not so commonly found would be the Laksa Lemak, a spicy version of fish soup base with the use of coconut milk. I found a few such stalls selling in Penang but I personally love the one served in Sin Hwa Café where the reputable Char Koay Teow stall is. What matters most in a Laksa dish is not the ingredients served but lies within the tastiness of the soup broth and the quality of the prawn paste used (heko). In a typical bowl of Laksa, you would get the laksa noodles, sliced cucumber, lettuce, onions, pineapple and mint leaves, garnished with sliced ginger flower buds (bunga kantan) and red chillies, topped with some diluted prawn paste (heko).
Sin Hwa Café Assam Laksa is somewhat different as in taste as the cook would use tamarind juice instead of tamarind peels as some of the other stalls. It has just the right amount of sourness to my liking. Some ladies may want the soup to be a bit more sour in taste but as a guy here, I like it just the way it is with many spoonful of the yummy prawn paste. A normal bowl would cost RM3 whereas a larger bowl would be at RM4.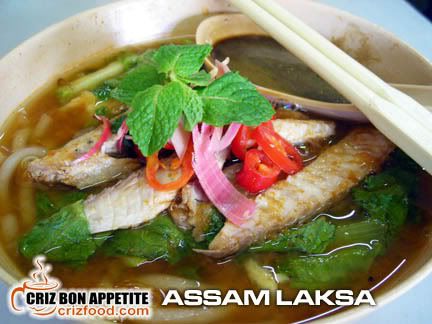 The other version I had tried was the Laksa Lemak. On top of the typical serving of ingredients, it has that special spicy and milky taste that I like very much. The soup broth had the pungent taste of lemongrass, a hint of fresh turmeric and not too overpowering taste of coconut milk. This would be perfect for those who prefer a spicier dish and prawn paste lovers. The price would be the same as the Assam Laksa.
You would be surprised if I were to tell you that the above two were not my most favorable choices, it's the third choice – Laksa Assam Lemak. Yes, it's a combination of both the soup broths. The best combination would be 2/3 of the Lemak soup and 1/3 of the Assam soup. You have to inform the seller on your preference as he would always combine half of each soup broth.
Please also take note that the Penang Assam Laksa and Laksa Lemak are totally different from those served in other states such as the Laksa Perlis, Laksa Kedah, Laksa Ipoh, Laksa Kuala Kangsar, Laksa Johor, Laksa Sarawak, Laksa Kelantan or even the Laksa Katong as some of these are actually a variant of Penang Curry Mee (a thicker coconut milk soup base). Moreover other ingredients used may include fried tofu puff, fried/hard boiled eggs, chicken meat, prawns, fish cakes, fish balls, char siew, and more.
The Laksa stall in also in Sin Hwa Café in Pulau Tikus. If you are coming from town along Jalan Burma, you would a service road after Lebuhraya Codrington on your left. That's where the Pulau Tikus 7-11 branch is. Try finding a parking space there. If you can't find one, you will have to come out of the service road into the main road and turn left into Jalan Moulmein (between two coffee shops). Drive further until you have reached a crossroad (Jalan Pasar/ Jalan Moulmein/ Persiaran Cantoment) and you will see a huge car park at a corner just opposite along Persiaran Cantonment. Park your car there and walk back up Jalan Moulmein, turn left and walk further up and you will see the stall within the premise of Sin Hwa Café.
Name: SIN HWA CAFÉ LAKSA
Address: 329 Jalan Burma, 10350 Penang, Malaysia.
Contact: 017-471 7330 (Mr. Max)
Opening Hours: 10.30am-4.30pm (Closed Thursday)
GPS: 5.430656, 100.312400
RATING:
Ambience: 7/10 (1-4 cheap, 5-7 average, 8-10 classy)
Food Choices: 7/10 (1-4 limited, 5-7 average, 8-10 many choices)
Taste: 8/10 (1-4 tasteless, 5-7 average, 8-10 excellent)
Pricing: 7/10 (1-4 cheap, 5-7 average, 8-10 expensive)
Service: 8/10 (1-4 bad, 5-7 average, 8-10 excellent)