If you are in for an exotic spread of spicy, sweet and sour dishes from the regions of Laos, Myanmar and Thailand, you should check out the Golden Triangle Promotion at Swez Brasserie @ Eastin Hotel, Penang, for the month of April 2013 (1-30 April 2013). This promotion would be under the skillful hands of the Executive Sous Chef, Chef Daniel Tan and Guest Chef, Chef Tan Kian Seng (陳湕勝), who has over 2 decades of culinary experiences in various local hotels, specializing in Chinese and Thai cuisine.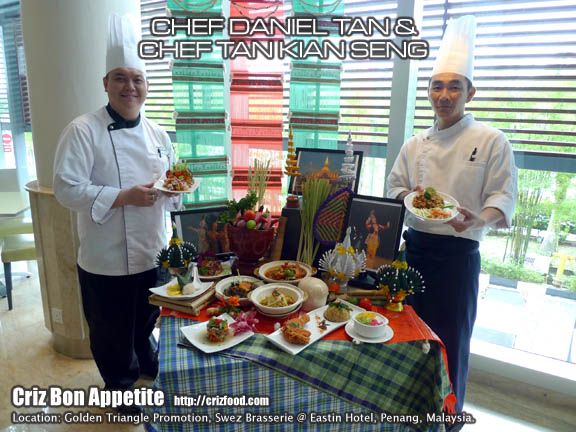 To start off the meal, we had a Laotian appetizer called Larb Ped (老撾辣鴨沙拉). This salad is also quite popular in Thailand until some diners would have the thoughts that it was originated from there. The preparations between both regions were in fact quite similar except that the Laotian had a milder spiciness from the strong usage of bird eye chilies. I quite like this Laotian version though it lacked the burning sensation of the Thai's "Larb/meat salad" version such as the Spicy Minced Pork Salad (Lab Moo Sub/ลาบหมู) which contained a secret ingredient – coarsely blended toasted raw rice grains.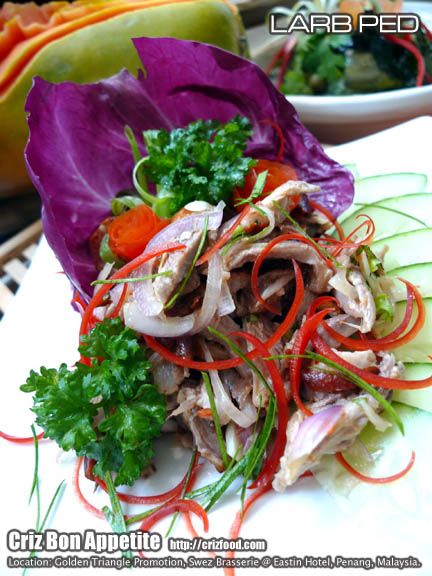 Another appetizer that I quite like was the Yum Talay (Thai Spicy Mixed Seafood Salad/泰式香辣海鮮沙拉/ยำทะเล). The dish had a seafood combination of cooked prawns, and mussels, together with some big onions, cucumber, tomatoes, red chilies, coriander, and spring onions, all tossed in a spicy, sweet and sour dressing. Though nice, I personally felt that it needed a little more pepping up of fish sauce (nam pla/น้ำปลา) to bring out the authentic Thai flavors.
Of course, we also had the ranked #4 dish in the Readers' Choice: Top 50 Most Delicious Food by CNNGo – Tom Yam Goong (Thailand's Spicy Prawn Soup with Lemongrass & Chili/泰式香茅鮮蝦東炎湯/ต้มยำกุ้ง) which has the unique unity of the 4S tastes – spicy, sour, sweet and salty. However, we had a bonus too as the soup also came with some mixed seafood of fish, squids and mussels. I guessed they should have named it Tom Yam Ruam Mit Talay (Thai Spicy Mixed Seafood Tom Yam/泰式酸辣海鮮東炎湯/ตมยามรวมมีดทะเล) instead. Do consume this soup while it's hot or it may have a heavier salty aftertaste.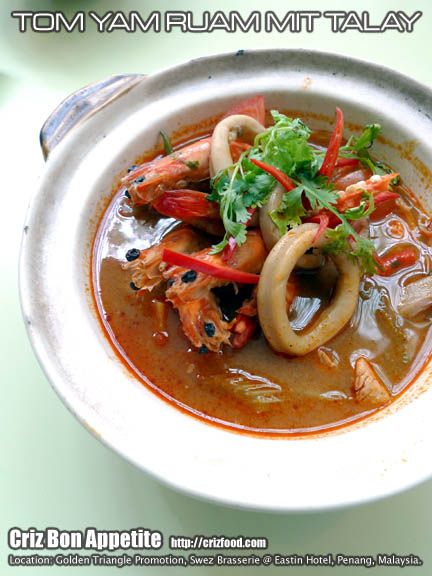 As for the main course, you would have the Gaeng Keaw Wan Gai (Thai Green Curry Chicken/泰式青咖哩雞/แกงเขียวหวานไก่). Thai Green Curry Chicken has always been my favorite as I always love the fresh taste Thai basil leaves, kaffir lime leaves and Thai eggplant. However, I detested the bright green coloring on the chicken pieces though they have been marinated naturally overnight with the fresh juices of capsicums and parsley. I rather have them in their natural state.
Another of the main courses would be the Mohinga (Burmese Fish Noodles/Burmese Laksa/緬甸魚面). I'm a frequent consumer of the Mohinga, cooked the traditional way by actual Burmese and I found the ones served here to lack the volume and balance in ingredients. Basically, it was just fish gravy on rice vermicelli (the local version instead of the actual version where gram flour/chickpea flour/chana dahl is used) with Thai basil and red chilies as garnishes. Though the fish gravy had the standard flavors but the whole dish lacked the crunch, creaminess and spiciness. They should have added in some sliced raw snake beans, hard boiled eggs, fried split chickpea fritters, fish cakes and sliced coriander leaves with a separate serving of chili flakes for that extra spiciness. At least, by doing so, it would not be so astray from the traditional recipe.
You would also get to try out the Or Lam (Laos Green Vegetables Stew/老撾燜蔬菜). There is actually no fixed recipe for Or Lam as you can practically put in whatever you have in small quantities, may it be vegetables, meat or fish (sometimes can be known as Or Ro). What we had here basically consisted of morning glory, mushrooms and eggplant stewed together in a mildly spicy and thick meat broth with a mild hint of lemongrass being used. The dish was nothing fanciful but was good enough for those who love mushrooms a lot.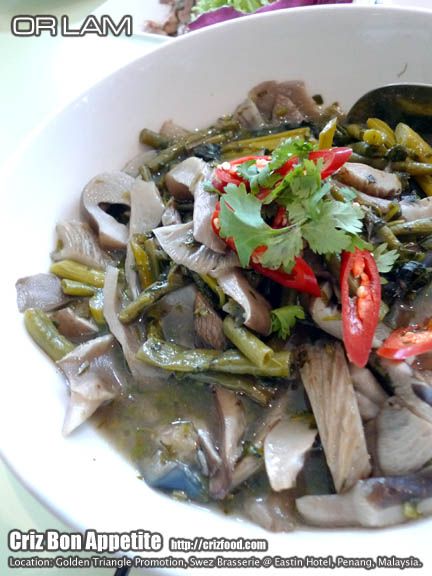 You might also get Khao Mok Gai (Laos Steamed Chicken Rice/老撾雞飯). This dish is almost similar to the Malaysian Style Nasi Briyani, except this hybrid Laos/Thai version had a milder or non usage of turmeric or saffron. The taste of the Laos version had some slight differences in fragrance as it was not as aromatic as the Malaysian's without the usage of ghee or butter.
This Laos steamed rice may come with a deep fried chicken as one of the options during semi-buffet.
Another option for the semi-buffet would be the Pad Thai (Thai Style Stir Fry Flat Noodles/泰式炒粿條/ผัดไทย), ranked #5 in the revamped list of Readers' Choice: Top 50 Most Delicious Food by CNNGo. I'm sure you would like this stir fried flat noodles with eggs, fish sauce, tamarind juice, deep fried bean curd, chives and prawns with some condiments of crushed peanuts, sugar, chili flakes, lime and more.
As for dessert, we had Khao Neaw Mamuang (Mango Sticky Rice/香芒椰漿糯米/ข้าวเหนียวมะม่วง). The coconut milk steamed glutinous rice was served with some slices of hybrid local mangoes and some slightly salted coconut cream. Taste wise, it was normal as I prefer those with fresh coconut cream instead. Moreover, it lacked some extra flavors from some deep fried mung beans or toasted sesame seeds as garnish.
Another dessert we had was the Tub Tim Krob (Jellied Water Chestnut Rubies with Jackfruit in Coconut Milk/泰式馬蹄椰漿露/ทับทิมกรอบ). Frankly speaking, I do not quite like this dessert here. Firstly, it was the boxed coconut milk being used. Secondly, it was the jellied water chestnut rubies was diced too fine and lost their crunch. Thirdly, they can forget about adding the cendul in there as the frozen texture of the "pandan noodles" was totally out. I guessed the kitchen ought to revamp the whole dessert properly before serving its diners.
Overall, some of the dishes served here still have rooms for improvements as the taste and flavors were rather localized. Somehow, the recipes for the dishes were a bit way too out in flavors compared to those traditional ones and did not attract much of my attention anyway. Let's hope they will come out with more authentic flavored dishes for this promotion.
Here's the summary of the Golden Triangle Promotion.
GOLDEN TRIANGLE PROMOTION (1-30 APRIL 2013)
Lunch (12.00 noon – 2.30pm): Monday – Friday
RM48++ (adult), RM24++ (child)
Hi-Tea (12.00 noon – 3.00pm): Saturday, Sunday & Public Holidays
Normal weekend: RM55++ (adult), RM28++ (child)
Festive Occasion: RM68++ (adult), RM34++ (child)
Semi Buffet Dinner (6.30pm – 10.00pm): Monday – Thursday
RM48++ per pax
For MAYBANKARD, Standard Chartered Bank, OCBC Bank, CIMB Bank and CITIBANK card members, you can enjoy 15% discount for the Golden Triangle Semi Buffet Dinner (Monday to Thursday) and Weekend Buffet Dinner (Friday to Sunday) from 6.30pm – 10.00pm.
The Swez Brasserie is located at the ring wing of Eastin Hotel, Penang (next to Queensbay Mall). If you are coming from Georgetown towards Bayan Lepas Free Trade Zone via Bayan Lepas Expressway, do watch out for the Pulau Jerejak signboard (leading to Pulau Jerejak jetty). Ignore the turning and drive on to the next left junction. Turn left into Jalan Aziz Ibrahim and drive on until you a roundabout. Turn 3 o' clock and drive on until you see a big Eastin Hotel signboard at the first right junction. Turn right and drive on. Park your car at the basement car park. Take a lift to the first floor lobby and you would see the restaurant there.
Name: SWEZ BRASSERIE @ EASTIN HOTEL
Address: 1 Solok Bayan Indah, Queens Bay, 11900 Bayan Lepas, Penang, Malaysia.
Contact: 604-612 1128, 604-612 1138
Business Hours: 12.00pm-2.30pm (Lunch), 6.30pm-10.00pm (Dinner)
GPS: 5.33643, 100.306345
RATING:
Ambience: 8/10 (1-4 cheap, 5-7 average, 8-10 classy)
Food Choices: 8/10 (1-4 limited, 5-7 average, 8-10 many choices)
Taste: 7/10 (1-4 tasteless, 5-7 average, 8-10 excellent)
Pricing: 8/10 (1-4 cheap, 5-7 average, 8-10 expensive)
Service: 8/10 (1-4 bad, 5-7 average, 8-10 excellent)