Dining Room @ Macalister Mansion has always been known for its delectable yet innovative gastronomy by utilizing high quality ingredients in their dishes all around the globe. Under the helm of its Head Chef, Chef Johnson Wong, 25 years old, whom had years of experiences overseas under Michelin starred restaurant and chef, Dining Room is on its way towards the next level of excellence. Currently, Dining Room is promoting its "from farm to table" 8-course tailor-made Chef's Tasting Menu at RM268nett/pax, with the option to top up an additional RM160 for wine pairing. The menu would showcase the chef's talented modern French cooking techniques by incorporating some Malaysia flavors into the dishes.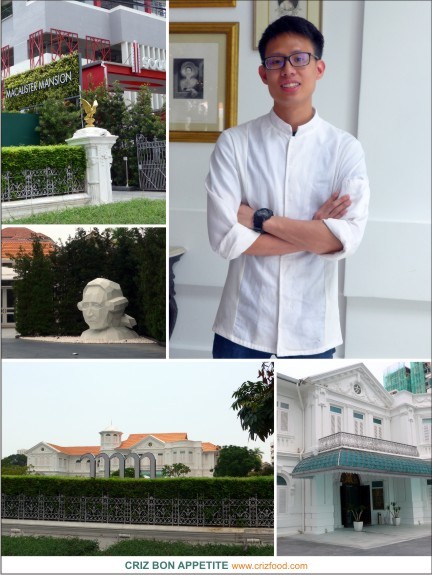 Even before the first dish was being served, we were already impressed on how those cute little warm bread rolls were being served with burned butter. With some mild yet aromatic coffee flavor within the rolls and boosted up further with some coffee beans in the serving tray, it was indeed one of the ingenious methods to stimulate the body with enthusiasm to be alert for more good food ahead.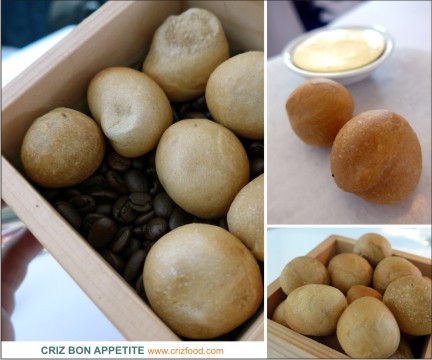 The first dish of Garden of Macalister Mansion indeed showed the romantic side of the chef towards the local Malaysian produce. The organic green salad featured a variety of flowers, herbs and vegetables from the local farm. The greens were presented in different textures and colors with a combination of smoked salmon at the base to boost up further smoky flavor. The salad was well plated with some added cappuccino foam to give it that misty yet mysterious effect. It was too beautiful to eat but too irresistible not to consume the healthy salad. Well, everything was wiped out within seconds~ LOL~ 😛
We were then served with Carabineros, a heavy saline flavored Spanish red prawn, renowned for their jumbo size and striking bright red color. The carefully time-monitored seared prawn was stuffed with pineapple and peppercorn. It was served alongside with sweet Japanese Momotaro tomato, white balsamic vinegar and olive pesto, which gave some refreshing yet zesty touches to the dish. The prawn was presented in an almost sashimi-like texture but that was not the main point of consuming a Carabinero prawn. Crustacean enthusiasts would go for its head first as that's where all the oozy goodness lies. Sucking a prawn head might be quite embarrassing in a fine dining restaurant such as Dinner Room but don't get discourage as that's what they would expect you to do to fully enjoy the intensely flavorful innards. Though I could be quite adventurous while trying out new food, but to consume this prawn, it might require an acquired taste bud for some diners.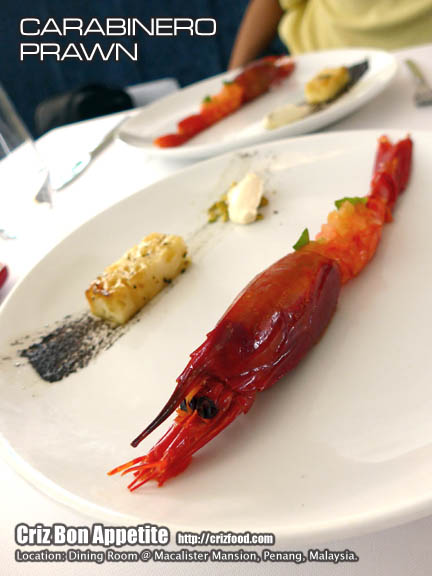 I was truly impressed with the next dish which was the 62.5°C Slow Cooked Egg. The time-consuming process by the kitchen just to serve the Japanese inspired egg dish should be well complimented. The egg had gone through an hour of sous vide cooking temperature of 62.5°C, followed by crumbling it with kataifi phyllo and deep fried to golden perfection, before being served in a puddle of Leek and Matcha Emulsion, together with Hokkaido Scallop and Anchovy to enhance the neutral taste of the egg further. You have to try out this heavenly dish as the crunchiness from the shredded phyllo, combined with the ooziness from the egg yolk plus the freshness from the added seafood and earthliness of the added matcha, was one dish that caught the umami taste bud in my mouth. Ichiban!
The Foie Gras Cappuccino was another impressive dish that caught my attention, not only through its flavorful yet balanced taste but also on its presentation. The Foie Gras soup was presented in a cappuccino texture with classic Italian combinations such as Arugula and Aged Balsamic. Pomelo shreds were added to reduce the surfeit oiliness from the Foie Gras. I must admit that this was one of the better foie gras I've tasted so far. The kitchen would have imported such a quality piece of foie gras with such a balanced creaminess and fattiness. Combined with the perfectly flavorful aged balsamic, nutty flavored arugula and bitter sweet pomelo shred, it was a perfect dish for the evening.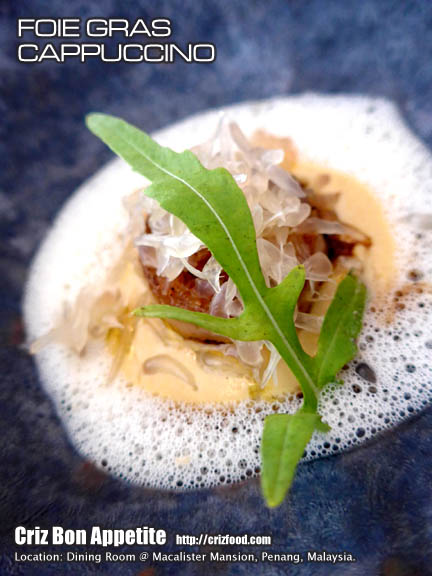 For any fine dining experience, there would almost always be a Palate Cleanser in between courses. The cleanser was practically a quenelle spoonful of apple sorbet, garnished with a hazelnut, mint leaf and pennywort leaf (daun pegaga). It was something so refreshing that I would ask for more, if possible~ 😛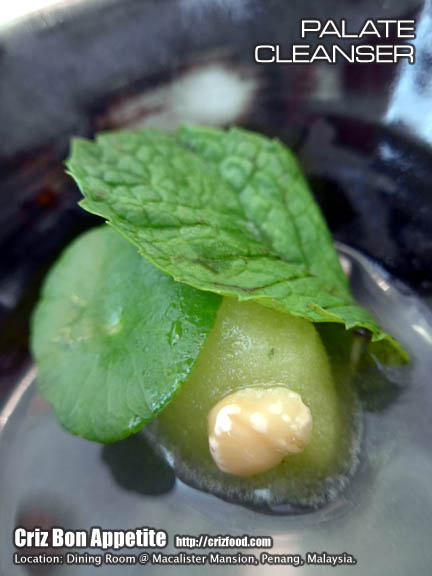 We continued with yet another remarkable dish which was the Blue Lobster, another signature dish from Chef Johnson. An upscale ingredient from Brittany, France, the blue lobster was very well prepared and served with a Satay peanut sauce like foamy sauce minus the pungent spiciness but with a distinctive roasted lobster shells flavors. It came with a mildly blanched stalk of kalian (the same family as kale) which has that earthly bitterness to balance off the overall flavors. The freshness of the blue lobster combined with the fusion Asian sauce was another perfect dish to my liking.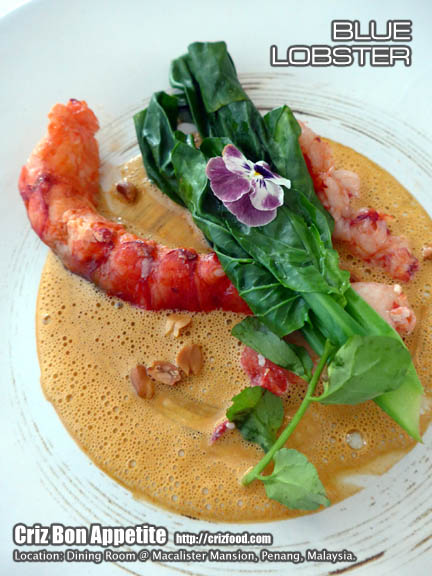 We had Grain Fed Chicken next which did not look like chicken at all as it was presented in two different styles. In one style, there were a few pieces of phyllo fried wraps filled with slow cooked chicken, blue mussel and basil. The other style consisted of mushroom cepes powder layered and compressed slow-roasted chicken mousse. The dish was served with dried chili Escabeche sauce and creamy ricotta puree to balance off the spiciness. The wraps were simply delicious with the flavors emitted from the added sweet basil leaf. However, the layered chicken piece was a bit too dry for my liking. Maybe it would be great if the kitchen could add in some finely chopped water chestnuts or jicama to make the bite juicier.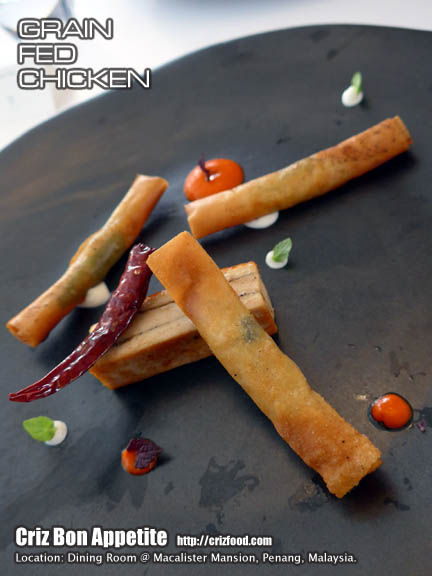 For pre-dessert, we had their self concocted Penang Native which consisted of local Penang flavors such as Lemon Granite, Candied Nutmeg and White Fungus. It was indeed a refreshing treat before a heavier dessert next. Personally, I would prefer if some lemongrass extracts were to be added into the lemon granite to further boost up the flavors. Moreover, it would be great too if grated nutmeg pickles were to be added in instead of the candied nutmegs as they were a bit over dehydrated for the bite.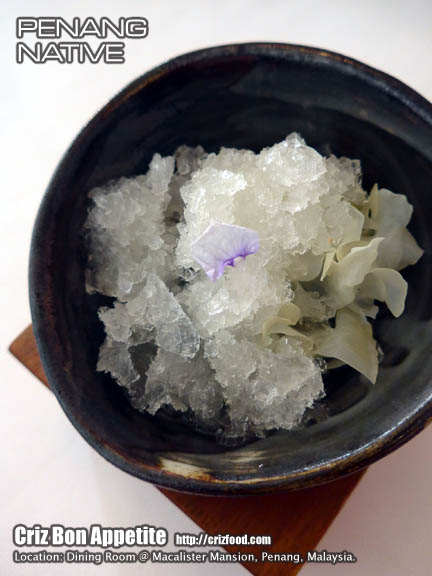 Their dessert of Café Mocha was heavenly. The chef embedded the elements from Mocha and reconstructed them into a beautifully plated dessert. The dessert had a pate sablee frozen cookie base, architecturally constructed upwards with coffee mousse and chocolate crunches and served with coffee ice cream. It was a great combination of bitterness and sweetness (70% dark chocolate) with a twist of crunchiness plus the bonus of having the aromatic and earthly coffee flavors infused into the dessert.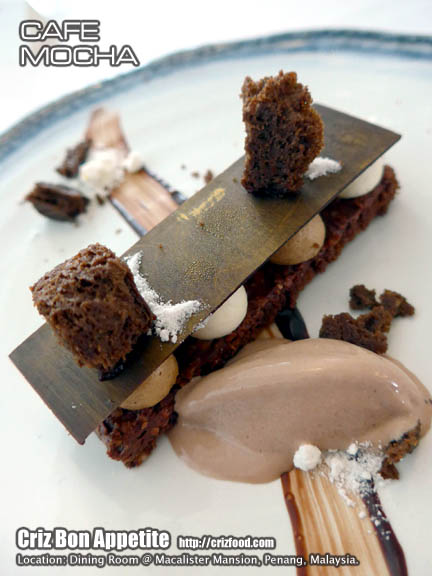 Overall, I quite like the quality, creativity and taste of the dishes served here, especially those playfully concocted dishes that were beautiful to the eyes and flavorful with each bite. Chef Johnson has done a great job here for placing the culinary scenes in Penang to a higher level. If you enjoy a great dining experience without worrying about the bill, Dining Room @ Macalister Mansion would be the ideal place for you. After all, trying out the Chef's Tasting Menu at below 50% off from the ala carte prices, is not something that you would get to indulge in always~ 🙂
Apart from the Chef's tasting menu, Dining Room do also offer the 4 courses MM's Discovery Menu which is another trademark of Macalister Mansion. The 4 courses MM's Discovery Menu is priced at RM168nett per pax or guest could also opt for ala carte. For the coming promotion, you can also check out the Black Truffle Dinner experience on 29 April 2016 as below: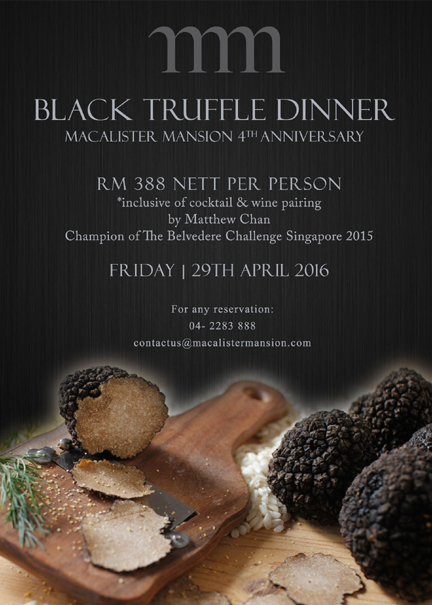 Since Macalister Mansion is situated along a one-way street, there are only two roads leading into Jalan Macalister – 2 different stretches of Jalan Perak. Either way, when you drive via Jalan Perak into Jalan Macalister, slow down and keep to your left or you might miss the entrance into Macalister Mansion. Macalister Mansion is located just immediately after the Loh Guan Lye Specialist Centre. There will be ample space within the compound for your parking need.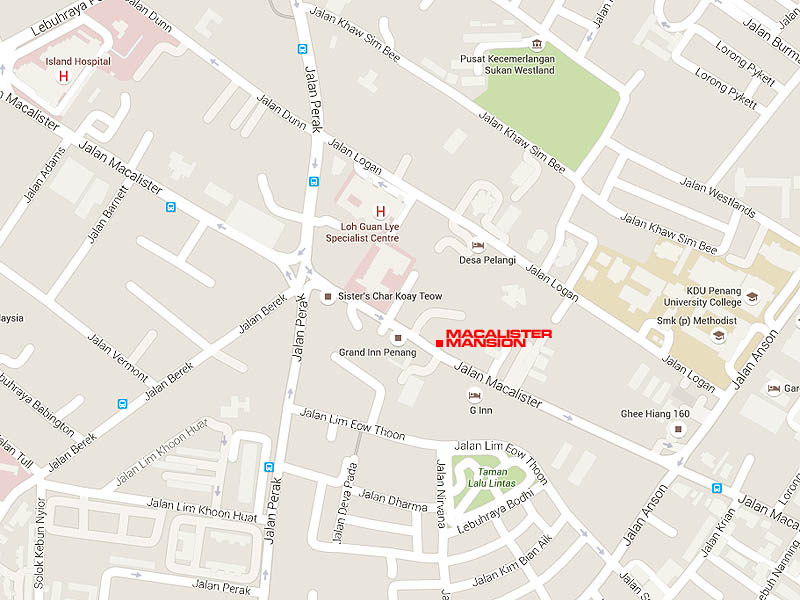 Name: DINING ROOM @ MACALISTER MANSION
Address: 228 Jalan Macalister, 10400 Penang, Malaysia.
Contact: +604-228 3888
Business Hours: 7.00pm-11.00pm (Closed Monday)
GPS: 5.418900, 100.318746
RATING:
Ambience: 9/10 (1-4 cheap, 5-7 average, 8-10 classy)
Food Choices: 8/10 (1-4 limited, 5-7 average, 8-10 many choices)
Taste: 9/10 (1-4 tasteless, 5-7 average, 8-10 excellent)
Pricing: 7.5/10 (1-4 cheap, 5-7 average, 8-10 expensive)
Service: 9/10 (1-4 bad, 5-7 average, 8-10 excellent)
About Macalister Mansion: Located along the historic Macalister Road, Macalister Mansion is a design boutique hotel honors Sir Norman Macalister. Being the first Malaysian member of design hotel, Macalister Mansion promises a quirky and sophisticated new lifestyle destination to relax and refresh. Within Macalister Mansion, each space within its food & beverage outlets together with the hotel is branded as distinct rooms found in a mansion. Designed around the idea of an old English mansion, Macalister Mansion aims to provide hospitality of an actual home to the hotel guest to unwind through its modern facilities and impeccable service standards. Facilities include The Lawn (swimming pool), Dining Room (restaurant), Living Room (café), The Cellar (wine lounge), The Den (whisky bar), Eight Rooms (hotel), guest lounge and weight room. For more information, please contact Macalister Mansion at +604 2283 888 or access to its website at http://www.macalistermansion.com