I have reviewed Mee Manja when I first started on food blogging but I guessed not many would have known about its existence except those regular customers. Manja is the Malay word for "Pampered". You would have asked why the name "Pampered Noodles"? You might have interpreted it wrongly as that's the family name for the cook cum owner Encik Aman Manja. He had followed his father and uncle as early as 13 years old when they were located just opposite the recently relocated premise at Jalan Hutton. For over 40 years and 3 generations, Encik Aman has served thousands of loyal customers with his delicious Mee Goreng and Mee Soup. Encik Aman is in fact the elder brother of the famous CRC Mee Goreng stall located in a coffee shop next to Dorsett Hotel, Jalan Larut, Penang.
While most of the Mee Goreng stalls in Penang are using the modern technology to blend their ingredients, Encik Aman believed in using the traditional way to grind his ingredients with the old fashion Batu Giling (Metate Millstone). According to him, that would preserve the original taste of the blended items. Mee Manja's style of cooking the noodles is totally different compared to the rest. Their noodles (Mee, Bee Hoon or Koay Teow) are more towards the salty chicken bones soup based flavor, whether fried or soup. You can opt for plain, chicken, beef or mixed meat too. If you do not want spiciness, you would have to inform him.
The Chicken/Beef Mee Soup (RM4) is the most popular in his stall as you can taste the sweetness from the chicken stock. This is really good for eat in. Takeaway would make it soggy.
Somehow, I preferred his Beef/Chicken Mee Goreng (RM4). I felt that the amount of spiciness and taste was just right for me. I do not even have to squeeze any lime juice or sprinkle any vinegar soy sauce served with fresh cut green chillies as provided.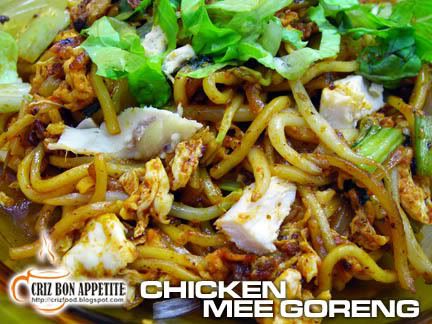 Encik Aman is quite a sociable and friendly person. You can ask him anything in English or Bahasa Malaysia. Finding the place now would be easier compared to previously. His shop is just on your right at the traffic lights between Jalan Penang and Jalan Hutton. Parking might be a problem as it is illegal to park next to a traffic light. You may opt to park your car at his previous shop at Lebuh Clarke or Lebuh Dicken (next to Mydin Supermarket) and walk to his shop.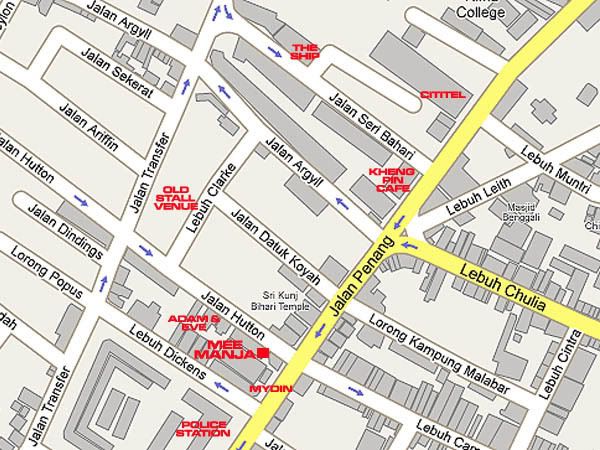 Name: MEE MANJA
Address: 1F Jalan Hutton, 10050 Penang, Malaysia.
Opening Hours: 6.00pm – 11.00pm (Closed on Tuesday)
Contact: 016-480 3568 (Encik Aman)
GPS: 5.419022, 100.331483
RATING:
Ambience: 6/10 (1-4 cheap, 5-7 average, 8-10 classy)
Food Choices: 6/10 (1-4 limited, 5-7 average, 8-10 many choices)
Taste: 9/10 (1-4 tasteless, 5-7 average, 8-10 excellent)
Pricing: 7/10 (1-4 cheap, 5-7 average, 8-10 expensive)
Service: 8/10 (1-4 bad, 5-7 average, 8-10 excellent)