Do you realize that what we consume today has evolved into something that even if our ancestors were still alive, they would no longer recognize those traditionally prepared products anymore? Well, time has changed. So have the needs and tastes of the modern generations. Here's just a little project that I did in introducing Traditional Moon Cakes versus Fusion Moon Cakes based on my findings on 4 companies, namely Hock Lok Siew Biscuit Manufacturer (HLS), Tho Yuen Restaurant (TYR), The Baker's Cottage (TBC) and Yan Wo Wang (YWW). So which one would you choose? Would you still choose Traditional Moon Cakes over Fusion Moon Cakes, vice versa?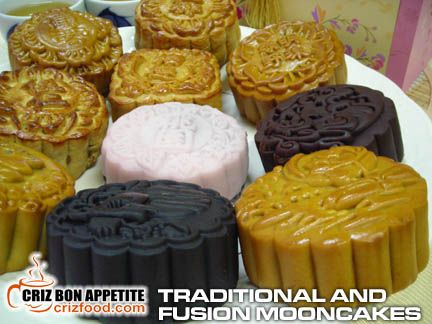 Let's start by introducing the basic cookies that you would get on top of the mooncakes. We call them the Moon Biscuits/Cookies (Mid Autumn Cookies/Gong Zai Peng/Ang Kong Na Pia/公仔餅). Traditionally, these biscuits would come with plain flour mixed with some golden syrup, bicarbonate soda, corn oil, alkaline water and so on before being baked until golden brown. Today, the method has evolved with many manufacturers having them with nuts and fillings. There are 7 versions I found at HLS (see photo below – top left clockwise) namely Melon Seed Moon Biscuit (RM7.00/500gms), Plain Moon Biscuit (RM5.00/500gms), Black Sesame with Pumpkin Seeds Moon Biscuits (RM5.00/pack), Red Bean Paste Moon Biscuit (RM4.00/10pcs), Lotus Seed Paste Moon Biscuit (RM4.00/10pcs), Durian Paste Moon Biscuit (RM5.00/10pcs) and Coconut Silk Moon Biscuit (RM4.00/10pcs).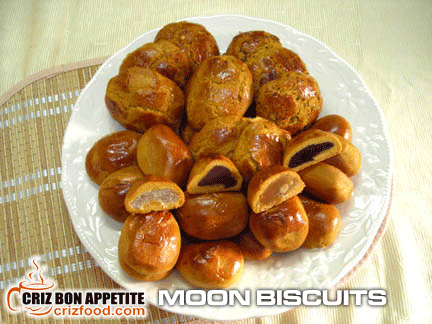 Basically, some of these biscuits come without any surface designs but you can always find some around with designs such as the ones Steven's mum baked – fish and minis. You would have to ask him if his mum sells those. You can even find some mini ones at HLS at RM4.00 for a pack of fours.
As for moon cakes, the traditionally prepared ones would be either with plain pastry skins or snow skins (glutinous rice flour). Sorry to say, you won't get the snow skin versions from HLS as they are solely into biscuit manufacturing but I had made the effort to get one from TYR just for the photo shot. (Clockwise from top left) You can see the Single Yolk Red Bean Paste Snow Skin Moon Cake (RM7.70 – TYR), Lotus Seed Paste Moon Cake (RM6.50 – HLS), Single Yolk Coconut Silk Moon Cake (RM5.00 – HLS), Mixed Nuts Moon Cake (RM6.50 – HLS) and Durian Moon Cake (RM6.50 – HLS). You can visit them for more flavors (RM7.00/RM8.00) such as the Red Dates, Pandan Lotus Seed, Green Tea and Mixed Nuts with Ham.
Hock Lok Siew Biscuit Manufacturing: 120 Lebuh Noordin, 10300 Penang. Tel: 604-262 2162
Tho Yuen Restaurant: 92 Lebuh Campbell, 10100 Penang. Tel: 604-261 4672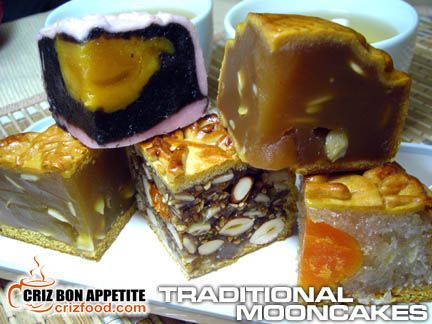 Isn't the spread of moon cakes stated above great? Yes it is but it did not stop there with the creativity of mankind. Thus, came in companies such as TBC with other fusion flavors. (Clockwise from top left) You can see the latest product from them namely the Precious Black (RM11.90 – pure charcoal powder butter pastry skin/white lotus seed paste with chunky dried longan meat and wolfberry lotus seed paste "yolk"), Rich Chocolate Peanut Praline (RM11.90 – pure chocolate butter pastry skin/dark chocolate lotus seed paste and peanut praline "yolk"), Pearl of Prosperity (RM11.80 – pandan lotus paste/yellow mung bean paste and egg yolk), Chestnut Japanese Jingsa (RM11.90 – chestnut lotus seed paste and Japanese Jingsa with seaweed flake "yolk") and Blueberry Blackcurrant Cheese (RM11.90 – fruity blueberry lotus seed paste with dried blackcurrant chunks and cheesy "yolk"). Do check out some of the TBC counters at shopping malls for some discounts. For more information, visit the TBC website.
Well, that's not all the moon cake you would find. There's the Single Yolk Shanghai Moon Cake (RM11 – TYR). The filling would normally be lotus seed paste but you might find some with red bean paste as well. The differences lie within the skin pastry. This version has a flaky skin.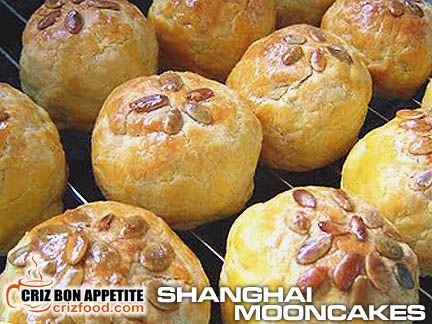 You thought the creativity of the bakers stopped there? No, it did not. Let's looked at what YWW had come out with – the fruity snow skin version. My best recommendation would be the Snow Skin Strawberry Moon Cake (RM13.90 – YWW). It has the fruity strawberry paste minus the extreme sweetness compared to other moon cakes and it has a fresh strawberry as the "yolk". I would think it's a bit pricey but it's one product that would suit the taste buds of different generations. Don't you think this would be the ideal "courting" product for this season? LOL!
Check out the flyer below for more flavors: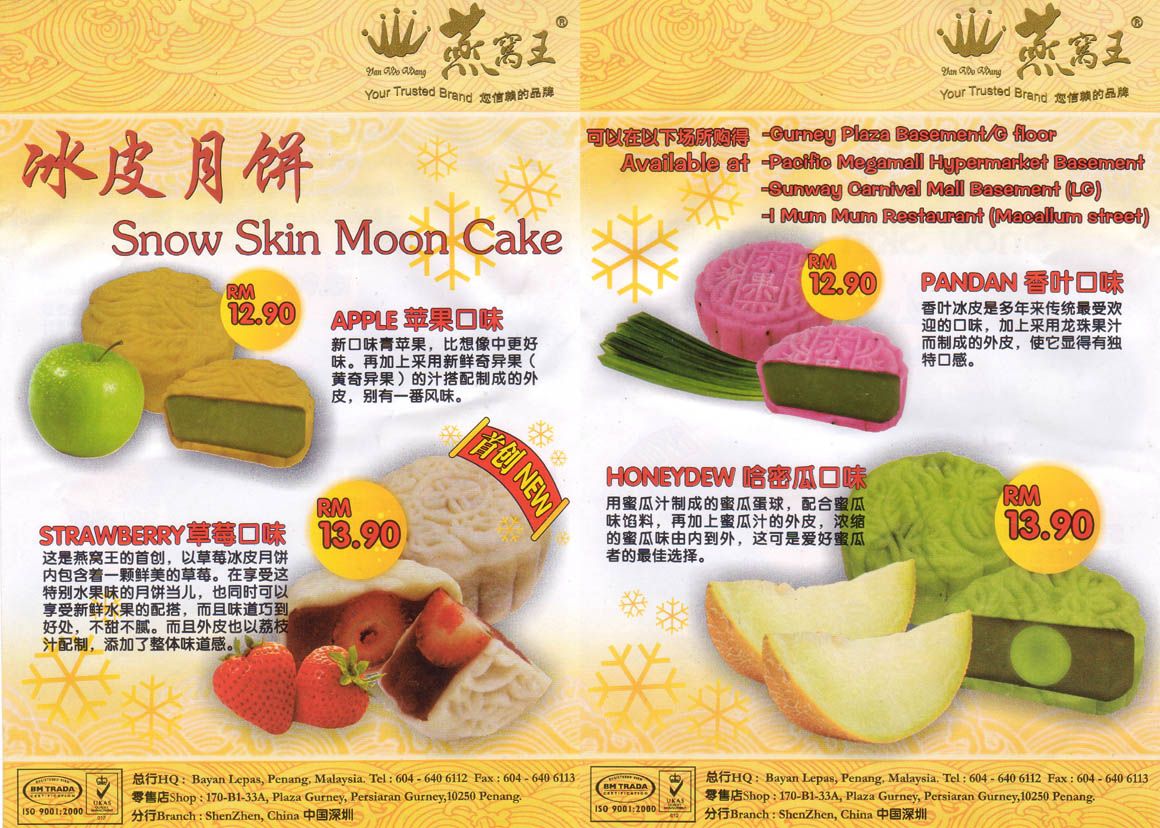 YWW is also the producer of Crystal Moon Cake. This is actually the jelly version but YWW has moved one step ahead of others by inserting pure bird nest since they are also one of the bird nest distributors in Malaysia. Let's look at some of the moon cakes they have to offer – Mango Crystal Moon Cake (RM12.90 – pure mango jelly skin, mango milk jelly and carrot "yolk"), Red Bean Bird Nest Crystal Moon Cake (RM16.90 – soy bean skin, bird nest, red bean jelly and carrot "yolk") and Honey Dew Bird Nest Crystal Moon Cake (RM16.90 – plain skin, bird nest, honey dew milk jelly and carrot "yolk").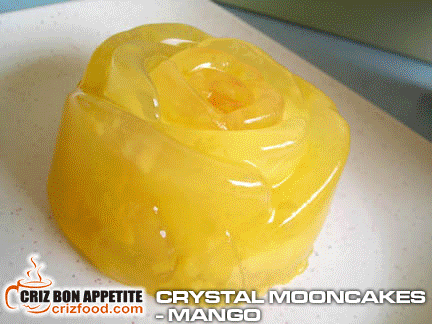 There are also many other flavors such as cappuccino, dragon fruit, mixed fruit, kiwi available and they come in a beautifully design box of 2's and 6's.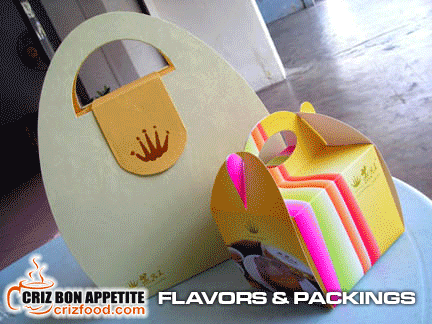 Check out the flyer below for more flavors and also visit some of their counters at Gurney Plaza basement, Pacific Megamall basement, Sunway Carnival Mall basement or I Mum Mum Restaurant, the Pan Mee Specialist at Lebuh Macallum.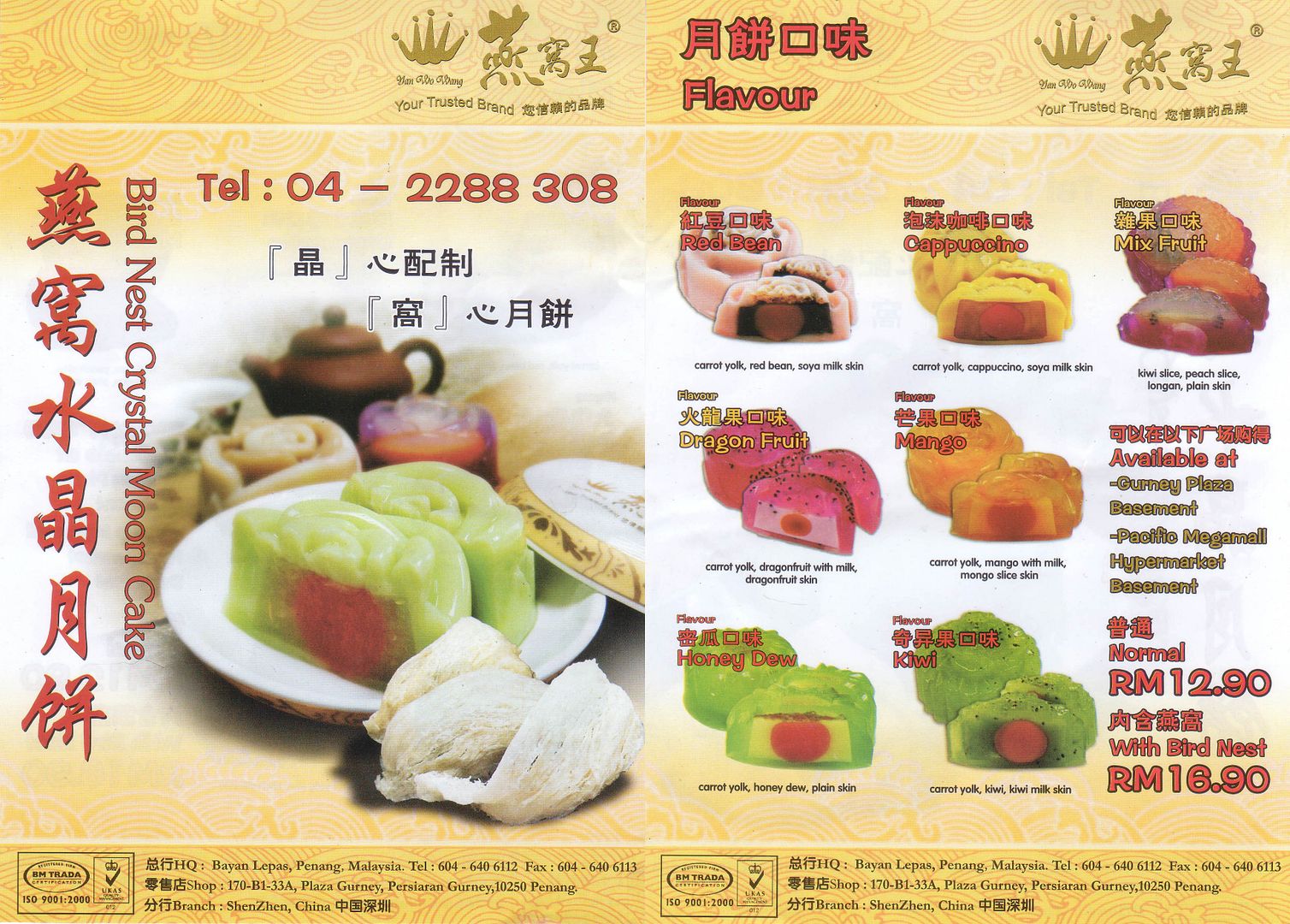 Overall, this is just an informative post to enlighten my readers on what to expect out there during this Mid Autumn Festival celebration (3 October 2009). I would like to take this opportunity to wish my readers a Happy Mid Autumn Festival 2009. Happy reunion with your loved ones! To my Muslim readers who would be celebrating the Hari Raya this coming Monday – Salam Aidil Fitri!