Chinese New Year 2016 approaching real soon and it's time to celebrate the auspicious occasion with lots of delicious cuisine. I know… time could be bad with the Malaysian currency dropping so drastically against foreign currencies and overspending could be quite an issue if your household finance is not monitored properly. However, it does not mean that you could not celebrate better than the years before. Instead of being squandered by most traders nearing Chinese New Year, let's take the opportunity to take advantage of the forthcoming Natural Frozen Seafood Mega Sales organized by Golden Fresh Sdn. Bhd. at its warehouse, Butterworth Iceworks Sdn. Bhd., from 10.00am until 7.00pm on 21-22 January 2016. Various seafood and seafood products are up for grab on these 2 days. It's a "Cash & Carry" sale while stock last. In line with being environmental friendly, please bring along your own carriers.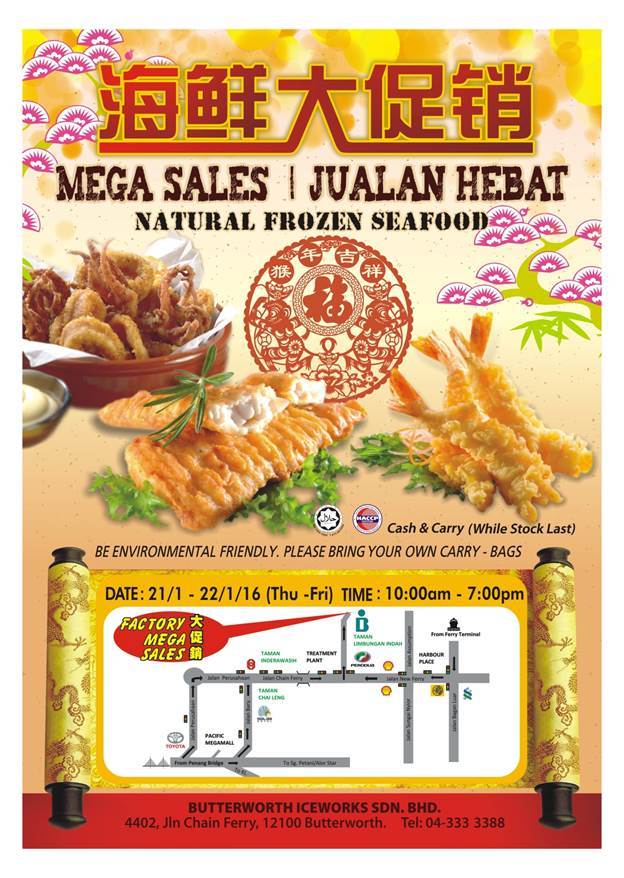 To find out what are the items on offer, you can view the 25 slides with 50 items in the slideshow below:
If you are coming out from the ferry terminal, just drive straight into Jalan Chain Ferry and drive on until you see a Shell petrol kiosk on your left (as well as right). Drive up until the traffic lights and turn right into Jalan Kapal. You can see Restoran Nasi Kandar Al-Bismi Maju at the corner unit. Drive on until you see Lengkok Kapal on your left. Drive in further and you can see the Butterworth Ice Works factory on your right. Alternatively, if you are driving via Penang Bridge, turn left into the second exit leading to Megamall. Drive on Jalan Baru until you see a flyover. Drive up the flyover and turn right into Jalan Chain Ferry. Drive all the way, crossing over Sungai Perai until you see a tall metallic silver building (Wisma Unimech) on your left. Drive on until you see the traffic lights and turn left into Jalan Kapal. Perodua Service Center is just opposite at the corner unit. You can also see a sign leading you to Taman Limbungan Indah/Econsave Butterworth. Drive all the way until the end and you would see the factory on your right.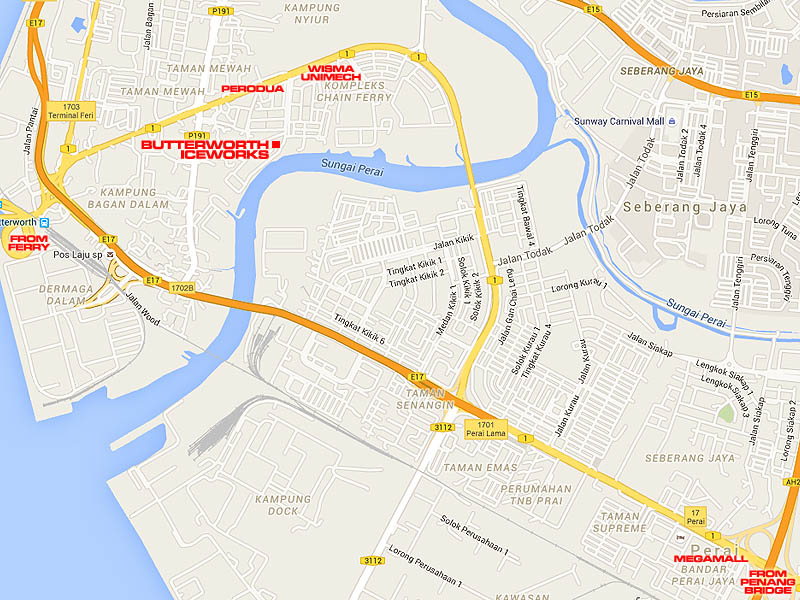 Name: BUTTERWORTH ICEWORKS SDN. BHD.
Address: 4402 Jalan Chain Ferry, 12100 Butterworth, Penang, Malaysia.
Contact: +604-333 3388
Business Hours: 10.00am-7.00pm (21 & 22 January 2016 only)
GPS: 5.397600, 100.378252