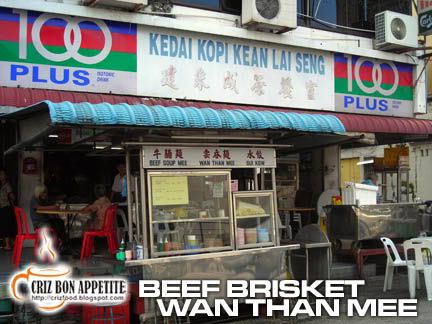 Nowadays, Braised Beef Brisket Wan Than Mee, a Cantonese delicacy, is getting to be quite scare in the list of hawker food available in Penang. The younger generation of hawkers today barely wanted to continue with this traditional yet delicious dish as it involved a lot of preparations. Choices of beef, mainly the brisket part (the lower chest area, above the shank, which overlies the sternum, ribs and connecting costal cartilages), were
braised
in some spices (eg. fermented red beancurd, fermented soy bean, etc.) until the meat became soft and tender. The braised beef is then topped on your chosen noodles with some soup broth.
Braised Beef Brisket Wan Than Mee (RM5) also known as Ngau Lam Mee has a more herbal taste compared to the usual beef noodles. Recently, I brought Steven and Allen to try out this dish in Georgetown area. You can opt for either the thick or thin Wan Than Mee noodles.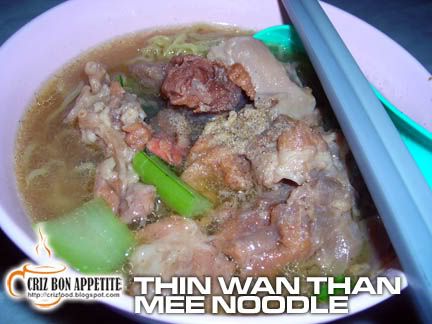 If you are not adventurous to try out the Braised Beef Brisket Wan Than Mee, you can always choose to have the plain Wan Than Mee served with Char Siew and Chicken slices or you can even order an additional bowl of Shui Kow Soup (RM3 for 5 pcs). But I can assure you that the soup does not have the overpowering taste of beef, neither is the braised beef brisket.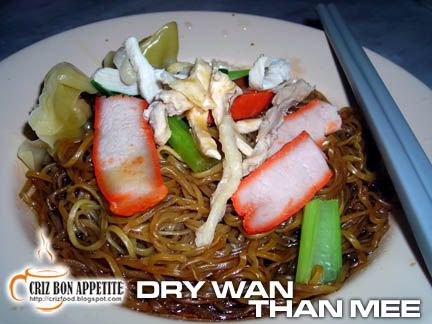 It is very easy to find this stall as it is strategically located along the roadside of Jalan Kampung Malabar off the main road of Jalan Penang. If you are coming from Upper Penang Road, just keep to your left. You would pass Jalan Chulia (Opposite Odean Theatre which aired Tamil movies). Just turn in the road on your left after that. You can see there is another coffee shop by the name of Kedai Kopi Ho Ping at the junction. The stall is just on your right next to this coffee shop.
Name:
BRAISED BEEF BRISKET WAN THAN MEE
@ KEDAI KOPI KEAN LAI SENG
Address: 55, Lorong Kampung Malabar, 10200 Penang, Malaysia.
Opening Hours: 11.00am – 8.00pm (Closed Monday)
GPS: 5.419103, 100.332319
RATING:
Ambience: 7/10 (1-4 cheap, 5-7 average, 8-10 classy)
Food Choices: 7/10 (1-4 limited, 5-7 average, 8-10 many choices)
Taste: 8/10 (1-4 tasteless, 5-7 average, 8-10 excellent)
Pricing: 7/10 (1-4 cheap, 5-7 average, 8-10 expensive)
Service: 8/10 (1-4 bad, 5-7 average, 8-10 excellent)