Let's eat like the pirates at Swez Brasserie @ Eastin Hotel, Penang with their themed buffet Pirates Seafood Night on every Saturday throughout the year 2014. There will be an array of delectable international seafood cuisine for everyone ranging from Canadian lobster, snow crab leg, lobster bisque, grilled lobster, grilled king prawns with cilantro salsa, wok fried mantis prawns with salted eggs and more to tempt your urge for fresh seafood dishes. The promotion is priced at RM80++ (adult) and RM48++ (child) with different menus rotation each week. You can also get more discounts with credit cards mentioned below.
Let's start at the Salad Bar, Salads & Cold Dishes Section where you would expect to get items such as Tomato, Carrot, Cucumber, Corn Kennel, Onion Ring, Lettuce, Thousand Dressing, French dressing and Italian Dressing with condiments, Pickled Garlic, Pickled Mushrooms, Pickled Cherry Tomato, Pickled Zucchini, Seafood on Ice (Fresh Oyster, Mussels, Prawn, Slipper Lobster, Canadian Lobster and snow crab leg with condiments), Individual Salad in Shooter Glass (4 types), Japanese Baby Octopus Salad, German Potato Salad, Thai Egg Salad, Grilled Chicken Salad, Shrimp and Fruits Salad, Seafood Terrine, Chicken Ham, Beef Salami, Smoked Salmon Platter, Smoked Mackerel Platter, Assorted Sushi & Sashimi (6 types each) with Condiments.

As for the Soup Section, you would get items such as Italian Seafood Tomato Soup, Sichuan Hot and Spicy Soup with Crab Meat and Assorted Bread Roll & Butter.
At the Hot Dishes Section, you would have the Grilled Lobster with Seafood Broth, Sauteed Mussels with Garlic and Herbs, Seafood Lasagna, Seafood Pie, Oyster Kilpatrick, Wok Fried Scallop Meat with Celery and Pine Nut, Sweet and Spicy Chili Flower Crab (Served with Man Tao), Braised Sea Cucumber with Broccoli & Mushrooms, Wok Fried Wanton Noodles with Scallop and Prawn, Wok Fried Mantis Prawn with Salted Egg, Curry Squid, Sambal Ketam Kampung Style, Portuguese Baked Seabass, Thai Style Steamed Tiger Prawns and Steamed White Rice.

At the end of the hot dishes, you would have the Carving Station where you might expect to get Roasted Whole Fish with Spicy Mayo.
There will also be the Action Counter where the Grill Station would have at least 20 seafood and meat choices for grilling with 12 sauces as condiments. There will also be the Pasta Station (Prawn Aglio Olio, Seafood Marinara, Pasta with Clam and Garlic with a selection of pasta choices such as Spaghetti, Fettuccini, Angel Hair and Penne). You will also get the Dessert Station serving Thai Classical Tub Tim Krob.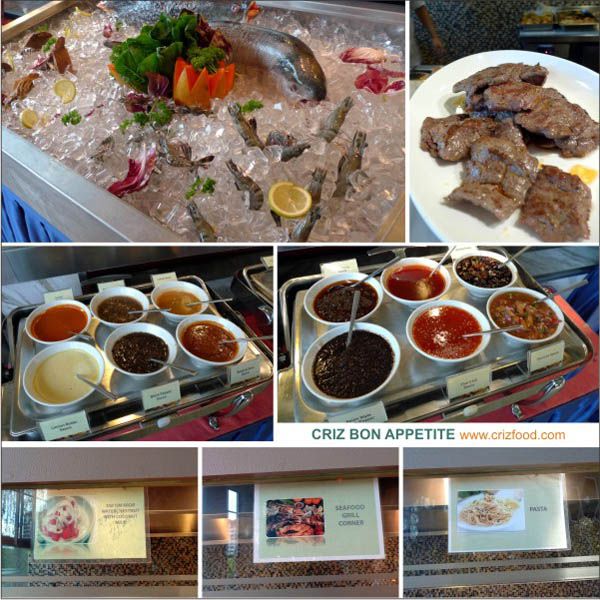 At the Desserts Section, you would get 8 types of Tropical Fresh Fruits, Chocolate Fountain, Marshmallow Sticks, Dried Fruit Sticks, Fruit Jelly, Cream Caramel, Panna Cotta, Chocolate Mousse in Glass, Chocolate Brownies, Sherry Triffle, Baked Cheese Cake, Butter Cake, Blueberry Crumble with Vanilla Sauce, Assorted French Pastries and Nyonya Kuih.
You would also find a Kid's Corner with lots of candies plus brewed coffee and tea.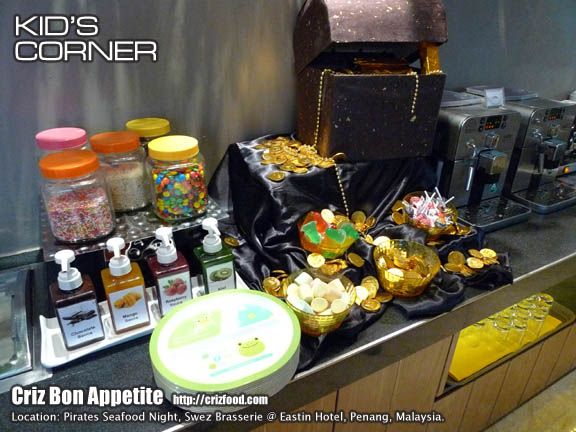 Overall, you would surely be impressed with the varieties of seafood dishes served during the Saturday Themed Buffet and it's really value for money on the options for international seafood species.
Here's the summary of all the promotions throughout the year.
SWEZ BRASSERIE PROMOTION 2014 (JANUARY-DECEMBER 2014)
Lunch (12.00 noon – 2.30pm): Monday – Friday
RM50++ (adult), RM25++ (child)
Hi-Tea (12.00 noon – 4.00pm): Saturday, Sunday & Public Holidays
Normal weekend: RM58++ (adult), RM29++ (child)
Festive Occasion: RM68++ (adult), RM34++ (child)
Weekend Buffet Dinner (6.30pm – 10.00pm): Friday & Saturday
Friday (Free Flow Friday with Wine): RM128++ (adult), RM48++ (child)
Saturday (Pirate Seafood Night): RM80++ (adult), RM48++ (child)
Semi Buffet Dinner (6.30pm – 10.00pm):
Sunday – Tuesday & Thursday: RM50++ per pax
Wednesday (Wine & Dine): RM95++ per pax
For Standard Chartered Bank, CIMB Bank, Citibank and MasterCard Worldwide card members, you can enjoy 15% discount for the Semi Buffet Dinner (Sunday to Thursday, excluding Wednesday) and Weekend Buffet Dinner (Friday & Saturday) from 6.30pm – 10.00pm.
The Swez Brasserie is located at the ring wing of Eastin Hotel, Penang (next to Queensbay Mall). If you are coming from Georgetown towards Bayan Lepas Free Trade Zone via Bayan Lepas Expressway, do watch out for the Pulau Jerejak signboard (leading to Pulau Jerejak jetty). Ignore the turning and drive on to the next left junction. Turn left into Jalan Aziz Ibrahim and drive on until you a roundabout. Turn 3 o' clock and drive on until you see a big Eastin Hotel signboard at the first right junction. Turn right and drive on. Park your car at the basement car park. Take a lift to the first floor lobby and you would see the restaurant there.
Name: SWEZ BRASSERIE @ EASTIN HOTEL
Address: 1 Solok Bayan Indah, Queens Bay, 11900 Bayan Lepas, Penang, Malaysia.
Contact: 604-612 1128, 604-612 1138
Business Hours: 12.00pm-2.30pm (Lunch), 6.30pm-10.00pm (Dinner)
GPS: 5.33643, 100.306345
RATING:
Ambience: 8/10 (1-4 cheap, 5-7 average, 8-10 classy)
Food Choices: 8.5/10 (1-4 limited, 5-7 average, 8-10 many choices)
Taste: 8/10 (1-4 tasteless, 5-7 average, 8-10 excellent)
Pricing: 8/10 (1-4 cheap, 5-7 average, 8-10 expensive)
Service: 8/10 (1-4 bad, 5-7 average, 8-10 excellent)