Ever since my adventurous trip to Pulau Aman to discover the wonderful and tasty Mee Udang (Prawn Noodles), I have been yearning for the similar dish, if not the best, which would be much nearer to Penang island. Eventually after much searching around, I found a place right within mainland Penang – Kuala Juru, the river mouth of Juru. Located next to Persatuan Nelayan Kawasan Seberang Perai Kuala Juru Jetty, lies a quiet and scenic restaurant by the name of Restoran Nelayan Kuala Juru. This place served fresh and delicious seafood dishes. Let me start by recommending the food here prior to introducing other aspects which also did amaze me.
Coming so far away from the island, I would surely try out their seafood dishes rather than the Malay cuisine which they do also serve. They have Mee Udang (Prawn Noodles) and Mee Ketam (Flower Crab Noodles). Instead of having a plate of both, I had the mixed version with two fresh large prawns and a flower crab in halves. All for RM6!!! That's real cheap considering the size of the prawns and crab although the noodles were a bit too little for my consumption.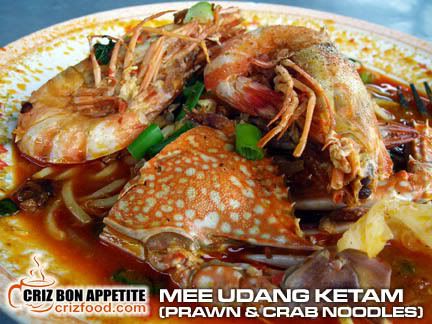 The broth with ingredients such as smashed garlic, chillies, cabbage, onion and a hint of tomato puree combined with the sweetness of the fresh seafood was superb. The prawns and flower crab were so fresh that I wanted to order more. I even bought home a few packets and my parents sipped everything until the last drop. You could imagine how delicious the noodles were. It's a must try for all seafood noodle lovers.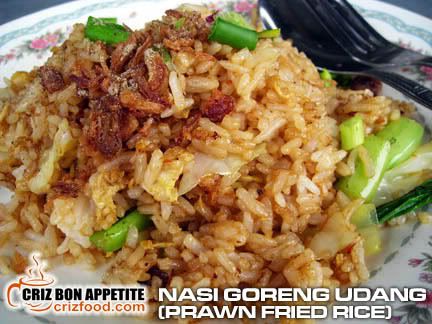 Since I was still a bit full with the 5.30am Char Koay Teow breakfast, I managed to try out the second dish which was the Nasi Goreng Udang. Most stalls that I had been to would just fried rice with a few medium sized prawns. The way the restaurant served the dish was totally different. It came with a plate of fried rice which was quite normal to me but the spicy large prawns curry was a real surprise. It may look like it would be a fiery dish from the look of the color but it was not chili hot at all. The thick gravy which consist some freshly grounded spices was very appetizing to be taken with the fried rice. I have a feeling that they did add in some belacan (prawn paste) to have that fragrant and delicious taste. This set was also priced at RM6.
In case you might want to find out what else they have in this restaurant, you can click and enlarge the attached menu below.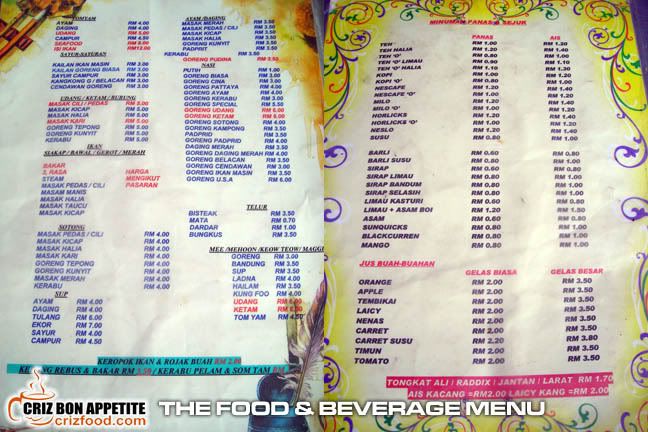 **** UPDATED 15 MARCH 2009 ****
It was only during the 2nd visit to this restaurant did I know that the prawns used were neither green prawns nor tiger prawns. It was another species that I had never heard of or common in our wet markets. These prawns are called Udang Rotan (Cane Prawns as translated). They are the same family with the tiger prawns but with a harder shell. No matter what species they are, they sure tasted better than fresh water prawns.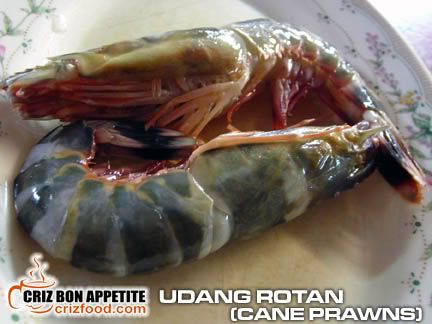 On top of the above fried rice and noodles, we also tried out their Nasi Goreng Padprik (Padprik Fried Rice – RM4). The cook sure knew how to use the stove well as the fried rice has the required grainy texture and the high heat cooking was just right. The accompanied stir fry mixed vegetables with fresh squids in some spicy tomato gravy combined well with the fried rice. You should check this dish out.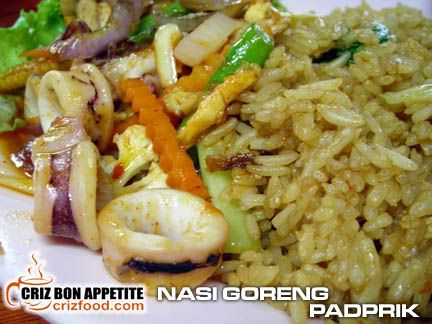 **** END UPDATE ****
Although there are two more such restaurants at Sungai Sembilang and another three restaurants along Jalan Kuala Juru, I like this restaurant the most. Not only was I amazed by the great food and simplicity of the village folks, it's also a heaven for nature photographers. You just won't know what you would expect to find along your way to your gastronomic destination. I had seen a few stray otters playfully along the swampy area, a monitor lizard by the roadside, a Haliaeetus leucogaster (white bellied sea eagle) soaring the sky seeking its prey, a low flying stork, hungry looking stray cats and many other unique looking shell fish such as the Horseshoe Crab/King crab along the river banks.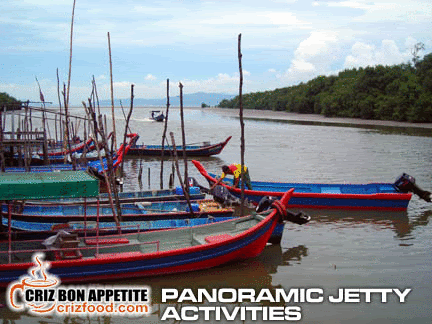 One main type of shell fish that you would see here would be the cockles. Kuala Juru is one the many areas in Malaysia that harvests and processes cockles for distribution to the local markets. It was indeed an eye-opening experience to see how cockles were in their original state and the processes to get them clean. I managed to catch the whole action on camera and would like to share with you. As the cockles arrived in sampans, they had that dirty and muddy look mixed with lots of rubbish. After they had been put into a rotating machine that filters out the mud, tiny objects and other dead shells with a constant spray of clean water, they would end up at section where larger objects would be filtered out. Towards the end of the process, these cleaned cockles would be packed in large nylon sacks to be distributed to the local markets. The steps may look simple but it did involve a lot of manpower.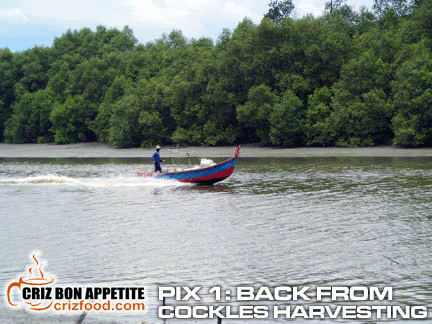 It would be easier to reach the restaurant if you know your way to Auto City. As you come to the Juru Interchange, you would pass through 3 traffic lights to reach Auto City. At the last traffic light at the T-junction (McDonald's), turn left and drive all the way up Jalan Perusahaan/Jalan Tok Kangar until you have reach a traffic light at Jalan Juru (Map A), turn right into Jalan Juru (Juru Villa Show House) and drive all the way until the end. You would pass through a few sign boards of the district on your left namely Kampung Sekolah Juru (Map B), Bagan Nyior (Map C), and a sign board showing direction to Sungai Sembilang and Kuala Juru (Map D). At the T-junction (Map E), turn right and drive all the way to Kuala Juru (Map F). You would reach a playground not far away (Map G). Find a parking space there as the restaurant is just opposite the playground. You can click to enlarge the two maps below for a clearer direction.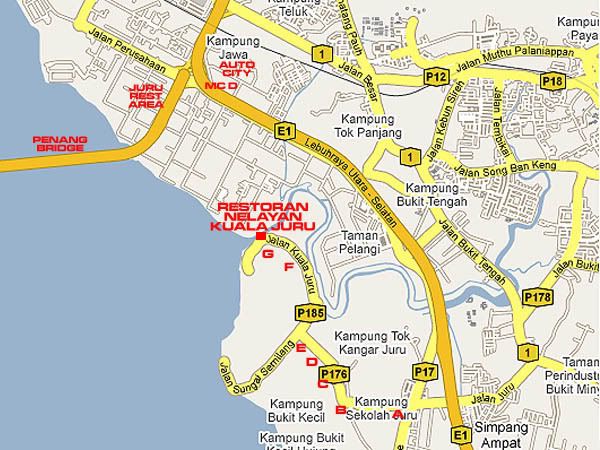 Name: RESTORAN NELAYAN KUALA JURU
Address: Persatuan Nelayan Unit Kuala Juru, MK12, SPT, 14100 Bukit Mertajam, Penang, Malaysia.
Opening Hours: 12.00noon-11.00pm (Closed Tuesday)
Contact: 012-567 2423, 019-549 7134, 017-446 7194
GPS: 5.340084, 100.408500
RATING:
Ambience: 8/10 (1-4 cheap, 5-7 average, 8-10 classy)
Food Choices: 8/10 (1-4 limited, 5-7 average, 8-10 many choices)
Taste: 9/10 (1-4 tasteless, 5-7 average, 8-10 excellent)
Pricing: 6/10 (1-4 cheap, 5-7 average, 8-10 expensive)
Service: 8/10 (1-4 bad, 5-7 average, 8-10 excellent)