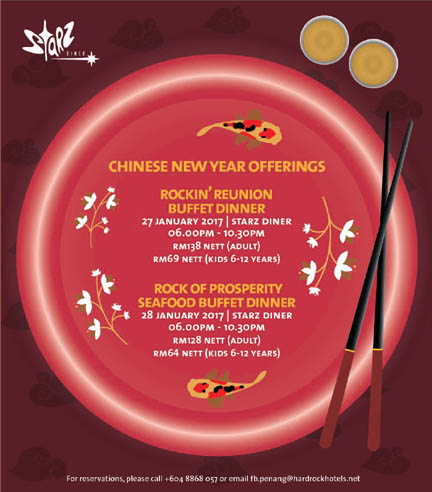 Ever since my encounter in dining at Starz Diner @ Hard Rock Hotel Penang during Chinese New Year last year, I've since felt in love with the culinary skills as well as the uniqueness in flavors that the hotel's Chinese Sous Chef, Chef Yoong Toy Heng @ Chef Heng and his team had pepped up wondrous spread for the festive season. Do check out their Chinese New Year 2017 Rockin' Reunion Buffet Dinner (27 January 2017), priced at RM138nett (Adult) and RM69nett (children 6-12 years old) as well as their Rock of Prosperity Seafood Buffet Dinner (28 January 2017), priced at RM128nett (Adult) and RM64nett (children 6-12 years old), at Starz Diner @ Hard Rock Hotel Penang from 6.30pm until 10.30pm this festive season. Please call +604-886 8057 or email fb.penang@hardrockhotels.net to book earlier to avoid disappointment.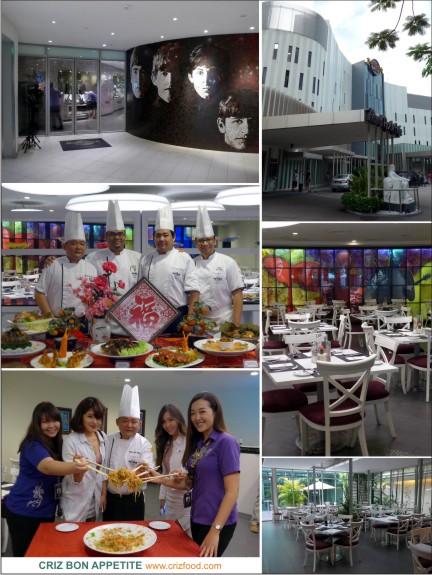 This buffet this year would offer a variety of mouth watering spreads starting from the must-have Yee Sang to traditional desserts and cookies. Here are some of the dishes that you might have during the buffet sessions. From Cold Platter, you might have Marinated Octopus Salad, Jelly Fish Papaya Salad, Chicken Roll with Thai Mango Salad, Pomelo & Mandarin and Shrimp Salad, Yee Sang Platter and more. You should try out the Braised Sliced Chicken and Seafood Treasure Soup as the stock was indeed so rich and nourishing that I had more bowls than I had anticipated.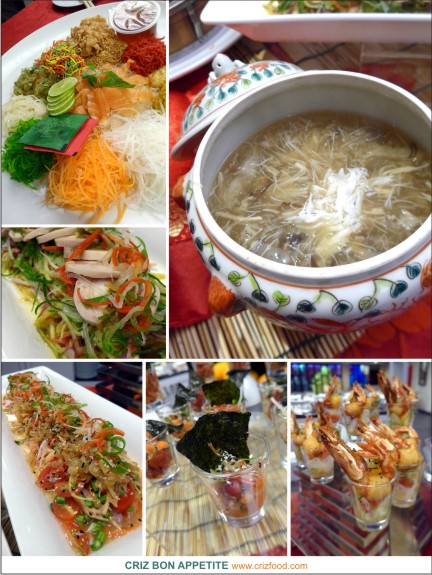 For the Main Course of Hot Dishes, you might get to savor their Steamed Glutinous Rice with Dried Oyster & Roasted Mix Meat (Reunion), Crispy Chicken with Prawn Cake and Marmite Chicken (Reunion), Braised Whole Duck with Eight Treasure Style (Day 1), Steamed Fish with "Pat Tong" Style (Day 1), Deep Fried King Prawn with Spicy BBQ Sauce (Reunion), Wok Fried Brown Crab with "Kam Hiong" Sauce (Reunion), Braised Seafood Treasure in Pumpkin and Garden Green (Reunion). Their braised duck has always been my favorite, considering that it had all the ingredients of my liking. The Braised Seafood Treasure in Pumpkin and Garden Green indeed was an eye-opening dish as I've yet to see any chef produced such an interesting and flavorful dish before. The combination of the natural sweetness from the added pumpkin puree combined with the rich seafood flavors from the added fresh scallops, dried oysters, sea cucumber, Chinese mushrooms and greens, made up the umani taste of this heavenly dish.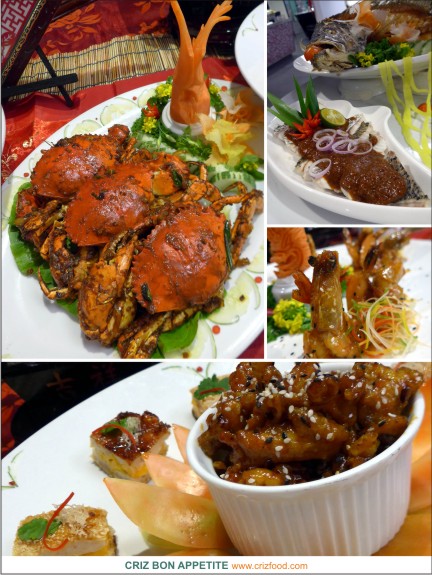 As for desserts, you could expect to have Soya Bean Milk with Glutinous Ball, Leng Chee Kang, Glutinous Rice Cake, Chinese Cookies and more.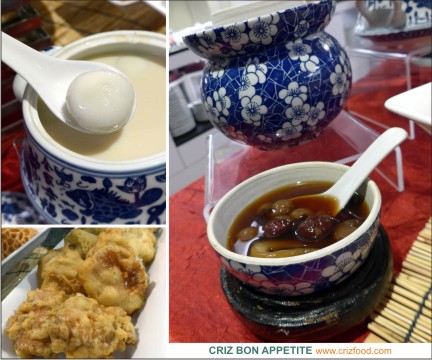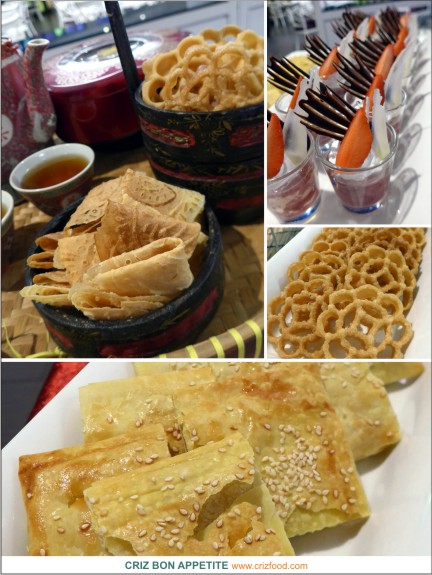 Overall, both their Chinese New Year buffet spreads had the quality and value worth that no other hotels had ever produced. Moreover, the taste I savor each year had always excelled beyond my expectations. It's another job well done by the kitchen team.
The Starz Diner is located at the left wing of Hard Rock Hotel Penang. Upon entering, just head to the left side and you will see a little glass door leading to the eatery.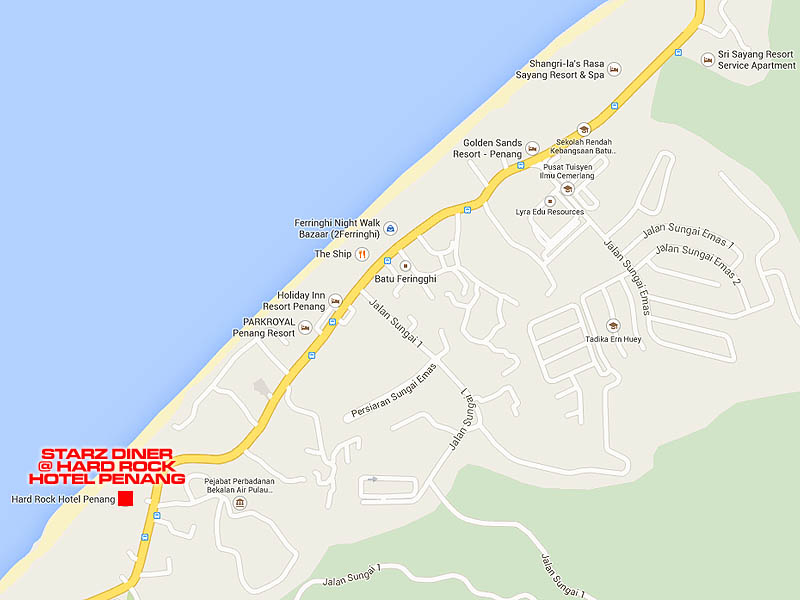 Name: STARZ DINER @ HARD ROCK HOTEL PENANG
Address: Batu Ferringhi Beach, 11100 Penang, Malaysia.
Contact: 604-881 1711
Business Hours: 6.30am-11.00am, 5.30pm-11.00pm
GPS: 5.467568, 100.241382
RATING:
Ambience: 8/10 (1-4 cheap, 5-7 average, 8-10 classy)
Food Choices: 8/10 (1-4 limited, 5-7 average, 8-10 many choices)
Taste: 8.5/10 (1-4 tasteless, 5-7 average, 8-10 excellent)
Pricing: 7/10 (1-4 cheap, 5-7 average, 8-10 expensive)
Service: 8/10 (1-4 bad, 5-7 average, 8-10 excellent)
RESERVATIONS:
Starz Diner/Pizzeria: Call +604-886 6057 or email fb.penang@hardrockhotels.net.
Hard Rock Café Penang: Call +604-886 8050 or email hrc.admin@hardrockhotels.net.
More information: Hard Rock Hotel Penang's F&B Promotions
Hard Rock International
:
With a total of 204 venues in 64 countries, including 157 cafes, 22 hotels and 11 casinos, Hard Rock International (HRI) is one of the most globally recognized companies. Beginning with an Eric Clapton guitar, Hard Rock owns the world's greatest collection of music memorabilia, which is displayed at its locations around the globe. Hard Rock is also known for its collectible fashion and music-related merchandise, Hard Rock Live performance venues and an award-winning website. HRI owns the global trademark for all Hard Rock brands. The company owns, operates and franchises Cafes in iconic cities including London, New York, San Francisco, Sydney and Dubai. HRI also owns, licenses and/or manages hotel/casino properties worldwide. Destinations include the company's two most successful Hotel and Casino properties in Tampa and Hollywood, Fl., both owned and operated by HRI parent company The Seminole Tribe of Florida, as well as other exciting locations including Bali, Chicago, Cancun, Ibiza, Las Vegas, Macau and San Diego. Upcoming new Hard Rock Cafe locations include San Juan, Lagos and Gran Canaria, Spain. New Hard Rock Hotel projects include Daytona Beach, Dubai, Los Cabos, Tenerife, Abu Dhabi, and Shenzhen and Haikou in China. For more information on Hard Rock International, visit www.hardrock.com.