Roselle Coffee House @ Lexis Suites Penang, is having its Hot Wok Seafood Buffet Dinner from 6.30pm to 10.00pm on every Saturday. The buffet is priced at RM110nett per adult, RM80nett per senior citizen and RM60nett per child. Guests will get to indulge in fresh seafood sourced directly off the boat from the local fishermen as well as some imported ones.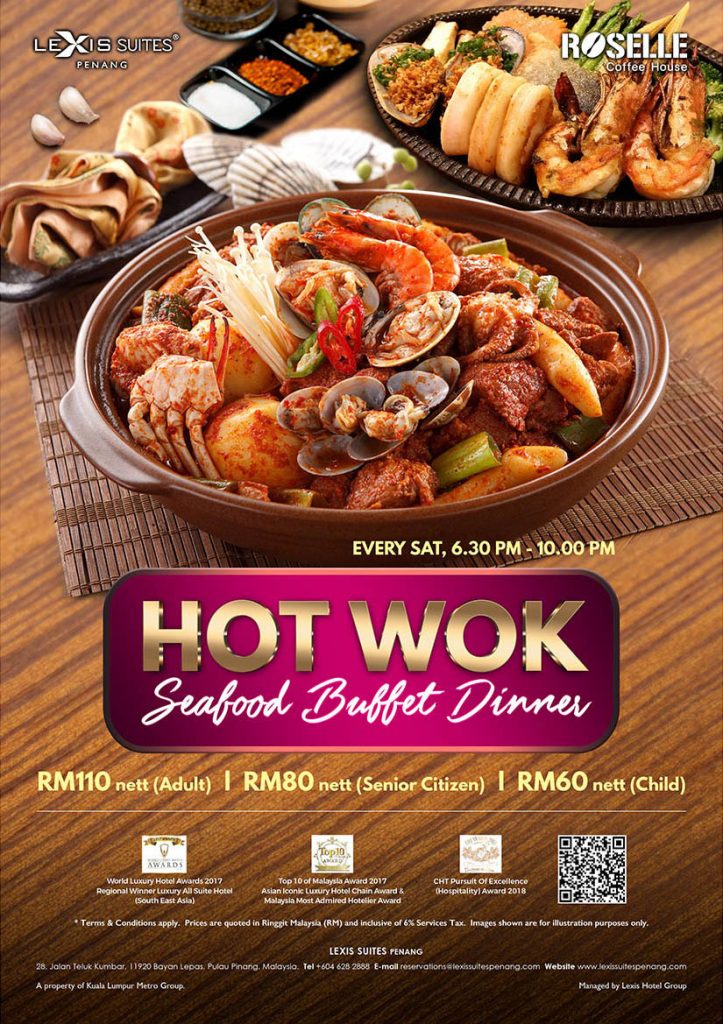 Executive Chef, Chef Johnno Fong said diners could select from the vast array of seafood available on ice such as yabbies, mussels, prawns, crabs, squids, octopus, bamboo clams and Hokkaido scallop. They can either eat them fresh directly or they could request to cook them with Sze Chuan Sauce, Spicy Bean Sauce or Creamy Garlic Sauce.
To complement the offering is the salad bar featuring creations like smoked duck platter, seafood terrine which are accompanied by assorted sushi and sashimi condiments. There are also soups such as prawn bisque with crouton and herbal black chicken broth to sooth the throat.
The mains would consist of motoyaki scallop, herb crusted oyster, yellow curry prawn, steamed mussel with Thai seasoning, tomato rice with seafood among others. Fret not, if guests are craving for the renowned Penang style hawker food, they can also order for a piping hot plate of char koay teow or fragrant prawn mee that will be cooked and served directly to them. There are also Japanese delights such as Oden Clay Pot and Salmon Fish Head Clay Pot for the added variety from the Land of Rising Run.
Rounding up the buffet line are Arabian delight such as shawarma with condiments, Salmon Wellington craving with condiments as well as desserts and pastries comprising of floating island, chocolate fountain assorted mousse in glass, cream caramel while not forgetting the classical ice kacang and rojak buah to end the feast on a sweet high.
There are other promotions too and you can check out the posters below:
There's a quick bite during weekdays where you can indulge in a Western Set Meal available from 11.00am to 11.00pm on Monday to Friday. They can choose from three types of meat, namely chicken, fish or seafood as their main. All set comes with salad and French Fries. It is priced at RM30nett per set. They could also add another RM5nett for a can of carbonated drink.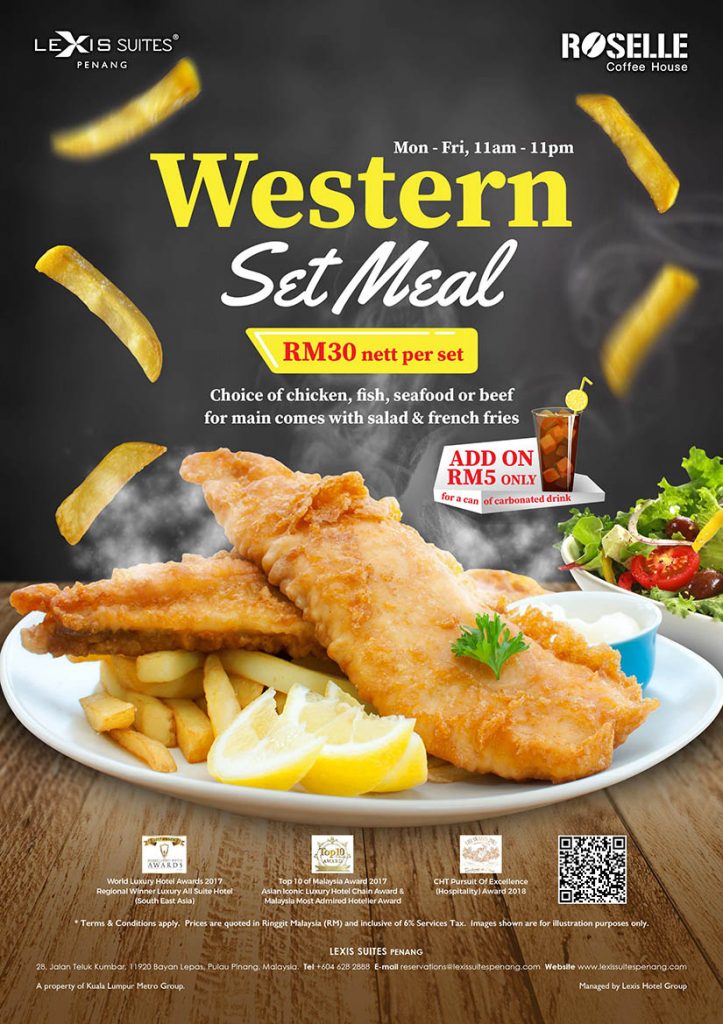 You could also opt for some light snacks with the Combo's Meal available from 11.00am to 10.00pm daily, with a combination of deep-fried snacks, savory bites and a 1.5L bottle of soft drink, all at RM50nett per set.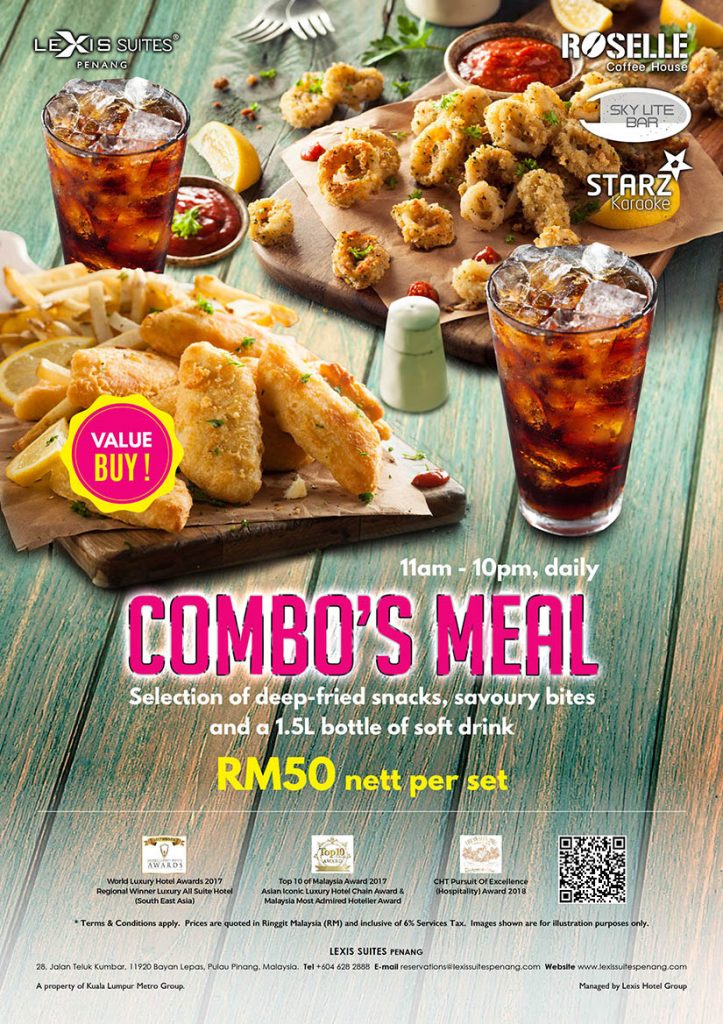 Overall, it's a different experience all together this round as hardly you will see other hotels serving buffet dishes such as Oden Clay Pot and Salmon Fish Head Clay Pot, not forgetting their Signature Seafood Gulai Kawah and more.
Lexis Suites Penang is located right at the end of Teluk Kumbar before the main road into Gertak Sanggul. In fact, it's located just next to the Hao You Teluk Kumbar Seafood (公巴好友海鲜). The Roselle Coffee House is located at level 1 of Lexis Suites Penang. Just walk into the main lobby of the resort and move towards the right side of the lobby and you will see the elevator there. Take the lift to the first floor and you would see the restaurant there.
Name: ROSELLE COFFEE HOUSE @ LEXIS SUITES PENANG
Address: 28, Jalan Teluk Kumbar, 11920 Bayan Lepas, Penang, Malaysia.
Contact: 604-628 2888
Business Hours:
Breakfast: 6.30am-10.30am
All Day Menu: 11.30am-10.30pm
Buffet Menu: 6.30pm-11.00pm
Room Service: 24 hours
GPS: 5.287210, 100.232760
RATING:
Ambience: 8/10 (1-4 cheap, 5-7 average, 8-10 classy)
Food Choices: 8/10 (1-4 limited, 5-7 average, 8-10 many choices)
Taste: 8/10 (1-4 tasteless, 5-7 average, 8-10 excellent)
Pricing: 7.5/10 (1-4 cheap, 5-7 average, 8-10 expensive)
Service: 8/10 (1-4 bad, 5-7 average, 8-10 excellent)
About Lexis Suites Penang: A luxurious resort by the beachfront that stands out as the only hotel on the island which offer guests the luxury of an individual private pool and steam room in every of its 222 suites. Located at the idyllic Teluk Kumbar, Lexis Suites Penang is about ten minutes' drive from Penang International Airport. The guestrooms feature two king-sized beds and a host of practical amenities in a spacious enclave, with an awesome view of the sea.