From 2 April 2016 onwards, Starz Diner @ Hard Rock Hotel Penang would be promoting its all-new Seafood on the Rocks Buffet Dinner 2016 from 6.30pm until 10.30pm on every Saturdays. Priced at as low as RM99nett (Adult) and RM59nett (children 6-12 years old), you would get to savor a sumptuous arrays of seafood dishes in sashimi raw, chilled, grilled, stir fried and more. Please call +604-886 8057 or email fb.penang@hardrockhotels.net to book earlier to avoid disappointment.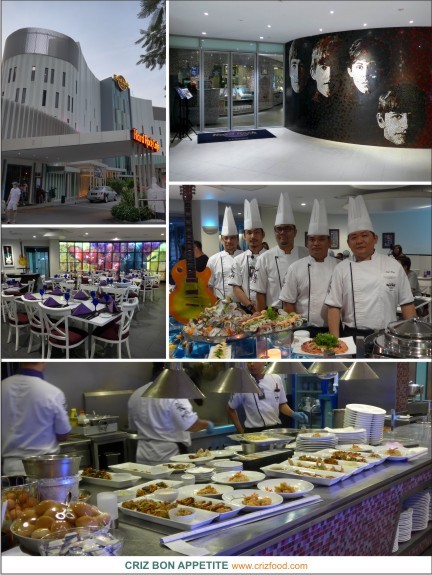 From left to right: Rizal bin Hashim (Sous Chef), Abdul Rahim Bin Mohammad (Sous Chef), Zulkapli Hatim (Executive Chef), Mohd Nazir Bin Aziz (Chef De Cuisine) and Yoong Toy Heng (Chinese Sous Chef)
Here are the menus for your information. Please click on the photos for clearer views.
Week 1 & 3: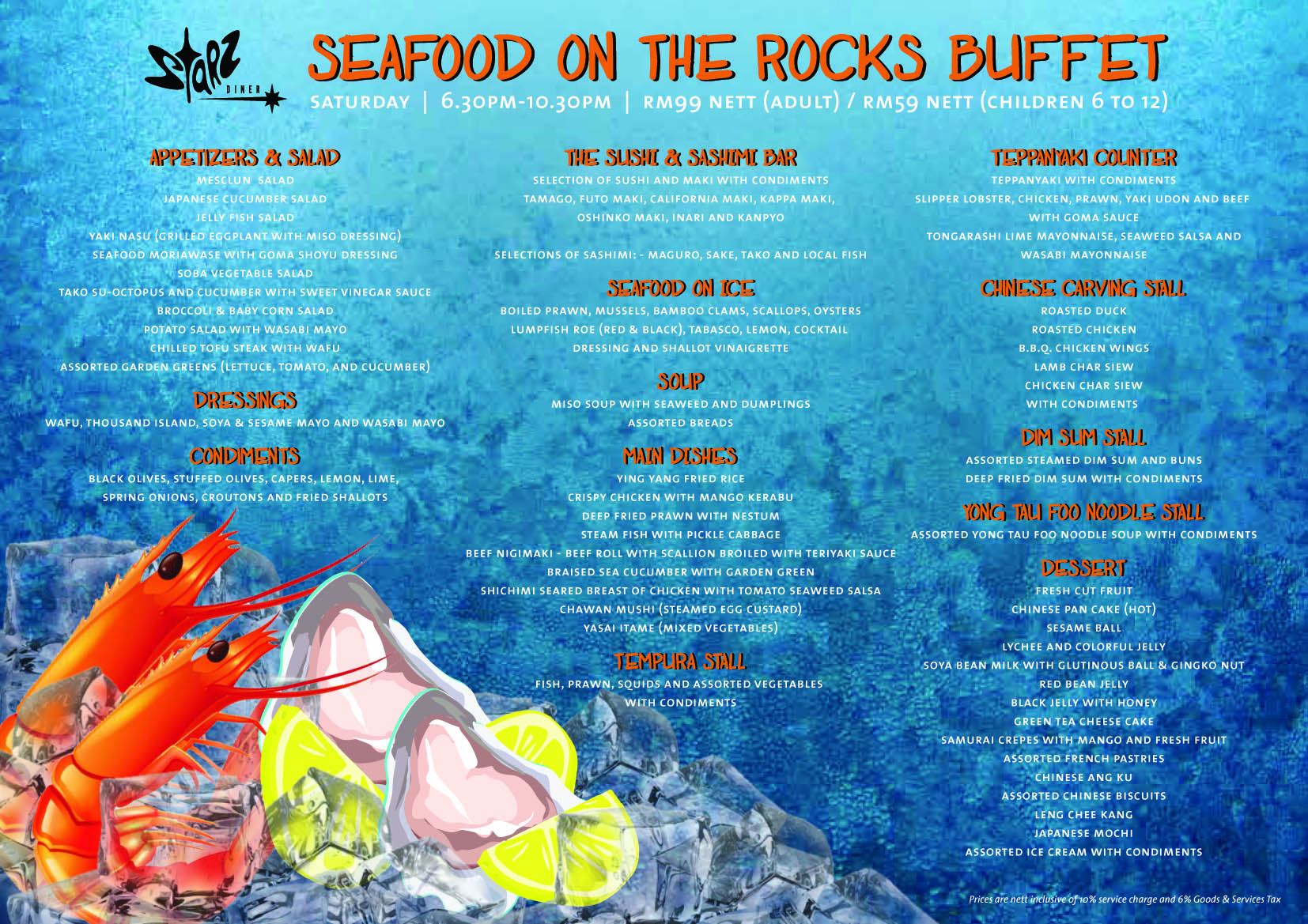 Week 2 & 4: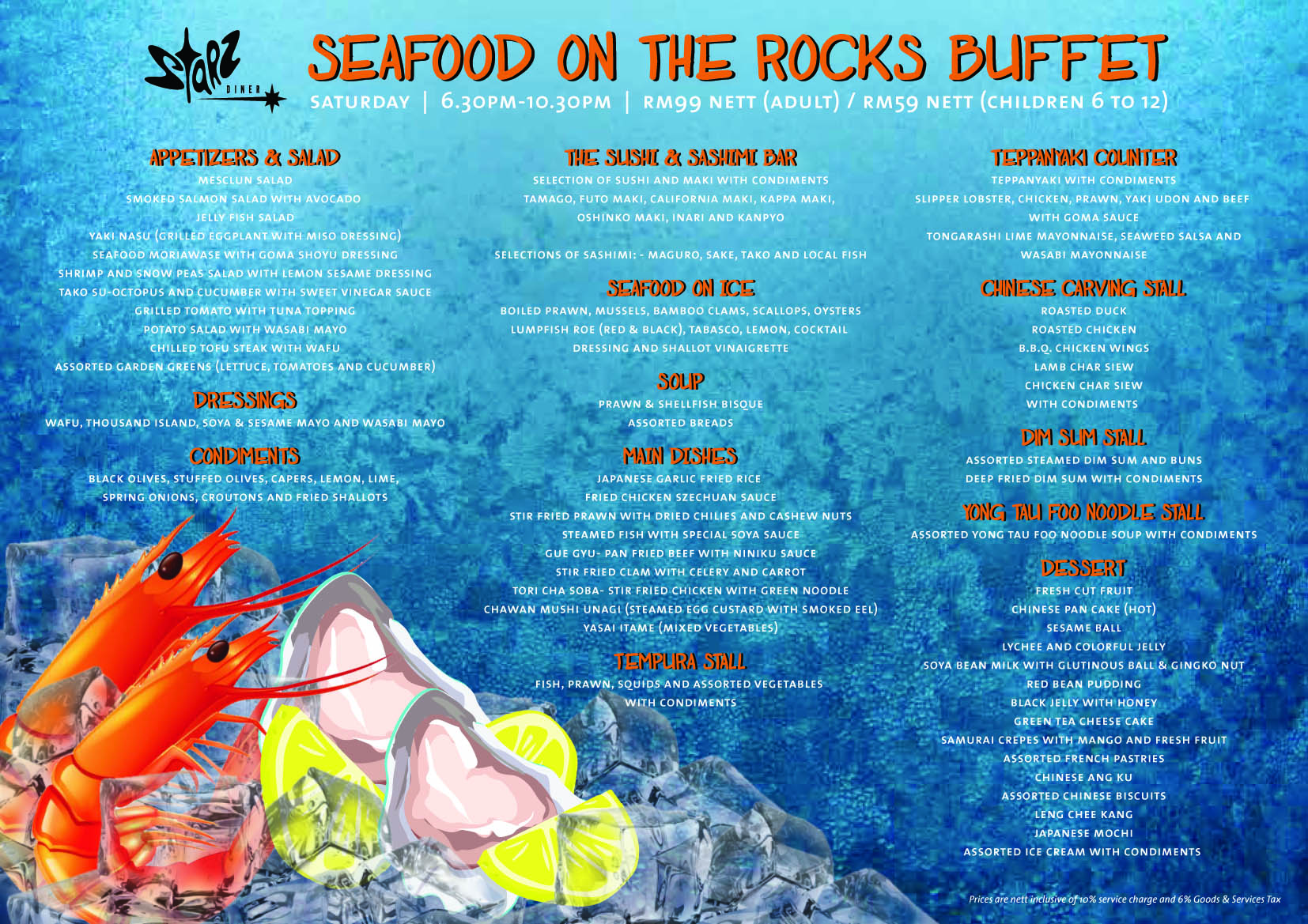 You would be expecting some lovely seafood dishes ranging from Appetizers, Sushi & Sashimi, Seafood on Ice, Soup, Main Dishes, Teppanyaki Station, Chinese Carving Station, desserts and more. Here are some of the highlights of the buffet spreads for the Seafood on the Rocks Buffet Dinner 2016.
For Appetizer, do watch out for the Smoked Salmon Salad with Avocado. Who could resist a salad packed with all the nutrients required for a healthy body? You could get lots of vitamins and minerals just from the fiber dietary packed vegetable. Moreover, the rich source of fat found in salmons would get your brain juice pumping well. On top of that, just like the salmons, avocados also contain omega-3 fatty acid and other beneficial properties for a healthier body.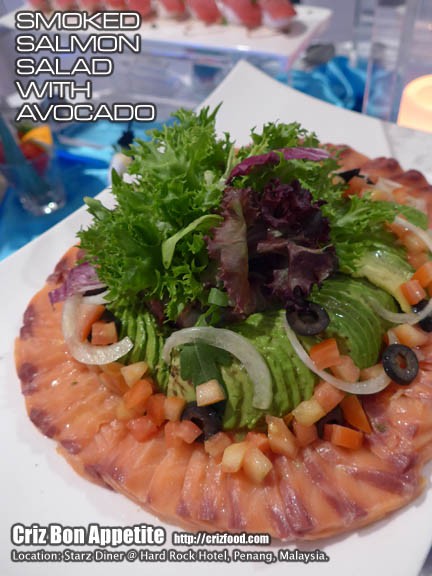 For Sushi & Sashimi, there would be quite good selections of sushi and maki with condiments for your palate.
As for Seafood in Ice, you would expect to find a number of succulent and fresh seafood such as boiled prawns, mussel, bamboo clams, scallops, oysters and more, served with a number of condiments.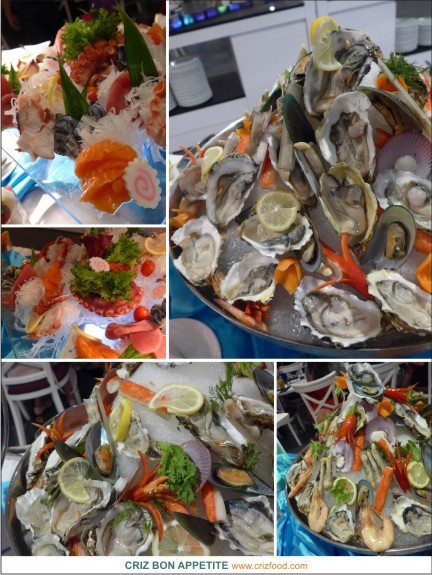 If you are a lover of Seafood Soup plus an assortment of breads and buns, you should check out their Prawn & Shellfish Bisque which had a distinctive taste from the baked shells. This happened to be my favorite all the time.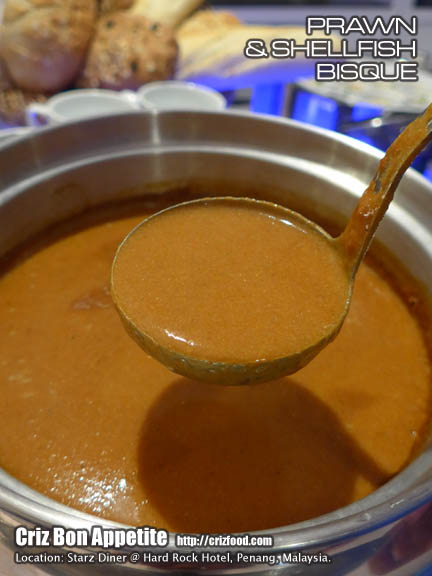 For Main Dishes, you would expect to see at least 9 dishes on the spread. More notable ones would be their Ying Yang Fried Rice, Deep Fried Prawns with Nestum and Chawan Mushi Unagi.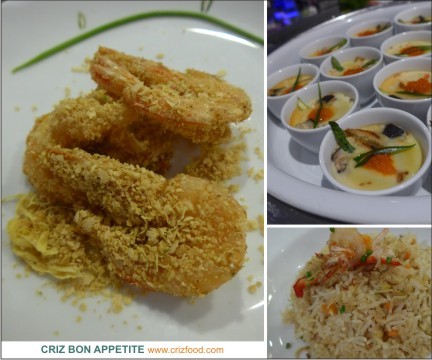 I found the Teppanyaki Station to be quite extensive as they have most of my favorite choices cooked in different style. I quite like how the chefs prepared the slipper lobster by stir frying them in vegetables and stuffed back onto the shell.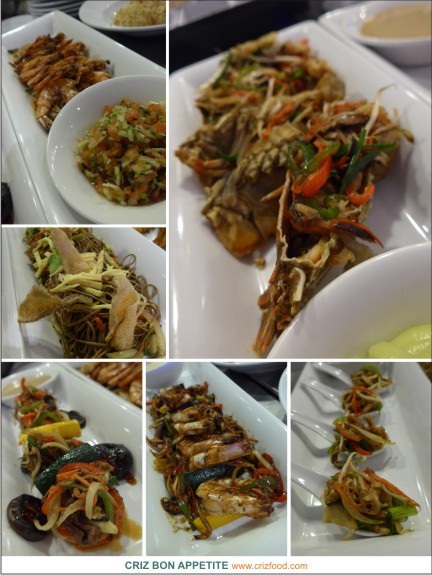 As for the Chinese Carving Station, you would expect to get items such as Roasted Chicken, Chicken Char Siew or even the uniquely prepared Lamb Char Siew.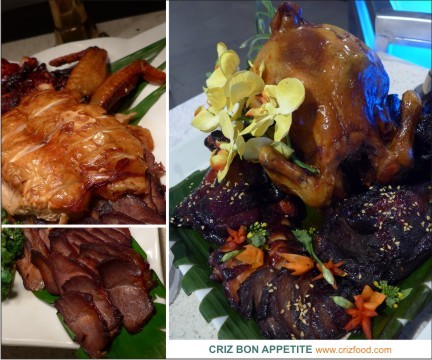 There would be at least 15 items served for Desserts. What caught my attention was the Soy Milk with Stuffed Glutinous Rice Balls & Ginkgo Nuts.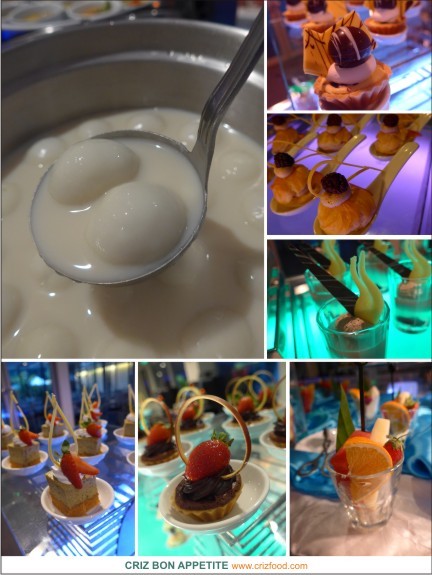 Overall, I quite like their Seafood on the Rocks Buffet Dinner 2016 spreads as they were simple, deliciously prepared and tasty. Moreover, I would like to compliment the chefs for putting in their hearts into serving the diners as you could see by the amount of condiments they had stormed out for their teppanyaki dishes.
The Starz Diner is located at the left wing of Hard Rock Hotel Penang. Upon entering, just head to the left side and you will see a little glass door leading to the eatery.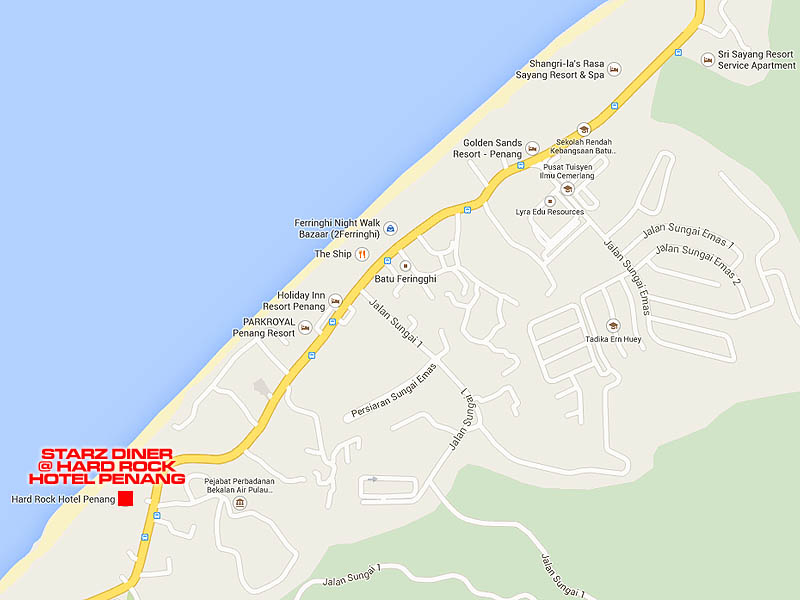 Name: STARZ DINER @ HARD ROCK HOTEL PENANG
Address: Batu Ferringhi Beach, 11100 Penang, Malaysia.
Contact: 604-881 1711
Business Hours: 6.30am-11.00am, 5.30pm-11.00pm
GPS: 5.467568, 100.241382
RATING:
Ambience: 8/10 (1-4 cheap, 5-7 average, 8-10 classy)
Food Choices: 8/10 (1-4 limited, 5-7 average, 8-10 many choices)
Taste: 7.5/10 (1-4 tasteless, 5-7 average, 8-10 excellent)
Pricing: 7/10 (1-4 cheap, 5-7 average, 8-10 expensive)
Service: 8/10 (1-4 bad, 5-7 average, 8-10 excellent)
RESERVATIONS:
Starz Diner/Pizzeria: Call +604-886 6057 or email fb.penang@hardrockhotels.net.
Hard Rock Café Penang: Call +604-886 8050 or email hrc.admin@hardrockhotels.net.
More information: Hard Rock Hotel Penang's F&B Promotions
Hard Rock International



With a total of 204 venues in 64 countries, including 157 cafes, 22 hotels and 11 casinos, Hard Rock International (HRI) is one of the most globally recognized companies. Beginning with an Eric Clapton guitar, Hard Rock owns the world's greatest collection of music memorabilia, which is displayed at its locations around the globe. Hard Rock is also known for its collectible fashion and music-related merchandise, Hard Rock Live performance venues and an award-winning website. HRI owns the global trademark for all Hard Rock brands. The company owns, operates and franchises Cafes in iconic cities including London, New York, San Francisco, Sydney and Dubai. HRI also owns, licenses and/or manages hotel/casino properties worldwide. Destinations include the company's two most successful Hotel and Casino properties in Tampa and Hollywood, Fl., both owned and operated by HRI parent company The Seminole Tribe of Florida, as well as other exciting locations including Bali, Chicago, Cancun, Ibiza, Las Vegas, Macau and San Diego. Upcoming new Hard Rock Cafe locations include San Juan, Lagos and Gran Canaria, Spain. New Hard Rock Hotel projects include Daytona Beach, Dubai, Los Cabos, Tenerife, Abu Dhabi, and Shenzhen and Haikou in China. For more information on Hard Rock International, visit www.hardrock.com.