It's time of the year for you to experience a wonderful blend of exquisite cuisine and exhilarating entertainment to celebrate your Christmas 2019 at the Straits Café & Lounge @ Ixora Hotel, Bandar Perai Jaya, Penang, with sumptuous gourmet dining, lucky draw, meet and greet with Santa Clause and Ixora's mascot Hitam San. Table reservations are highly recommended. Call +604-382 8888 or email info@ixorahotel.com for further enquires.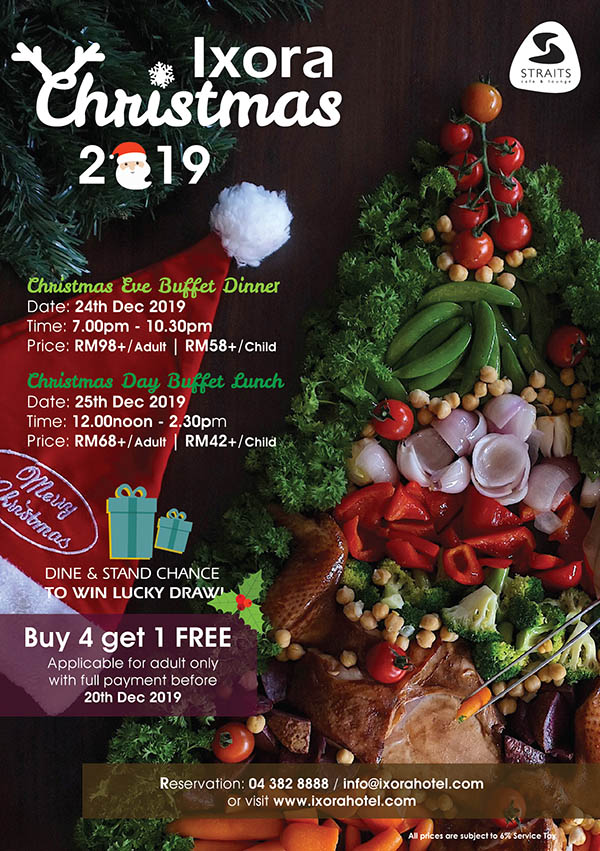 Festive season promotion details as below:
Christmas Eve Buffet Dinner
24th December 2019, 7.00pm until 10.30pm
Selling price at RM98+ (Adult) and RM58+ (Child)
Promotion: Buy 4 Free 1 (Adult only, full payment before 20th Dec 2019)
Christmas Day Buffet Lunch
25th December 2019, 12.00noon until 2.30pm
Selling price at RM68+ (Adult) and RM42+ (Child)
Promotion: Buy 4 Free 1 (Adult only, full payment before 20th Dec 2019)
There would also be a lucky draw to diners to participate. You may be one of the diners to win a 3D2N stay at Holiday Villa Beach Resort & Spa in Langkawi, Kedah.

Some of the marvelous buffet spreads during the Christmas Eve Buffet Dinner would include oven-baked vegetable lasagna, baked cheese oyster, pan-seared sea bass with firecracker sauce, seafood paella, specially prepared lobster bisque and creamy mushroom soup, barbecued lamb, chicken, beef and flower crap, mouthwatering slow-roasted farm turkey with cranberry sauce and condiments, the freshest seafood on ice and plenty more along with a wonderful chocolate fountain and selection of Christmas's traditional and contemporary desserts. You could also taste your way through their list of house-pouring wines from Australia, handpicked for your indulgence at only RM15+ per glass or RM80+ per bottle.
Expect to savor the lavish Christmas Day Buffet Lunch too with a fine selection of buffet spreads such as cold cut platter along with delicate main course including the wild honey chicken wing, beef tacos, grilled lamb with herbs butter & rosemary alongside the chef's special slow roasted farm turkey. Be spoilt for choice of dessert buffet which offers specialties such as Christmas pudding, traditional Christmas Yule log cake, sugee fruits cake, chocolate tart, assorted Christmas cookies and pastries.
There are also some festival delicacies such as roasted turkey with condiments and cakes dine-in and takeaway as below.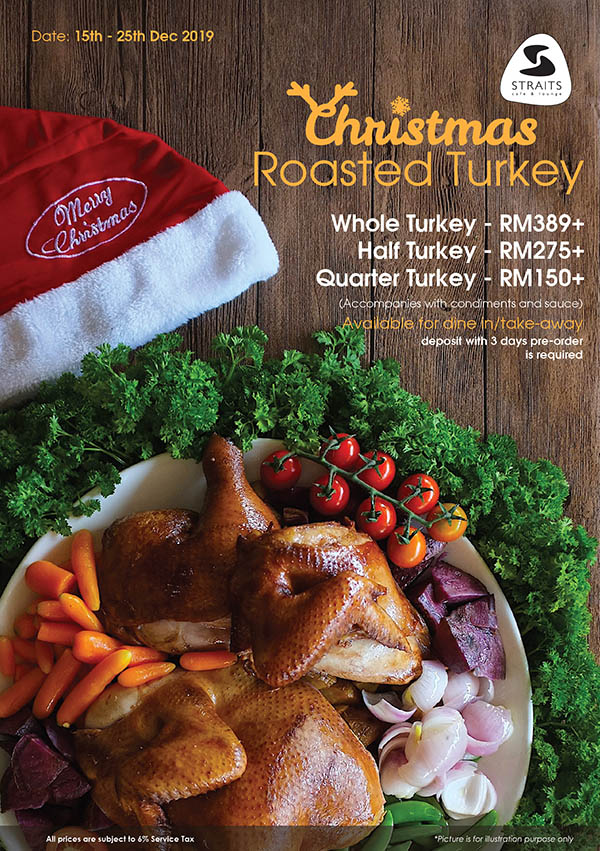 Christmas Roasted Turkey:
The Roasted Turkeys come with traditional stuffing, sautéed vegetables and roasted potatoes, making it a complete, delicious and satisfying meal.
Whole Turkey – RM389+
Half Turkey – RM275+
Quarter Turkey – RM150+
Note: Deposit with 3 days pre-order is required and would be available for dine-in or take-away.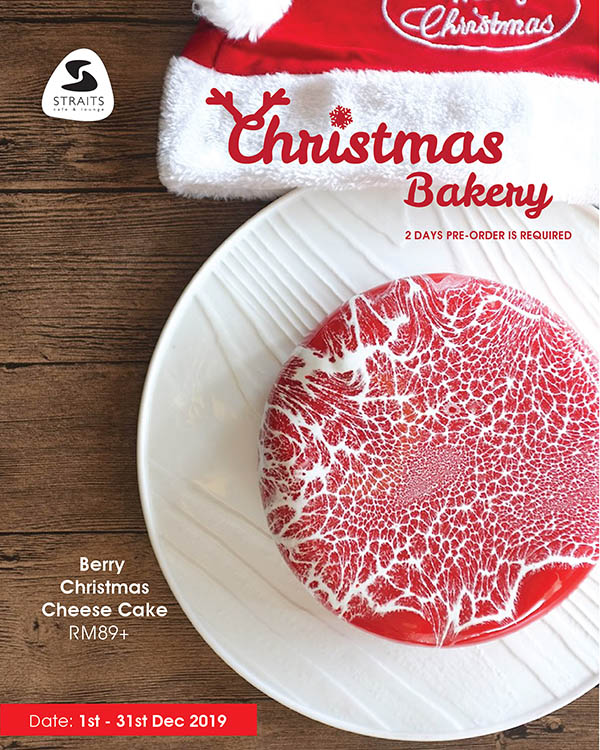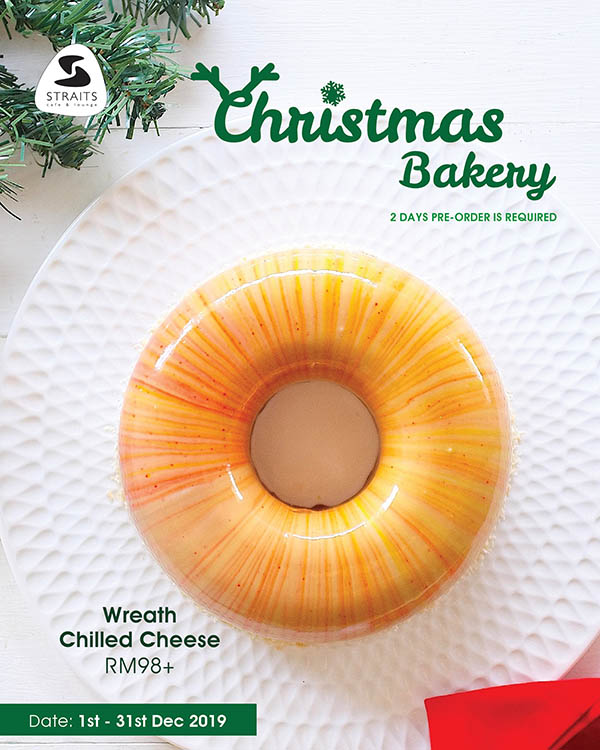 Christmas Bakery:
Check out the specially crafted cakes prepared by our talented pastry chefs.
Berry Christmas Cheese Cake – RM89+ (500gm)
Wreath Chilled Cheese – RM98+ (500gm)
Note: 2 days pre-order is required and would be available for dine-in or take-away.
Getting to The Straits Café @ Ixora Hotel won't be hard as it's just located next to the Megamall Shopping Complex at Bandar Perai Jaya. If you are coming from the island via the 1st Penang Bridge, just look out for the second exit on your left upon reaching the mainland. Drive all the way via Jalan Baru until you reach the 1st traffic lights. Turn left into Jalan Perai Jaya 1 and you can see Ixora Hotel at the junction of Jalan Baru/Jalan Perai Jaya 1. Drive straight for about 10m and you can see the basement car park on your right. Park your car and go up Level 1 and you can see the café & lounge there.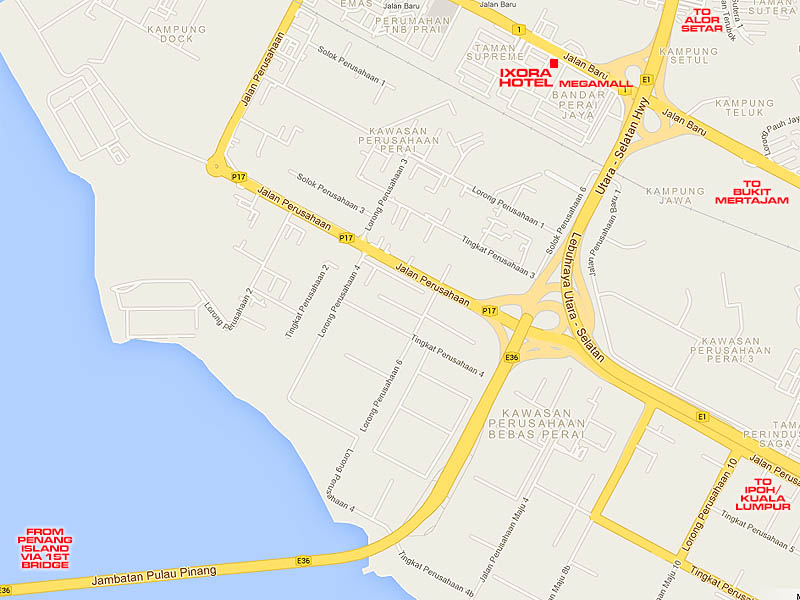 Name: STRAITS CAFÉ & LOUNGE @ IXORA HOTEL
Address: Jalan Baru, Bandar Perai Jaya, 13600 Perai, Penang, Malaysia.
Contact: 604-382 8888
Business Hours: 6.00am-10.00am (breakfast), 12.00pm-2.30pm (Lunch), 6.00pm-10.00pm (Dinner)
GPS: 5.378357, 100.398322
RATING:
Ambience: 8/10 (1-4 cheap, 5-7 average, 8-10 classy)
Food Choices: 8/10 (1-4 limited, 5-7 average, 8-10 many choices)
Taste: 8/10 (1-4 tasteless, 5-7 average, 8-10 excellent)
Pricing: 7/10 (1-4 cheap, 5-7 average, 8-10 expensive)
Service: 8/10 (1-4 bad, 5-7 average, 8-10 excellent)