For those workers at the UNESCO Heritage Site of George Town, Penang, you are in luck as a new self-service Japanese fast food by the name of Sumo Sumo Fine & Fast Japanese Food Restaurant has recently opened an outlet along Lebuh Bishop, Penang, on 7 September 2015. The concept is real simple. You walk in, order your food from the menu at the back of the counter, pay for your food, collect a number and wait for your collection of your orders. You can even add on a cold or hot beverage with an additional RM1.50. The best part is… all items are NETT PRICE. There are also ample seats available for a quick meal.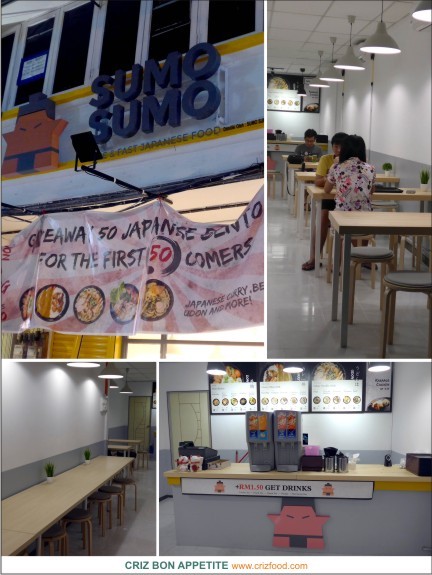 For those who love to have rice (don), there are some impressive dishes on the Don Series. One of the most ordered items on this list would be their Sumo Chicken Don (RM9.90nett). The bowl of goodies had a base of steamed rice (a mix of Japanese & Thai rice grain) with a light drizzle of sweet gravy, topped with some slices of karaage chicken slices with some homemade salad dressing. It came served with a generous amount of fresh greens. Impressive! It had just the right amount of steamed rice to keep your tummy filled.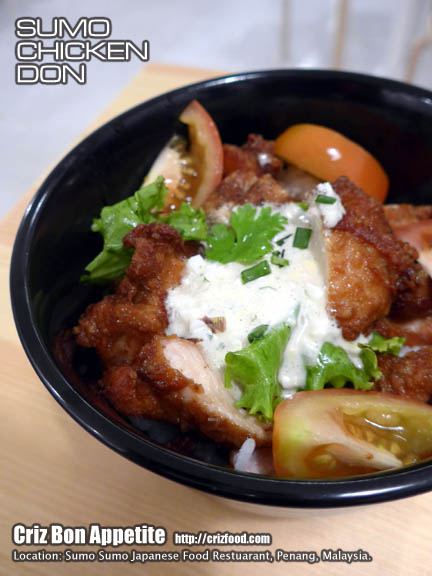 Another impressive to my liking would be their Teriyaki Salmon Don (RM13.90). It came with quite a large slab of grilled salmon topped with some teriyaki sauce and lots of fresh greens too. Slurpilicious!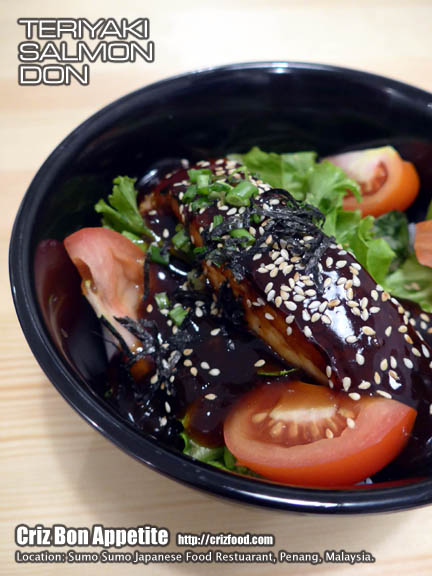 For those who love to have some Japanese curry over your rice, their Tempura Curry Don (RM9.90) can be quite tasty. To my surprise, I thought they would just serve the rice with some vegetables tempura, but they did add in a tempura prawn too. However, I did find the curry base to be a bit too mushy due to the usage of too much blended potatoes. Moreover, it did lack a touch of fruity green apples to enhance the flavors and bost up the appetite. Overall, it was still a great dish to savor and real valued for your money.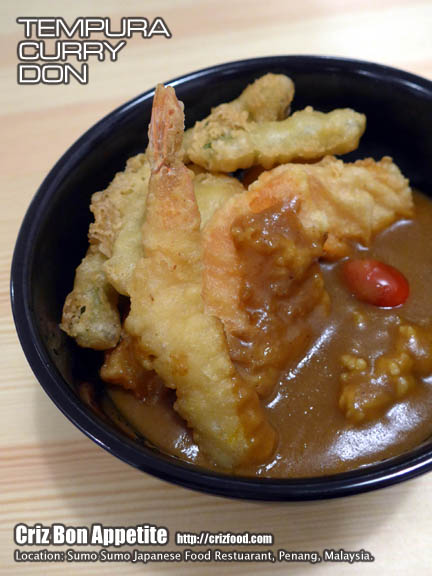 I did also try out their Udon Noodles with Teriyaki Chicken (RM11.90). I was impressed with the quality of udon they were using. It was not the soft soggy type but one with the right al dente texture to please my taste bud. Moreover, the broth had just the right balance of flavors from the usage of fresh ingredients. I also liked how they served the teriyaki chicken on a separate dish as I could taste out the flavorful marinate on the nicely grilled chicken.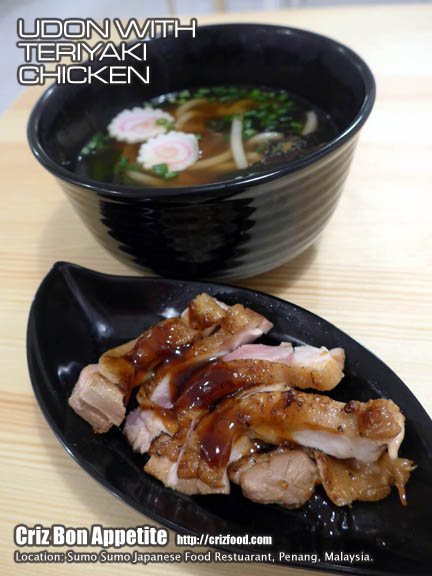 At the moment, they only have Karaage Chicken (RM4.50) as side dish. This was the dish that would normally be sold out quite fast, especially during lunch time and it was also the main item on their Sumo Chicken Don set. Overall, it was a nice side dish to add onto your order. However, it was a bit salty to consume by itself unlike with the Sumo Chicken Don set which would come with some rice and greens to balance up the total flavors. I would advise the kitchen to minimize the salt usage as the salad dressing itself would have been adequate to boost up the overall flavors.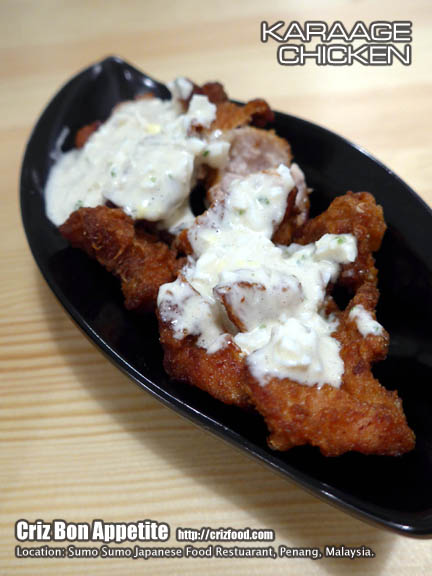 Here's a summary of the dishes you can order at Sumo Sumo Fine & Fast Japanese Food Restaurant (as at 14 September 2015):
DON (RICE) SERIES:
Katsudon (RM9.90)
Sumo Chicken Don (RM9.90)
Teriyaki Chicken Don (RM9.90)
Gyudon (RM10.90)
Teriyaki Salmon Don (RM13.90)
CURRY DON (RICE) SERIES:
Fried Fish (RM8.90)
Tempura (RM9.90)
Karaage (RM9.90)
Chicken Cutlet (RM9.90)
Grilled Salmon (RM13.90)
UDON NOODLES SERIES:
Plain (RM7.90)
Teriyaki Chicken (RM11.90)
Karaage (RM11.90)
Tempura (RM12.90)
Beef (RM13.90)
SIDE DISH:
Karaage Chicken (RM4.50)
ADDON:
Lemon Tea/Peach Tea/Green Tea/Orange/Hot Green Tea (RM1.50)
Overall, I do find the items served here to be simple and yet appetizing. For that reasonable price you are paying for a rather balanced diet, you can't complain much right? The only setback is that they are still new and still need some rooms for improvements to get their kitchen stock right. Some items on the menu could be sold out even before the end of lunch time as they have quite an impressive amount of takeaways. I hope they rectify this issue soonest possible. On top of that, I hope they will have some desserts on their menu as well. Who won't love some konnyaku jellies or some matcha ice cream with their meal?
It's easy to locate the restaurant as it's just next to the Acupaday Café (same row as Bank Simpanan Nasional (BSN) and opposite to Sentral College). Though finding parking spaces can be quite hard during lunch time, you can always call up to make your order and then drive up to the shop to self collect.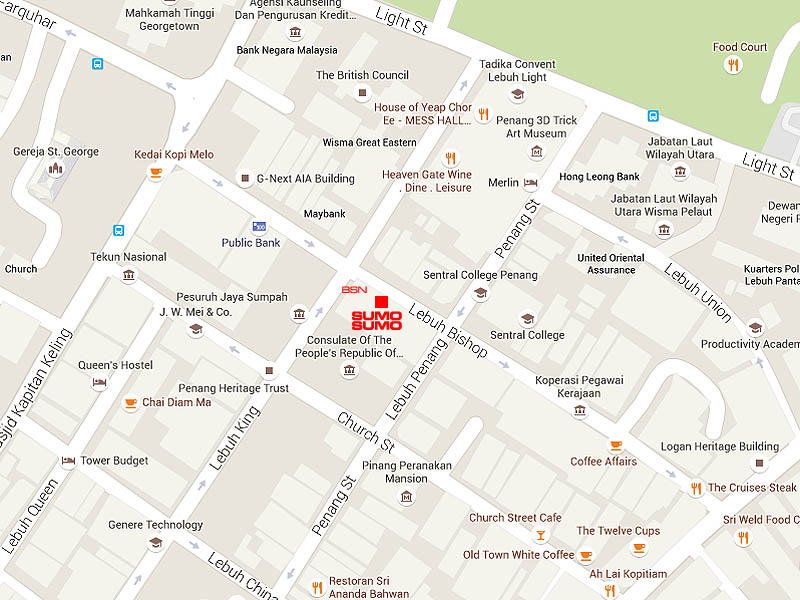 Name: SUMO SUMO FINE & FAST JAPANESE FOOD RESTAURANT
Address: 57, Lebuh Bishop, 10200 Penang, Malaysia.
Contact: +6018-408 5641 (Darren Lim)
Business Hours: 11.00am-3.00pm, 6.00pm-9.00pm (Closed Sunday)
GPS: 5.418686, 100.341365
RATING:
Ambience: 7/10 (1-4 cheap, 5-7 average, 8-10 classy)
Food Choices: 7/10 (1-4 limited, 5-7 average, 8-10 many choices)
Taste: 8/10 (1-4 tasteless, 5-7 average, 8-10 excellent)
Pricing: 7/10 (1-4 cheap, 5-7 average, 8-10 expensive)
Service: 7/10 (1-4 bad, 5-7 average, 8-10 excellent)