NOTE: The economy rice concept has ceased operation. Currently, they are serving ala carte dishes plus some set meals for LUNCH as well as DINNER.
If you are a Thai food lover but always find that it's quite a hassle to order many dishes with only two persons or so, you should then check out the Annathai-Kitchen located within the Pulau Tikus district of Penang. You would find that there would be a wide spread of delicious Thai dishes on display daily for lunch (except on Monday) to choose from. In fact, the restaurant is the only Thai restaurant I have known in Penang to serve dishes in "economy rice" style. With the family members originated from Nakhon Si Thammarat in Southern Thailand, you can be assured that the dishes would be rich in usage of spices, fish sauce, palm sugar and thick coconut milk. On top of that, there's also the little influence from the Teochew community there, thus making the dishes served here having some similarity with our local Chinese cuisine.
To have a clearer picture of what they have in their daily spread, let me share with you what I have tasted through my few visits there. Firstly, there was the Thai favorite of Chicken with Bamboo Shoot Curry (Kang Nor-Mai Gai/แกงหน่อไม้ไก่). The rich usage of Thai basil leaves, kaffir lime leaves, fish sauce (nam pla) with a hint of palm sugar plus the slight crisp from the sliced bamboo shoot made this dish very appetizing. There was also the Yellow Curry Chicken (Gaeng Ka-Ri/แกงกระหรี่ไก่). This dish was my all time favorite as I love the thick kaffir leaves flavored gravy combined with potatoes to go with my rice. There was also the Spicy Stir Fry Pork (Phat Phet Moo/ผัดเผ็ดหมู). How I wished pork belly meat slices were used instead for a more tender bite in that delicious red curry dish. 😛 The Prawn with Radish Curry (Gaeng Separut Koong/ แกงเขียวหวามนไก่) was perfect. I simply love the usage of kaffir lime leaves to pep up the taste of the curry. The Stir Fry Potatoes with Pork (Phat Mum Farang/ผัดมันฝรั่ง) was somewhat like our home cooked dish but minced meat was used instead of the normal pork slices. I love the usage of some tomato slices and spring onions that gave the dish the extra flavors. The Stir Fry Glass Noodles (Phat Wun Sen/ผัดมันฝรั่ง) was another simple dish. This dish had sliced cabbages, carrots, small shrimps on top of the al dente glass noodles. At least this dish was mild enough for everyone compared to the Spicy Glass Noodles Salad (Yum Wun Sen/ยำวุ้นเส้น) with lots of bird's eye chilies (chili paddy/cili padi/พริกขี้หนู).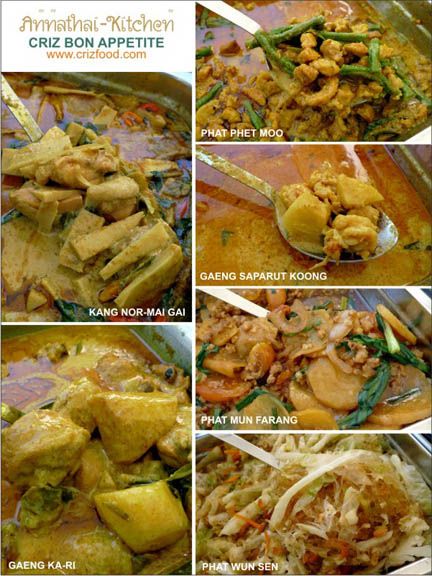 Another non-spicy vegetable dish that was available was the Stir Fry Celery with Pork (Phat Ton Kin Chai/ผัดตนกินจ่าย), which would be great for those who like crunchy vegetables. Another favorite dish would be the Deep Fried Pork Chop (Moo Thord Ka-Tiam/หมูทอดขาเทียม). Although well marinated and tasty, I found this dish a bit too tough and dry for my liking. The Green Curry Chicken (Gaeng Kaew Wan Gai/ แกงเขียวหวานไก่) was another of my favorite dish. I simply love the taste of fresh ingredients being used here with a mild taste of Thai basil leaves and a touch of kaffir lime leaves. This was another remarkably tasty dish for me, considering that they did not use those pre-packed ingredients with green coloring such as the one I had during a Thai food promotion some time back in September 2010. The next dish was one of the more famous dishes from South Thailand namely the Fish in Sour Curry (Gaeng Som Pla/ แกงส้มปลา). They were using barramundi (siakap/石甲魚) fillet that day and it was indeed fresh to my liking. The sourness of the dish with a touch of lemongrass was lovely. The next dish was the Pork Spareribs Curry (Phat Phet Kra-Duk Moo/ผัดเผ็ดกระดุกหมู). The thick gravy dish had the strong flavor from the kaffir lime leaves, almost similar to the taste of the Nyonya Chicken Curry Kapitan, but minus the strong hint of some kaffir lime juice. If you love catfish, you should not miss out the Spicy Catfish Curry (Phat Phet Pla Duk/ ผัดเผ็ดปลาดุก). Wow! The flesh of the fish was so fine and combined with the spices used, it was perfect. But beware of those hidden "bombs" aka bird's eye chilies within as they could be real fiery. I saw many people made takeaways with the next dish which was the Pork Leg in Black Vinegar (Kha Moo Phraew Wan/ขาหมูเปรี้ยวหวาน). The dish was indeed delicious with the extra flavor coming from some old ginger slices. Before I could have another helping, the meaty parts were all gone. If you love this hot selling item, I would advise you to patronize the restaurant the first few hours of their operation time.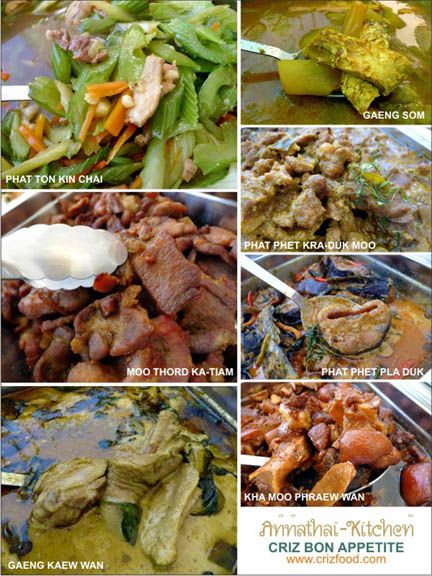 Do look out for their Steamed Curry Fish Custard (Hor Mok Pla/ห่อหมกปลา), locally known as "Otak-Otak". Instead of individually packed in banana leaves like the Nyonya style, these came in small metal cups, laced with wild betel nut leaves (daun kaduk) and topped with some coconut cream. They were delicious. Another common dish you could get here would be the Stir Fry Mixed Vegetables with Pork (Phat Park Ruam Mit/ผัดผักรวมมิตร). The Spicy Stir Fry Eggplant (Phat Mak Kaer Yao/ ผัดมะเขือยาว) was another dish that I love. Somehow, the textures of the eggplants were just right and not overcooked. The chef, Mdm. Anna, who's the mother of the proprietor, Mr. Jacky Choong, sure knows how to handle the chili combinations well. The dish came with some medium sized prawns. The Spicy Minced Pork Salad (Lab Moo Sub/ลาบหมู) was indeed appetizing and addictive. The boiled and broken up minced meat clumps were spiked with some lime juice, grounded chilies, fish sauce, salt and sugar before being tossed with some chopped mint leaves, cilantro stalks, shallots and many more. Can I request for some lettuces for wrapping this delicious salad now? 😛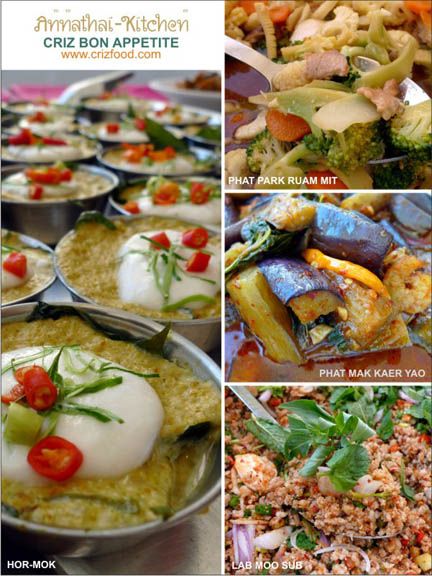 From time to time, the kitchen would also come up with whole fish dish such as the Thai Fried Fish in Fermented Bean Sauce (Pla Tao Jaew/ปลาเต้าเจี้ยว). There may also be halved fish being served at times. Small barramundi (siakap/石甲魚) was used for this dish. The differences between the Thai and the Chinese style would be that the former uses some tomato slices and more chilies in the cooking. If you have been constantly taking sweet food, then the next dish which was the Stir Fry Bitter Gourd (Phat Park Ma Ra/ผัดปาร์กมะระ) would be great for controlling the blood sugar level. The melon slices maintained their crunch while the adding in of pork slices and squids gave the dish the extra flavors. There was also the Stir Fry Spicy Winged Beans with Prawns (Phat Tua Phoo/ผัดถ้วพู). The Winged Beans are also known locally as Kacang Botol or Goa Beans and are rich in vitamins and minerals. I'm very fond of the Thai Fish Cake (Tod Man Pla/ทอดมันปลา) but the next dish got me asking for more. They were the Thai Prawn Cake (Tod Man Koong/ทอดมันกุ้ง). Each piece was richly filled with well marinated minced prawns and meat prior to being coated with special breadcrumbs and deep fried. Simply delicious! Of course during all dining spreads, there would be the Raw Vegetables served with Pounded Chilies in Thai Fermented Shrimp Paste (Nam Prik Kapi/น้ำพริกกะปิ). Three types of raw vegetables were served, namely cucumber, long beans and stinky beans (buah petai).
Some people might think that Thai food would only be suitable for those with strong stomachs to withstand spiciness and sourness. Well, not all Thai dishes are fiery hot. The restaurant would also prepare some nice set meals daily that would even suit the taste buds of children, nevertheless adults. I for one loved their Thai Chicken Rice (Khao Mun Gai/ข้าวมันไก่ – RM5). The meat was so tender and flavorful. The specially prepared condiment was so tasty that I did ask for more on top of ordering another bowl of rice. 😛 Another of their most sought after set meals would be the Braised Pork Leg with Rice (Khao Kha Moo/ข้าวขาหมู – RM5). The one served here was indeed much tastier and meatier than the one I had at Genting Café. Moreover, the price here was also reasonable for that many dishes served. While you are there, don't miss out their Thai Rice Noodles with Fish Curry Paste aka Laksa (Kha Nom Chin/ขนมจีันน้ำยา – RM3). This dish would be served with sliced raw cucumber and long beans. The noodles were of a thinner version and less al dente than those as in the Penang Nyonya Laksa but the taste was great. Another set meal that has raw vegetables added in would be the Southern Thai Style Rice Salad (Khao Yam/ข้าวยำ – RM5). The ingredients included steamed rice, toasted grated coconut, pomelo, sliced kaffir lime leaves, bean sprouts, winged beans, wild betel nut leaves, long beans, lemongrass stalk and bird's eye chilies. Just mix everything up and apply some of the provided sauce before consuming. Taste wise, I'm not too fond of this dish as there were just too much raw vegetables in it to flow smoothly though my mouth. I still prefer my Nyonya Nasi Ulam recipe. 😛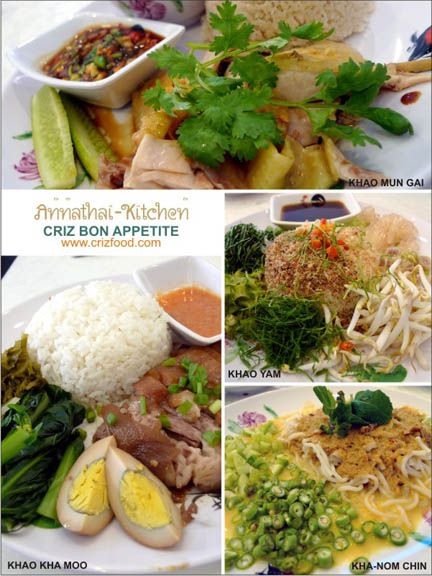 Desserts are something that would be very common in Thailand and most of the time they would be rather colorful. A large number of these desserts would be sweet and rich in the usage of coconut cream and glutinous rice. Some of the desserts you can get here would be the Jackfruit with Glutinous Rice (Khao Niao Kha Noon/ข้าวเหนียวขนุน) and Mango with Glutinous Rice (Khao Niao Ma Muang/ข้าวเหนียวมะม่วง). Both would be topped with sweetened coconut cream and sprinkled with some toasted sesame seeds. Another one would be the Glutinous Rice with Steamed Custard (Khao Niao Sang Kaya/ข้าวเหนียวสังขยา). The one I loved most was the Mixed Sweetmeat in Coconut Milk (Gaeng Buat Ruam Mit/แกงบวดรวมมิตร), somewhat like our local Bubur Cha Cha. The taste of the added corn kernel had absorbed into the coconut milk thoroughly, thus giving the dessert a sweet corn after taste. A few varieties of steamed sweet potatoes and yam were added in together with some sago and jellied corn starch. You must have this served hot. The Water Chestnut & Jackfruit in Coconut Milk (Tub Thim Krob/ รวมมิตรทับทิมกรอบ) served here had some extra screw pine flavored rice flour jellies (pandan cendol) compared to those I have tried elsewhere. If you are lucky, you might get to try out their Steamed Pumpkin Custard (Sang Kaya Fak Thong/สังขยาฝักทอง) and Steamed Banana in Glutinous Rice (Khao Tom Mat/ข้าวต้มมัด), which would only be prepared on certain days throughout the week. As for the beverage that would cool down the burning sensation in your mouth, do try out their Nam Daeng (red – sala flavored syrup) and Nam Kaew (green – cream soda flavored syrup). Both will be served with tadpole eggs. Huh? You must be joking right? Haha! Those would actually be soaked sweet basil seeds. 😛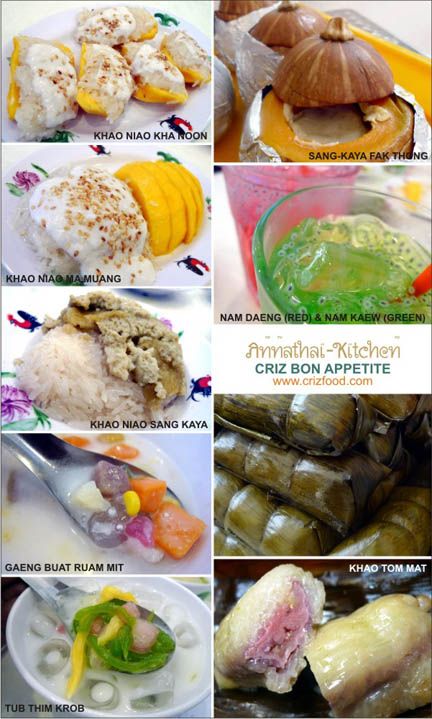 Overall, most of the dishes served here are delicious and reasonable based on market rates. In fact, the ingredients used were of high standards. Even the chicken cuts used consisted of drumsticks and thighs. The only complaints I heard so far were the excessive usage of coconut milk in their dishes and their desserts could be a bit too sweet for many, especially for those who are concerned about their health. Well, there's always a price to pay for rich food consumption. It's either you take it or leave it. Anyhow, anything too much would not be good for your body… even healthy diets! 😛 Other than that, there was the "great food ran out too fast" issue, which of course was not an issue if you patronize the place not too near to their closing time. LOL! Anyway, their ala carte dishes during dinner time were superb, especially their freshly cooked Prawn Tom Yam Soup (Tom Yam Koong), Chicken in Turmeric Soup (Gai Tom Ka Min), Spicy Bitter Gourd with Prawns (Phat Ma Ra Koong) and the specialty of the day – Crispy Fried Chicken (Gai Tod).
The restaurant is just located nearby the Pulau Tikus market. To avoid the market traffic in the morning, I'll direct you through an easier route. If you are coming from town (ex Jalan Perak) along Jalan Burma towards Pulau Tikus district, keep a look out for a Shell Petrol Kiosk on your left. Drive further up and you'll see the PERKESO (SOCSO) on your left. Immediately after the building, turn left into Lebuhraya Codrington. Drive on until you see the second junction on your right (Jalan Yeoh Guan Seok). Turn right into the road and again right into Jalan Moulmein. There's a big car park on your right. Park your car there. The restaurant is just opposite the car park.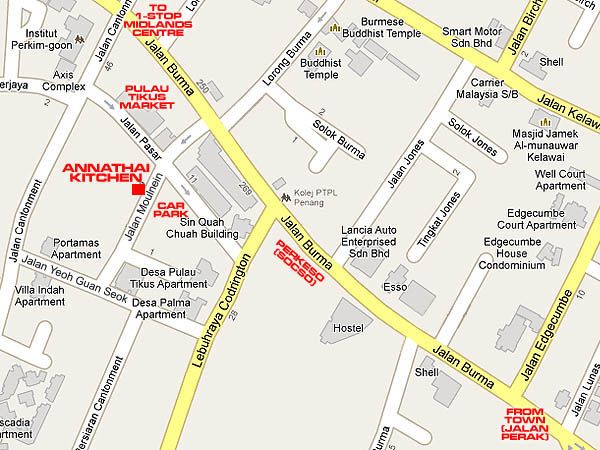 Name: ANNATHAI-KITCHEN
Address: 26 Jalan Moulmein, Pulau Tikus, 10350 Penang, Malaysia.
Contact: 604-2277 599
Opening Hours: 10.30am-2.30pm (economy rice), 5.30pm-9.30pm (ala carte) (Closed Monday)
GPS: 5.429693, 100.312099
RATING:
Ambience: 7.5/10 (1-4 cheap, 5-7 average, 8-10 classy)
Food Choices: 8/10 (1-4 limited, 5-7 average, 8-10 many choices)
Taste: 9/10 (1-4 tasteless, 5-7 average, 8-10 excellent)
Pricing: 7/10 (1-4 cheap, 5-7 average, 8-10 expensive)
Service: 7/10 (1-4 bad, 5-7 average, 8-10 excellent)