Invited guests from the multi-national corporations surrounding the FIZ, Bayan Lepas, were exposed to a totally new concept of relaxation with the re-launching of the lobby lounge, The Lounge @ Eastin Hotel, Penang, on 28 September 2012. With the theme "Under the Sea", The Lounge was transformed into an underwater world filled with vibrant colors and fun. Gosh! Look at that "live mermaid" at the entrance! I was seeing blue the whole night~ 😛 Many activities were held during the occasion with the opening speech by the General Manager of Eastin Hotel Penang, Mary Ann Harris, followed by an opening performance by an invited dance troupe. The Lounge was officially launched by one of the Eastin Hotel director, Su Chen and the GM, Mary Ann Harris. A wet drum performance proceeded. A beer drinking competition was held thereafter with winner getting a free stay at the hotel. There was also a short wine talk by Anna Yap, Managing Director of Cana Premier Marketing Sdn Bhd on their latest wine product, Wamssler's Sparkling Mead (Honey Wine), the earliest wine known to man with aphrodisiac properties. This was followed by a good laugh with standup comedian, Papi Zak, who came all the way from Kuala Lumpur and a live house band performance by D'Upbeat Soul.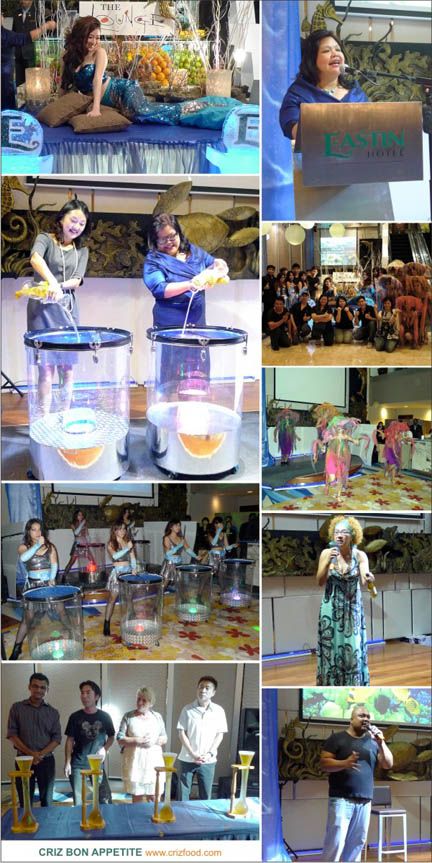 A flash mob which consisted of some dance troupe dancers and the hotel's staff was also in presence during the launching and here's a short clip of their performance at the hotel's lobby.
When it comes to having a cocktail party, Eastin Hotel Penang sure did a great job in giving their best effort in coming out with the best food and beverages for the guests. Free flow of red wine, white wine, mead (honey wine), beer and healthy fruit juices were served on the night with of course a colorful and mouth watering spreads of seafood, canapés and desserts. As starter, there were some Grissini Cheese Sticks, Crudités with Thousand Islands dressing, Roasted Peanuts and Sesame Batter Coated Chick Peas on each of the cocktail table.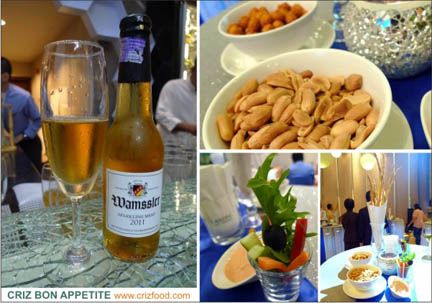 From the dessert section, we had some Strawberry & Mocha Macarons, Chocolate Pralines, their signature Mini Opera Cakes and some Assorted Fruits Vol Au Vent.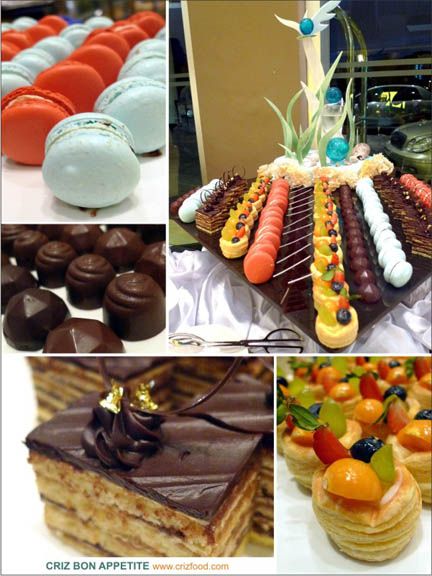 At the chilled food section, there was the Chilled Fresh Oyster with Mango & Caviar Salsa, Fresh Oyster with Condiments, Grilled Prawn & Scallop with Melon Salsa, Assorted Sashimi Skewer with Condiments which basically consisted of Sake (Salmon), Maguro (Tuna), Hokkigai (Surf Clam), Tako (Octopus) and Ika (Squid).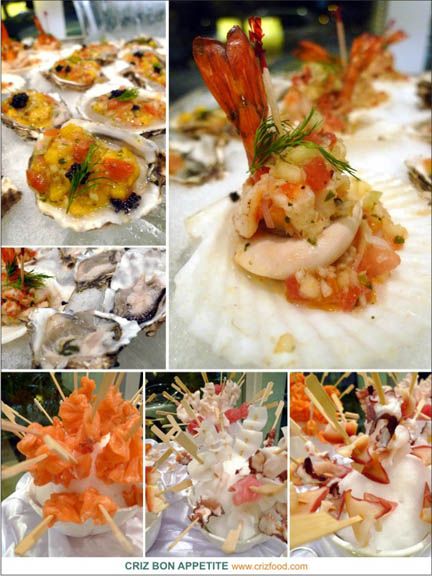 At the canapés section, there were some impressive items such as the Lobster Skewer with Citrus Salsa, Mini Sandwiches, Unagi Crispy Bun (Mantou) Open Face, Smoked Salmon Ball with Herbs Cheese, Cod Fish Ceviche on Toast, and Assorted Cheese Canapés with Dried Fruits and Nuts.
The Lounge is not just a place with comfortable sofas, entertainment stage and bar counter, serving pastries and cakes, paired with alcoholic beverages. It would also be the place for a healthier lifestyle by powering your day up with a healthy boost. There would be sugarless mixed fruit and/or vegetables juices such as the Breakfast Fruit Blend (Grapefruit + Orange: RM23++), Detoxify the Body (Apple + Carrot + Spinach: RM23++), Banana Apple Oatmeal (Banana + Apple + Fresh Yogurt + Oats: RM25++), Greenday (Apple + Celery: RM25++), Heartburn Reliever (Carrot + Spinach: RM23++), Almond Milky (Almond + Low Fat Milk: RM25++), The Hangover Juice (Apple + Broccoli + Cauliflower: RM25++) and Key Limi Kiwi (Honey + Kiwi + Lime + Pear: RM25++).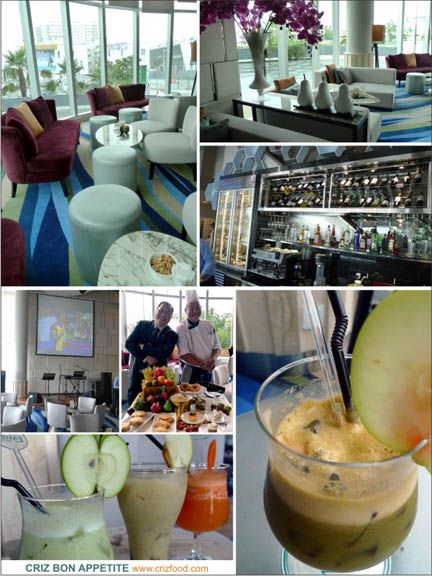 The pastries and cakes that you might get for the day may include Chicken Curry Puff (RM8++/pc), Egg Tart (RM8++/pc), Apple Pie (RM8++/pc), Shepherd Pie (RM8++/pc), Fruit tart (RM8++/pc), Baked Cheese Cake (RM12++/pc), Mango Mousse Cake (RM12++/pc), Opera Cake (RM10++/pc), Ivory Cake (RM12++/pc, RM60++ for 500g or RM90++ for 1kg) and more. Currently, there is a promotion for all confectioneries at 50% off from 5.00pm until 10.00pm daily.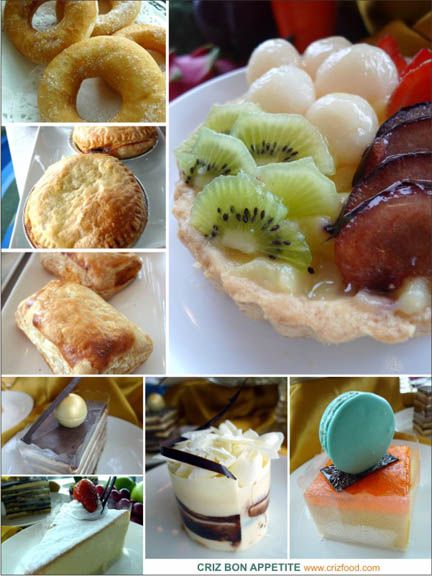 Overall, The Lounge is a nice place to chill out with friend and family over some light snacks and beverages. It would also be a great place to meet up with business contacts for any discussion.
The Swez Brasserie is located at the ring wing of Eastin Hotel, Penang (next to Queensbay Mall). If you are coming from Georgetown towards Bayan Lepas Free Trade Zone via Bayan Lepas Expressway, do watch out for the Pulau Jerejak signboard (leading to Pulau Jerejak jetty). Ignore the turning and drive on to the next left junction. Turn left into Jalan Aziz Ibrahim and drive on until you a roundabout. Turn 3 o' clock and drive on until you see a big Eastin Hotel signboard at the first right junction. Turn right and drive on. Park your car at the basement car park. Take a lift to the first floor lobby and you would see the lounge there.
Name: SWEZ BRASSERIE @ EASTIN HOTEL
Address: 1 Solok Bayan Indah, Queens Bay, 11900 Bayan Lepas, Penang, Malaysia.
Contact: 604-612 1128, 604-612 1138
Business Hours: 12.00pm-2.30pm (Lunch), 6.30pm-10.00pm (Dinner)
GPS: 5.33643, 100.306345
RATING:
Ambience: 8/10 (1-4 cheap, 5-7 average, 8-10 classy)
Food Choices: 6/10 (1-4 limited, 5-7 average, 8-10 many choices)
Taste: 7/10 (1-4 tasteless, 5-7 average, 8-10 excellent)
Pricing: 7/10 (1-4 cheap, 5-7 average, 8-10 expensive)
Service: 8/10 (1-4 bad, 5-7 average, 8-10 excellent)