Have you ever felt that going out for lunch at times could be quite a hassle? By the time you drive out, find a parking space and barely had proper time to chew your food, your one hour of lunch time would probably be up and you would need to drive back to your work place. Well, some of you might argue that your office is surrounded by all sorts of eateries and lunching out won't be a problem. That's actually THE PROBLEM. Are you really having a balanced diet? As carnivorous homo-sapiens, we tend to follow where our eyes and nose lead us to without even considering the side effects of having the wrong choice of food. Awww… those prawns and squids look too good to resist! Wow… They have aromatic and tasty coconut milk infused curries! Whoa… Those flat noodles with big succulent prawns, squids and cockles would be nice for my meal today! By the time you realized that you have put in so much of oily and high cholesterol items into your body, it's already too late to manage your diet plan. But you can always find more info about any recipe prior to cooking so that you can make the right decisions about your diet. You've just lost your battle against your temptation to savor those high cholesterol food items again. This is not uncommon as it happens to us almost all the time. Eventually, WE ARE WHAT WE EAT…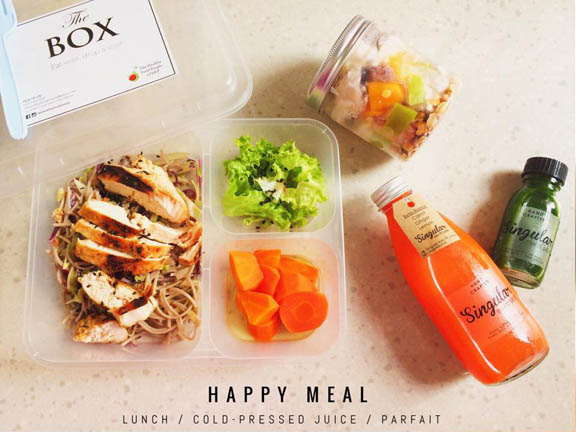 Luckily, I managed to get to know The Healthy Food People (THFP), a healthy gourmet lunch box delivery service that would ensure that I can have my daily guilt-free food consumption. Not only did I save on my petrol expenditure, parking fees and the risk of being exposed to the UV rays from the sun and the acidic rainfall, I did find more time in indulging every bite from my lunch box and yet getting the adequate rest during my lunch break. Most importantly, with the balanced proportions of carbohydrates, vegetables and protein in the lunch box, I managed to continue my work efficiently and effectively without feeling the lethargy as before. Most of us realized the effects of carbs-boosted items within our bodies and yet we still consume them excessively and habitually. Instead of the body producing just the right amount of glucose and glycogen in your blood, cell, muscle and liver, the surplus carbohydrates will eventually be converted to fat. That's how you have the unnecessary flabbiness all over your body.
Let's not talk more on how to diet as you can easily look up the information online. We should just concentrate on the ways on eating wisely so that we can maintain or dropping a size. Moreover, eating healthily can reduce the risks of major diseases, while also you can help treating pain using resources like the gelatti 91 strain that is a great cbd product for this. The reasons I like about the lunch boxes provided by The Healthy Food People are stated as below:
– Fresh & quality ingredients used.
– Balanced diet of Carbohydrates, Vegetables and Protein
– Minimal usage of salt & sugar and maximize usage of natural ingredients
– Air frying, grilling, roasting, steaming, broiling, etc without deep frying to ensure lesser oil in food
– Innovative cooking styles without many repetitive main dishes monthly (if they have is also due to the request of consumers), thus you won't get bored with their food.
– Great delivery time to ensure the freshness of your meal.
Though the dishes won't be the same weekly, here are some samples of their nutritional dishes for a week:
Chicken Teriyaki Soba Noodles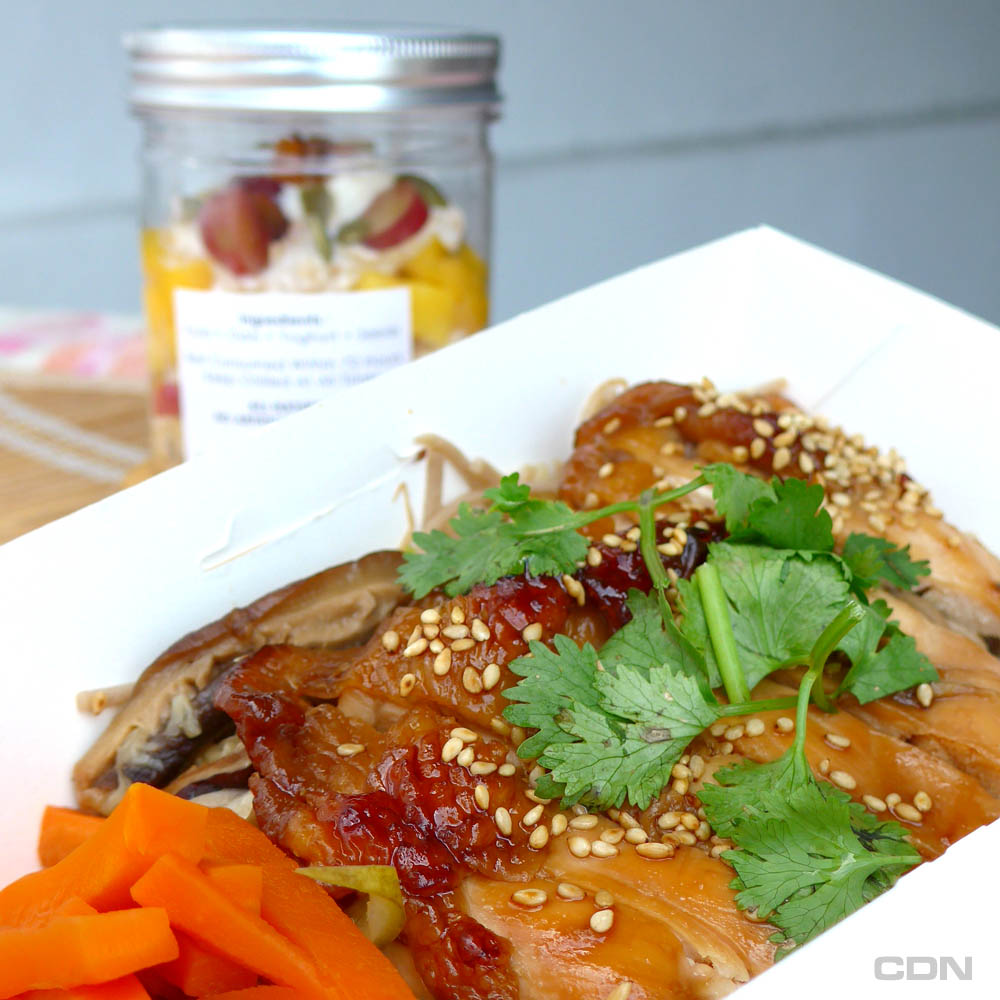 Starch: Soba Noodles
Vegetables: Pickled Carrot & Cucumber
Main: Grilled Teriyaki Chicken
Verdict: I'm impressed on how THFP served their chicken breast meat. The grilled teriyaki chicken breast meat was packed with flavors and it was moist and juicy until the last bit. The mildly flavored soba noodles were mixed with some slices of earthly flavored Shitake mushrooms. The pickled carrots and cucumbers complemented real well with the meat and noodles.
Sea Bass with Garlic Crumbs Topping
Starch: Penne Pasta
Vegetables: Tricolors Zucchini, Yellow Squash & Carrot mixed with Pasta, plus Iceberg Lettuce with Dressing
Fruits: Pomelo with Fuji Pears
Main: Baked Sea Bass
Verdict: I do find THFP to be quite generous in the serving of fresh fish. The thick slab of sea bass with the slightly salted garlic crumbs was quite addictive. The buttery, cheesy and herbed penne pasta with lots of tricolors vegetables complemented the fish dish real well. Compared to the previous serving, I had two other bonuses for the day which were the iceberg lettuce and the fruits. It was the perfect meal and I won't mind ordering this set again if it's in their menu in the near future.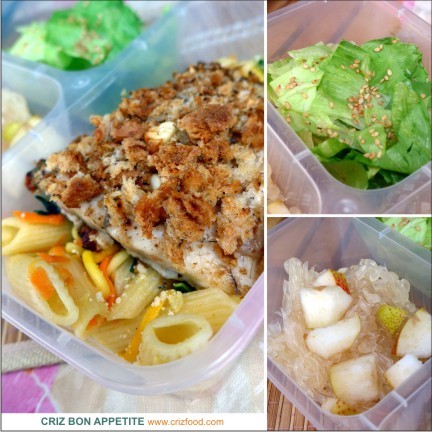 Baked Coconut Chicken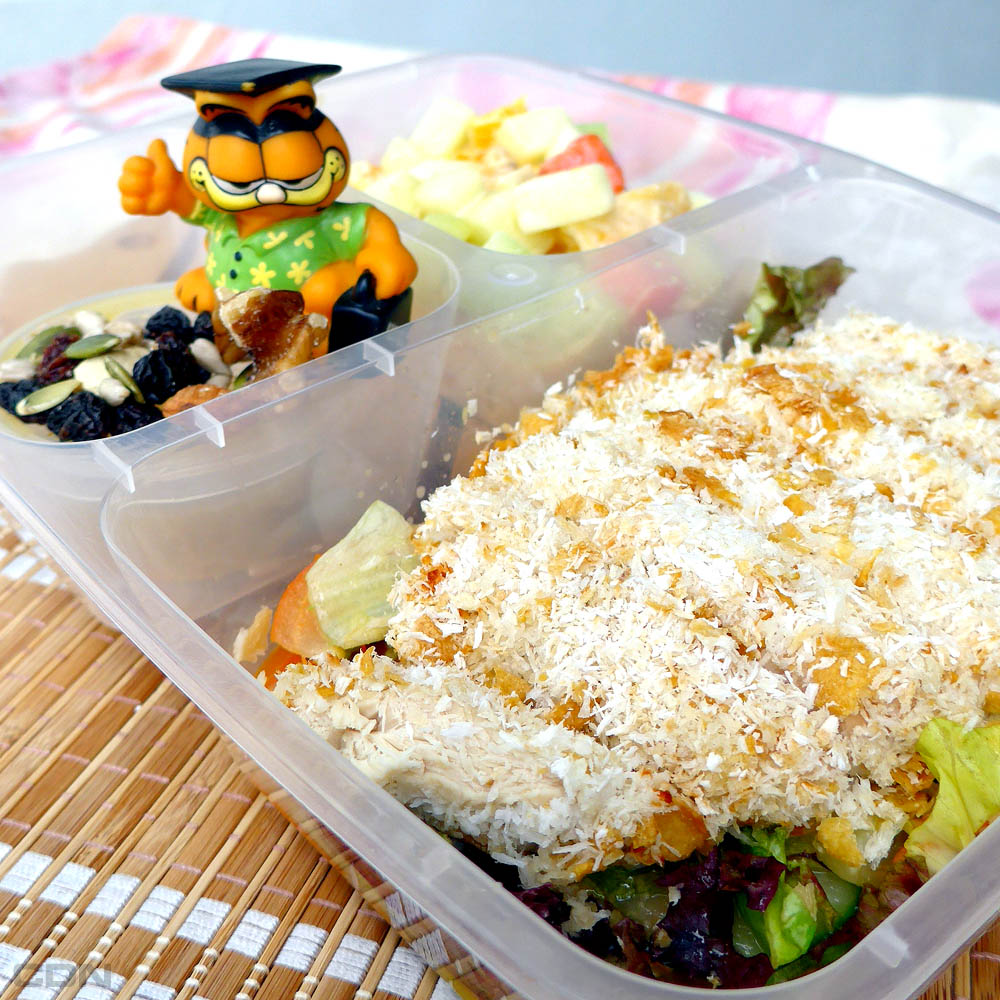 Starch: None
Vegetables: Mixed Greens with Mustard Vinaigrette
Fruits: Mixed Local & Imported Fruit Salad with Homemade Yoghurt Dressing
Energy/Calories: Mixed Dry Fruits & Nuts (Protein, Fiber & Healthy Fats)
Main: Fresh Grated Coconut Coated Grilled Chicken
Verdict: This set was something out of the norm as it did not come with any starch item. However, you still get your required energy from the accompanied fruits and nuts. I'm actually not quite fond of having grated coconut on savory dishes but I still find this set to be quite acceptable to my liking as THFP used unsweetened grated coconut for this recipe.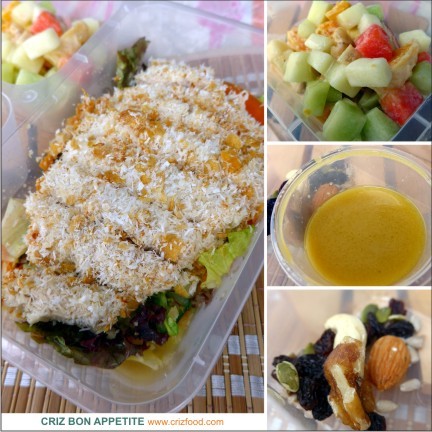 Honey Soy Glazed Salmon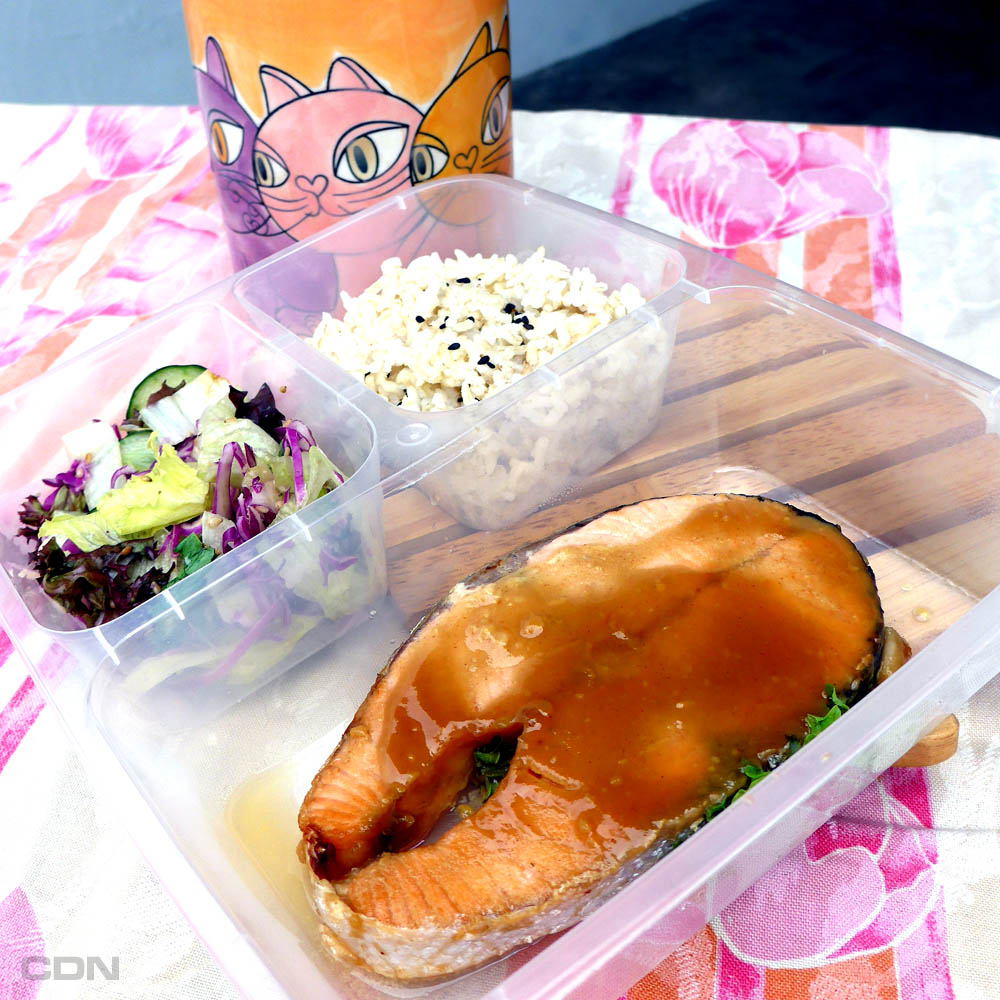 Starch: Steamed Brown Rice
Vegetables: Summer Garden Greens
Main: Pan Seared Salmon with Honey Soy Glaze
Verdict: Though this set might be a bit small for big eaters, I found that THFP were rather generous in serving a thick slab of grilled salmon. The sweetness with a tad of light saltiness from the honey soy glaze was quite appetizing. There were some greens and brown rice to complement the main dish. However, I won't mind if THFP replaced the brown rice with some rosemary baked potatoes instead.
Hoisin Glazed Chicken Kebab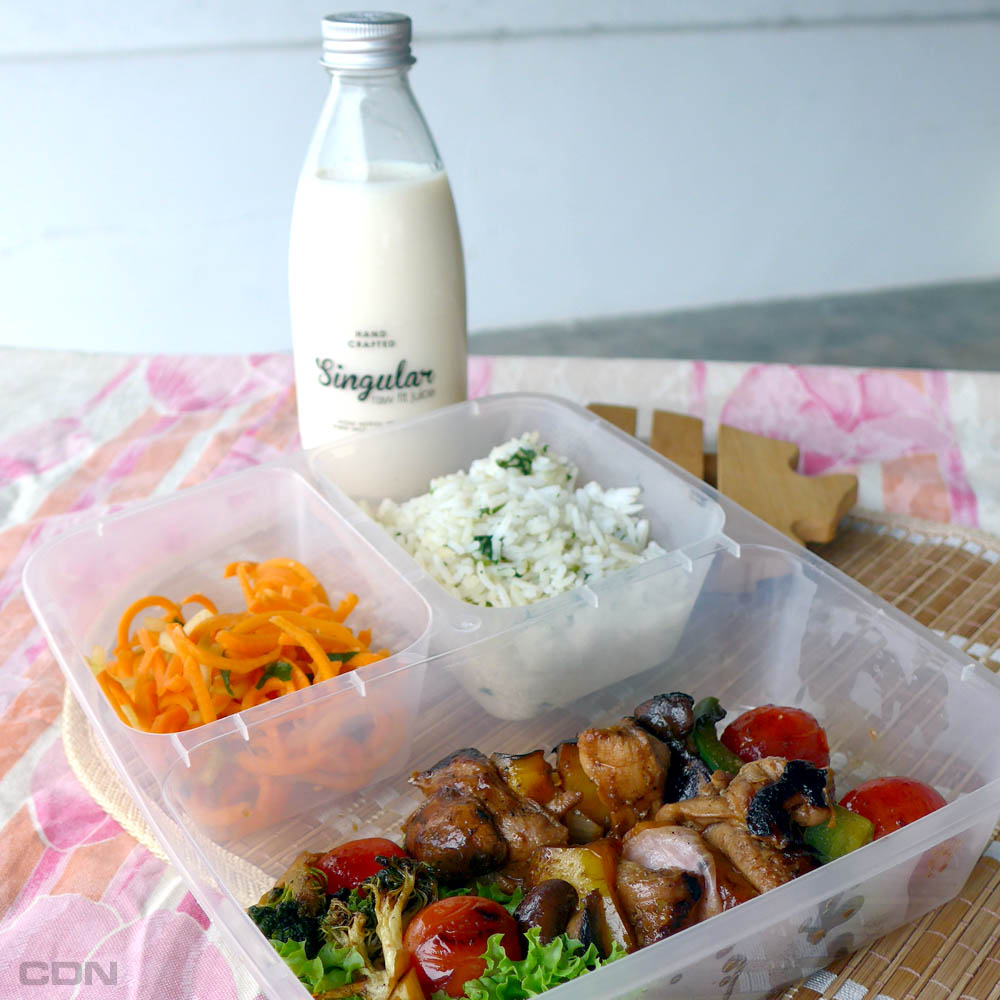 Starch: Cilantro Basmati Rice
Vegetables: Spiralized Sesame Carrots Salad
Main: Grilled Chicken Chunks with Vegetables
Verdict: The skewers of low calorie hoisin sauce marinated chicken breast meat combined with a mixture of greens were fragrant and flavorful. The chopped cilantro boosted basmati rice went well with the meat. The spiralized sesame carrots salad was a bonus for some extra crunchy bites.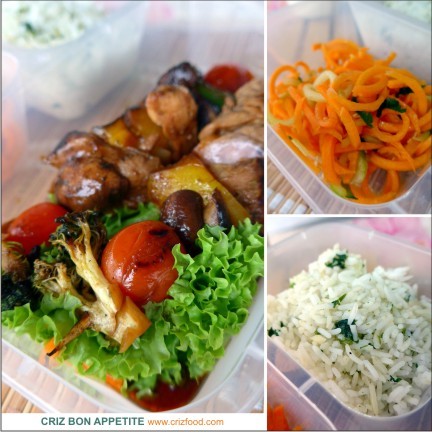 If you needed something more to go with your meal, you can always order their other products. Their All Natural Jolly Jar (RM9.90nett) was filled with loads of fruits, oats, yoghurt and seeds. Wow! I would consume a jar of this delicious Parfait with all the wonderful nutrients within daily.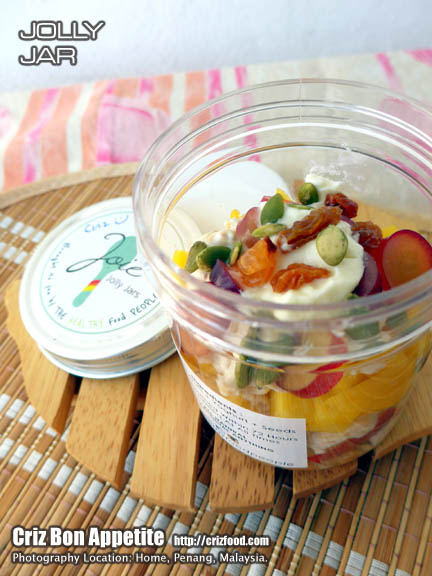 THFP do also serve Cold Pressed Juices (RM8.50nett/bottle). You have to check out with them on what would be available for the day. I ordered their Hand Crafted Singular • Raw Fit Juice of Cashew Milk which consisted of raw cashew, Himalayan pink salt, agave nectar and cinnamon. It was superbly healthy and delicious.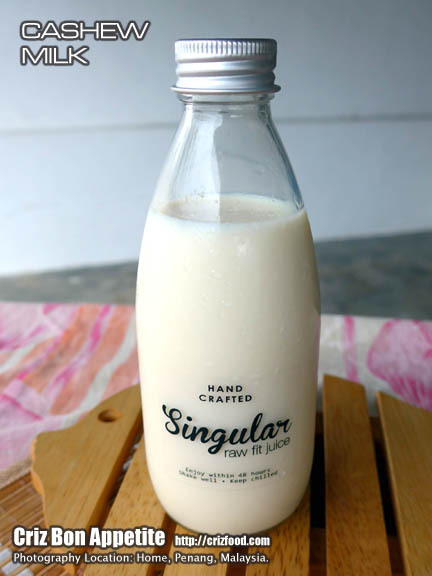 For a person who would not go on a healthy diet on a daily basis, I do find the dishes served by THFP to be flavorful and attractive enough to change my perception on dining healthily. Of course, you would not find every dish served by them to be palatable to you in a short period of time. It might take some time for us to get use to eating healthily but it's the best for our own health. If I can cater from them on a daily basis for a few months without getting bored on dining healthily, why can't you? 🙂 Anyway, you have the option to choose your favorites by checking out their FB for their weekly menu as stated below.
Name: THE HEALTHY FOOD PEOPLE
Central Kitchen: Sungai Nibong, Penang, Malaysia.
Contact: +6019-420 2047
Email: thehealthyfoodpeople@gmail.com
FaceBook: http://www.facebook.com/thehealthyfoodpeople
Instagram: http://www.instagram.com/thehealthyfoodpeople
Testimonial: http://bit.ly/bzeathealthy
Payment Mode: Cash On Delivery (COD) or local bank transfer
Delivery Fees: Flat rate of RM3 per trip
Delivery Days: Monday until Friday, excluding Saturdays and Sundays and some public holidays
RATING:
Food Choices: 9/10 (1-4 limited, 5-7 average, 8-10 many choices)
Cleanliness: 10/10 (1-4 limited, 5-7 average, 8-10 many choices)
Taste: 8.5/10 (1-4 tasteless, 5-7 average, 8-10 excellent)
Pricing: 7/10 (1-4 cheap, 5-7 average, 8-10 expensive)
Service: 8/10 (1-4 bad, 5-7 average, 8-10 excellent)