With the successes of the US Potato Culinary Festival Kuala Lumpur in 2013 and 2015, the US Potato Festival Penang 2016 was finally held in the Pearl of the Orient, Penang, where the culinary scenes are well known to the world. Organized by the United States Potato Board of Malaysia with the support of the Penang Chefs Association, the month long festival would last from 1-31 May 2016 with 20 participating eateries showcasing the best they could offer with U.S. potatoes, either using fresh, frozen and/or dehydrated. Each eatery would feature some mouth-watering assortments of their creative delicacies from finger food, appetizers, entrées, soups, main courses to unique desserts, fully utilizing the versatility of the quality and nutritious U.S. potatoes. The launching of the festival was held at Straits Court @ Straits Quay, Penang recently on 23 April 2016.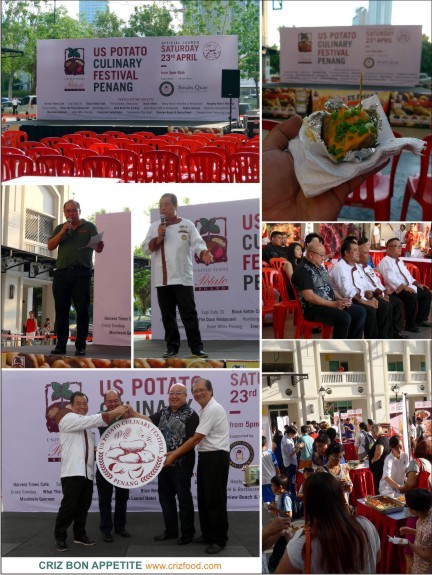 According to Eddie Saw from the United States Potato Board of Malaysia, the humble looking potatoes had faced many bad reputations for being one of the most fattening food items to consume. In fact, one medium size (5.3 oz) skin on U.S. potato merely contains 110 calories per serving, boosts more potassium (620g) than a banana, and provides almost half the value of Vitamin C (45%) and contains no fat, no sodium and no cholesterol at all. He could be right with the facts and figures as potatoes surely have their fans and foes depending on how you cook them. Some of the healthier ways might include baking, roasting, mashing, scalloping or even steaming rather than dunking them into a deep fryer and dressing them up with fatty and greasy toppings. Fat-free sour cream, salsa or even simple toss in extra virgin olive oil could be your best alternative. It's about time we give these spuds the respect they deserve, considering that they do have many nutritional benefits as well~ 🙂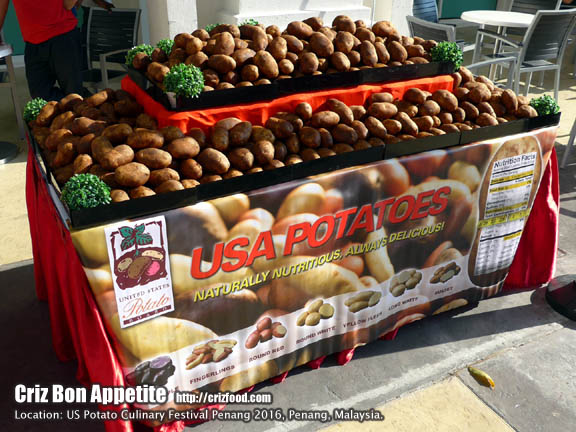 Here were some of the interesting and unique dishes pepped up by the participating eateries during the launch as shown in the photos below.
A few of the dishes caught my attention. One of them was the Stuffed Egg with U.S. Potato from What The Duck Restaurant. It had slightly sweetened mashed potatoes wrapped around a quail egg, breadcrumbed, deep fried and drizzled with some mayonnaise. I could have mistaken them as dessert as the filling was almost mung beans like as you get from those in mooncakes. Anyway, it was quite a cheeky play on the usage of potatoes.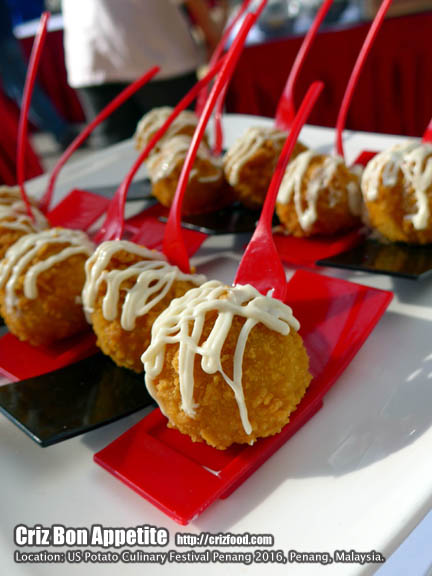 Another dish that I was quite impressed with was the Rib Eye (120 days Grain Fed) served with Oxtail US Potato Cake, Buttered Spinach & Brandy Sauce by Healy Mac's Irish Bar & Restaurant. The well grilled rib eye combined with the crispy yet creamy potato cake, dressed in the sauce was something I would go for when I visit the eatery soon.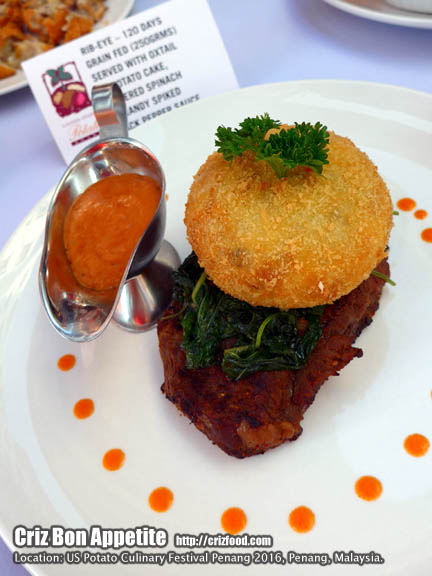 Hotel NEO+ Penang came out with a skillfully prepared Millefuille of Braised Lamb Shank infused with Herbs, accompanied with US Gratin Potato on Grilled Scallop Shell.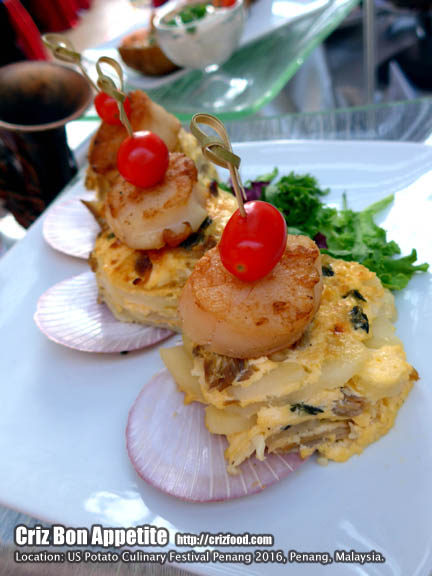 Café 32 @ Segi College Penang also did impress me with their Deep Fried Cris Cut with Pandan Cream & Palm Sugar. It was something out from the norm.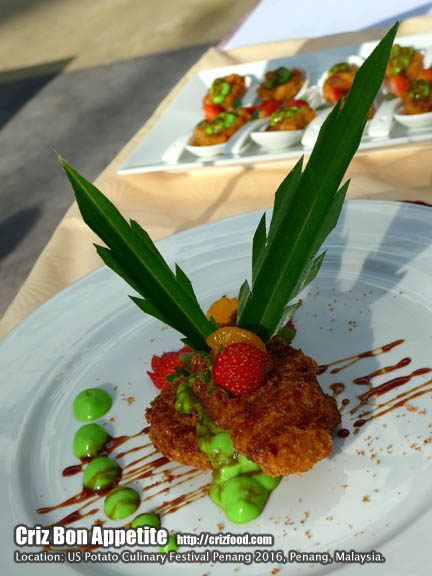 Georgetown City Hotel also came out with a creative dessert of Chocolate Brownie with US Potato Chunks. On top of the little nutty crunch within, you would get some soft and moist potato bites as well.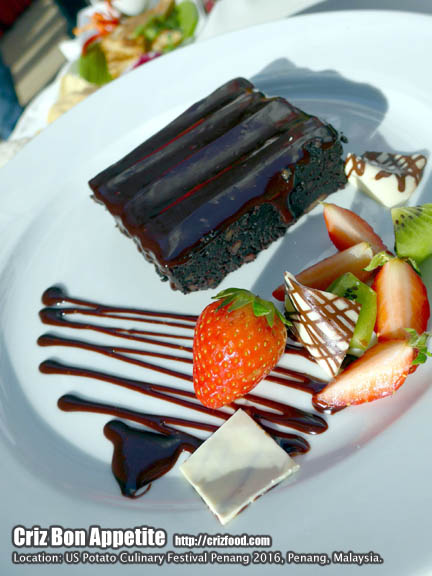 Naughty Nuri's Warung could be real cheeky as their name with their pub grub style Wicked US Potato Chips with Salted Egg Mayo. Be warned~ The dip could be real fiery with some hidden red bird's eye chilies~ LOL~ 😛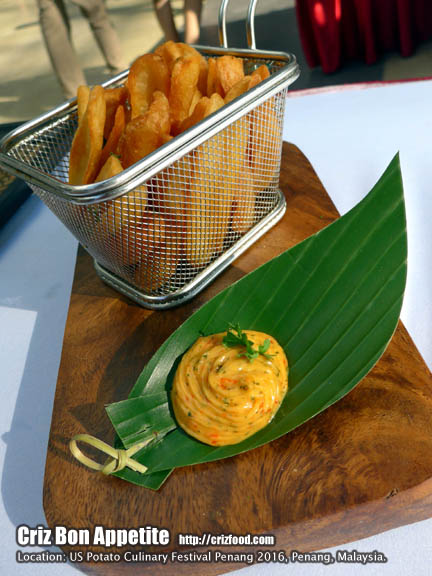 As for creativity, I would think that Evergreen Laurel Hotel excelled above the rest for its colorful yet tastefully plated arrays of dishes such as their Deep Fried Bird Nest US Potato with Sliced Herbed Potatoes, Grilled Cherry Tomatoes, Fruits Salsa & Baked Capsicum Sauce plus their US Potato Wrapped with Seaweed, Vegetables and Mash, accompanied with Waffle Potato in Balsamic Reduction Sauce.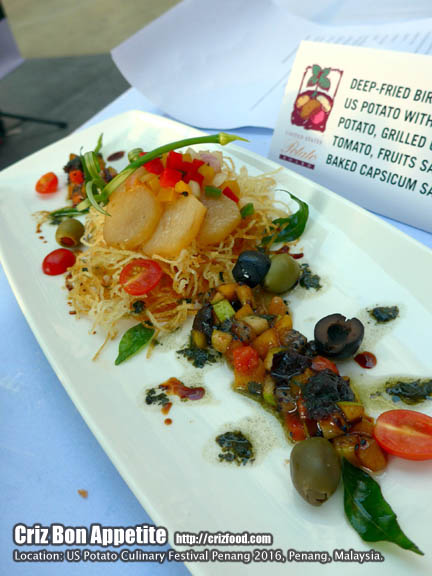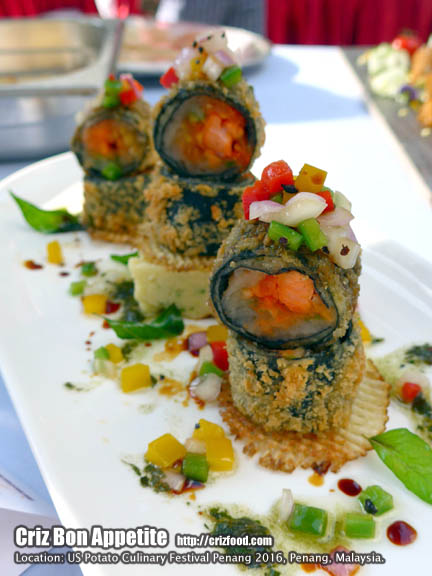 THE 20 PARTICIPATING OUTLETS:
1. Bayview Beach Resort
2. Bayview GeorgeTown Hotel
3. Black Kettle Café
4. Blue Reef Fish & Chips
5. Crazy Cowboy Bar & Grill
6. Evergreen Laurel Hotel
7. Gala House Café & Restaurant
8. Georgetown City Hotel
9. Hamburger Inc.
10. Harvest Time Café
11. Healy Mac's Irish Bar & Restaurant
12. Moulmein Gourmet
13. Naughty Nuri's Warung
14. Hotel NEO+ Penang
15. Rakkii Izakaya
16. Segi Café 32
17. Sunway Hotel Seberang Jaya
18. The Chambers Restaurant
19. Uncle Albert Fish & Chips
20. What the Duck Restaurant