With a never ending appetite for Thai cuisine, I have constantly been exploring all those secluded areas in search of delicious spreads. There's this little Thai food stall, located within the premises of a corner coffee shop, nearby Universiti Sains Malaysia (USM) in Sungai Dua area. This stall has been pepping up nice stir fry (choo char) Thai dishes for many years, mainly to cater to those frequent university students as well as workers around that vicinity. That stall which has been known for its cheap and good (C&G) Thai food, is manned by a few local Thais and goes by the name of Tajai Thai Food.
I have not been visiting this place for quite some time now and decided to pay them a visit recently. Cheap? I won't say that, unless you order fried rice/noodles with a sunny side-up, as what those students would do. Good? This is again a topic for debate. Unless you are an expert in combining your Thai dishes, the dishes might not turn out to be how you would want them to be. Your combination might end up to be a bunch of sweet and spicy dishes as the Thais are believed to have sweeter taste buds.
Let's just have a look at some of dishes I had tried through a few visits. First there was the Fried Chicken with Cashew Nuts (Kai Pad Met-Mamuang – RM9.00). Instead of being presented in gravy form, this dish has batter coated chicken fillets with some sliced Kaffir lime leaves, stir fried in some sweet sauce with a light hint of fish sauce. These came with some fried cashew nuts. This dish was not bad, except that it could be quite dry without any gravy. The next dish was the Stir Fried Chicken with Basil Leaves (Kai Pad Krak Praw – RM8.00). This chicken dish has the right combination of Thai basil leaves, shallots, garlic, red chilies, fish sauce, dark soy sauce and many more ingredients. The only difference compared to the others was the usage of chilies. It did not have the spiciness from some smashed bird eye chilies, which made this dish quite ideal for all age groups. You would be surprised that their Thai Onion Omelette (Khai Cheow Homyai – RM3.50) was so simple and yet so appetizing. With high heat and lots of oil, you would get a crispy omelette. The only setback was the excessive oil remains at the base. They should have drained it well. Their Sambal Asparagus (Pad Phak Naw Mai Farang – RM8.00) was a new experience. Instead of using stalks of asparagus, the vegetables were sliced thinly (just like French beans) and stir fried with lots of prawns in a more diluted version of Thai sambal. The dish has more hints of oyster and fish sauces.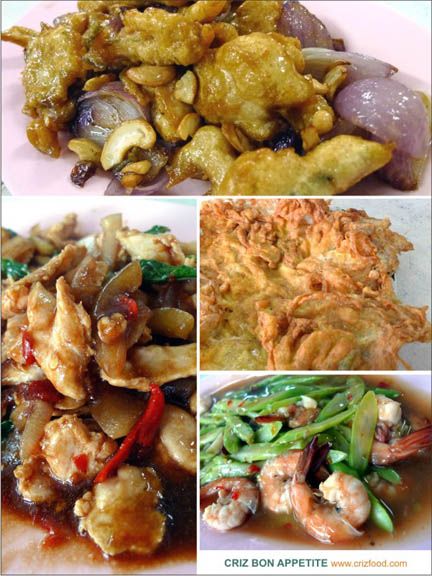 There are all together about 100 types of dishes to choose from the menu. Another of the common ones would be the Special Thai Omelette (Khai Yad Sai – RM7.00), a wrapped omelette with meat and vegetables. I somehow detested the usage of frozen mixed vegetables in dishes. This is the most disappointed dish I had there as it was just some mixed vegetables stir fried with minced pork with a touch of chili sauce and wrapped in a tasteless omelette. I won't recommend this dish as it did not have any distinctive flavors. Fortunately, the Green Curry Chicken (Gaeng Kheow Wan Gai – RM8.00) was reasonably good. The dish was not as spicy as expected without the usage of bird eye chilies. Instead of the mini Thai eggplants being use here, it has a bigger version and all sliced up. There were some cut long beans being added in too. The Bangkok Pandan Chicken (Kai Bai Toey – RM6.00 for 5 pieces) was another disaster. They were practically swimming in oil. If not with the help of some tissues, I would have put them aside. There were neither traces of any spices nor sliced lemon grass being used here. Each pandan (screwpine leaves) wrapped chicken just tasted sweet with a hint of soy sauce. Banned! Their Fried Prawn Cake (Tod Mun Koong – RM3/pc) was not up to my expectation too. I just do not know how such a simple dish could have that somewhat almost fermented seafood flavor in it. It could be due to the not properly stored lard being used in it too.
Now I know why most of the students would go for their fried rice or noodles as it could be safer for their digestive systems. I did try out one of their noodles to test on the flavor. Their Seafood Tomyam Glass Noodles (Tomyam Woon Sen – RM5.50) sure had lots of squids in it but it was not my plate of noodles. Somehow the noodles tasted real sweet with the usage of some Thai chili sauce with a dash of fish sauce.
Overall, this stall serves average Thai dishes which would suit common people. If you would like to have a more authentic Thai cuisine, it would be better to go for Annathai-Kitchen or Aroi Thai Restaurant, both shops located in Pulau Tikus, Penang. In fact, Lang Sae Lee Thai Food down at Tan Jetty, Weld Quay, Penang, also serves an above average Thai cuisine but the prices had soared sky high recently and most average income people are avoiding them.
If you are driving up from Gelugor area, drive all the way up Jalan Sultan Azlan Shah towards Universiti Sains Malaysia (USM). When you see USM on your right, keep to your right until you reach the traffic lights (Sunny Point Complex on your left). Turn right into Jalan Sungai Dua. Drive on until the third traffic lights (Tesco Extra on your right) and turn left into Lintang Merak. Immediately after the first junction (Jalan Merak), slow down and watch out for a service road on your left. Turn left into the road and you would see the Thai food stall at the far end of the row of shop houses within the premises of Kedai Kopi Paimay. There will be ample parking space there. Do take note that you may encounter parking problem on Saturday as there will be a night market (pasar malam) on that day.
Name: TAJAI THAI FOOD
Address: 23 Lintang Merak, Sungai Dua, 11700 Penang, Malaysia
Contact: 016-469 0305
Business Hours: 11.30am-10.00pm (Closed Last Sunday of the Month)
GPS: 5.349925, 100.298597
RATING:
Ambience: 6/10 (1-4 cheap, 5-7 average, 8-10 classy)
Food Choices: 8/10 (1-4 limited, 5-7 average, 8-10 many choices)
Taste: 6/10 (1-4 tasteless, 5-7 average, 8-10 excellent)
Pricing: 7.5/10 (1-4 cheap, 5-7 average, 8-10 expensive)
Service: 8/10 (1-4 bad, 5-7 average, 8-10 excellent)