It was indeed an evening of "Fun, Wild & Intimate" as the theme was when we gathered for the 4th Penang Floggers Gathering at Vintage Bulgarian Restaurant & Bar not long ago. Other than the usual faces we had seen, many new flogging friends had decided to show up from as far as Kuala Lumpur. Who they are? You can find out about them at the end of the post. Now let's start with the main topic – FOOD! Since it was a specially arranged menu just for us and many other patrons of the restaurant for the night, we had a great package deal at only RM40/pax. Thanks to Alan and Allie for organizing this memorable event.
The dinner started with a choice between two soups. The Mushroom Soup with Vintage Garlic Bread was freshly prepared with a mixture of different types of mushrooms, accompanied by a slice of creamy garlic bread. The soup had the earthly taste that I love a lot and the garlic bread was marvelously prepared with lots of cheese topping.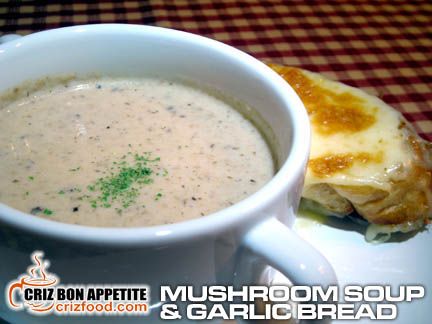 The Seafood Soup on the other hand had a totally different taste. It has the freshness of the seafood ingredients somewhat like seafood chowder but a bit spicier. There were hints of crabsticks, fish cubes, crab meat and herbs that made the whole taste a unique experience.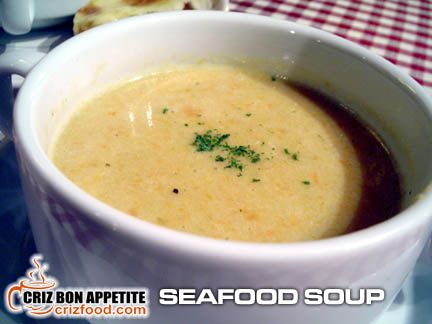 There were 5 options for the main meal and we shared amongst our table of 6 persons so that everyone would have a taste of the food. The first that arrived was the Bulgarian Pork Djolan, a traditional roasted pork knuckle. Sometimes also known as ham hock or hough, the meat has been well marinated with hints of light wine, salt, honey, herbs and spices. This was then roasted until perfection with slightly crispy skin and tender yet juicy meat. The dish alone had enough of flavor without applying the accompanied BBQ sauce.
The next dish was the Chicken Stroganov which consists of boneless chicken drumstick cut into stripes and cooked with mushroom, wine, cream, herbs and spices. This again was well received by many of us although the portion was not as remarkably large as the former dish.
The Bulgarian Platter was served next. The dish had a mixed grill trio of kebapche (front row in sausage shape), kyufte (back row in oval shape) and karnatche (center row with sausage like texture). The differences between kebapche and kyufte are in shapes and the additional usage of chopped onions in the later. Both are actually made out of minced meat (pork, beef or mixed) with some signs of cumin, salt and grounded black pepper. Karnatche is actually the Bulgarian style of stuffing sausages with pure meat patty and then grill to perfection. Taste wise for everything was fine, except that they could be a bit salty for the local consumption.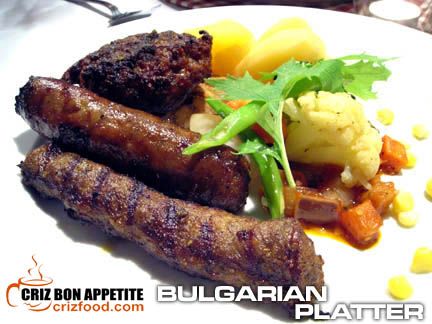 For those ribs lover, the Plovdiv Ribs might be a good choice. It came with a few choice pieces of pork ribs, marinated with the chef's secret recipe and roasted until tender. The ribs were meaty enough too. To me, there were no uniqueness in this dish compared to any regular BBQ ribs and it was a bit sweet to my liking.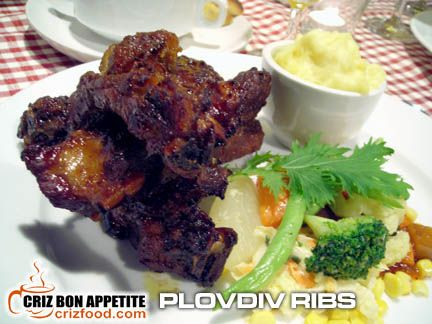 With all the meaty stuff, it was great to see a seafood dish. Baked Cod Fish Fillet served with chopped mushroom in creamy mushroom sauce was next. The thick cut cod fish fillet was slightly bake to maintain the gel like freshness within blended in real well with the slightly cheesy taste like sauce.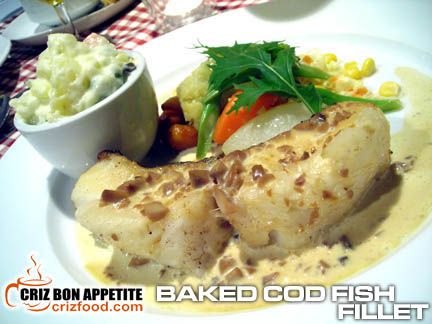 Even before our desserts were served, we were given sweet treats courtesy of Winter Butterfly Homemade Cakes and gelatos from Gelatisimo. Here are the Oreo Cheese Cake, Chocolate Brownies and Cream Cheese Mousse Cake.
The sample tryout by Gelatisimo was indeed different. The different flavored gelato itself was smooth, creamy, flavorful and not overly sweet – the healthy way that I love. We had flavors such as green tea, mango, chocolate, rum & raisins, etc. There are around 50 more flavors in their outlets.
After all the treats, we had more desserts from the restaurant. The first dessert was the Chocolate Soup with Vanilla Ice Cream. It indeed reminded me of how I used to take my ice cream when I was in my earlier years – mildly sweetened chocolate beverage with a scoop or two of vanilla ice cream. The only difference here was the sprinkles of some chocolate rice. In fact, I still do make this dessert quite often but with milky coffee instead. I personally felt that the aroma and slight bitterness of the coffee combine well with vanilla ice cream.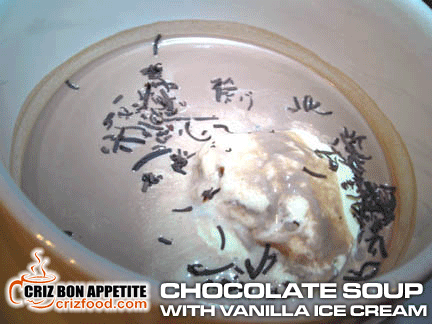 The next dessert was the Chocolate Crème Brulee. It was indeed another great dessert which was not as sweet as it looked. The crème was perfectly whipped and to take a spoonful with some caramelized sugar on the surface was like heaven. The creamy substance oozing down your throat while your teeth slowly munching the crunchy caramelized sugar, was simply refreshing. This dessert came with some fresh fruit cuts.
It might be quite hard to locate the restaurant for those from outstation but it would be worth your effort to try out their wonderful food. Vintage Bulgaria Restaurant is actually situated just behind Mutiara Selera Food Court at the base of Pearl Hill. To go to this restaurant, just drive towards Batu Ferringhi from town. When you reach the Penang Swimming Club on your right, drive ahead until you see Caltex petrol kiosk on your left. It's just a short distance before reach another traffic light (Mutiara Selera Food Court). Turn left before the food court and you would see a Y junction. You can either turn left and find a parking space somewhere near the 7-ELEVEN outlet as the restaurant is right in the middle or the same row of shop houses or turn right until you see another Y junction then turn left into Jalan Sungai Kelian. Turn left again into the sloppy service road. You would see the restaurant on your right. There's a mini car park opposite the restaurant but it's up to your luck to find a parking space as normally it would be full during dining hours.
Name: VINTAGE BULGARIA RESTAURANT & BAR
Address: 1E, Jalan Sungai Kelian, Tanjung Bungah, 11200 Penang, Malaysia.
Contact: 604-898 1890
Business Hours: 12.00noon-12.00am (Last order at 10.00pm)
GPS: 5.464654, 100.292526
RATING:
Ambience: 9/10 (1-4 cheap, 5-7 average, 8-10 classy)
Food Choices: 8/10 (1-4 limited, 5-7 average, 8-10 many choices)
Taste: 8/10 (1-4 tasteless, 5-7 average, 8-10 excellent)
Pricing: 8.5/10 (1-4 cheap, 5-7 average, 8-10 expensive)
Service: 8/10 (1-4 bad, 5-7 average, 8-10 excellent)
Attended Floggers:
Alan Choong
Allen Ooi
Allie Sun
Anna
Bee
Carrie Soon
Celine
Chan Chee Wah
Cheryl Wee
CK Lam
Criz Lai
Desmond Ch'ng
Gill Giam
Huat Koay
Jason Wong
Jessica Tan
Jian
Kathleen Tan
Ken Chan
Leong Mei Yi
Lingzie
Mary Teo
NKOTB
Rebecca Saw
SP Moi
Steven Goh
Wong, Zi Yi
Yong Shi Hui