When you speak about BBQ on the table, the first thing that would come into your mind would most probably be the Bulgogi, the Korean style BBQ, the Asian style of BBQ Steamboat or maybe the Thai's Mookata, BBQ Steamboat. How about the Japanese style of grilling meat called Yakiniku? What about a fusion between the Japanese and Korean style of BBQ? Would you love to try on that? For the last decade plus, Kannichikan Yakiniku Restaurant (KNK) has been providing this Japanese styled Korean BBQ concept to the Malaysians starting with its first branch in Penang as far back as August 2000 (more branches are stated below). They are the first to my knowledge to have imported Kuroge Wagyu (Japanese Black) and did the choice cuts themselves as well as providing those diners with acquired taste the options to savor the best of beef "spare parts" such as bowels, intestines, tongues, fardels/multipliers (omasum) and pillar tripes.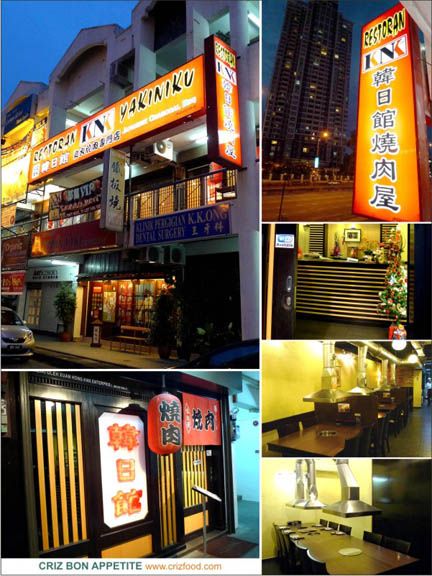 I had the privilege to be invited not long ago to try out some of the dishes available at the pioneer branch located along the main road of Jalan Tanjung Tokong, Penang. This outlet's kitchen is managed by a young, energetic and jovial chef named Chef Shelvin Tan Hock Pin, who had years of experience working for the husband and wife owners.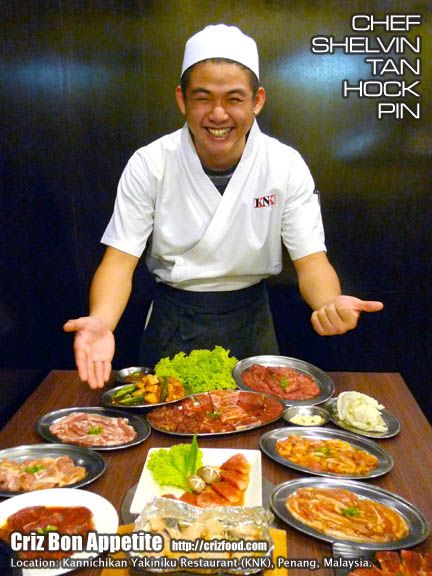 KNK do provide some of the best meat cuts such as beef, pork, chicken and seafood for your grilling pleasures. Of course the best cuts would still be the Kuroge Wagyu Rosu (Blackmore Full Blood Wagyu Ribeye – RM108++). This high priced wagyu beef is known for its marbling characteristics and quality with a high percentage of oleaginous unsaturated fat. The grilled meat would flavorful by itself and just melts in your mouth.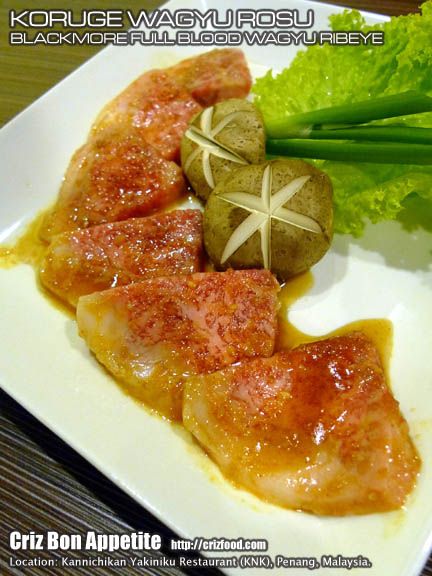 Another option would be the Wagyu Bara (Premium Wagyu Short Ribs – RM59++). The cuts were mildly marinated with the chef's secret recipe. Though tender and juicy, you can't compare the texture and bite with the former as they were of the top quality.
Tokuzyo Rosu (Wagyu Ribeye – RM39++) would also be available for your selection. Same as the above, it was mildly marinated to bring out the best in its flavors.
Other non-beef options would be the Buta (Pork – RM23++) and the Tori Momo (Chicken Thigh Meat – RM19++). Both the meat cuts came in two different marinates. One would be a simple marinate of sesame oil, salt and pepper while the other one would be with a special combination of sesame oil, chili flakes, sesame seeds, miso with a light touch of apple juice.
KNK uses a Japan imported type of biomass briquettes which would sustain high heat for an hour plus and yet produce minimal sparks and little ash, though giving the meat some mild smoky flavors. These briquettes would be filled in a Shichirin, a Japanese barbecue grill with a custom made "netted" brazier that has been preheated at the right temperature to prevent meat from sticking on it. Just a reminder here to diners who have no experience in BBQ techniques. Please be informed that turning or poking at the meat too often would flare up the charcoal, thus making the meat scorched easily.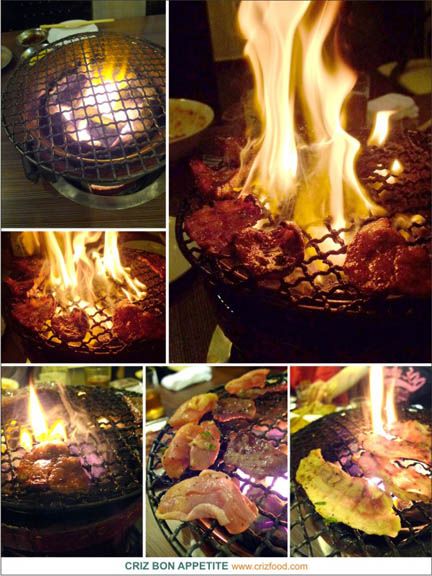 For those who would love to have a try on the Yakiniku, there's always the KNK Set for Two Pax (RM119++). The cuts given would include Zyo Tan (Prime Beef Tongue), Karubi (Bone-in Prime Short Ribs), Zyo Rosu (Prime Ribeye), Zyo Bara (Prime Short Rib), Harami (Skirt Flank), Kimuchi Moriawase (Kimchi Mix) and Chisya (Lettuce).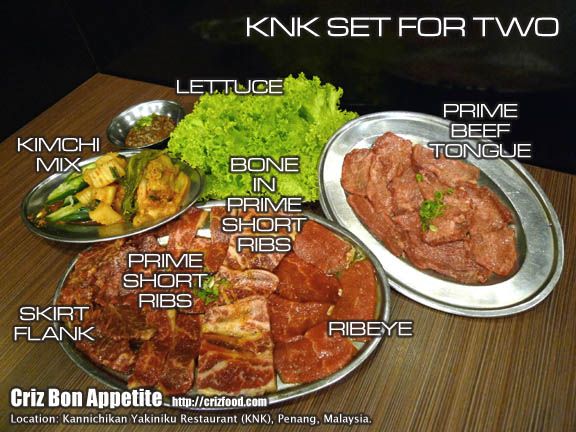 Other than just items for grilling, KNK also do provide other precooked dishes such as the Butter Yaki Hotate & Salmon (Butter BBQ Scallop & Salmon – RM35++).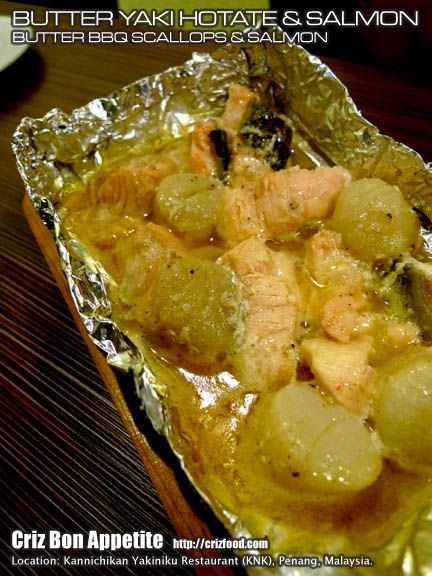 For those who prefer some rice dishes, there's always the Ishiyaki Bibinba (Stone Bowl Rice with Korean Vegetables – RM20++). This is the Japanese version of the Korean's Bibimbap. There would be some Japanese steamed rice in a hot stone bowl topped with minced chicken, raw egg, spinach, shitake, bean sprouts, carrot, radish and gobo roots (Arctium lappa roots/burdock roots/牛蒡) which has great medicinal properties as blood purifier.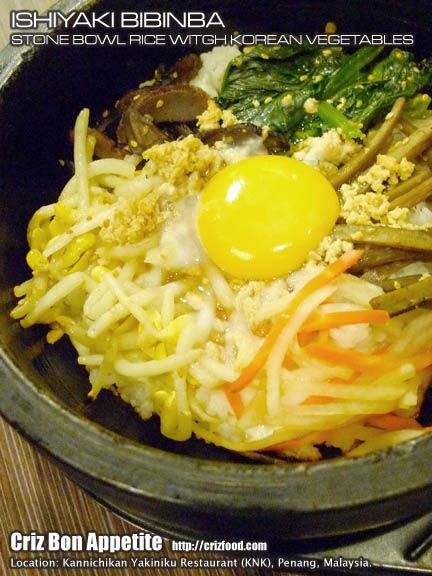 For spicy lovers, Karubi Kubba (Spicy Short Ribs Soup with Rice – RM17++) would also be available. You can practically taste the rich stock flavors with a tad of spiciness. Each bowl would come with rice topped with a spicy soup base which consisted of squids, beef, shitake, spinach, bean sprouts, carrot and radish.
For a lighter palate, you could order their Wakame Sarada (Seaweed Salad – RM12++). It has a light touch of wasabi dressing just mild enough for anyone.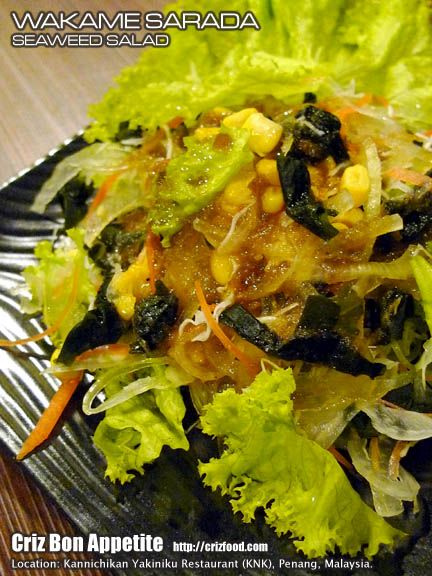 Lastly, I simply love how KNK prepared their Chichimi (Korean Chives Pan Cake – RM18++). It was not as starchy as I had tried elsewhere and with a nice crisp bite. It has basically egg, flour, chopped onions and chives in it. The dish went well with the condiment which has a slight sourness with a touch of fragrant sweetness from the added soy sauce and sesame oil.
Overall, Kannichikan Yakiniku Restaurant has the right flavors for the BBQ items. Simplicity is always the best for tasting the original flavors from the chosen meat. Moreover, not many restaurants in Malaysia have the options for so many "spare parts" for grilling and KNK group of branches are the sole restaurants with such availabilities. Speaking of condiments, KNK is also the expert in providing their homemade sauce paired with the right choice of meat.
Kannichikan Yakiniku Restaurant has been in Penang since August 2000. Although it's visible along the main road of Jalan Tanjung Tokong, it tends to be missed by many locals and visitors as it's located on the 1st floor of Desa Tanjung. If you are coming up from Pulau Tikus/Bagan Jermal/Gurney Drive into Jalan Tanjung Tokong, drive on until you have reached the second traffic lights (Precinct 10 and Island Plaza will be on your right). At the traffic lights, turn right into Jalan Seri Tanjung Pinang (leading to Straits Quay). Immediately turn right, keep slow and turn left into the service road. That's where Desa Tanjung is. Find a parking space and walk up 1st floor and you would see the restaurant there. Parking can be quite scare during certain peak period of the day. It's advisable to park your car at the Island Plaza car park and walk over to the restaurant.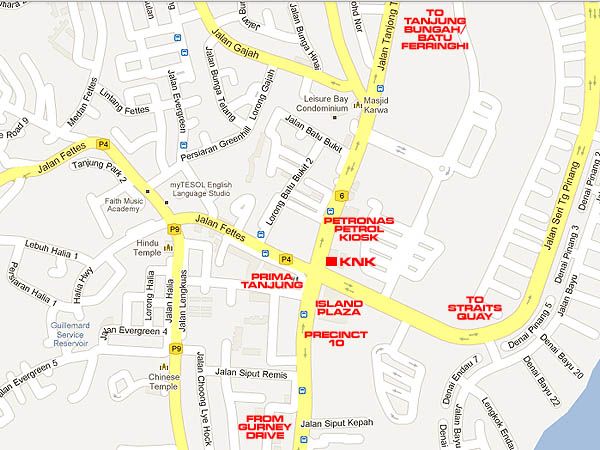 Name: KANNICHIKAN YAKINIKU RESTAURANT @ DESA TANJUNG
Address: 125-N&O, 1st Floor, Desa Tanjung, Tanjung Tokong, 10470 Penang, Malaysia.
Contact: 604-899 8208
Business Hours: 12.00 noon-2.30pm (Lunch), 6.00pm-10.30pm (Dinner) (Closed Tuesday)
GPS: 5.451526, 100.305993
Branches:
KNK Bay Avenue
D-25-1, Lorong Bayan Indah 2, 11900 Bayan Lepas, Penang, Malaysia.
Contact: 604-641 2410
KNK Desa Sri Hartamas
42, Jalan 28/70A, Desa Sri Hartamas, 50480 Kuala Lumpur, Malaysia.
Contact: 603-2300 8829
RATING:
Ambience: 7/10 (1-4 cheap, 5-7 average, 8-10 classy)
Food Choices: 8/10 (1-4 limited, 5-7 average, 8-10 many choices)
Taste: 7.5/10 (1-4 tasteless, 5-7 average, 8-10 excellent)
Pricing: 8/10 (1-4 cheap, 5-7 average, 8-10 expensive)
Service: 7/10 (1-4 bad, 5-7 average, 8-10 excellent)