Swez Brasserie @ Eastin Hotel, Penang will be having "Wonderful Indonesia" Buffet Lunch promotion on Weekdays for the month of August 2015 (1-31 August 2015). Diners will be treated with authentic Indonesian cuisine for all parts of the country. The Buffet Lunch would be priced at RM66nett (adult) and RM33nett (child). Senior Citizen would be entitles to a 50% discount.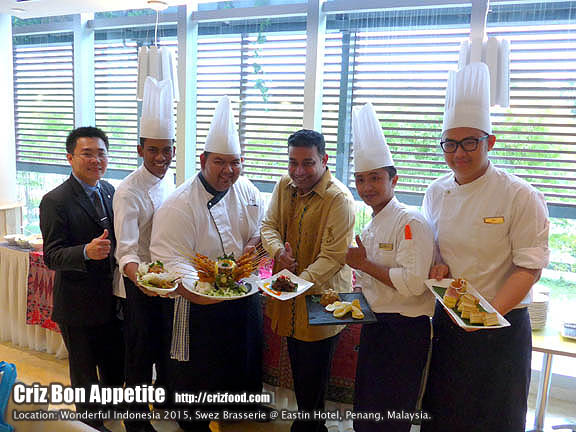 To start off the meal, you might be interested in the infamous Indonesian appetizer known as the Gado Gado (Mixed Salad with Peanut Sauce). It's a DIY salad which would consist of shredded jicama, cucumber, carrot, blanched long beans, boiled potatoes, deep fried bean curd and hard-boiled eggs with superbly tasty peanut dressing and Emping Melinjo crackers as garnish. That's a bonus indeed as most eatery would just provide some sort of crackers instead.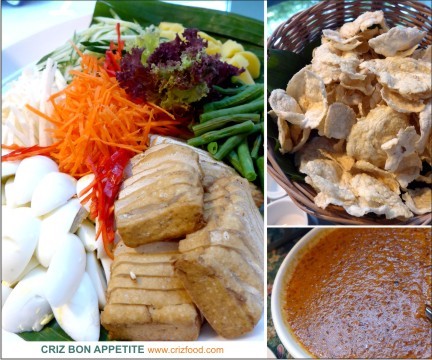 As for soup, you can try out their Sup Buntut (Indonesian Style Oxtail Soup). Well, in Malaysia, we called it Sup Ekor (oxtail) rather than buntut as it meant buttock in Bahasa Malaysia~ LOL~ Anyway, this soup can be considered one of the more expensive dishes in Indonesian cuisine as it would require long hours of simmering as well as the pricey beef option. Compared to the Malaysian version of Sup Ekor, Sup Buntut would have lesser spices and herbs flavors but with a stronger sourness with the generously added amount of fresh tomatoes.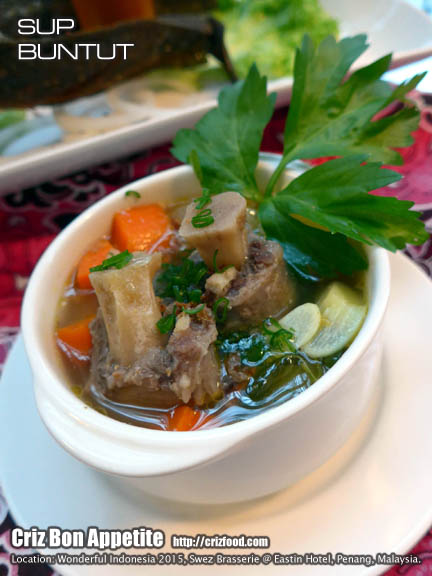 Do check out their Nasi Goreng Ikan (Indonesian Style Fried Rice with Fish Flakes). I quite like the fragrantly spiced up fried rice with some freshly prepared fish flakes. Other than plain steamed rice, this dish would add on more flavors with the other main dishes. With the add-on of Sambal Ikan Bilis with some hard-boiled eggs. I could have this dish just by itself.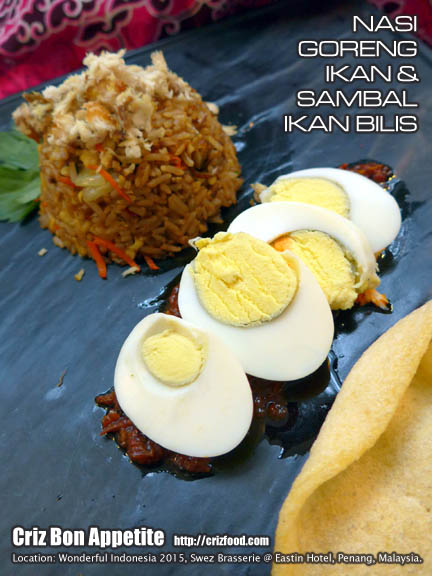 Indonesia is famous for its Pecel Lele (Fried Catfish). Of course, the smooth and fine texture of the fish was an added bonus to go with the fried rice.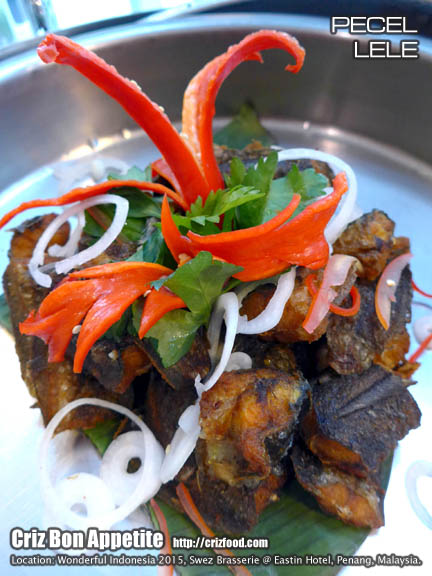 The thick gravy Beef Rendang Jawa went well with the fried rice as well as the thick gravy based curry was pepped with fragrantly concocted spices.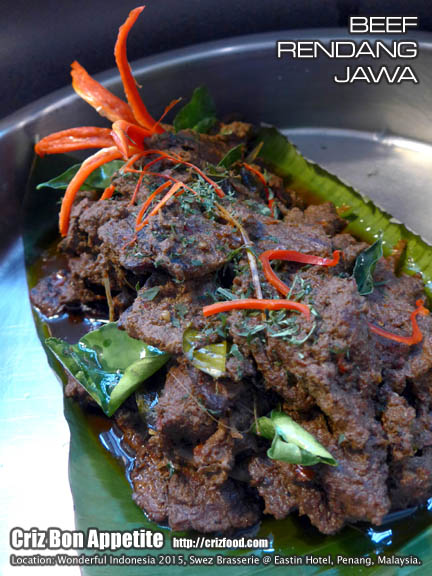 For some vegetables instead of the other meaty stuff, you can always try out their Lontong Sayur (Mixed Vegetables in Coconut Broth), a turmeric and coconut base dish filled with lots of vegetables, bean curds and tempeh. However, I did not see any of the healthy tempeh in the dish. Maybe it could be due to its availability as it's not something easily obtained from the Malaysian market. This is a common Indonesian dish served with lontong (steamed banana leaves wrapped rice cake).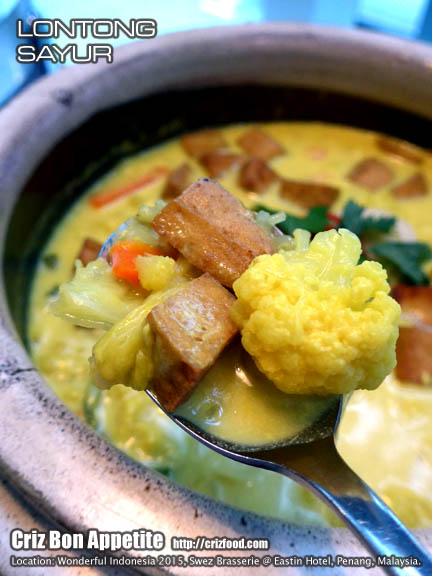 My favorite Perkadel or commonly known as Bergedil here in Malaysia were very flavorful. However, the potatoes were too mashed up. It would be great if the kitchen could make them more coarsely for that extra bite. Some added green and red chilies within would have pepped up the flavor even more.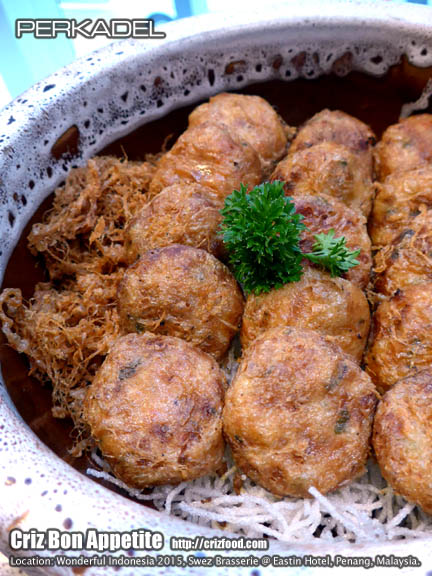 As for side dishes, who could resist Sate Ayam (Grilled Chicken Chunks on Skewers)? These came served with some nasi himpit, cucumber and onions plus the beautifully pepped up peanut sauce. What made me curious was that why they serve Malaysian Nasi Himpit instead of Lontong which is of the same compressed rice cake but with the fragrant from the wrapped banana leaves?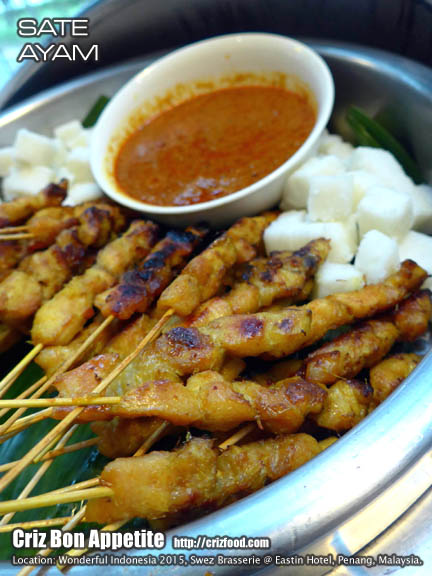 For a lighter meal, you could also try out their Bakso Ayam (Chicken Meatballs Noodles). I personally prefer the beef balls version as it would be tastier than the ones in chicken stock.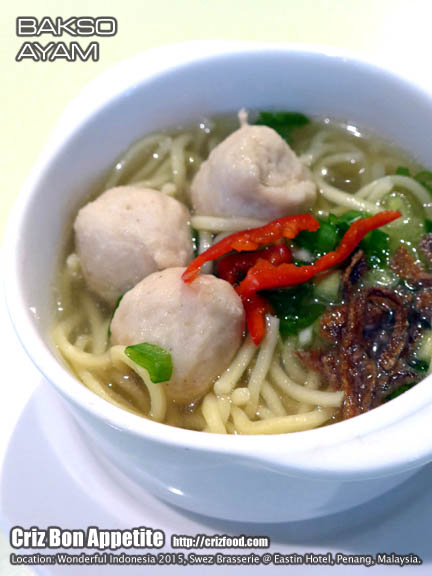 As for dessert, there would be some items available such as the Pisang Goreng dengan Coklat dan Keju (Banana Fritter with Chocolate Syrup & Grated Cheese), Kek Lapis (Indonesian Layer Cake), Homemade Apom Cawan, Chilled Es Teler and more. Es Teler is somewhat like the Thai's Tub Tim Krob except it has added condensed milk and palm sugar. Normally, it would have sliced jackfruits, young coconut and avocado but you could also top up with any other fruits you like such as mangoes, strawberries, toddy palm seeds or even jelly noodles.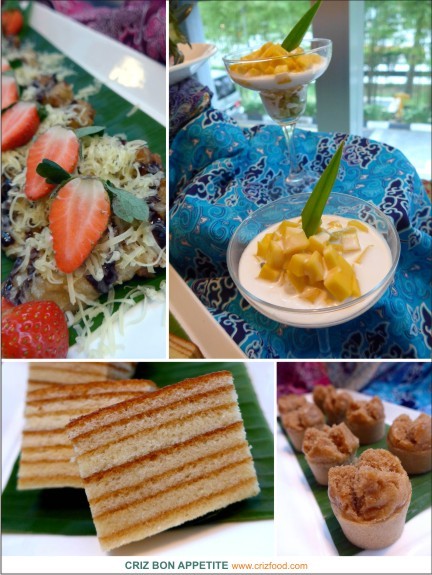 Overall, if you are into Malaysian cuisine, there won't be lots of differences in Indonesian cuisine as most of the dishes would be quite similar but with some extra tweaks. I would prefer if the kitchen would create something out of the norm, something that you could hardly get from the Malaysian culinary scene. Javanese dishes could be quite similar to ours but Balinese dishes could appear to be more outstanding. The kitchen should consider dishes such as Sate Lilit, Sate Udang, Sate Belut, etc instead of the commonly available Malaysian satay choices. As for main dishes, there are more options such as their famous Bebek Goreng (Crispy Fried Duck), Be Siap Betutu (Slow Roasted Chicken), Pesan Be Pasih (Grilled Fish in Banana Leaves), Ayam/Iga Penyet (Fried & Smashed Chicken/Beef Ribs) and more. Even the sambal has to be distinctive compared to the Malaysian version with options such as the Sambal Terasi and Sambal Matah.
The Swez Brasserie is located at the ring wing of Eastin Hotel, Penang (next to Queensbay Mall). If you are coming from Georgetown towards Bayan Lepas Free Trade Zone via Bayan Lepas Expressway, do watch out for the Pulau Jerejak signboard (leading to Pulau Jerejak jetty). Ignore the turning and drive on to the next left junction. Turn left into Jalan Aziz Ibrahim and drive on until you a roundabout. Turn 3 o'clock and drive on until you see a big Eastin Hotel signboard at the first right junction. Turn right and drive on. Park your car at the basement car park. Take a lift to the first floor lobby and you would see the restaurant there.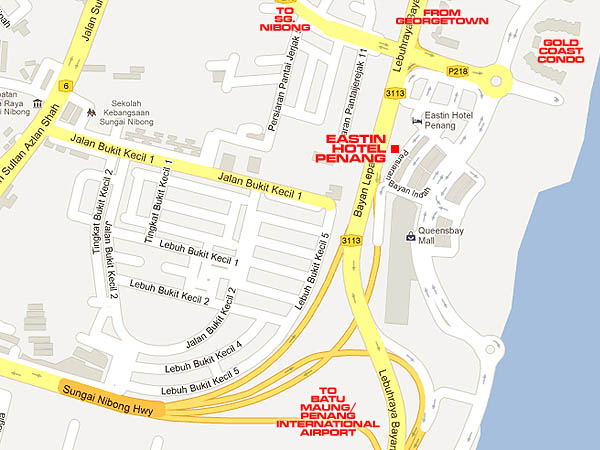 Name: SWEZ BRASSERIE @ EASTIN HOTEL
Address: 1 Solok Bayan Indah, Queens Bay, 11900 Bayan Lepas, Penang, Malaysia.
Contact: 604-612 1128
Business Hours: 12.00pm-2.30pm (Buffet Lunch), 6.30pm-10.00pm (Ala Carte Dinner)
GPS: 5.33643, 100.306345
RATING:
Ambience: 8/10 (1-4 cheap, 5-7 average, 8-10 classy)
Food Choices: 7/10 (1-4 limited, 5-7 average, 8-10 many choices)
Taste: 7/10 (1-4 tasteless, 5-7 average, 8-10 excellent)
Pricing: 8/10 (1-4 cheap, 5-7 average, 8-10 expensive)
Service: 8/10 (1-4 bad, 5-7 average, 8-10 excellent)