Note: Due to parking problems, Yaw's Roast & Grill has shifted their business back to their previous premises (1, Gerbang Midlands, 10350 Penang, Malaysia) as at March 2010.
Aww… I really missed this western food corner previously located somewhere in the residence area of Pulau Tikus. It was a dimly lighted, cozy and romantic place to be in for some quiet moments. If not for the local municipal council's pressure to shut down the place, it would be indeed a love nest for couples. Anyway, the little homely restaurant had recently relocated to a brighter and more spacious venue along Jalan Transfer, just next to the Caltex petrol kiosk. The menu had remained the same but the pricing had increased a bit since my last visit there. After all, it was not exorbitant as we have to understand that the price of ingredients had increased quite a lot recently. Moreover, the price of food ordered here are net priced.
As usual, garlic toasts were given complimentary from the kitchen, slightly toasted to perfection with yummy garlic butter and herbs. A piece each was not really enough for two persons but what would a person expect when they are free right? Anyway, you can always order more but I did not find out how much they would cost.
Since it was their opening day, there were no special dishes of the day. I ordered the Cream of Mushroom Soup (RM4.50) as starter. The soup was creamy with chunks of finely chopped mushroom. It was normal for me as what you would get from any of those economical western food stalls around town. Somehow, I felt that what I had at Louis Café, just a block away, tasted better. Again, you can't compare a RM10 (excluding tax) bowl of Italianese Wild Mushroom Soup with something less than half the price here, right?
The main meals were served quite promptly. It was my favorite Black Pepper Chicken Chop (RM8.00). The chicken was finely fried with the chef's special breaded flour and it was crunchy indeed. As usual, I would request for a separate but additional amount of black pepper sauce for me to dip in my fries. The gravy was as thick as ever but mild in hotness as this place was also the western food venue for a lot of families with children.
The next meal was the Spaghetti in White Mushroom Sauce (RM8.50). The amount served was quite reasonable with 6 large meatballs garnished on top. The dish had some sliced mushroom, chopped coriander and sprinkled with some mixed herbs. The texture for the spaghetti was softer than the ones I had at QEII, which was based on the Italian's choice of springiness. The mushroom gravy was just normal with not much distinctive flavors, except for the taste of the herb garnishing. The fried meatballs tasted great with the right amount of flavoring. They had a hint of some cheese like substance inside. The only drawback was that they could have added in more corn flour to make them a bit softer.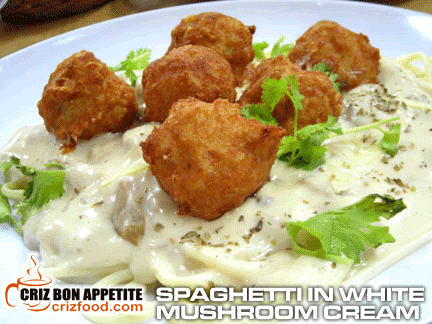 Since the waitress did mention that they have some local dishes served as well, I ordered their famous Hainanese Fried Noodles (RM4.50). It was in fact Hokkien Char. The serving was a bit small for an individual but the amount of ingredients such as meat slices, large prawns and a generous amount of Chinese cabbage (choy sum) justified the price well. The dish was indeed quite tasty.
They do also have beverages of all kinds, from iced tea, coffee, beers and brew of the day. I had their special Iced Winter Melon (RM3.00). It was a perfect beverage for such a humid weather. Fresh as well as sugared winter melon slices were brewed with red dates to come out with this refreshing drink. I would recommend this drink to everyone (upon availability). It would even better if they brew the beverage with some dried longan meats. 🙂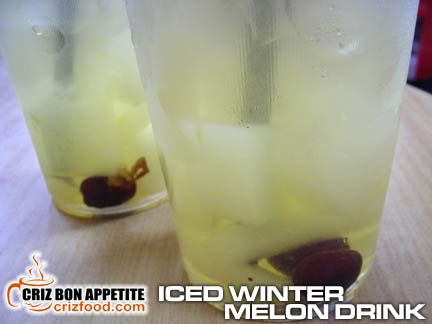 It's so much easier to locate this newly relocated restaurant compared to the earlier one. If you are coming from Jalan Penang into Jalan Burmah, keep to your right and turn into Jalan Transfer. You can see a used car shop just at the junction. Just drive until the traffic light. After the traffic light, keep to your right and drive until you see the Caltex petrol kiosk. The restaurant is just located right before the petrol kiosk under the name Dim Dim Yuen (serving dim sum and chicken rice in the morning).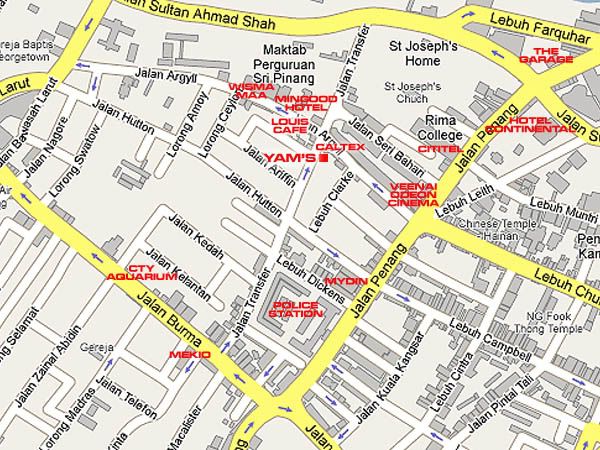 Name: YAW'S ROAST & GRILL
Address: 25 & 27, Jalan Transfer, 10050 Penang, Malaysia.
Tel: 012-412 9957 (Telephone order), 012- 484 8178 (Mr. Yaw)
Opening Hours: 5.30pm – 11.00pm (Closed Monday)
GPS: 5.421095, 100.330811
RATING:
Ambience: 7/10 (1-4 cheap, 5-7 average, 8-10 classy)
Food Choices: 9/10 (1-4 limited, 5-7 average, 8-10 many choices)
Taste: 7.5/10 (1-4 tasteless, 5-7 average, 8-10 excellent)
Pricing: 7/10 (1-4 cheap, 5-7 average, 8-10 expensive)
Service: 8/10 (1-4 bad, 5-7 average, 8-10 excellent)