For those who enjoyed the scrumptious English Afternoon Tea or even the Ala Carte Dinner at 1885 @ Eastern & Oriental Hotel (E&O Hotel), you now have another option which would be the Yesterday's Classic 3-Course Set Dinner. Available from 7.00pm until 10.30pm daily (except during certain festive dates), you would get to indulge in the best of the best fine dining experience for only RM120nett per pax. There's nothing better than to relax and be pampered within the comfortable colonial style part of the heritage building.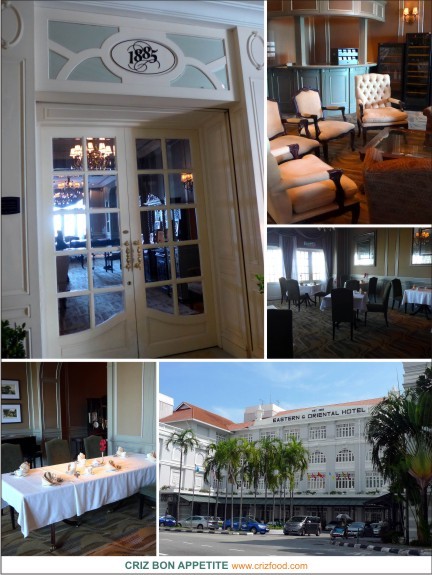 Here are the dishes available on the Yesterday's Classic 3-Course Set Dinner Menu.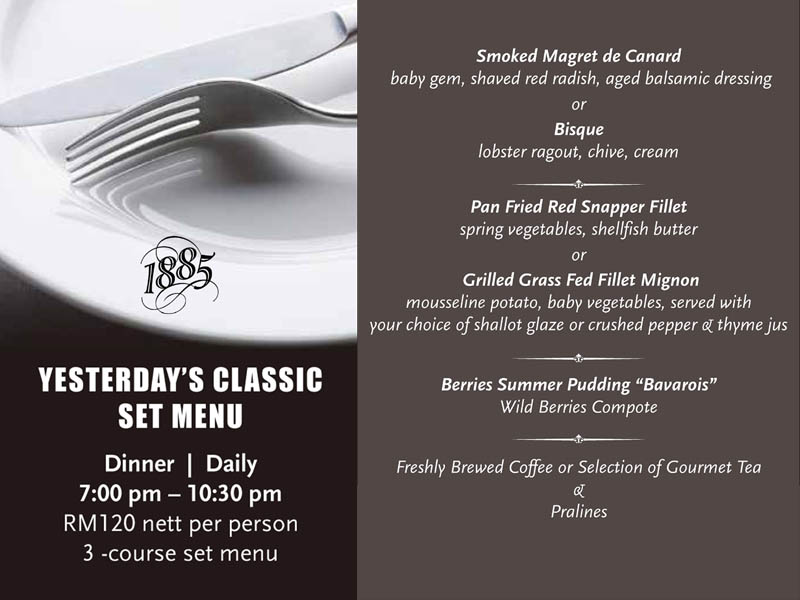 At 1885 @ E&O Hotel, meals would always start with some lovely and warm dinner rolls, served with their creamy tomato butter, balsamic vinegar in olive oil and butter. The soft yet fluffy textured in-house made dinner rolls would get anyone's appetite urging for more.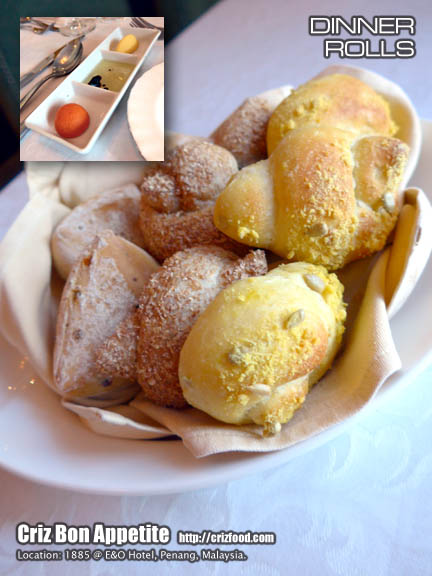 To start the first course, you would have two options, either a salad or a soup.
The salad option would consist of Smoked Magret De Canard (Smoked Duck Breast) served baby gem (little gem/baby romaine lettuce) and shaved red radish, shaved cucumber, cherry tomatoes with aged balsamic vinegar dressing. It was simple yet fulfilling with the generous portion of thick slabs of smoked duck breast.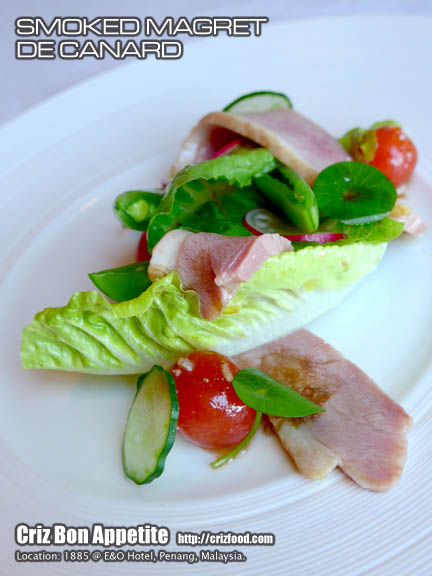 The Bisque with lobster ragout, chives and cream was something so delicious that I could lick the plate clean if I were allowed to do so~ LOL~ 😛 The nicely stewed and well seasoned lobster meat plus the thick cream, combined with hot serving bisque (roasted shellfish extracted creamy soup) was extremely flavorful. The best part of the bisque was that it was so fresh that there was no trace of any fishy aftertaste. I would like to compliment the chef for a job well done~ 🙂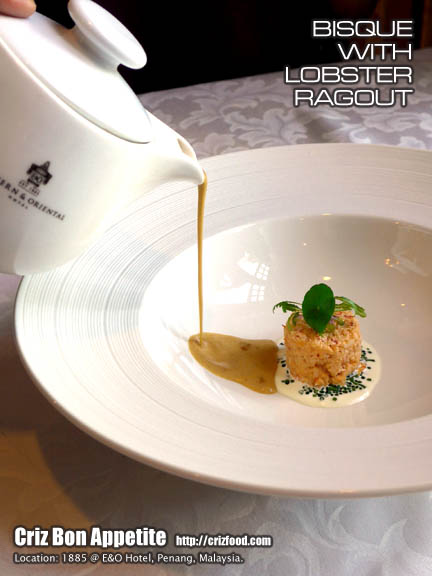 As for the main, you would also have two options, either fish or beef.
The first option would be the Pan Fried Red Snapper Fillet, served with spring vegetables, squid ink bread slices and shellfish butter. Though being pan fried, the fish fillet still maintained its moisture and combined with the shellfish butter, it was a great dish for fish lovers.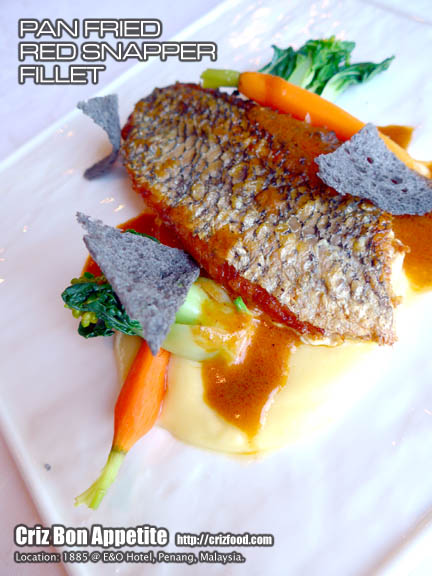 The next option would be Grilled Grass Fed Filet Mignon, served with mousseline potatoes (baked mashed potatoes), baby vegetables and your choice of gravy (shallot glaze or crushed pepper with thyme jus). I had the tender beef fillet done medium-rare (though medium-done was recommended) and served with crushed pepper with thyme jus. The sensation of having the meat melted in the mouth was so divine. Combined with the aromatic herbal and yet fresh peppery taste of the gravy, I really wished I could have a bigger cut. I was at Cloud 9 with the perfect dish.
As for dessert, we had the Berries Summer Pudding "Bavarois" served with wild berries compote. It may look like a blob of chocolate pudding but within lied a bundle of hidden wild berry gems. Combined with the lovely fruity yet mildly sweetened wild berries compote, it was a great dessert to end the meal.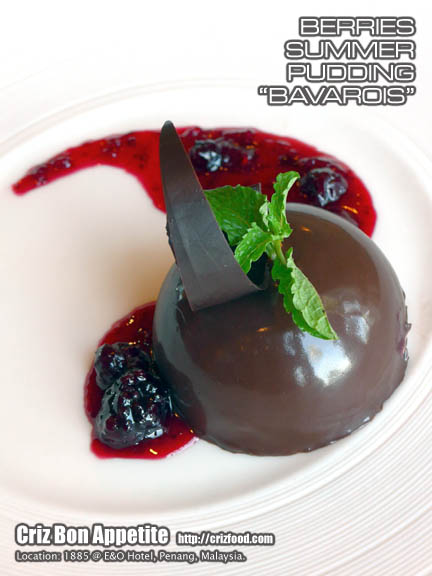 You would also have an option for beverage. You could either choose their Freshly Brewed Coffee or Selection of Gourmet Tea with pralines.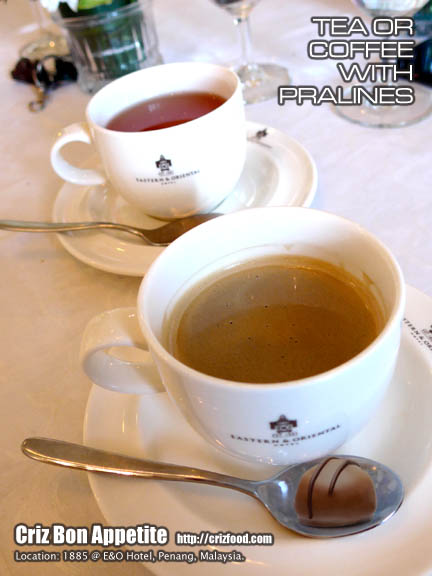 Overall, I like the concept of course set meals as it would be less hassle to think through what to order and faster to get the food served on your table. Moreover, the ingredients used in the Yesterday's Classic 3-Course Set Dinner Menu were of high quality and flavors. Be it for a date, business appointment or even family gathering, I would highly recommend this venue. It's indeed a great deal for all.
Eastern & Oriental Hotel, Penang (next to Penang Bowl) is located along Lebuh Farquhar. If you are coming from Jalan Sultan Ahmad Shah towards Weld Quay, keep to your left immediately after passing by CitiBank. When you see the Penang Bowl building on your left (UMW Toyota opposite), please slow down. Turn left immediately after the Penang Bowl entrance. The E&O Hotel car park is situated just inside the Victory Annexe building. Parking charges would be a maximum of RM6 (weekdays: Monday-Thursday) and RM12 (weekends: Friday- Sunday). 1885 @ Eastern & Oriental Hotel (E&O Hotel) is located within the old wing of the hotel just next to Sarkies Corner.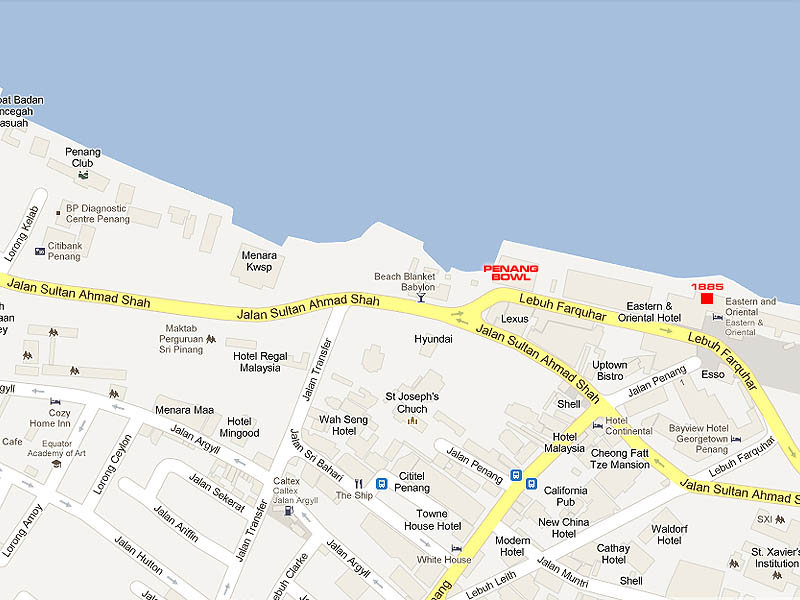 Name: 1885 @ Eastern & Oriental Hotel (E&O Hotel)
Address: 10 Lebuh Farquhar, 10200 Penang, Malaysia.
Contact: 604-222 2000
Business Hours: 7.00pm until 10.30pm
GPS: 5.423624, 100.334988
RATING:
Ambience: 8.5/10 (1-4 cheap, 5-7 average, 8-10 classy)
Food Choices: 6/10 (1-4 limited, 5-7 average, 8-10 many choices)
Taste: 8/10 (1-4 tasteless, 5-7 average, 8-10 excellent)
Pricing: 7/10 (1-4 cheap, 5-7 average, 8-10 expensive)
Service: 8/10 (1-4 bad, 5-7 average, 8-10 excellent)