There are hardly many restaurants left in Penang that cater for food as good as your mother's home cooked food, especially those food with a delicate touch of Nyonya cuisine in them. Of course those dishes would be MSG free and pork free as well. Thanks to Carrie for inviting me to such a restaurant in town.
Ivy's Kitchen has been in business for the last two years and they have been providing Mummy's style of home cooked dinners and set meals to the public ever since. Unfortunately, not many people realized about its existence as this colonial build restaurant has the simplest dining layout with just a few tables and chairs. Many people would just forgo this place for the ambience but do not forget that some of the great food around town do come from places you would least expect.
Some of the dishes that you would expect would be like the Sweet and Sour Flower Crab (RM50 – based on market price and may differ from time to time). One taste on the gravy and I knew that the ingredients used were freshly blended. Most restaurants would just use some ready made sauces that have high vinegar after taste. The flower crabs were indeed fresh and delicious. You can practically peel pieces by pieces of the flesh fully intact. This dish would be great for those non spicy food consumers although I would prefer to have them to be a bit spicier but less sweet.
The next would be the Nyonya style of Gulai Tumis Chinese Silver Pomfret (RM62 – based on market rate). Although most restaurants would use Black Pomfret (or cheong) in this dish, Ivy's Kitchen decided to use Chinese Silver Pomfret (Tao Tay – the most expensive fish of the pomfret family which would cost about RM55 per kg) instead for this dish. I guessed you would have to preorder this fish prior to dining there as the local pomfret would not always be so commonly available in the market. The gravy was richly filled with the sour taste of tamarind, the colors and spiciness of blended chilies, turmeric, onions, chopped ginger flower buds, lemongrass and a few more leafy herbs. Although the fish was fresh (but a bit overcooked due to a bit of hiccups at our side), it was slightly sweet to my taste bud. I think the cook should take note that fresh fish should not be cooked prior to the complete arrival of the customers, especially when it was such an expensive fish. Moreover, a lighter hand in the application of sugar (or none due to many health conscious consumers nowadays although I understood that it was a way to replace the sweetness by not using MSG) would have to be taken note seriously.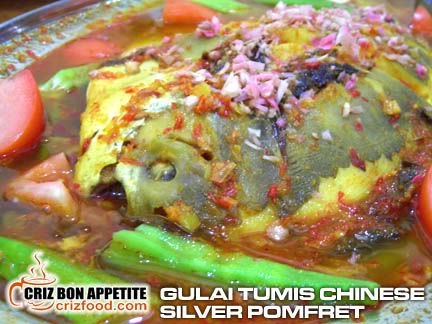 The Assam Prawns (Tamarind Prawns – RM20 for 10 prawns) was indeed a favorite amongst some of us as it was fried drier than what you would get elsewhere and with a bit of crispy sensation on the shell. The dish was marvelous except that I would still prefer my food to be a bit less sweet but then you would not get that extra crispy fragrance without sugar right? Well, another thing the restaurant should take note would be on the marinating time for the prawns. The inner taste was a bit bland as the tamarind did not soak into the flesh. My advice would be to have the prawns slightly slit at the back. The restaurant should also reconsider the price for the prawns (RM20-25 per kg in the wet market). I felt that it was a bit pricey considering that I can get five 3 times larger prawns cooked elsewhere at less than RM25.
I love the next dish which was the Fried Beancurd with Leeks (RM12). The savory dish came with sliced carrots, big onions, leeks and many prawns (same sized as the above dish which I would like the management to reconsider the price compared to the quantity of prawns served in this dish). The dish had all the necessary tastes for a perfect dish. Maybe the cook can consider adding a bit of gravy when all the dishes served would be of a drier based.
It has been quite some time since I had Tofu with Seaweed Soup (RM15). The soup in fact has lots of ingredients added in on top of the tofu cuts and seaweed. The other ingredients included sliced carrots, fish balls, cabbage, minced chicken balls and prawns, garnished with fragrant garlic oil. The soup was rich in flavor with the seaweed enhancing further the taste. I would personally prefer a bit more of clearer based soup added for this dish.
No homely meal would be complete without the serving of a vegetable dish. We were served with a simple yet nutritious Fried Snow Pea Shoots with Bean Sprouts (RM10). The fibrous snow pea shoots  (dou miao) combined real well with the smooth bean sprouts and these were just fried with some oil and soy sauce, garnished with some fried garlic. To enhance the color and taste of this dish, a little carrot and ginger strips would make this dish beautiful. Maybe adding a bit of fried salted fish, fried dried sole fillet or even fresh seaweed strips would make the dish more flavorful.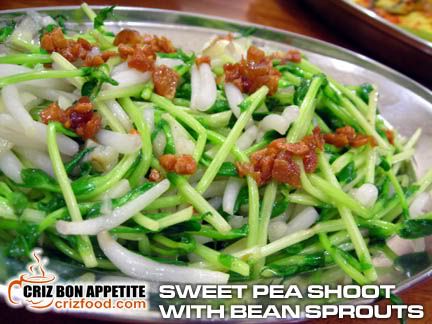 The dinner ended with a Fruit Platter (RM12) which consisted two freshly cut mangoes, half a papaya and some longan.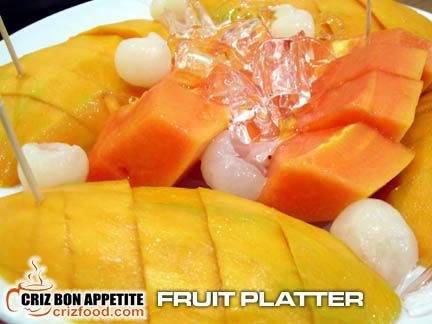 Finding Ivy's kitchen would not be hard as it is located just 3 shop houses away from Jemputree at Jalan Burma but the only problem would be finding your way to get into Jalan Chow Thye as the road had recently being converted into a one-way street. There are actually a few ways to get to the restaurant but I will show you the easiest way to reach there with the minimum turns. If you are coming from Jalan Penang into Jalan Burma, drive all the way to the Jalan Larut traffic light (Giant Supermarket). Keep to your right after the traffic light and look out for Neww BT Café. Turn right into Jalan Arraton immediately after the food court. Drive on until you see a junction on your left (Jalan Irrawadi). Turn into the road and keep a watch out for the third road on your left (Jalan Phuah Hin Leong, Jalan Tavoy and Jalan Chow Thye) for Restoran Ros Mawar which is located at the end of Jalan Chow Thye. Turn left into the road and you will see Ivy's Kitchen on the right immediately before Isaribi Tei Japanaese Restaurant. Alternatively, you can drive up to Goodall 2 Café (next to Jemputree) and park your car in the food court's car park and walk to the restaurant.
Name: IVY'S KITCHEN
58 Jalan Chow Thye,10250 Penang, Malaysia.
Business Hours: 9.00am-9.00pm (except Saturday), 6.00pm-9.00pm (Saturday)
Contact: 013-433 7878 (Mr. Tan), 016-433 7130 (Ms. Ivy)
GPS: 5.424715, 100.320686
RATING:
Ambience: 6/10 (1-4 cheap, 5-7 average, 8-10 classy)
Food Choices: 7/10 (1-4 limited, 5-7 average, 8-10 many choices)
Taste: 7.5/10 (1-4 tasteless, 5-7 average, 8-10 excellent)
Pricing: 7/10 (1-4 cheap, 5-7 average, 8-10 expensive)
Service: 9/10 (1-4 bad, 5-7 average, 8-10 excellent)