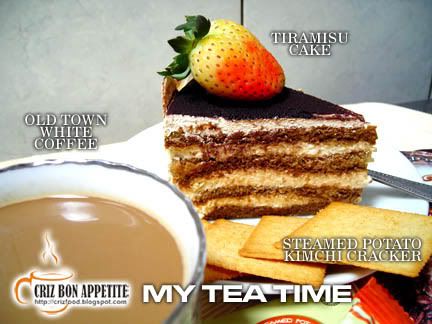 Do you think that floggers are a bunch of great eaters? Well, I must admit that I am surely one as I never stop eating good food anytime of the day. As for my tea time today, I ate 1/8 of a Tiramisu Cake from Jenni Homemade Cakes & Bakery (RM4.40), 2 packs of thin Steamed Potato Kimchi Crackers (40sens) and a hot cup of Old Town White Coffee (RM1.10).
Well, who could resist the temptation of savoring Jenni's homemade cakes? Not only are the cakes moist and rich in taste, the best part is that they are not too sweet for my taste bud. The greatest news is you can buy selected cakes in halves or quarters. You must try out their cheese cakes. As for me, I can never stop taking them although I did realize that I had gained a few inches to my waistline. LOL! If you are a chocolate and cheese lover, my recommendation would be that you try out their Chocolate Mint Cake, Chocolate Dark/White Belgian, Chocolate Truffle, Chocolate Spanish, Chocolate Rum and of course their Green Tea Cheese Cake and Tiramisu. In fact, you can try out most of their delicious mouth watering 1/2 kg cakes since you can buy them in quarters.
Whenever I consume cakes, I would normally get something salty too. What do you think of a small pack of 5 thin slices of yummy Steamed Potato Kimchi Crackers at 20sen per packet? Wow! It is real cheap! I managed to get 20 small packs from a local wholesale shop for RM4.00. It is a real bargain as the crackers were real good. They come in a few different flavors such as plain, kimchi, tomato and seaweed. I have not tried the other flavors but since the kimchi ones were real good, I would expect the rest to be just as great.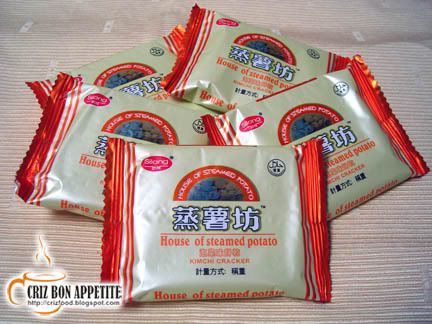 Visiting the cake house would be easy as the Pulau Tikus branch is just next to the Bandar Baru Supermarket along Jalan Cantonment Road. The Bandar Baru Branch is just opposite the Bayan Baru Market (next to Sunshine Square Supermarket) along the main road of Jalan Mayang Pasir.
Name: JENNI HOMADE CAKES & BAKERY
Pulau Tikus Branch:
Address: 33-A Jalan Cantoment, 10350 Penang, Malaysia.
Contact: 604-226 8596
GPS: 5.430942, 100.311205
Bayan Baru Branch:
Address: 34 Jalan Mayang Pasir, 11950 Penang, Malaysia.
Contact: 604-646 7191
Opening Hours: 9.00am – 9.00pm
GPS: 5.324577, 100.287666
RATING:
Ambience: 8/10 (1-4 cheap, 5-7 average, 8-10 classy)
Food Choices: 9/10 (1-4 limited, 5-7 average, 8-10 many choices)
Taste: 9/10 (1-4 tasteless, 5-7 average, 8-10 excellent)
Pricing: 7/10 (1-4 cheap, 5-7 average, 8-10 expensive)
Service: 8/10 (1-4 bad, 5-7 average, 8-10 excellent)