Are you aware that there's a fun spot within Shangri-La's Rasa Sayang Resort & Spa premises named F.I.P. (Fun, Interactive & Play) Lounge? It's a real cool spot to chill out and have frothing good fun with your friends and besties. Regardless your age, you would always feel young-at-heart while you are here. Currently, FIP Lounge is offering its Coffee & Cakes Buffet from 3.00pm until 6.00pm on all weekends (Saturday & Sunday) for RM47nett (adult) and RM24nett (child: 6-11 years old). You would expect to get at least 10 variety of cakes, scones, cake pops and more with free flow of in-house coffee and tea brews. Thanks to the hotel's seasoned cake maven cum Executive Pastry Chef, Chef Dino Wan and his creative pastry team, you would get to savor the best of cakes and pastries right in the comfort of the lounge.
The variety of cakes might be different from day to day. Let's have a look at what would be on display on a typical Coffee & Cakes Buffet weekend. Here were the 10 cakes I have tried out with 4 as my personal favorites.
Of course my first choice would be their Signature Baked Cheese Cake. It was moist and had that unique cheesy flavor from the best Kraft's Philadelphia Soft Cream Cheese with some hint of yoghurt and lemon juice. It was heavenly over a cup of hot tea.
Next on my list was the Strawberry Short Cake. What I loved about this cake was the strawberry mousse-like cream with some mild sweetness which made my guilt of consuming sweet desserts at its lowest level~ 😛
The Carrot Cake was amazing tasty. In fact this cake was the favorite amongst many of us. The cake was rich and moist with some tasty bites on the nutrients packed finely shredded carrots.
Since the invention in the 30's until today, the Red Velvet Cake is something that will not go out of style. It's not the striking red color that attracted me but the nice zesty frosting that caught my attention. The baker did quite a great job here by maintaining the moist and fluffiness of the cake while having a nice balance between the zesty and sweet buttermilk cream. It complemented the cake real well.
They also do serve some great Popsicle (Pop) Cakes with flavors ranging from Chocolate Moist, Orange Poppy Seeds, Red Velvet and Cheese Cake. These are actually cakes rolled into a ball with popsicle sticks and coated with either white or dark chocolates. Of course, my favorite amongst the 4 options was the Cheese Cake Pop. It really felt young having one pop cake slowly melting into the mouth~ 😛
There were also two versions of Cupcakes (Chocolate Moist & Orange Poppy Seeds) and Scones available at the buffet. Though the cupcakes were moist, flavorful and beautiful, I'm not a fan of so much of butter cream on the cupcakes. They tend to be surfeit after a bite or two to my liking. However, the scones were quite good except I would prefer mine to be slightly heated up before serving. You can have some scones with fresh cream and strawberries. On top of that, they do also serve 3 different flavors of mini jars gluten-free Bonne Maman fruit preserves. Just as its name, it's how your granny would serve you with all natural ingredients. Bonne Maman has no preservatives, no additives, no corn syrup, sulfite-free and non-GMO.
Of course, you can get high with as much Coffee & Tea as you like here. The beverages are all in-house brews with accompanied sugar and milk.
If you are not into the Coffee & Cakes Buffet, you can still order a thing or two from their normal day menu. Well, the menu would be rather unique as it would come in the shape of a long forgotten childhood origami shaped flower. Flip & Flap and you would let fate decide your destiny – food wise~ LOL~ 😛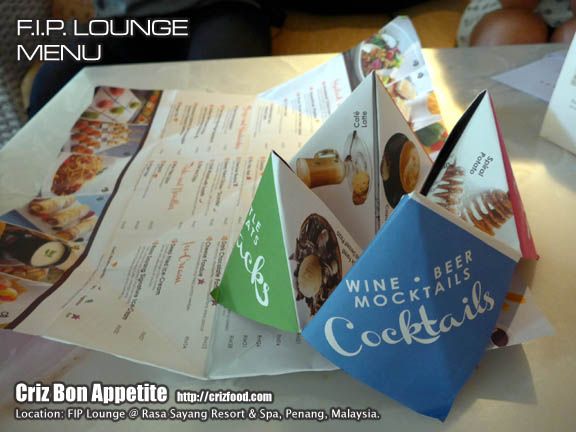 At the F.I.P Lounge, it's all about letting your hair down, stay young at heart, have all the fun you have missed and doing what you Momma would discourage you to do – "Eat nicely and stop playing with your food!" Shhh… Don't tell my Momma about what I did and I won't tell yours~ LOL~ 😛
Firstly, they have the Tic-Tac-Toe Macarons (RM41nett). They would serve 5 pieces each of two different macaron flavors with a Tic-Tac-Toe board. Just make sure you don't gobble up the macarons before the start of at least a game~ 🙂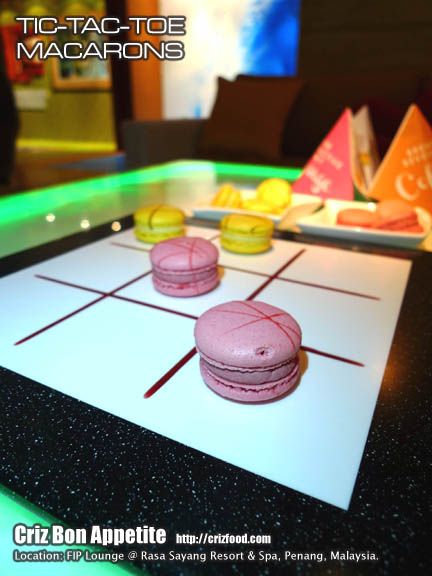 Next, they have the Checkers Platter (RM42nett). You would be given a board with 12 pieces each of Crab Cake and Chicken Bourdin. Now the game would get to be real interesting as you can eat each other's food.
They do serve Churros (RM30nett) too with salted caramel and chocolate sauce.
If you love fondue, you can always order their Dark Chocolate Fondue (RM53nett) with bananas, strawberries, marshmallows and dried apricots.
My sweet favorite would always be the Black Forest Mini Dessert Pizza (RM24nett) with chocolate cherry brownie cake base, served with dark chocolate, cherry syrup, icing sugar and a large scoop of their homemade vanilla ice cream. This item is truly heavenly.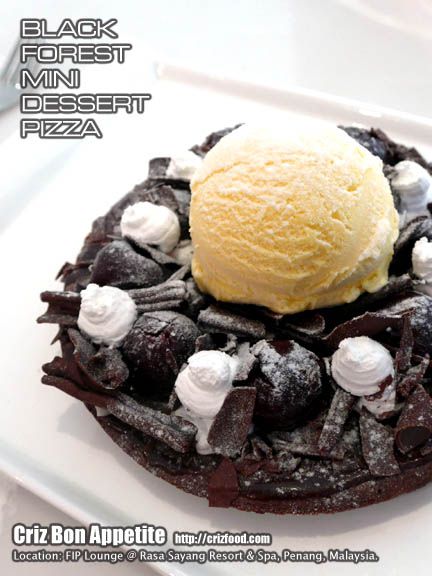 For coffee and tea lovers, you can have other options such as Cappuccino (RM13nett), Irish Coffee (RM31nett – alcoholic), Hot Chocolate (RM13nett), Café Latte (RM13nett), Chamomile Tea (RM16nett/pot) and more. Some of the coffee might come with 2D or 3D latte art.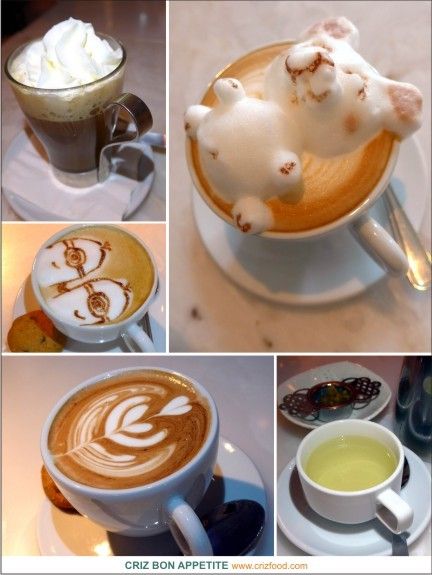 In case you need a beer on a humid day, there do also have Beer in Ice Mug. The price may vary from brand to brand such as Guinness & Carlsberg (RM27nett/mug), Asahi & Heineken (RM30nett/mug) plus Victoria Bitter, Budweiser & Corona (RM33nett/mug).
Overall, if you are a dessert lover, you would find that the F.I.P. Lounge's Coffee & Cakes Buffet is worth every penny as you can gobble down all the cakes you love with some of their nice brews. Moreover, you can have all the fun you want with all the facilities they have in the lounge.
To get to the F.I.P Lounge, just park your car at the furthest right wing of the hotel upon entering the hotel premises. Walk through the main lobby and you can see the entrance to the lounge.
Name: FIP LOUNGE @ RASA SAYANG RESORT & SPA
Address: Batu Feringgi Beach, 11100 Penang, Malaysia.
Contact: 604-888 8888, 604-888 8788 (C&C Buffet Reservation)
GPS: 5.478365, 100.253709
RATING:
Ambience: 8/10 (1-4 cheap, 5-7 average, 8-10 classy)
Food Choices: 7/10 (1-4 limited, 5-7 average, 8-10 many choices)
Taste: 7.5/10 (1-4 tasteless, 5-7 average, 8-10 excellent)
Pricing: 7/10 (1-4 cheap, 5-7 average, 8-10 expensive)
Service: 8/10 (1-4 bad, 5-7 average, 8-10 excellent)