The experience there was like gazing through the horizon of the Straits of Malacca as the orange orb danced with the blueness of the sky, waving one last ray before slipping itself behind the hills of a scenic Penang. The soft, breezy cold wind and the view of the sailboats and moving ferries being thrown into silhouettes indeed made QEII an ideal place for romantic couples to dine in. Tourists of all nationalities arriving from visiting international cruisers, berthed at the nearby Frank Swettenham Pier, can be seen flowing into the bar and grill for some early celebrations.
By the year 2012, you would see more changes along the Weld Quay stretch with the ongoing RM500 million "The Pier at Weld Quay" projects, where there would be the "old meet new" restoration and construction of a boutique hotel (The RiceMiller), commercial plaza (Straits Capital Plaza), tourism school (Georgetown College – Centre for Tourism and Hospitality Studies), retail podium (Pier Market), apartment suites (The RiceMiller Residences) and townhouses (Heritage Suites). Upon completion, this urban landmark, facing the present Tanjung City Marina, will not only enhance the skyline, but rank Penang alongside other renowned port-cities of the world.
Located at one of Penang's heritage piers named Church Street Pier, Tanjung City Marina, QEII Restaurant claimed to serve the best of the best in terms of quality food with equal finesse to make each meal a memorable one, whether within the bar area or al fresco. Moreover, they are also providing a great place for people to chill out with many unique styles of lounges. From my first time experience there, they had indeed proven their worthiness with what they had promised.
Dinner was simple and yet elegant as my intention of going there was for their much acclaimed pizzas. Somehow, there were just too many choices in their carefully selected menu that tempted me to order more. The Lobster Bisque (RM16) was rather special. It was creamy rich with smooth flowing lobster puree stirred in white cream with a touch of white wine and cognac. The soup had a very distinctive shellfish flavor with chunks of fresh lobster meat, garnished with some chopped coriander. It could be rather intruding for those who are not in favor of strong shellfish taste but I was fine with it.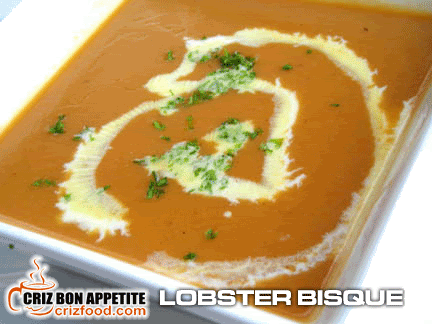 Carbonara pasta has always been my favorite and thus I tried out their Linguini Carbonara (RM23). The serving was large. The dish had a generous amount of sautéed beef bacon and egg in white cream sauce. The usage of fresh and dried herbs together with some smashed garlic and sliced mushroom was just right. This was one of the best carbonara I had so far from any of my visits elsewhere. Although the linguini pasta was as bit hard for the Asian's preference (but that's how the Italians loved it), the whole combination blended in perfectly.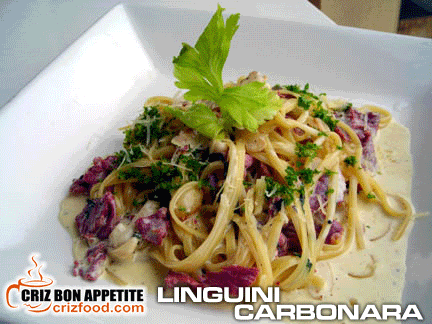 While enjoying our starters, the aroma of freshly baked pizza began to drift into our nostrils. The pizza we ordered which was nicknamed as The Godfather (8"-RM26, 12"-RM32) was presented not long after that. It had freshly made dough, rolled thinly and spread with freshly made tomato puree, sautéed spicy clams (lala), dried chili, sweet & spicy sauce and topped with lots of Mozzarella cheese and cilantro, baked to perfection in a wood fire oven. With the first bite, I could not stop eating. The crust was well baked without any sign of flimsiness as none of the toppings fell down on my plate. 😛 It was truly the work of an experience chef as this sort of pizza required quite a tedious time shifting and rotating in high heat within the wood fire oven.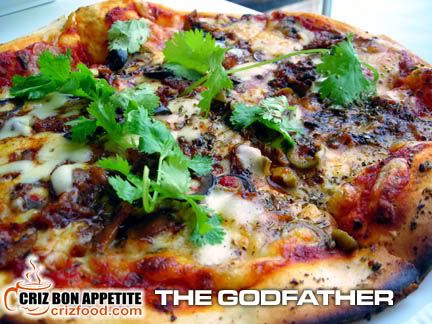 For those who love to have a simpler topping, you can always opt for Soho (8"-RM39, 12"-RM45). On top of the crispy thin crust, the pizza had a generous amount of pepperoni, fresh pears, onions, pine nuts, topped with 3 different types of cheese such as Cheddar, Mozzarella and Gorgonzola, garnished with field greens. The taste was remarkably unique and tasty.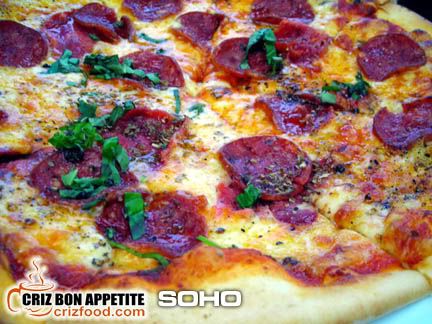 If you are in a creativity mood, you can always combine your own in the Pizza La Vostra (8"-RM34, 12"-RM40). Just select 5 ingredients from the following ingredients such as grilled chicken, chicken ham, turkey bacon, tuna, egg, beef salami and pepperoni, red and green pepper, artichoke, mushroom, roma tomatoes, Kalamata olives, Virgin green olive, capers, mozzarella, gorgonzola, cheddar or feta cheese. Here the 12" order with grilled chicken, chicken ham, pepperoni, mushroom and mozzarella cheese. It was extremely filling.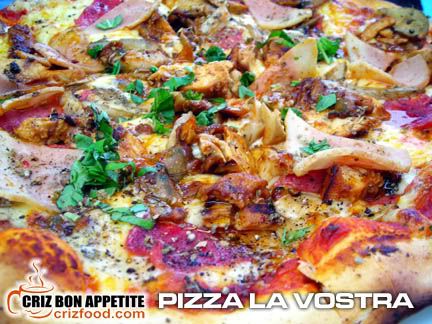 One of the most ordered pizza here would be the Penang Hot (8"-RM30, 12"-RM36). The pizza would have lots of fresh prawns in spicy sauce, topped with onions, garlic, chopped basil and mozzarella cheese. Who do you think was behind all the passionate baking of these delicious pizzas? It was none other than the experience Chef Joe who had worked alongside with Chef Emmanuel Stroobant (Chef In Black) when he was working in Meritus Hotel, Singapore. Unfortunately, Chef Joe had now left QEII but do not be sad as he would now be overseeing the Italian restaurant at Hard Rock Hotel, Penang, which would be officially launched on 19 September 2009.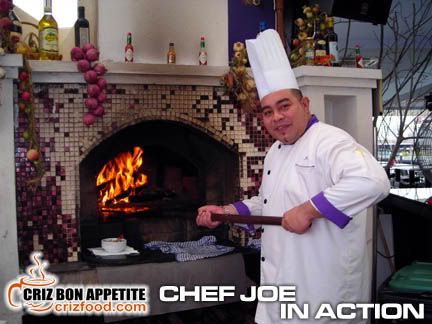 The dinner ended with some beautifully presented desserts. One of them was the Chocolate Volcano (RM12). Instead of a piece of rich chocolate moist cake as per menu, they gave me a piece of warm and moist butter cake with layered white chocolate mousse. I did not mind too as the cake was light and fluffy and truly delicious. It was dressed with oozing melted chocolate, one fresh strawberry, some chopped walnuts and presented with some sweet and tasty raspberries in jam sauce. It was heaven!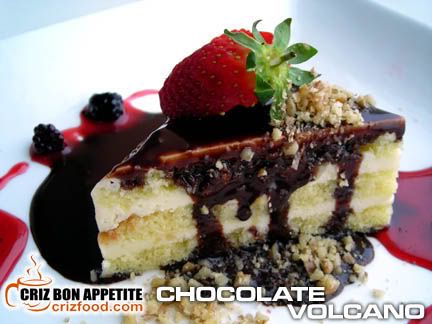 The next was the Pear Crumble (RM8). The warm grounded cinnamon cooked pears had the right sweetness for my taste bud. Although I would prefer a crunchier oat and hazelnut crust, the whole combination with white Anglaise cream, strawberry and raspberries in jam sauce did not disappoint me at all.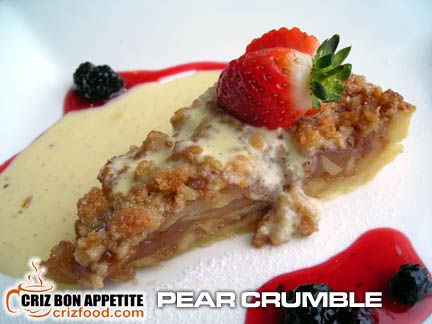 If you are coming from Lebuh Light, you will see a roundabout with a stainless steel betel nut structure (Queen Victoria Memorial Clock Tower is just beside it). Drive straight after the roundabout and you will be right in Pengkalan Weld (Weld Quay). Just follow the road and you will see the Frank Swettenham Pier on your left. Drive a bit further and you will see the Church Street Pier on your left. QII Penang is just right at the end of the pier, just before Hai Nan Town Restaurant within the Tanjung City Marina. The ferry terminal is just after that.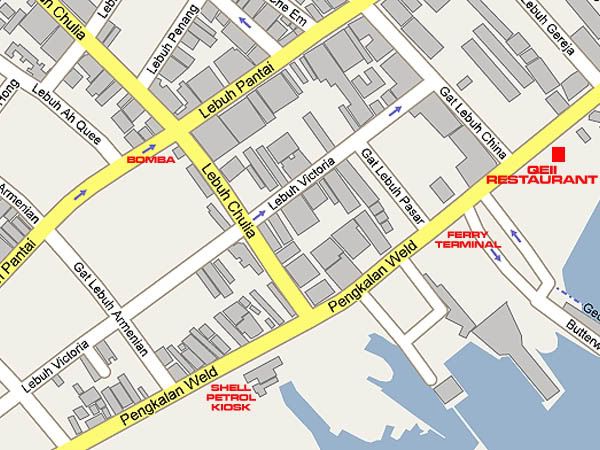 Name: QEII PENANG
Address: Tanjung City Marina, Church Street Pier, 8A Pengkalan Weld, 10300 Penang, Malaysia.
Contact: 604-261 2126
Business Hours: 12.00noon-12.00am (Dining), 12.00noon-3.00am (Entertainment)
GPS: 5.415150, 100.343764
RATING:
Ambience: 10/10 (1-4 cheap, 5-7 average, 8-10 classy)
Food Choices: 9/10 (1-4 limited, 5-7 average, 8-10 many choices)
Taste: 9/10 (1-4 tasteless, 5-7 average, 8-10 excellent)
Pricing: 8/10 (1-4 cheap, 5-7 average, 8-10 expensive)
Service: 8/10 (1-4 bad, 5-7 average, 8-10 excellent)