You may not realize that I was mentioning about CoolBlog and not about just any other online blog (weblog) that we have here. It could have been coincidental but I had notice that Prangin Mall, Penang has been attracting many so called "blogs" ever since the opening of Bloggers Café late April this year. The word BLOG had somehow inspired many entrepreneurs to use that as a selling name for their products. CoolBlog is actually a Singapore franchise company selling beverages and desserts which consisted of different flavored teas and fruit juices since their establishment in 2005.
With over 20 kiosks over the Southern Region and Klang Valley, CoolBlog has now set foot in the Northern Region to quench the taste of the Northerners.
So what do they serve actually? They have "Blogs" such as Tea (green, red & milk – RM1.80 without topping), Smoothies, Ice Blended, Yoghurt, Milk Shake, Italian Soda, Chocolate, Coffee, Fresh Fruit, Oreo and even Bandung with an option to choose from flavors available such as almond, banana, blueberry, blue coral, chocolate, grape, green apple, honey, honeydew, kiwi, lemon & lime, lychee, mango, orange, passion fruit, peach, peppermint, pineapple, sour plum, soursop, strawberry, vanilla, watermelon and yam.
On top of your preferences stated above, you can always have another option to select your topping. There are 6 toppings available (5 shown below) such as black pearl, lychee jelly, mango jelly, grape jelly, apple jelly and rainbow jelly at 60sen per topping.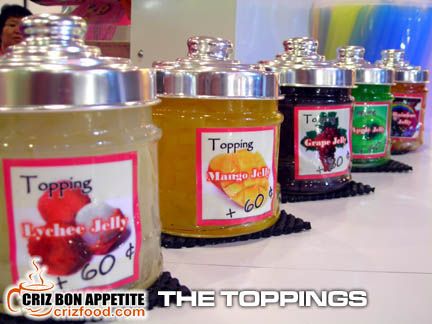 I was given the privilege to try out a few of the top selling flavors namely the Blue Coral (with milk RM2.50 + rainbow jelly 60sen), Lemon & Lime (with juice RM1.80 + rainbow jelly 60sen + apple jelly 60sen), Almond (with milk RM2.50 + black pearl 60sen) and Strawberry (with milk RM2.50 + rainbow jelly 60sen + mango jelly 60sen).
Overall, I love the Lemon & Lime Ice Blended most as I found the beverage to be real thirst quenching. Moreover, the jellies were chewy and balanced well with the beverage. The only feedback that I had given to the management was the sugar level. I found the beverage (other than the Almond Milk which was a bit mild in the nutty almond taste) to be a bit too sweet for my taste bud. It could be due to the excess syrup from the soaked jellies which the staff have to be carefully about. For those who would like their beverages to be less sweet, please do inform the staff when ordering.
The kiosk is located at level two of Prangin Mall Atrium A (where Bread History, Secret Recipe, Starbucks, 7-ELEVEN, etc are). Use the main bubble lift to level 2. As you walk out of the lift, make two right turns and you will see the kiosk just opposite C&J gift shop and Chocolate Gift & Souvenir shop. You won't miss it as the kiosk has this brightly painted pinkish structure – the trademark colors of CoolBlog.
Name: COOLBLOG @ PRANGIN MALL
Lot A2/K10, 2nd Floor, Atrium A, Prangin Mall,
33, Jalan Dr. Lim Chwee Leong, 10100 Penang, Malaysia.
Business Hours: 11.00am-9.00pm
Contact: 012-412 3366 (Mr. Alvin Chua)
GPS: 5.414701, 100.3318971
RATING:
Ambience: 7/10 (1-4 cheap, 5-7 average, 8-10 classy)
Food Choices: 7.5/10 (1-4 limited, 5-7 average, 8-10 many choices)
Taste: 7/10 (1-4 tasteless, 5-7 average, 8-10 excellent)
Pricing: 7/10 (1-4 cheap, 5-7 average, 8-10 expensive)
Service: 8/10 (1-4 bad, 5-7 average, 8-10 excellent)