Note: Surprisingly with such good business, this outlet has ceased its operation. All that was left is the Heritage Coffee.
Many of you might not be aware the along the heritage stretch of Jalan Sultan Ahmad Shah (previously known as Northam Road) lies a cozy colonial building which houses two restaurants with pork dishes. The heritage building which was named as Hardwicke House would provide diners with two concepts of dining. On the ground floor there is the Heritage Coffee which offers a wide range of local, Chinese and Western fare for an informal lunch or dinner. The place caters to the younger crowds who enjoy the "chill-out" atmosphere. On the upper floor for this building is a smart and casual bistro called Sommerz Heritage Bistro with a wonderful heritage ambience, perfect for an inexpensive dinner over a glass of imported wine (starting from just RM55++ per bottle) or beers (Hoegaarden, Paulaner, Victoria Bitter, Erdinger, Corona, etc).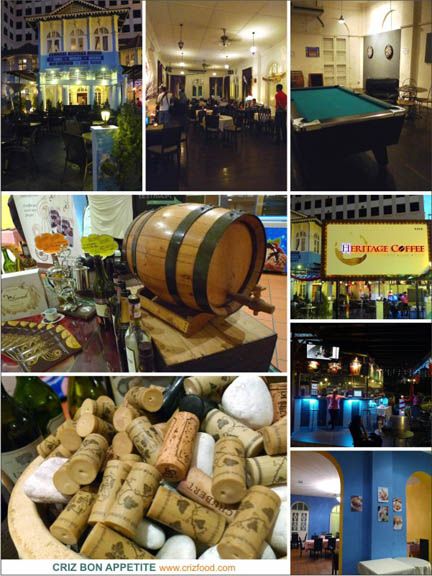 Sommerz Heritage Bistro is currently having their "Free Flow Wine" 4-course dinners at only RM50++ (10% ST+6%GT) on every Wednesday, Friday and Saturday with a live band singing jazz, evergreens, oldies and popular songs. The place can cater for parties and functions up to 120 persons. The 4-course Set Dinner with Free Flow of Wine Promotion Menu is as below:
Cream of Mushroom
+
Mixed Salad
+
BBQ Baby Pork Ribs (half slab) served with sauteed onions, wedges and coleslaw
or
White Wine Grilled Salmon in Hollandaise mustard sauce, served with mixed vegetables and wedges
or
Grilled Lamb Chop in black pepper sauce, served with mixed vegetables and wedges
or
Oven Roasted Chicken with Bacon Strip in red wine sauce, served with salad and mashed potatoes
+
A scoop of ice cream with colorful dots
+
Free Flow of Wine or Iced Lemon Tea
We also did try out some of their exclusive dishes from the Sommerz's ala carte menu such as the Sommerz Caesar Salad (RM12++). The salad has fresh romaine greens, mixed in their own Caesar sauce and garnished with real pork bacon bits and croutons and topped with a poached egg. The whole combination was perfect to start the meal off. The next was our favorite – BBQ Baby Pork Ribs (Half Slab – RM26.90++ or Full Slab – RM44.90++). This dish has been the top seller at Sommerz. The Texan recipe pork ribs had imported special ribs (not as oily as our local ones), carefully marinated and cooked until tender for that delicious taste. It came with sautéed onions, wedges and coleslaw. Next on the list was the Sommerz Rice Set (RM23.90++). This dish looked like a classier version of our local Nasi Lemak (Steamed Coconut Rice) but this version came served with Devil Pork Curry, Chicken Rendang, half a hard-boiled egg and Acar (pickled salad). I simply loved the creativity in this unique combination. Even the Acar complimented well with the dishes. The next dish which was the Devil Curry (Roasted Pork or Chicken – RM12.90++) is a popular spicy dish amongst the local Portuguese community. It had the touch of a family taste. It went well with some fresh buns and some beer or white wine. If you feel that these dishes are a bit heavy, you can even their Seafood Bisque in Bread Bowl (RM13++) or even some of their general dishes from Heritage Coffee downstairs.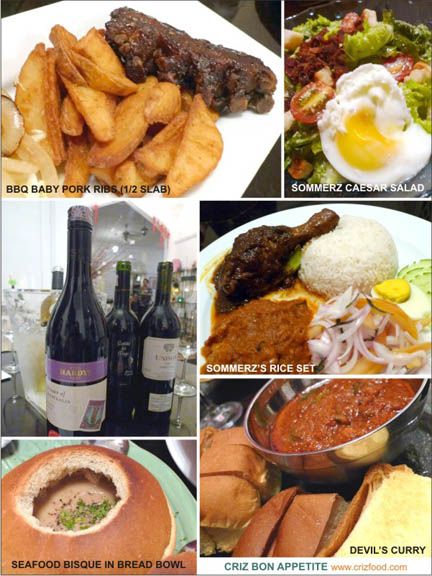 Some of the dishes that you can get from Heritage Coffee would be their tasty Char Koay Teow (Regular with 2 prawns – RM8.90++ or Extra with 4 prawns – RM12.90++). It was quite equivalent to those hawker stalls with that extra "wok hei" (high heat cooking). For that extra "kick", do ask for extra chili. Another street food they served was the Hokkien Mee (Regular – RM8.90++ or Extra Prawns in a Claypot – RM14.90++) or commonly known as prawn noodles in other states. Although the soup had the flavor of slowly simmered prawn shells, it was not the thickness I preferred. The soup might need a bit of toasted belacan (shrimp paste – trade secret) added in. The claypot version had additional large prawns, hard shelled clams and squids. Both would taste better if some specially prepared hot chili paste were to be mixed into the soup. There was also the "Dong Po" Pork (RM22.90++), served in a mini rice bucket. Pork belly meat would be wine marinated with a combination of spices, slightly fried and braised until the perfect tenderness. A piece of the meat in some gravy would then be served on steaming rice accompanied with some blanched vegetables and an omelette. I found the meat on that day was a bit too fatty and overcooked as there was hardly any meat on it and the fat just melted into the rice. The kitchen should take note on this. The Seafood in Claypot (RM33.90++ – for 2-3 pax) had a combination of fresh prawns, mussels, scallops, clams and squids in a spicy, sweet and sour soup. It has a strong hint of chopped lemongrass, kaffir lime leaves, garlic and chilies. This dish would go well with rice. I find this Vietnamese-like dish a bit strong in the usage of sugar. I hope the chef would take note of this unhealthy over usage too. Their Seafood Aglio Olio (RM15++) had the right al dente for its pasta. I simply loved how they maintained the "wetness" by tossing enough of olive oil, chopped garlic, onions and bell pepper in it. The dish came with fresh mussels, prawns, squids and fish, garnished with some chopped coriander. Just a note here that you might get different seafood served based on their availability. Another of the hard-to-get in Penang dish was their signature Pork Burger (RM16++). The well flavored minced pork patty was cooked just right to maintain its juices within. This delicious cooked patty was presented on a fresh bun, laced with fresh lettuce, topped with an omelette, cheese and sautéed onions. The set came with some fresh greens and fries. They also have the Chicken Chop Burger (RM15++), served with some fresh greens and fries. The burger which has oozing mixture of tomato ketchup and chili sauce was just another way of having normal chicken chop. Other than that, you could also try out their Markpalia Chicken (RM18++). This quite similar to Cajun style prepared grilled chicken with praprika and herbs marinates, came with mashed potatoes and a mixture of blanched and sautéed vegetables. Somehow, I was over disappointed with strong recommendation as the whole dish tasted extremely salty. Moreover, the portion did not justify its price, considering that I was dining at the al fresco area. Their Roasted Pork Knuckle (RM53++ for 3-4 pax) was huge. You would need to wait at least 30 minutes for this dish to cook. The crispy skin and juicy pork knuckle came with two special dipping sauces and some fresh greens.
They also serve Express Set Lunch as low as RM8.90 nett, inclusive of free flow soup (normally clear soup eg. Old Cucumber Soup, Watercress Soup, etc) and ice lemon tea. The set meal would only be available from 11.30am – 2.30pm on weekdays (Monday – Friday).
Current Express Set Lunch Menu:
1. Wok Fried Soy Sauce Chicken Rice (RM8.90nett)
2. Penang Char Koay Teow (RM8.90nett)
3. Baked Cheese Spaghetti Bolognaise (RM10.90nett)
4. Fresh Mushroom Chicken Steamed Rice (RM10.90nett)
5. Nasi Lemak with Rendang Chicken (RM10.90nett)
6. Baked Cheese Rice with Chicken Chop (RM10.90nett)
I would say the set lunch was worth it considering that I could have as much soup and drink as I wanted. The Penang Char Koay Teow (RM8.90nett) was great. So was the Nasi Lemak with Rendang Chicken (RM10.90nett). The worth mentioning dish of my choice would be the Baked Cheese Rice with Chicken Chop (RM10.90nett). Instead of having some plain rice baked with cheese as some fast food chain would normally provide, it came with fried rice with ham cubes. The chicken chop baked with cheese was amazingly tasty. You can even order some Caesar Salad (RM9++) to share out if you are there with a group. The only differences between the Sommerz Caesar Salad and this salad would be the omission of the poached egg. If you feel that you would need a dessert after your meal, you could always try out their variety of ice cream cakes. I loved their Cookies & Cream Ice Cream Cake (RM7.90++) as it was chilled enough and simply melted in my mouth. The cake came with some caramel and chocolate dressing which was perfect for my liking. As for beverages, there are many types of hot and cold beverages for you to choose from, ranging from coffee, tea, chocolate, juices, milkshakes, smoothies, soda, beer to wine. I tried out their Hazelnut Latte (RM5.90++) and Macademia Nut Café Latte (RM6.90++). Both came light and frothy but I had a problem identifying which was which as both had the same nutty taste.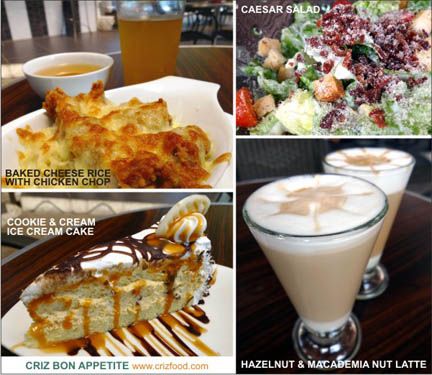 Overall, Sommerz Heritage Bistro can be quite a bargain for diners who love wine with their meals in a cozy ambience while listening to some nice music being played by a live band. Moreover, there's the games room where you can have a game or two of pools and darting. The management would also be planning for a Sunday Champagne Brunch from as early as 11am soon. Do check up with them on any updates on the launch.
If you are coming from town along Jalan Burma, drive all the way until you see a "Y" junction. Left would lead you to Pulau Tikus. Right would lead you to Gurney Drive. Turn left into Jalan Pangkor (keep to your right). Immediately after you see Gleneagles Medical Centre on your right, slow down. Turn right into the service road and you would see a purplish building (Northam Tower). The restaurant is just in front of the building. You would not miss the colonial architectural building.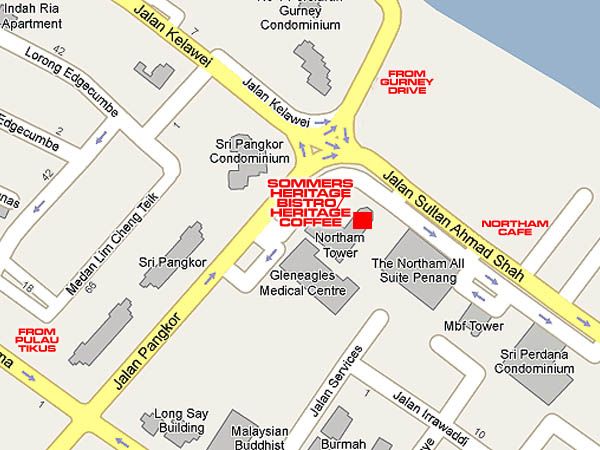 Name: SOMMERZ HERITAGE BISTRO / HERITAGE COFFEE
Address: 67 Jalan Sultan Ahmad Shah, 10050 Penang, West Malaysia.
Business Hours: 11.00am-1.00am (Heritage Coffee), 6.00pm-1.00am (Sommerz)
Contact: 017 – 474 7478 (Sommerz: Ms. Jacque), 604-227 3393, 604-229 3393 (Heritage Coffee)
GPS: 5.427643, 100.320806
RATING:
Ambience: 8/10 (1-4 cheap, 5-7 average, 8-10 classy)
Food Choices: 8/10 (1-4 limited, 5-7 average, 8-10 many choices)
Taste: 8/10 (1-4 tasteless, 5-7 average, 8-10 excellent)
Pricing: 8/10 (1-4 cheap, 5-7 average, 8-10 expensive)
Service: 7.5/10 (1-4 bad, 5-7 average, 8-10 excellent)