Is this another new theme song for since the English Premier League season is still on? Of course not! This was another of my crazy food expedition during the wee hours of the morning when I could not get much sleep with such a humid and sweaty weather. Huh? Breakfast at 5.00am? I thought having Char Koay Teow at 4.30am was crazy enough! 😛 This hidden treasure lies right in the heart of Georgetown where you can get a rich bowlful of Penang Hokkien Mee (prawn noodles) and Loh Mee (starched noodles) manned by Oh Lay Ee (Auntie Oh Lay) and her husband for the last 3 decades.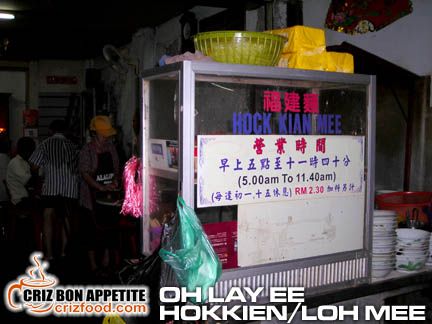 When I say rich, it really meant rich as the stock for the soup had been tediously boiled for hours with bones and prawn shells, somewhat similar to how I cooked it earlier this year. On top of that, there were so many ingredients that I can add into my bowl of noodles. A plain bowl of Hokkien Mee here would cost you merely RM2.30 with a generous amount of prawns, pork slices and egg. My hot steaming bowl of Hokkien Mee was priced at RM4.40 since I had added in some extras such as pork rib, crab roll (chim choe), fried and steam dumplings (siew mai), fried meatball, small and big fish balls. The only setback was the right saltiness in the soup which can be corrected by adding in some soy sauce to your liking. It was indeed filling and cheap for just anyone.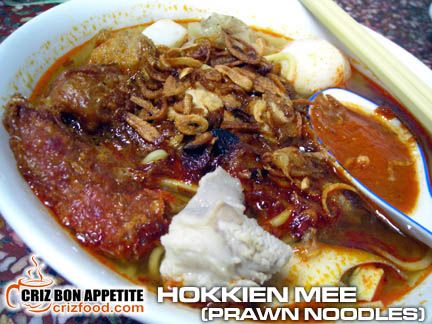 You can also opt for the Loh Mee (RM2.30) which would come with the same ingredients as above except that there would be some extra blended garlic added in and the soup base would be thick and starchy. I found this dish to be rather normal as it did not contain the thick flavors of bones stock. Moreover, the prawns could not soak up the juice from the soup. Thus, those sliced prawns were a bit too hard to my liking.
If you are coming from Pengkalan Weld (Weld Quay) towards the Jelutong Expressway, slow down and keep to your right when you reach the Pengkalan Weld/Gat Lebuh Macallum traffic lights. Make a U-turn at the traffic lights and keep to your left. Turn left into the first junction you see (Gat Lebuh Presgrave). Drive further up and you would see the stall on your right in front of a row of old houses. This stall normally caters to those early factory workers.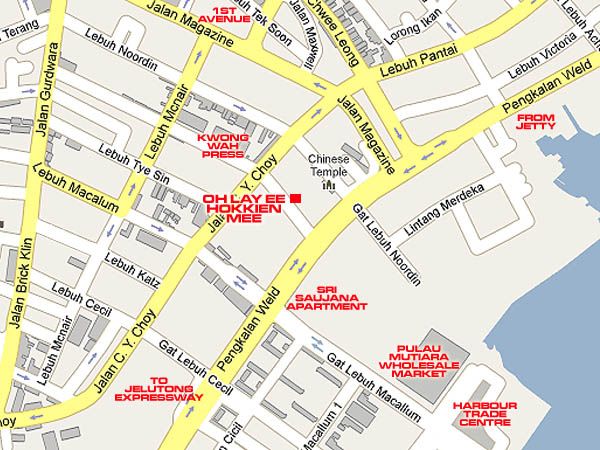 Name: OH LAY EE HOKKIEN MEE
Address: 13 Gat Lebuh Presgrave, 103000 Penang, West Malaysia.
Business Hours: 5.00am-11.40am
(Closed on 1st & 15th Day of Chinese Lunar Calendar)
GPS: 5.409713, 100.332705
RATING:
Ambience: 5/10 (1-4 cheap, 5-7 average, 8-10 classy)
Food Choices: 7/10 (1-4 limited, 5-7 average, 8-10 many choices)
Taste: 7.5/10 (1-4 tasteless, 5-7 average, 8-10 excellent)
Pricing: 6/10 (1-4 cheap, 5-7 average, 8-10 expensive)
Service: 8/10 (1-4 bad, 5-7 average, 8-10 excellent)