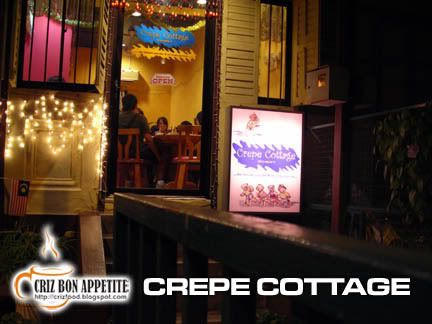 The C.A.S.T. (Criz, Allen, Steven & Tan) team had an interesting food expedition last night in Pulau Tikus area. Initially, we wanted to have our dinner at
Francis's Fusion Western Food
along Jalan Cantonment and Jalan Burmah junction but the place was packed. We ended up at
Yaw's Roast & Grill
at Gerbang Midlands instead. The place was rather crowded as it was a weekend. After dinner, we adjourned to Crepe Cottage, a place which has been in operation for the last 9 years, along the famous sea front of Gurney Drive for desserts.
The place was packed as well, leaving us just a small table outdoor under the bright yellow neon light of the lamp post. Although the place had limited sitting capacity, the menu was an amazing 14 pages consisting of starters, soups, savouries, desserts, sundaes and juices. The team had decided to share out some crepes (Thin French pancake made from a mixture of flour (wheat/all purpose), milk, eggs, salt and butter).
The first order was Espresso Crepe (RM7.50) served with a large scoop of homemade Vanilla Ice Cream and some whipped cream. This was rather mild as we could hardly taste the bitterness of the Espresso Coffee.
The next one which was Mango Cup (RM11) was great. It has a cup-like crepe, glazed with chunks of fresh honey mangoes, topped with two large scoops of homemade Mango Ice Cream, some whipped cream and crushed peanuts.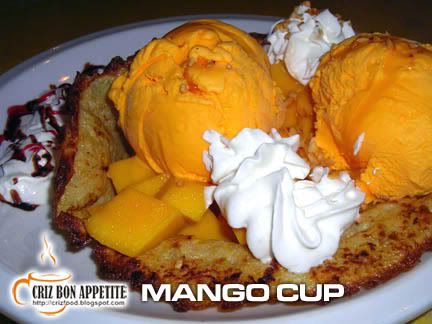 The last order was unique – Chocolate Crepe with Nutella and Banana (RM10). The crepe was rolled and stuffed with cooked banana and served with Vanilla filled Chocolate Ice Cream, topped with some chocolate rice, whipped cream, crushed peanuts and glazed with melted Nutella Chocolate. The hot and cold combination was very well presented.
You should not miss out their A Twist of Taste (RM9) as well. It has a lemon crepe as base, glazed by freshly chopped banana and nuts, topped by vanilla ice cream, white and brown chocolate sauces.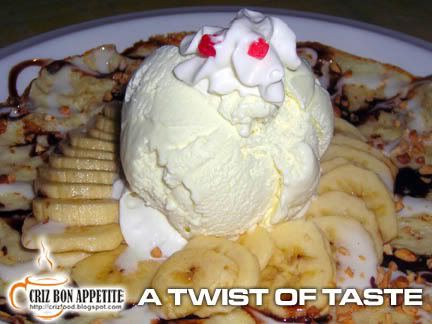 If you feel that these desserts are rather filling for you, you could always ask for their single scoop ice creams. You can choose either vanilla, chocolate, coffee, mango, rum & raisins, peppermint & chocolate chips, strawberry, lime sherbet or orange sherbet. Each scoop is only RM2. If you want double scoops, the price is only RM3.50 per serving.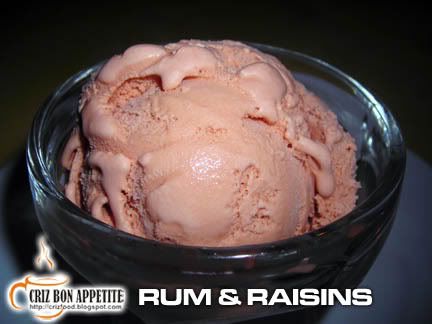 Since we had taken our dinner early, we did not order any of their savouries. You can always try them out as shown in their pictorial menu.
Overall, the desserts were great, considering that they had the right combination and were not too sweet for my liking. Moreover, there won't be any taxes here. The shop is strategically located along the sea front of the famous Gurney Drive. If you are coming from town center towards Gurney Drive into Jalan Kelawei, turn right at the first junction (Jalan Lim Chin Guan) where Gurney Tower is. Drive towards the end and turn left. You would pass through Evergreen Laurel Hotel and a stretch of hawker centers on your left. Slow down as Crepe Cottage is immediately after the last hawker center (Song River Café). Car park is not available on this side of the road and the other side would be packed during weekends. I would advise you to park you car in the Jalan Birch Car Park (the road after Song River Café) and walk up to the restaurant.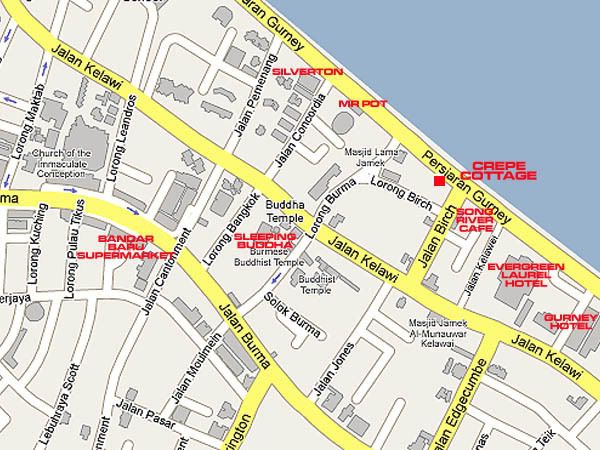 Name: CREPE COTTAGE
Address: 77-A Persiaran Gurney, 10250 Penang, Malaysia.
Opening Hours: 6.00pm – 12.00midnight (Closed Tuesday)
Contact: 019-448 1680 (Agnes Chee)
GPS: 5.432781, 100.316505
RATING:
Ambience: 7/10 (1-4 cheap, 5-7 average, 8-10 classy)
Food Choices: 9/10 (1-4 limited, 5-7 average, 8-10 many choices)
Taste: 8/10 (1-4 tasteless, 5-7 average, 8-10 excellent)
Pricing: 7/10 (1-4 cheap, 5-7 average, 8-10 expensive)
Service: 7/10 (1-4 bad, 5-7 average, 8-10 excellent)