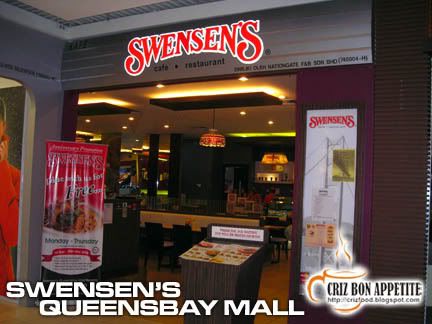 I wondered if anyone has been around when Swensen's first started its operation up in Mount Pleasure in Batu Ferringhi area. I used to be a regular there until I got out from being a teen. LOL! My favorite has always been the Earthquake – 8 scoops of ice cream of your choice, plus 8 toppings. Who would resist that as a teenager? Even now! However, I have decided to try out their other products this visit.
Being an American franchise, they should be good in burgers. I tried out their BBQ Mushroom Chicken Burger (RM16.90). It has a piece of chicken patty topped with BBQ mushrooms, some eggplants and served with French fries and coleslaw. The portion was big and the taste was great except for the burger was a bit dry. Well, chicken meat has always been dry as it does not contain as much fat as beef.
Next was the Fish Baked Rice (RM17.90). There were quite a lot of chunky pieces of grilled fish fillet on top of some rice with some white sauce and baked with cheese. Not bad for the taste except for the dryness of the fish. They could have done better by not over grilling the fish as the baking alone would have made the fish cooked. The portion looked normal but it can be quite filling.
Since I was there late in the afternoon, I dreaded the idea of jumping around having my lunch as my actual intention of visiting them was to grab their ice creams. Well, I was not totally disappointed too. What came next was heaven. I ordered the Sizzling Pan Apple Crumble (RM24.90) to be shared. What? That price for a scoop of ice cream with a piece of cake? I must be crazy! The dish did not disappoint me at all. The apple crumble came in a hot pan with a big scoop of Vanilla ice cream on top. The waiter then poured some syrup with some chopped apples in it over the pan. It was bubbling furiously. He then poured some butterscotch over the ice cream. This is truly wonderful. I was expecting this to be too sweet for my liking but the combination of everything was just nice. It's worth a try.
Some people might think that it's rather costly to dine in Swensen's but one thing you need to realize is that their portion is rather big to fill you up. On top of that, if you are lucky to be in Penang Island itself, you have the opportunity to try them out in Queensbay Mall with their latest promotion up to 30 November 2008. They will rebate you with cash vouchers worth the amount on your bill for your next visit. So hurry up if you have yet to try them up.
Swensen's has two branches in Penang. One is in Auto City down in Juru, mainland and the other one having the promotion now is in Queensbay Mall. To find the restaurant is easy. Just shop around the mall and you will see the corner shop at level 2, central zone area.
Name: SWENSEN'S QUEENSBAY MALL
Address:
2F-50, 2nd Floor, Queensbay Mall (Central Zone)
100 Persiaran Bayan Indah, 11900 Penang, Malaysia.
Contact: 604-646 6593
Opening Hours: 10.00am – 10.00pm
GPS: 5.333661, 100.306506
RATING:
Ambience: 8/10 (1-4 cheap, 5-7 average, 8-10 classy)
Food Choices: 7/10 (1-4 limited, 5-7 average, 8-10 many choices)
Taste: 8/10 (1-4 tasteless, 5-7 average, 8-10 excellent)
Pricing: 8/10 (1-4 cheap, 5-7 average, 8-10 expensive)
Service: 9/10 (1-4 bad, 5-7 average, 8-10 excellent)