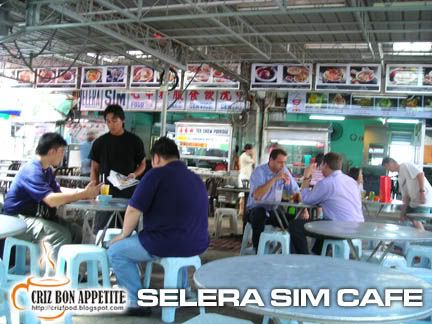 For those working around the Bayan Lepas Free Industrial Zone (FIZ), especially those from the FIZ Phase IV, should be aware of the where about this hawker center. It is hidden right within some apartments along Jalan Tengah, Bayan Baru. The cafe is Selera Sim Café and will usually be packed with factory workers during lunch time. What I like about this cafe is the large portion of food served at a reasonable price.
Each time I'm up that area, I would surely visit this café regardless whether it's breakfast, lunch or tea time. There's one dish that would always be on my table and that's the Mee Jawa. You can have it served fried or with the sweet potato soup and the owner would not be stingy to top it off with a lot of ingredients, all for a mere RM2.50. A bigger plate with more crackers would only be RM3.00.
Each plate would come with sliced fried bean curd, boiled potatoes, eggs, prawn fritters and crunchy anchovy crackers, garnished with pounded peanuts and lettuce, and served with half a lime and some chili paste (sambal). The fried one had all the tasty spices seeped into the yellow noodles used and was topped with a little gravy. The soup one was just boiled yellow noodles with more sweet potato gravy. Both the dishes were remarkably tasty.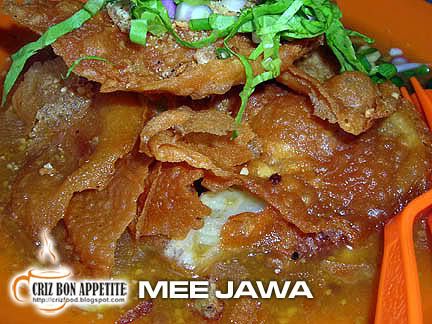 Another of the most ordered dish stall (by the look of the crowd lining up for the food) would be The Nest Chicken Rice. This is just not an ordinary chicken rice stall as the chicken were neither roasted with soy sauce nor boiled. The "All drumstick plus thigh" chicken came in three flavors, namely Turmeric Roasted Chicken, KFC Batter-like Fried Chicken and Black Pepper Grill Chicken. Depending on your selection of side dishes which would include salad, fried bean curd, omelette, prawn fritters and fish fritters, each plate would cost you from RM4.50 to RM6.00. I tried out the Turmeric Fried Chicken Special Seafood Platter Set (RM6.00).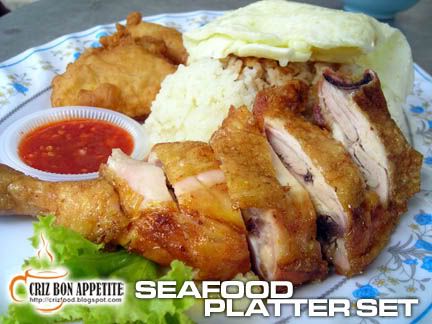 The set came with a whole large piece of fried turmeric chicken served with lemon sauce (you can opt for their other sauce), a prawn fritter, a fish fritter and an omelette on top of a big bowl of rice. The chicken meat was juicy and tender with the nice turmeric taste on it. The prawn and fish fritters were very fresh and the special sauce on the rice blended in real well. I would say the pricing is very reasonable too as a smaller piece of chicken plus rice in a Nasi Kandar shop would have cost me RM5.20.
Each order would also come with free flow of soup. The soup of the day happened to be Seaweed Soup.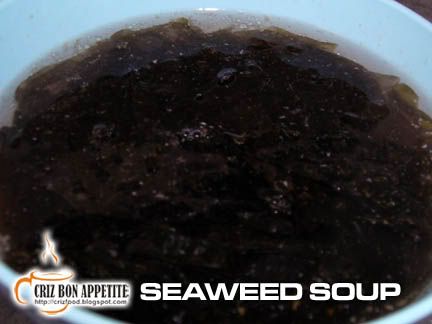 There was quite a variety of food sold there although there was only a row of food stalls with a few more stalls scattered near the entrance of the cafe. From my observance, the two stalls which had the most crowds would be The Nest Chicken Rice and the Tar Hong Kong B.B.Q. Chicken & Duck Rice. I have yet to try the chicken and duck rice from this stall but I guessed the taste buds from the crowds would evidently prove them to be good.
I have not been there for quite some time for tea. There used to be a Chinese lady selling nice and tasty local delicacies (Nyonya kuih and curry puff) opposite the duck rice stall during tea time. I hope she's still there if I ever to be there again during tea time.
If you are coming from Gelugor or Jelutong Expressway towards the old Penang International Airport highway along Jalan Sultan Azlan Shah, you will reach the Jalan Mahsuri traffic light (turn right and it will lead you to Sunshine Square/SunTech Cyber City). Ignore this traffic and drive on until you see the Jalan Tengah traffic light. Turn right into Jalan Tengah and drive on until you see a traffic light. Turn left into Jalan Mayang Pasir and then first junction on your left into the Kampung Gedung Apartments. There would be a lot of lanes between all the apartments. Try to find a parking space near to Block 70, Block 72 or Block 74. The hawker center is just at the ground floor of Block 70.
Name: SELERA SIM CAFE
Address: Block 70-G-1, Jalan Tengah, 11900 Bayan Baru, Penang, Malaysia.
Opening Hours: 10.00am – 6.00pm
GPS: 5.318214, 100.286270
RATING:
Ambience: 7/10 (1-4 cheap, 5-7 average, 8-10 classy)
Food Choices: 8/10 (1-4 limited, 5-7 average, 8-10 many choices)
Taste: 8/10 (1-4 tasteless, 5-7 average, 8-10 excellent)
Pricing: 7/10 (1-4 cheap, 5-7 average, 8-10 expensive)
Service: 7/10 (1-4 bad, 5-7 average, 8-10 excellent)