After a long weekend of heavy down pour which caused
my area being flooded
, I finally had some relieves to be able to get out to grab something sensible to put into my tummy. Although I had some tummy problems the day before, the 5-pagoda Thai Powder did help solve it. Well, I better don't get the post too disgusting as I'm still recovering from
Sciatica
which made my whole body aching in pain. Anyway, thanks to
foodpromotions
for sending over some discount vouchers for Domino's Pizza's new outlet in Krystal Point which had started their operations since 23 August 2008. It indeed saved me a lot.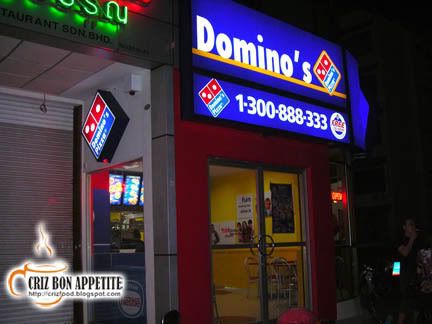 What I like about Domino's Pizza is the way they handle their customers. They are real professional. They even have my name printed on the order chit and pizza boxes. Although I was asked to wait for 15 minutes for my pizzas, both were ready within 12 minutes.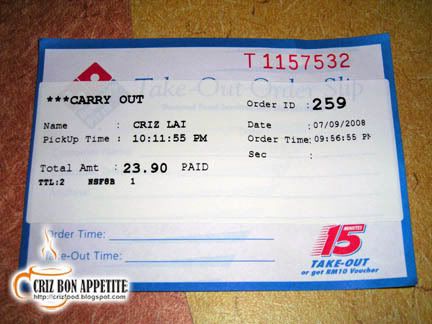 The amount you see there is correct. It was only RM23.90 for TWO regular 9" pizzas? First one was at RM23.80 and the second one was at 10sen only. Well, you need to have the special voucher for that and you should know who to ask for that right? 😛
Anyway, eating in would be better for pizzas but the offer only applied for takeaway. Even though I went to the nearest place within 10 minutes to take my pizzas, the crust wasn't that nice as it should be. Here are the shots of the pizzas I had ordered.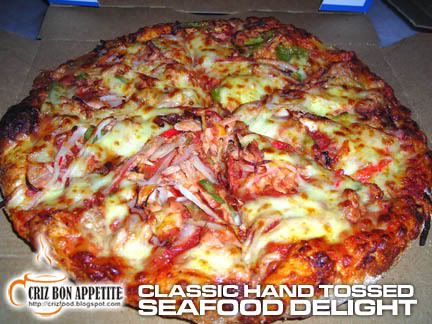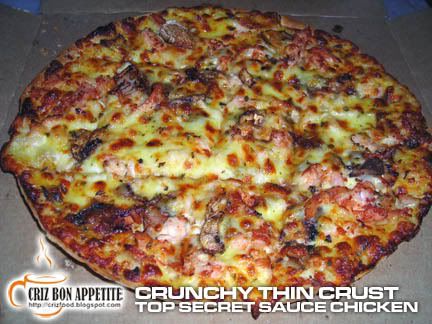 The shop is located at the last unit of the second phase of Krystal Point Complex. Make sure that when you come in from the main road leading to the Jelutong Expressway, you turn in the second turning on your left. Getting to the place should not be a problem. It's the getting out that might cause some concern for those people not staying there. Since it's a one-way street, you have to drive on and turn into the second turning on your left (Lebuh Bukit Kecil 3). Drive on until you see a playground and turn left into Jalan Bukit Kecil 2. Just follow the road all the way until the end. You will reach a "T" junction, turn left into Jalan Bukit Kecil 1 and it would lead you all the way to the Sungai Nibong main road. You can also check out the many restaurants such as Goh Teo Kee, Dav's Corner, etc around this area too.
Name: DOMINO'S PIZZA BAYAN LEPAS
Address:
1-1-33, Krystal Point Corporate Park, Lebuh Bukit Kecil 6,
Bayan Lepas, 11900 Penang, Malaysia.
Contact: 1-300-888-333 (Delivery)
Opening Hours: 11.00am – 11.00pm
GPS: 5.330928, 100.299339
RATING:
Ambience: 7/10 (1-4 cheap, 5-7 average, 8-10 classy)
Food Choices: 8/10 (1-4 limited, 5-7 average, 8-10 many choices)
Taste: 7/10 (1-4 tasteless, 5-7 average, 8-10 excellent)
Pricing: 8/10 (1-4 cheap, 5-7 average, 8-10 expensive)
Service: 8/10 (1-4 bad, 5-7 average, 8-10 excellent)