Would you like to try out some Thai food without having to go all the way to Thailand or to some exotic Thai Restaurant and pay high price for your food? If yes then you should visit Ghee Seng Tomyam Seafood Restaurant located along the famous seafront, Weld Quay. There would not be much ho-ha to dress up as the restaurant is in an open air coffee shop style. If you do not intend to order dishes of your choice, you can even opt for their many spread of Chinese/Thai cuisine dishes in the Economy Rice Stall.
Since I was not in the mood for some hot and spicy tomyam soup, I ordered some milder dishes. By the way, their tomyam soup is super yummy too. Upon recommendation by the boss, Tomyam Seng, we ordered Hotplate Japanese Tofu which is full of prawns and minced meat, Crispy Mantis Prawns with Salad cum chopped carrot and their famous mouth watering Thai Lobak (Thai pork roll wrapped with dried tofu skin) served with hot steaming Thai rice. The food is delicious and the price is reasonable, considering that we paid less than RM25 for the food and drinks. Check out the dishes below: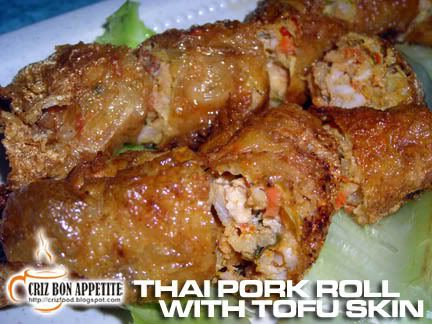 If you come from the ferry terminal along Weld Quay (Jalan Pengkalan Weld), you will see the Shell Petrol Kiosk on your left. Drive further and you will see the Chew Jetty where there are lots of hawker stalls. Drive on until you almost reach the traffic light to turn into Komtar area or towards the Jelutong Expressway. The restaurant is just on the left BEFORE the traffic lights. It is situated along a row of shophouses (WISMA KGN). There will be a light box showing where the shop is along the main road. Check out the map if you are still unsure.
Name: GHEE SENG TOMYAM SEAFOOD
Address:
BLK 123-G-06, Wisma KGN, Jalan Pengkalan Weld (Weld Quay), 10300 Penang, Malaysia.
Contact: 016-498 8325, 012-480 8266 (Tomyam Seng)
Opening Hours:
11.00am – 3.00pm, 6.00pm – 1.00am (Closed Wednesday)
GPS: 5.410657, 100.336193
RATING:
Ambience: 6/10 (1-4 cheap, 5-7 average, 8-10 classy)
Food Choices: 7/10 (1-4 limited, 5-7 average, 8-10 many choices)
Taste: 8/10 (1-4 tasteless, 5-7 average, 8-10 excellent)
Pricing: 6/10 (1-4 cheap, 5-7 average, 8-10 expensive)
Service: 7/10 (1-4 bad, 5-7 average, 8-10 excellent)