NOTE: THIS RESTAURANT HAS CEASED OPERATION
On my way back to my place, I saw a new Thai Restaurant opened up for business along Upper Penang Road. I was curious as it replaced where Pintail Bistro used to be. Although the previous restaurant served one of the best fusion dishes around, it had to be closed down due to lack of parking spaces and diners around that area. Well, this new restaurant had quite a nice environment with dim garden lights and soft Thai music playing against the background.
We sat down and were immediately served by a lady. It looked as if she was desperate to recommend this and that as we ended up having food enough to feed three persons. We ordered 5 dishes and a dessert and I did stress to her to make the portion smaller as there were only two of us dining.
The Appetizer Thod Marn Pla (RM7.50) which was to be some sort of Thai Fish Cake came. I expect them to give 4 pieces since there were two of us but instead they gave three. A bit pricey to charge that as there was nothing inside except for some minced meat and long beans. But the taste was quite nice.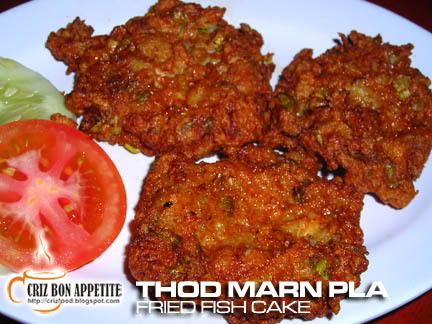 Next dish was Tom Yam Thalay (RM25) which was supposed to be a mixed seafood tom yam. We ended up with a large bowl of average tom yam soup with lots of fish balls, 3 tiger prawns, barely 2 squids, half a baby flower crab and some straw mushrooms. Very pricey!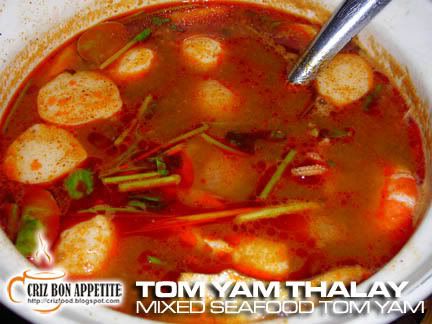 The Khao Pad Sapparos (RM8) aka Pineapple Fried Rice was next. Not bad for the amount served but it lacked of the fragrance for fried rice. Moreover, it was slightly soggy.
The waitress recommended Mango Tofu (RM10) next. The taste was not bad, a bit sweet for my taste bud. The dish has not more than 2 packet of deep fried Japanese tofu, some shredded mango, battered minced chicken meat and cooked with some tomato paste and they are charging that high. They should at least check the market rate for any tofu dishes out there. Even a crab meat Japanese tofu that amount won't cost that much.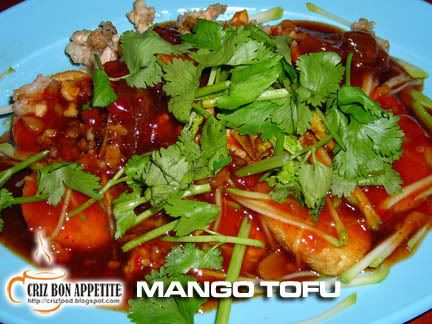 The waitress again strongly recommended the Thai style Egg Roll (RM5). It was just a plain egg with some over salty minced chicken meat cooked with fermented beans inside. Moreover, it came last when all the plain rice as well as Pineapple Fried Rice were almost gone. I think they got their dish priority all wrong here.
As for dessert, she recommended the Thai Dessert (RM3.50). By right this dish is to be served with only some jellied water chestnut, sliced jackfruits and coconut milk. It came with additional sweetened attap palm nuts, nata de coco jelly and some over springy colored jelly. All the add-ons spoiled the taste of this traditional Thai dessert.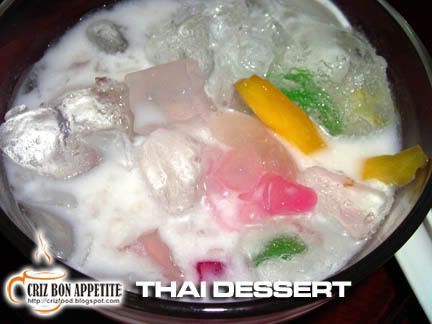 I would consider the food served here are a bit pricey although the amount charged was not with any taxes. We paid RM68.20 for the meal. They even charged us 30sen for a glass of water on top of the amount we had ordered? Come on! If they were planning to charge, at least state in the menu or just get me a bottle of mineral water instead. How to reach this restaurant? Just refer to the map below for directions.
Name: MYTHAI CAFE
Address: 84, Upper Penang Road, 10000 Penang, Malaysia
Tel: 604-261 9330
Opening Hours: 11.30am. – 12.00am
GPS: 5.420430, 100.332695
RATING:
Ambience: 7/10 (1-4 cheap, 5-7 average, 8-10 classy)
Food Choices: 8/10 (1-4 limited, 5-7 average, 8-10 many choices)
Taste: 6/10 (1-4 tasteless, 5-7 average, 8-10 excellent)
Pricing: 9/10 (1-4 cheap, 5-7 average, 8-10 expensive)
Service: 7/10 (1-4 bad, 5-7 average, 8-10 excellent)