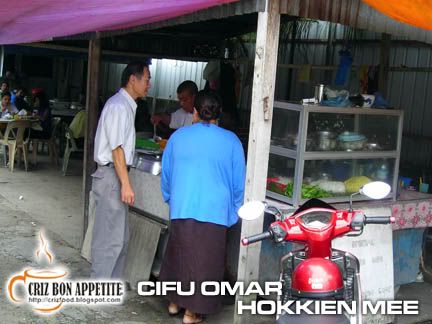 As a Penangite, most Chinese would go for non-halal Hokkien Mee where the soup is pork based. Have you tried the Malay version of the Hokkien Mee (Mee Udang) before? There is this old house along Jalan Tanjung Tokong selling this yummy hawker delight solely manned by Pakcik Omar. There would always be endless stream of customers from all different races patronizing this stall on weekdays. Well, they would only open their business for 3 hours from 11.00am until 2.00pm daily except weekends.
The taste of the soup is different as it is chicken based. Moreover, it has the sweet taste of rock sugar and prawns. Even the color of the chili paste looked so mild and yet can be real fiery to taste. You can choose your noodles to be either koay teow, bee hoon, yellow mee or mixed. You also have choices of the meat to be either chicken, beef or mixed. My friend tried out the mixed koay teow and mee Chicken Hokkien Mee (RM3.30). The dish came with lots of chicken meat, some crab sticks, prawns, eggs and chicken gizzards. The serving was large.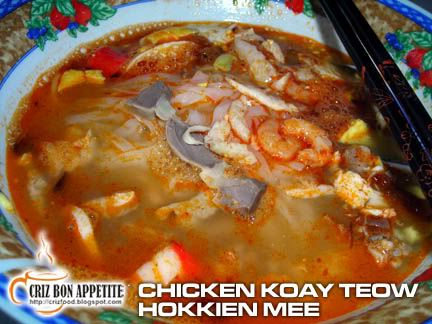 I ordered the mixed Chicken and Beef Hokkien Mee (RM3.30). The ingredients are the same as the above but with additional tender beef slices. The dish was great.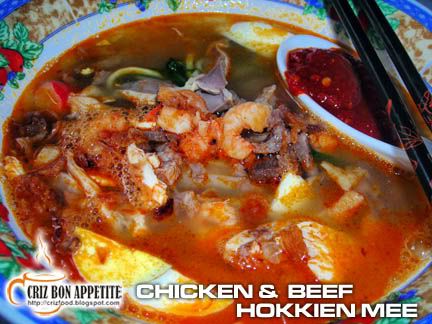 They also do serve Fried Chicken Legs Stew. The taste is totally different compared to those sold in Chinese stalls where those chicken legs were stewed with garlic, dark soy sauce, soy sauce, star anise, cinnamon, cloves, pepper and sugar. The one sold here has ginger, carrot, mushrooms and dried chillies. Although I prefer the Chinese version more, who would complain paying just RM1 for 4 large pieces of chicken legs here? It's dirt cheap!
Just drive along Jalan Tanjung Tokong until you have reached the Island Plaza traffic lights. Turn right and then turn left into the service road where the Desa Tanjung shoplots are. Find a parking and walk towards the end of the shoplots. You would see an old house between Desa Tanjung and Ubi Food Court. That's where the Malay Hokkien Mee stall is.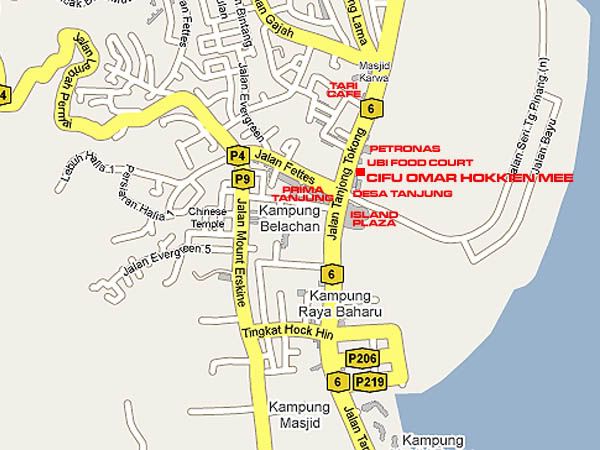 Name: CIFU OMAR HOKKIEN MEE
Address: Jalan Tanjung Tokong, 11200 Penang, Malaysia.
Opening Hours: 11.00am – 2.00pm (Closed Saturday & Sunday)
GPS: 5.451883, 100.305992
RATING:
Ambience: 6/10 (1-4 cheap, 5-7 average, 8-10 classy)
Food Choices: 6/10 (1-4 limited, 5-7 average, 8-10 many choices)
Taste: 7.5/10 (1-4 tasteless, 5-7 average, 8-10 excellent)
Pricing: 6/10 (1-4 cheap, 5-7 average, 8-10 expensive)
Service: 7/10 (1-4 bad, 5-7 average, 8-10 excellent)