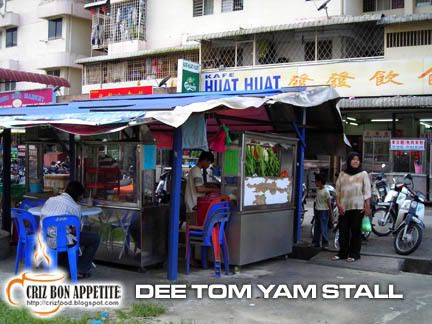 I must admit that I have been going to so many Chinese stir fry restaurants and hawker stalls in Penang that I tend to have overlooked on the Malay stir fry stalls. In fact, some of these stalls can provide food as delicious as any of the food stalls out there. Hidden within the compound of Farlim's apartment, Block 1B, is a small Malay stall providing cheap, good and yet delicious Malay cuisine. Although it has no signage on the stall, it runs the business by the name of Dee Tom Yam. At times, you can see patrons of all races queuing up to order his delicious food. The wonderful thing about this place is that you can opt to sit inside the coffee shop (Huat Huat) or relax yourself on the field between the two blocks of apartments.
You can either order dishes to be taken with rice or simply ask the boss to cook up some fried/soup rice or noodles items for your meal. The menu list is not long but it is good enough for a simple meal. What else would you expect as nothing in the menu (except fish based on market price) costs more than RM4.50? You could easily order Masak Pedas Daging (Stir Fry Spicy Beef), Tom Yam Udang (Prawn Tom Yam) and Kangkong Belacan (Fried Shrimp Paste Water Spinach) for just RM10. Rice would be at RM1 each plate.
As I did not have to crowd to test out all the dishes, I managed to order his Nasi Goreng Ikan Masin (Salted Fish Fried Rice) at RM3.50. The combination was great as it did not contain the overpowering taste of the salted fish and the rice maintained its softness. Moreover, there are a lot of vegetables and squid slices in the dish.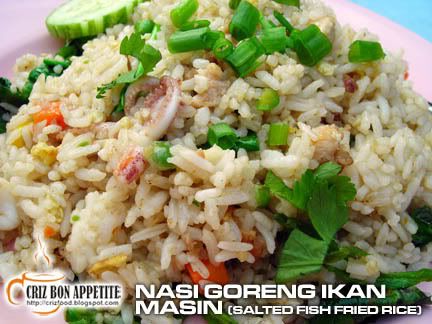 Dee's Nasi Pattaya (RM4) was great too. The portion for the dish was large. The fried rice was beautifully wrapped in a thin layer of omelette and garnished decoratively with some chili sauce. By tearing open the omelette, you could smell the fragrance emitted from it. The rice was tastefully fried with mixed vegetables and prawns.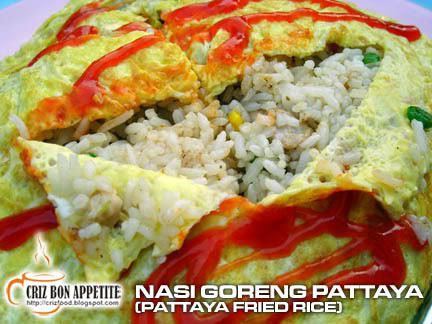 This is again another maze as I could not locate any road name to this place but you can always ask around the Farlim (Bandar Baru Air Itam) residents where Block 1B is located. If you are coming from the main road at Jalan Air Itam into Farlim (Jalan Thean Teik), you would pass by one traffic light until you reach a crossroad traffic light (Block 7A is on your left). Turn right into Lebuhraya Thean Teik. Keep to your right and turn into the first road on your right (Jalan Ru 1). You can see Block 1B on your right. Turn into the small lane and try to find a parking space. The stall is just next to a Chinese temple and directly opposite Huat Huat Coffee Shop at the corner of the field.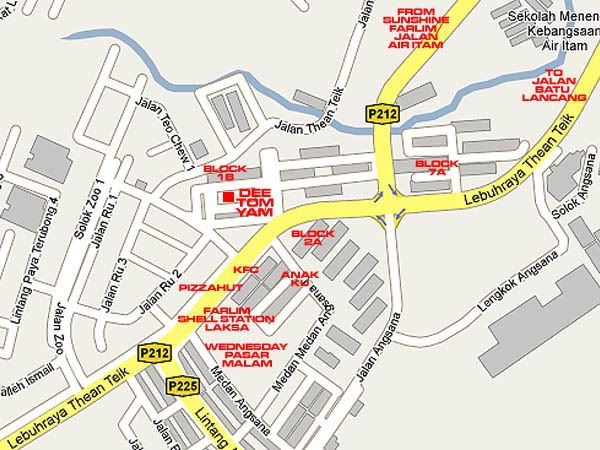 Name: DEE TOM YAM @ HUAT HUAT COFFEE SHOP
Address:
Block 1B (off Jalan Ru 1), Bandar Baru Air Itam, 10500 Penang, Malaysia.
Contact: 017-554 8089 (Encik Dee)
Opening Hours: 4.00pm – 12.00am (Closed Alternate Thursday)
GPS: 5.392530, 100.282383
RATING:
Ambience: 7/10 (1-4 cheap, 5-7 average, 8-10 classy)
Food Choices: 7/10 (1-4 limited, 5-7 average, 8-10 many choices)
Taste: 8/10 (1-4 tasteless, 5-7 average, 8-10 excellent)
Pricing: 6/10 (1-4 cheap, 5-7 average, 8-10 expensive)
Service: 7/10 (1-4 bad, 5-7 average, 8-10 excellent)