Gosh! I had just realized that I have not been updating my Anime Kopitiam on new releases for more than a year. Time really flies when you have so many delicious food to concentrate on to keep you occupied and filled all the time. LOL! Anyway, I found some unique anime characters during my business trip to Jinjang, Kepong, Kuala Lumpur a few days' back. If I can get myself attracted to those colorful little characters, so would any child in Malaysia. I'm sure most parents would want to get them for their children's lunch box as I have seen many of these cute products available only in Japan. I guessed someone over here had decided to tap the market for these cute and beautiful products. Anyone craved for some Anime Mantou (RM7/box of 6 or RM13 for 2 boxes) right now?
I guess you would be curious to find out what's inside each and every mantou (steamed buns) here. From the look of Snoopy's ears, you would know it had chocolate in it. As for Hello Kitty, it was filled with lotus seed paste. Porky Pig would come with red bean paste. The Halloween pumpkin, Jack O'Lantern had lotus seed paste. That would leave two Pokemon characters, Sandslash (beigh – kaya/coconut jam) and Tyranitar (green – pandan kaya/screwpine coconut jam).
Overall, I found the mantou to be cute and reasonably good for consumption but it would be best if the filling were a bit more. It would be best to consume when they are steaming hot or they would be stale hard. There are also many food stalls within the market area. Some of the food you might get here are Pan Mee (RM3.50), Pork Noodle (RM3.50), Hainan Chicken (RM12) and so on. The hawker dishes here were just the market style standard and average in taste.
Those people staying the surrounding Kepong area would be familiar with the morning market but for those from the outskirt of the area, a GPS would be quite handy to locate this place. Find your way to Jalan Kepong and drive towards KL City (Jalan Kuching). As you pass the junction leading to Taman Fadason, keep to your left. Drive on until you see the Petronas petrol kiosk on your left. Slow down and watch out for the DBKL Toll Vehicles Reserve Depot and turn left into Jalan Jinjang Utama. You would find the market a short distance away on your left. Finding a parking space could be quite hard here, so try to be there earlier to avoid any disappointment.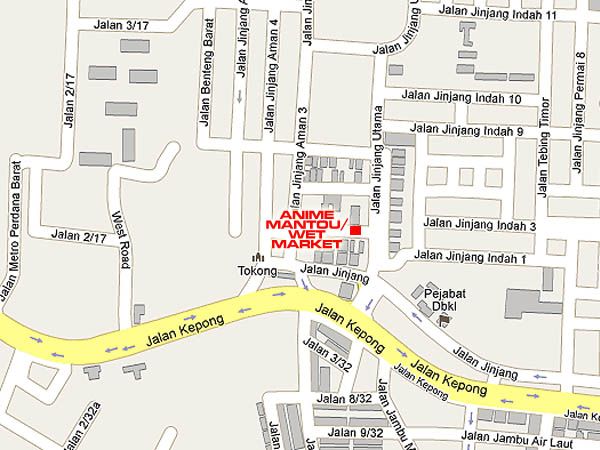 Name: JINJANG UTARA MORNING WET MARKET (KEPONG)
Address: Jalan Jinjang Aman, Jinjang Utara, 52000 Kuala Lumpur, West Malaysia.
Business Hours: 7.00am-9.30am
GPS: 3.210867, 101.658584
RATING:
Ambience: 6/10 (1-4 cheap, 5-7 average, 8-10 classy)
Food Choices: 6/10 (1-4 limited, 5-7 average, 8-10 many choices)
Taste: 6/10 (1-4 tasteless, 5-7 average, 8-10 excellent)
Pricing: 7/10 (1-4 cheap, 5-7 average, 8-10 expensive)
Service: 9/10 (1-4 bad, 5-7 average, 8-10 excellent)