A new trade program that would inspire trade partners to excel in their field was launched at Hard Rock Hotel, Penang yesterday. The program, known as the "A" Class Experience (ACE) Program, which was specially designed by Carlsberg Malaysia in collaboration with Taylor's University, aims to provide supportive trade partners and F&B operators a series of educational and practical training in raising the bar to meet the growing expectations of customers in today's competitive industry. Those who attended the launch included some of the top brewmasters for some of the leading brands in Malaysia, namely Mr. George Frank Reisch, Brewmaster for A-B InBev (Hoegaarden, Stella Artois, Budweiser & Leffe), Mr. Sean Soh, Commercial Manager of Luen Heng F&B Sdn. Bhd. (leading supplier in the distribution of premium consumer beer, wine and spirits throughout East and West Malaysia), Mr. Lim Eng Wah, Penang Regional Manager, Carlsberg Manager, Mr. Eduardo G. Manas, Jr., Area Manager of Jagermeister Mast, representatives from leading brands such as Kronenbourg 1664, Corona Extra, Danish Royal Stout, Skol, Carlsberg Green Label Draught, etc and many participants as far as Langkawi. The ACE Program was officiated with the hand prints and signatures of the leading masters in the related F&B industry. Some cool items were given out to the media as well.
ACE Program syllabus consist of both off-site and classroom training that will equip Carlsberg Malaysia's trade partners with a better understanding of the brands under Carlsberg Malaysia as well as day-to-day bar operation skills and customer service excellence. In addition to that, participants will also be able to experience exclusive training with World Class Brewers.
Carlsberg Malaysia will reward the best performing participant of this ACE Program with a fully paid 14-day trip cum practical training to the Jacobsen Brewery and Visitor's Centre in Copenhagen, Denmark in the year 2012. This winning participant will get the chance to gain exclusive experiences at the Carlsberg headquarters that brewed the first ever Carlsberg beer.
As for the lst and 2nd runner up, both will also be rewarded with a fully paid trip to one of the Luen Heng F&B top vineyards in Victoria, Australia. Luen Heng F&B Sdn. Bhd. is the leading supplier in the distribution of premium consumer Beer, Wine and Spirits throughout East and West Malaysia.
"Carlsberg is a brand that strongly believes in 'Doing The Right Thing`. With that in mind, our partnership with Taylor's University in this ACE Program aims to provide a rewarding and beneficial experience to our valued trade partners," says Soren Ravn, Managing Director of Carlsberg Malaysia.
All of these training are made at no cost to the trade partners as Carlsberg Malaysia would like to ensure that this training will benefit the trade partners' business. This is to showcase that Carlsberg Malaysia is 100% behind its trade partners that made Carlsberg Malaysia the preferred beer brand among its trade partners in Malaysia. "It is a privilege for Taylor's to be a part of Carlsberg Malaysia's ACE Program. We are positive that this collaboration will bring about favorable outcomes for all participants," says Mr. Haresh Singh Gill, Associate Dean of Enterprise, School of Hospitality, Tourism and Culinary Arts, Taylor's University.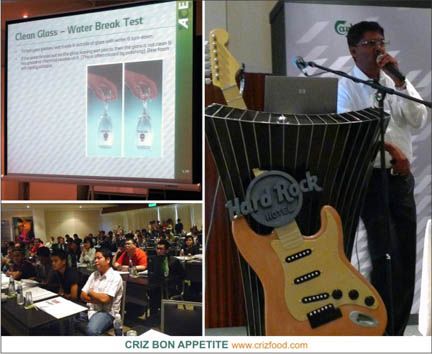 Off-site Training
Carlsberg Malaysia hosted an off-site training, which consist of a series of practical and contemporary training modules conducted by World Class Brewmasters and expert partners. This training session will be conducted in 3 regions i.e. Penang, Johor Bahru and Kuala Lumpur to allow exposure to various participants from different geographic regions. All these sessions include concise brand knowledge; technical and practical training that is aimed at providing a better understanding of the brands that their outlets represent.
The sessions are:
• Carlsberg Beer Portfolio bg Ms. Teh Chui Hoon, Marketing Manager of Carlsberg Brands
• Kronenbourg 1664, Corona Extra, Danish Royal Stout and Skol by Mr. Edwin Yeo, Marketing Manager of Portfolio Brands
• Art of Brewing by Mr. Gunnar Hepp, Brewmaster of Carlsberg Malaysia
• Imported Beer Segment (Hoegaarden, Stella Artois, Budweiser & Leffe) by Mr. George Frank Reisch, Brewmaster for A-B InBev
• Wine segment by Mr. Sean Soh, Commercial Manager of Luen Heng F&B Sdn. Bhd.
• Jagermeister, Germany by Mr. Eduardo G. Manas, Jr., Area Manager of Jagermeister Mast
• Carlsberg Green Label Draught Excellence by Mr. Alvin Yap, Draught Beer Services Manager of Carlsberg Malaysia
Classroom Training
Carlsberg Malaysia aims to offer value-added knowledge to its trade partners via its collaboration with Taylor`s University. The recognized Bar & Beverage Management course by Taylor's University is a 3-day course that will kick off in Penang on the 4th of July 2011 at the Equatorial Hotel, Penang.
Apart from that, there will also be a half day session on customer service excellence. This module will provide participants the techniques to improve service standards in their outlets. The ultimate objective is to uplift service standards that will result in customer loyalty, increased outlet traffic and enhance business profitability.
ACE Program Activities
Among the activities that will be implemented in line with this ACE Program are:
• Mystery Shopper Program — Carlsberg Malaysia will deploy a group of mystery shoppers to rove into participating outlets and evaluate the implementation of trainings provided. If the bar staff meets the pre-set standards, RM50 cash will be rewarded on the spot. This is to motivate participating bar staff to deliver constant good performance in their daily work life.
• Outlet Evaluation — Carlsberg Malaysia will deploy a special taskforce to go around participating outlets and collect feedback from consumers on their preferred bar team /bar outlet. These feedbacks will be translated into an inter-outlet challenge whereby the top preferred outlet will walk away with a RM30000 event sponsorship. In addition to that, this special taskforce will educate consumers on the appreciation of the perfect Carlsberg draught beer and promote upcoming Carlsberg promotions.
• Digital Activation — A dedicated Facebook application that allows Carlsberg Malaysia trade partners to constantly monitor their outlets preferential ratings by consumers on real time basis. On top of that, this application will assist outlets to understand their customers better and facilitate improvements.
Carlsberg Malaysia brand new ACE program will end its semester in August 2011 and all participating trade partners will be rewarded with a fun-filled outdoor celebration cum graduation party.
The media were also briefed by Mr. George Frank Reisch (Brewmaster for A-B InBev such as Hoegaarden, Stella Artois, Budweiser & Leffe) on the ingredients used to make all the alcoholic drinks in the world. Basically, those ingredients consist of chocolate malt, black malt, wheat malt, rice, hops, caramel malt and pale malt. Most of the beers around would use wheat malt or pale malt. Mr. Eduardo G. Manas, Jr. (Area Manager of Jagermeister Mast) briefed that there were actually many secret ingredients used in the preparation of Jagermeister from Germany but he could only disclose some of the common ones such as ginger, cinnamon, star anise, cardamom and orange peel. Resulting from the consumers' preferences, Jagermeister had recently overtaken famous brand such as the Bailey's.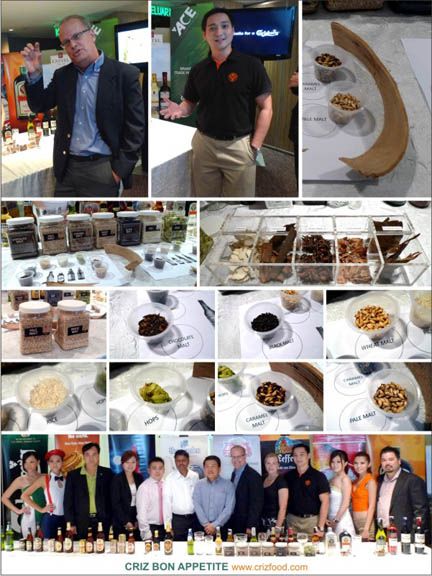 When there's an event by any of the F&B companies, there would surely be beautiful models to represent the brand. Two of our food representatives, Sam Ong and Jacgy Chan, took the opportunity to have some shots with them.
Lunch was served after the briefing and the buffet spread at Hard Rock Hotel was rather enjoyable as some of the dishes were uniquely prepared. We had different salads at the appetizer section, some South Western minestrone soup with dinner rolls, entrees such as seasonal vegetables, sautéed potatoes, slow cooked beef with smoked onion & thyme, risotto of roasted pepper & garlic, crab cakes with mango & green tomato salsa, cornmeal crusted fish with green tomato chutney and jerk chicken with pineapple mole sauce. The last two dishes were rather uniquely prepared. The fish fillet blended in real well with the mild sweet and sour chutney. The jerk chicken was full of spice enhanced flavors just by itself but with the chocolate mole (pronounced as mo-lay) sauce and the sweetness from some canned pineapples, it was totally a different taste with the richness from the dark chocolate and some hints of herbs and spices. On the dessert spread, there were the New York style cheese cake (my favorite), apple pie, devil's food cake, mini lemon meringue pie, savarin with citrus syrup, strawberry short cake, chocolate mud cake and fresh fruit cuts.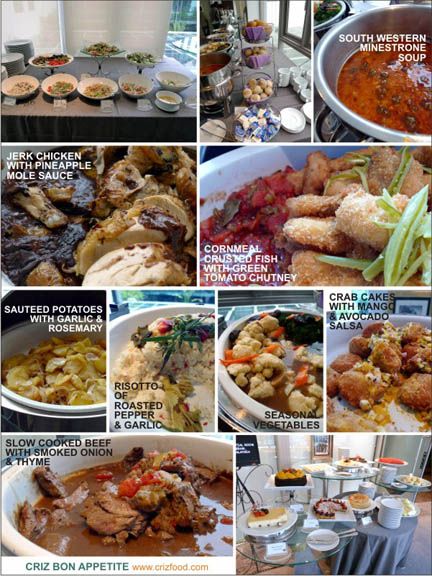 Overall, the experience was a great one as it's the beginning of a new frontier where a product company, such as Carlsberg Malaysia has taken the initiative to ensure that their trade partners get the best out of their products while maintaining the quality of the products. I do hope that more product companies would come forward with such a great program in the near future.