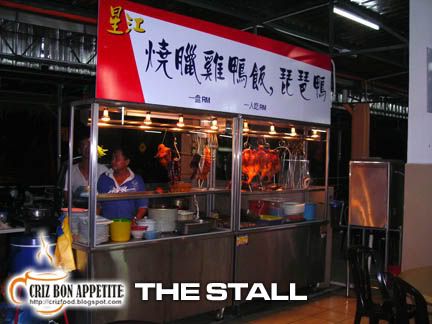 I was quite reluctant to post up this review as the experience there was not so pleasant. If not for the great taste of the Pei Pa Duck, I would have just ignored them. Anyway, it's better for me to forewarn my readers rather than to let them endure the high pricing, bad taste quality of their other products. I was there on their second day of their night operation. While I was dining half way, the garden lightings went dark. Some short circuit I guessed but while dining there for barely 25 minutes, the whole café went dark. Worst still, twice. I hope they did not employ cheap electricians to handle their wiring as it might be quite risky for the patrons there. Well, this might just be a coincident while I was there.
This was not a big issue for me. The main problem lied on the water quality of that area. The water tasted just like chlorine. Although the drink maker did solve this problem, the duck rice hawker did not. The rice tasted horrid. The taste of chlorine was overpowering for me to finish it. I did inform the boss about that and I hope he would take heed on my complaint before he loses more customers. Anyway, before I knew about the problem, I ordered a quarter of a Pei Pa Duck, a mixed platter of Char Siew, Roasted Pork, Chinese Sausage and Roasted Chicken. It came with a complimentary bowl of Chop Suey. All for RM24 which I considered quite high price for the small portion served for 3 persons.
The Pei Pa Duck was tasty. I ordered just a quarter to try out and I was lucky enough to have the drumstick. The meat was tender and without the strong taste of duck scent. The skin was fried to perfection and maintained its crispiness. The sauce which came with the duck was tasty and combined real well with the duck meat. Although this is not the best in Penang, it still deserved some mentions.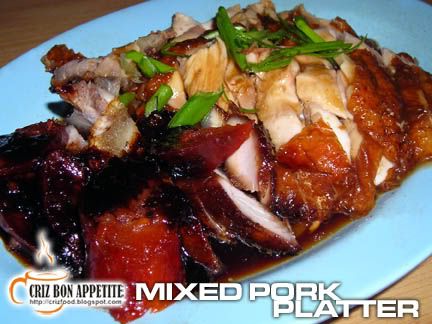 The mixed platter itself was a disaster. The roasted chicken was so bland. Even the roasted skin has no flavor on it. The Char Siew was also terrible. It was dry and tasteless as if it was left there for quite a long period of time. The roasted pork was also dry. The skin was so badly roasted that you would need a hammer to break it apart. Worst still, their utensils were so soft that you can perform some magical bending with them. The Chinese sausage had the best taste amongst all but the boss must make more improvement on the dish as it was still a bit too dry.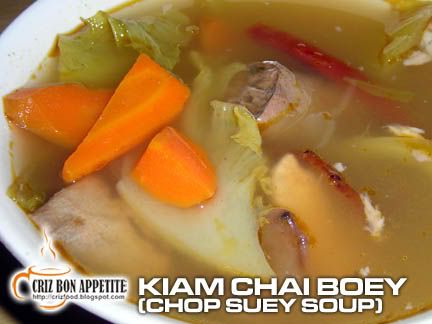 I can't comment much on the complimentary Chop Suey as it was given free but I also hope the boss would make some adjustments to the taste. There was only the thick sour taste of Assam juice and nothing else. The soup lacked of the taste of spices such as dried chillies, ginger and lemongrass.
If you are coming from Bukit Jambul Complex towards the Penang International Airport along Jalan Tun Dr Awang, you will come to a "Y" junction. PISA Stadium is on your left, Public Bank is on your right. Turn right into Jalan Dato Ismail Hashim which will lead you to Sg. Ara district. You will pass 3 traffic lights. Drive on until see S.M.K. Sg. Ara on your left. Keep to your right and you would see another traffic light not far away. Turn right into Jalan Kenari. You will see a sign there stating Desa Ria. Drive on and turn left into the first junction (Tingkat Kenari). Drive on and you would see the café not far away on your right. This place will also serve dim sum (Tien Tien Lye Dim Sum) from 5.00am until noon.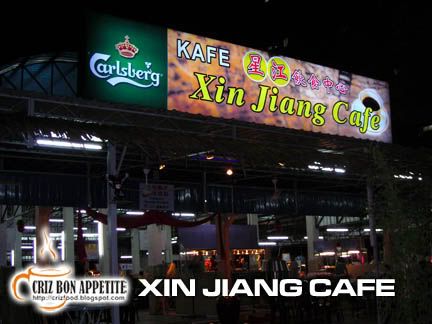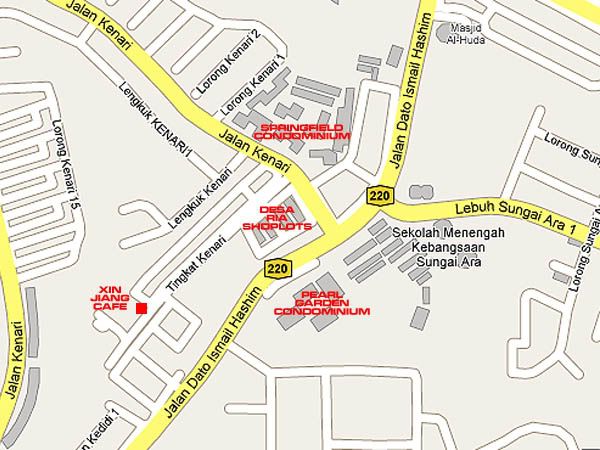 Name: PEI PA DUCK RICE @ XIN JIANG CAFE
Address: 14A, Lengkuk Kenari, Desa Ria Sungai Ara, 11900 Bayan Lepas, Penang, Malaysia.
Opening Hours: 9.00am – 12.00am
Contact: 016-450 3406
GPS: 5.318031, 100.266983
RATING:
Ambience: 7/10 (1-4 cheap, 5-7 average, 8-10 classy)
Food Choices: 7/10 (1-4 limited, 5-7 average, 8-10 many choices)
Taste: 6/10 (1-4 tasteless, 5-7 average, 8-10 excellent)
Pricing: 9/10 (1-4 cheap, 5-7 average, 8-10 expensive)
Service: 7/10 (1-4 bad, 5-7 average, 8-10 excellent)