If you think that made to order dim sum would only be available in hotel-class restaurants, you would be in for a surprise. One of Penang's newest food court, Viva Local Food Haven (formerly Golden Horse Food Court) has just launched its newest dim sum kitchen, Viva Dim Sum Delight (東城點心) on 10 August 2010. The main objective of the outlet opening is to provide more quality and affordable priced dim sum within the reach of the public. In fact, most of their ingredients were Hong Kong based imports.
Let's have a look at how reasonable those delicacies are from the menu. There would be over 30 variety of items for you to choose from, ranging from steamed, deep fried to stir fried food. Click on the photo below for a larger view.
To start the fiesta, we had the Traditional Steamed Glutinous Rice (古法糯米雞-RM3.80). There was a strong hint that the glutinous rice was flavorfully stir fried prior to steaming with precooked chunks of chicken, Chinese sausage and BBQ pork (char siew). The whole combination was quite fine except I still prefer mine to have a few Chinese mushrooms and wrapped in lotus leaves for that extra flavor.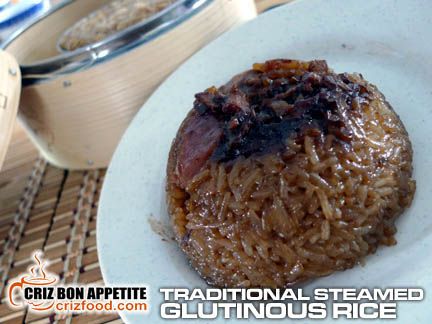 The next was the Crispy Dragon Roll (香脆升龍卷-RM3.80). This is indeed the gigantic version of the usual prawn roll, with larger prawns too. It was served on a bed of the chef's specially created mayo sauce with a hint of mustard added. It was a nice combo deal.
When I thought I could only get the Shanghainese Meat Dumpling (小籠包-RM4.80) from posh restaurants, I was surprised by the next presentation. What? 3 Xiao Long Bao at that price when others are double or triple fold that pricing? The soup within each dumpling was indeed abundant and tasty. When combined with the provided ginger strips in black vinegar, it was heaven! The only fallback was the amount of meat inside. One can't complain for the price paid right?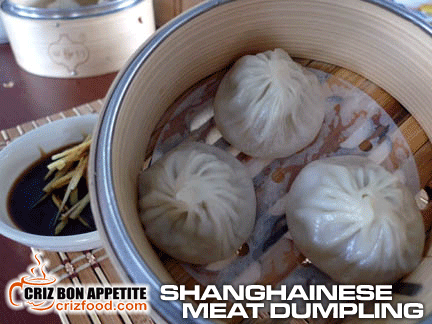 There was also a manual showing the right way to consume the dumpling without spilling all over your body. Cute!
What would be dim sum without some beautifully created and tasty buns? The chefs sure know how to tempt the taste buds of their patrons with their delicious sweet and savory buns. One such product would be their recommended Steamed Bun with Butter Cream & Egg Yolk (特制流沙包-RM4.80). Indeed it was the best bun I had in ages. Even the texture of the bun was remarkably smooth and fine. A small nibble at the side saw a large flow of golden egg yolk colored cream oozing out furiously. Well, there's a skill in consuming this bun as well without drowning your fingers in sweetness. The method of eating is just like the Xiao Long Bao stated above.
There was such a term as "sweetness will come in pairs". The next bun which was Steamed Bun with Premium Lotus Paste and Egg Yolk (蛋皇蓮蓉包-RM3.80) was a double happiness. It had a lot of finely ground lotus paste and a big salted egg yolk. A bit sweet for my liking but having 3 buns as a set would surely please those sweet lovers.
Next was the Steamed Bun with Supreme Barbequed Pork (蜜汁叉燒包-RM3.80). The overall taste was nice except that it was a bit too dry to my liking. I prefer to have mine with some added toasted sesame seeds mixed with the ingredients too.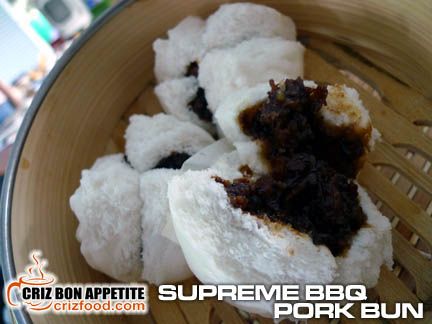 The next set of buns got all the "wives" rolling their eyes at their "husbands". How dare you touch these Shanghainese "Mistress" Bun (上海二奶包-RM4.80)? Just look at that shape! Don't you think they do resemble something? LOL! Anyway, these buns have some nice custard-like buttery cream within.
You could also get some savory type of buns with some sweet crust on the surface – Baked Hong Kong Style Polo Bun (香港菠蘿包-RM3.80). Each bun would be filled with some barbeque pork slices.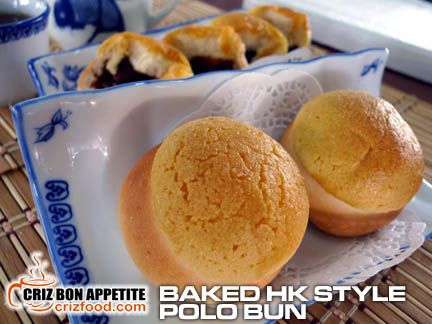 Do also check out with the staff there on their weekend specials. One of the specials we had was the Scallop and Fish Roe Dumpling (鳳眼帶子餃). I would say this was one of the great fusion combinations as the dumpling was filled with large prawns, topped with fresh scallop and garnished with fish roe, spring onion stalk and a leaf of coriander.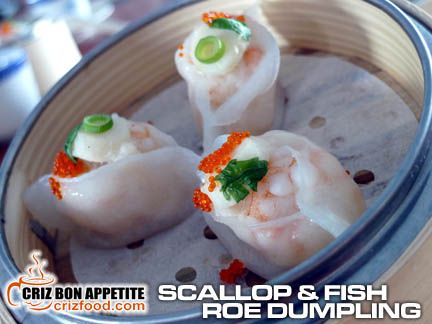 Another of the weekend specials was the Dragon Whiskers Roll (龍鬚卷). Sweet indeed and it had a rather unique combination of filling. The deep fried delicacy was filled with blended avocado, custard cream, butter and wrapped with a type of rice noodles. Those sweet tooth lovers would surely love this crispy product.
If you are driving from town towards Batu Ferringhi beach area, you would pass by Island Plaza shopping mall on your right. Drive all the way until you meet with a curve. You would see a traffic light (UDA Flats on your right). The food court is actually a bit further up on your right but you need to make a U-turn to reach the venue. So, drive on and keep to your right until you see the next traffic lights (Tanjung Bungah Beach Hotel on your right). Make a U-turn until you see the Chinese Swimming Club on your left. Immediately after the building you would see a lane on your left (Jalan C M Hashim leading to Naza Hotel). Turn left and you would the food court on your right with ample parking space behind.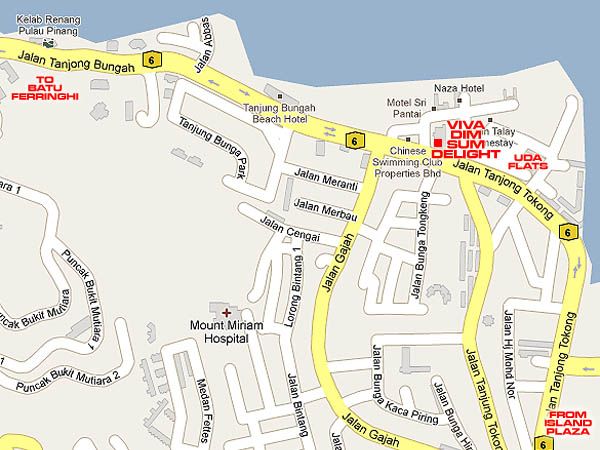 >
Name: VIVA DIM SUM DELIGHT (东城点心)
Address: Lot 303, Jalan Tanjung Tokong, 10470 Penang, Malaysia.
Opening Hours: 6.00am-2.00pm
Contact: 604-890 2549
GPS: 5.462813, 100.305056
RATING:
Ambience: 7/10 (1-4 cheap, 5-7 average, 8-10 classy)
Food Choices: 8/10 (1-4 limited, 5-7 average, 8-10 many choices)
Taste: 7.5/10 (1-4 tasteless, 5-7 average, 8-10 excellent)
Pricing: 7.5/10 (1-4 cheap, 5-7 average, 8-10 expensive)
Service: 8/10 (1-4 bad, 5-7 average, 8-10 excellent)