Hunting for an early dinner in Taiping, Perak can quite tedious especially those good ones would only operate from 6.30pm onwards. I never had such problem in Penang at any odd hours. LOL! Anyway, after a few failed attempts to locate good hawker food stalls along the Taiping Lake Garden as well as at the Pusat Penjaja Taiping, I ended up at The Gate Café. Initially, I thought it was just another mamak store but upon checking, they have both local and western cuisine in their menu. Better still, all items were at nett price. Cool!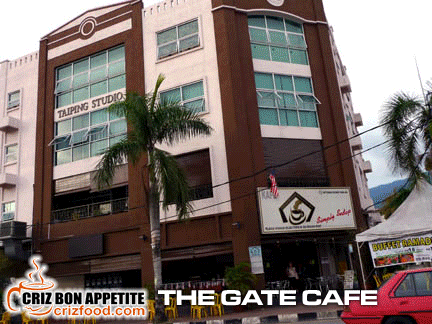 Since I had a car load of other Taiping local goodies, especially the Huan Chu Leng, I decided to go for a light dinner. We just ordered a set each of Grilled Chicken with BBQ Sauce (RM8.90) and Grilled Chicken with Black Pepper Sauce (RM8.90). To my surprise, the grilled chicken drumstick fillet came out better than my expectation. The surface still had the crispiness from the grilling and the meat was tender and juicy. There was a hint of turmeric being used as marinates. Nice! The BBQ sauce was also great. Although the black pepper sauce was a bit diluted but it was quite flavorful to compliment the grills. Each set came with some greens and potato salad. The potato salad was beautifully prepared too. What a nice change from the usual fries.
As for beverage, we had Iced Lemon Tea (RM2.50) and Sprite Float Jumbo (RM8.50). Just look at the size of the mug! I was wondering how my friend could gobble up that much liquid mixed with 3 large scoops of Vanilla ice cream. Amazing! Anyway, that drink was a good bargain.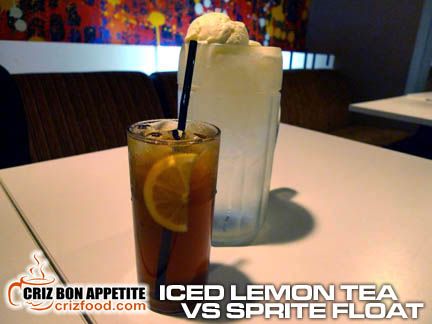 What amazed me were not the Western dishes but the spread of buffet dishes they have for breaking fast during this Ramadhan Al Mubarak period (16 August – 8 September 2010, 6.30pm-8.30pm). I should have waited to try out those dishes cooked by their Chef Emer, Chef Ahmad and Chef Hassan although driving back to Penang alone with a full stomach might not be a good idea after all. 😛 There was a little corner with all those ulam-ulam (raw vegetables with sambal belacan), Mee Kari Bali, cut fruits, local desserts (kuih-muih), rainbow jelly, cendul and many more. On the other corner were the main dishes with hot steaming rice or Nasi Briyani, Sayur Goreng Buncis Ala Malaysia, Ikan Keli Masak Lomak, Kari Daging Kampung and so on. The menu changes daily with at least another 20 proposed attractive dishes such as Ayam Rendang Trengganu, Daging Arab Utara and Udang Goreng Nestum. It's only RM18.00 nett (per adult) or RM12.00 (per child). Hmm… maybe I shall visit the café in another visit. Those dishes sure gave out a nice and flavorful aroma.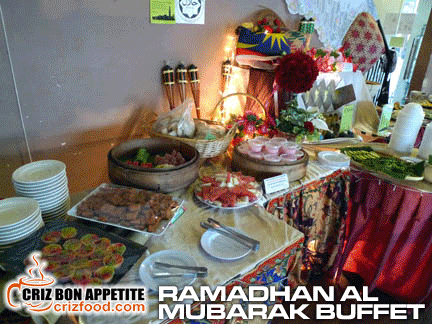 If you are driving in through the Simpang highway, go all the way up the flyover until you see a "Y" junction (Masjid India Jalan Kota). Turn right into Jalan Kota and drive all the way until you see Public Bank on your right. Turn right into the junction before the bank (Jalan Sultan Abdullah) and drive all the way pass a cross junction (Jalan Sultan Abdullah/Jalan Panggung Wayang). From here you can see Pusat Penjaja Taiping (Chu Chang Ka/樹下) on your right and Taiping Studio on your left. The Gate Café is just below the Taiping Studio at the cross junction between Jalan Sultan Abdullah/Jalan Maharajalela. There would be ample free parking spaces behind the building. For your information, if you turn left into Jalan Maharajalela, it would lead you directly to the Taiping Lake Garden/Taiping Zoo.
Name: THE GATE CAFE
Shop Address: 33 Jalan Maharajalela, 34000 Taiping, Perak, Malaysia.
Contact: 05-805 7748
Opening Hours: 9.00am – 12.00am
GPS: 4.85038, 100.74421
RATING:
Ambience: 7/10 (1-4 cheap, 5-7 average, 8-10 classy)
Food Choices: 8/10 (1-4 limited, 5-7 average, 8-10 many choices)
Taste: 7/10 (1-4 tasteless, 5-7 average, 8-10 excellent)
Pricing: 6.5/10 (1-4 cheap, 5-7 average, 8-10 expensive)
Service: 9/10 (1-4 bad, 5-7 average, 8-10 excellent)