I had written earlier on Nasi Kandar Beratur in the heart of Georgetown, Penang, which got many people grumbling impatiently just to wait for their turn to get their plate of curry rice. Alternatively, out of the many Nasi Kandar shops scattered all over Penang island, I found one that has the same quality, if not better, that would cut down on your waiting time. It's also located within the heart of Georgetown, Penang, with ample sitting places. It's called Restoran Seven Star with only another branch in Changlun, Kedah. Just to compare the price of the food served here with Nasi Kandar Beratur (NKB), I ordered the same items. I had a plate of rice (RM1 – a bit more than NKB) with onion omelette (RM1), a chicken thigh (RM3 – NKB cheaper with a full drumstick at only RM4.50), a piece of beef (RM1.50) and 2 steamed lady fingers (60sen) which cost RM7.10 a plate. Although the price here can be considered a bit higher than NKB in term of the chicken pieces, the beef slices served here were indeed bigger, thicker and awesomely more flavorful. On top of that, there were more options here (flower crabs, fish egg, squid eggs, different style of mutton and fish curries. I personally felt that the combination of different curries on the rice here was indeed more heavenly than NKB. You should not miss out their Indian Onion Fried Chicken (RM3 per piece) as it's extremely tasty with the rich flavors from the deep fried onions and spices.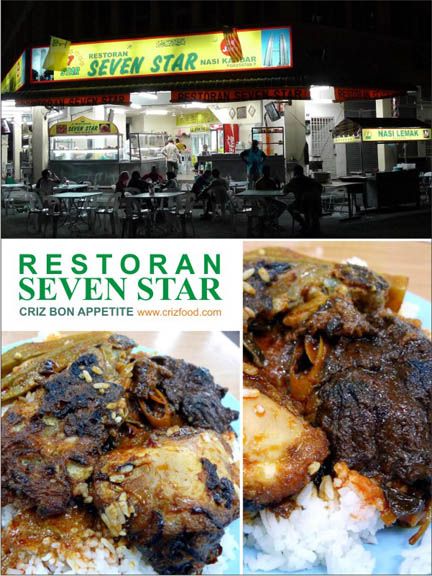 What attracted me more to pay them an almost weekly visit was not the Nasi Kandar but their delicious Nasi Lemak Ayam. This restaurant served the best Fried Chicken Nasi Lemak I had tried so far. Every single piece of your choice chicken piece would be fried only upon ordering, while maintaining the juiciness within the meat and the crispiness on the outer layer. Even the normal set of Nasi Lemak (RM2.20), served with peanuts, deep fried anchovies (ikan bilis) and their special sambal sauce would be very tasty. Their hot steaming coconut milk rice (nasi lemak) had the right texture, fragrant and taste. The little chopped ginger that you can find within the rice gave it that extra flavor, which you don't see in many other nasi lemak stalls. The sambal was just right without being overly spicy. What would be more perfect than having a nice and hot plate of normal Nasi Lemak, topped with a piece of delicious fried chicken (RM3) and an omelette/hard boiled egg (80sen)? It would surely be a fulfilling meal at RM6.00 nett. 🙂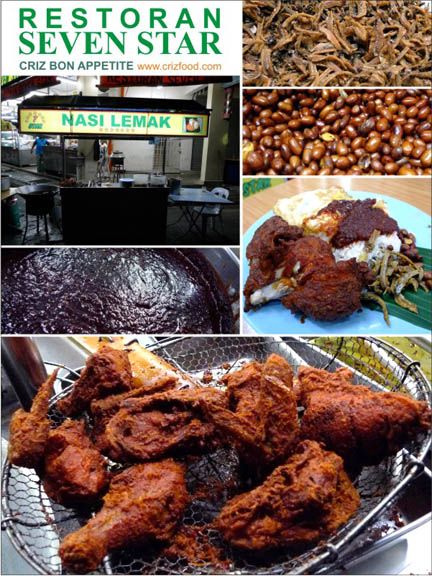 Finding the restaurant is rather easy as it is situated just at the corner of some new shop houses along Gat Lebuh Macallum, leading to the wholesale dry market and Harbour Trade Centre. If you are coming from the ferry terminal along Pengkalan Weld (Weld Quay) towards Jelutong Expressway, just take note of three yellow colored medium cost apartments on your left (Sri Saujana 42A, 42B & 42C). Turn left into Gat Lebuh Macallum just before the traffic lights (Gat Lebuh Macallum/Pengkalan Weld). You can see the corner restaurant at the left side service road. WIFI would be available here and this is a nice place to hang out with friends, provided the weather is fine.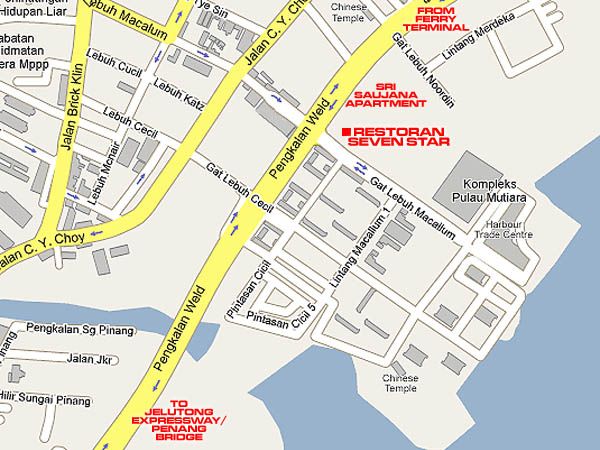 Name: RESTORAN SEVEN STAR
Address: 40 Gat Lebuh Macallum, 10300 Penang, Malaysia.
Contact: 604-263 2580
Opening Hours: 24 hours, 6.00pm-4.00am (Nasi Lemak)
GPS: 5.407748, 100.332871
Kedah Branch:
Address: 4-A-Aked MDKP, Pekan Baru Changlun, 06100 Changlun, Kedah, Malaysia.
Contact: 604-924 1318
RATING:
Ambience: 7/10 (1-4 cheap, 5-7 average, 8-10 classy)
Food Choices: 8/10 (1-4 limited, 5-7 average, 8-10 many choices)
Taste: 8.5/10 (1-4 tasteless, 5-7 average, 8-10 excellent)
Pricing: 7.5/10 (1-4 cheap, 5-7 average, 8-10 expensive)
Service: 6.5/10 (1-4 bad, 5-7 average, 8-10 excellent)