Note: This restaurant has changed management in 2010. The original owner was said to have shifted to KL. Her where about is unclear.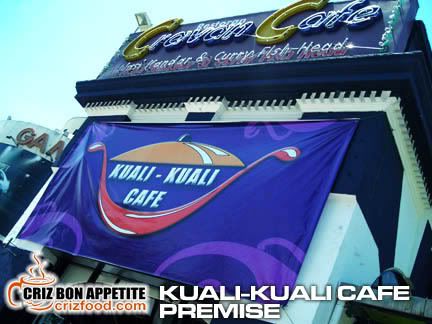 "Simply Irresistible! Aromatic! Colorful! Fresh! Delicious!" These were the words that shouted out from my mind when I first stepped into this barely 5 months' old authentic Malay cuisine restaurant right in the middle of the hustle and bustle of Georgetown, Penang. Kuali-kuali Café, as the restaurant was named, took over the former Craven Café premise located at the junction of Jalan Dato' Kramat and Jalan Macalister and had since grown to be a favorite eating place for Malay cuisine lovers from all parts of the island as well as tourists. I even saw some factory workers in uniforms from the Bayan Lepas FTZ area patronizing them.
A brainchild of a former St. George's High School girl, Cik Sharifah Haslina, together with her husband, Encik Mohd Sophian, catered to the needs of its customer from breakfast until supper. As for breakfast, they would prepare some simple dishes such as Nasi Lemak (Steam Coconut Milk Rice) served with fried anchovies, eggs, sliced vegetables and a few types of curries or you can also try out their ingredients filled noodles such as Bee Hoon (rice vermicelli), Mee (yellow noodles) and Koay Teow (rice cake strips).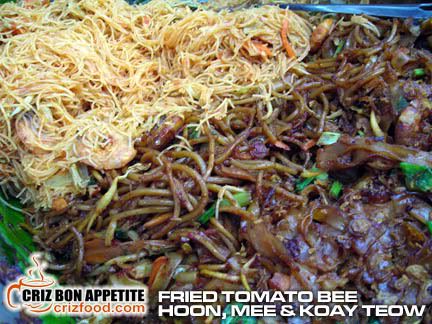 The breakfast dishes may look simple but the taste was great. What impressed me more was their spreads for their lunch and dinner, served with plain hot rice or occasionally with tomato rice. Could you imagine having around 60 dishes served in cute looking mini woks and rattan trays under that rustic village style attap roof buffet line? This would surely be a great experience for many as you would only get this type of buffet spread at the hotels. Moreover, most of the dishes were not as spicy hot as their fiery looking colors and they do change a small percentage of their dishes daily.
As there were just too many dishes to share you here, I would just brief you on some of the dishes such as their appetizing ulam (Malay salad), seafood, poultry and soup. Let's start with the salad part. There were many varieties of fresh vegetables and wild herbs served with two types of dressing. One was the Sambal Belacan which has pounded red chillies, chilli paddy, lime juice and some toasted shrimp paste powder. The other was another diluted dressing that would go well with grilled fish. The dressing has some cut red chillies, chili paddy, big onions and tomatoes mixed with some lime juice. Both dressing complimented the vegetables as well as the dishes real well.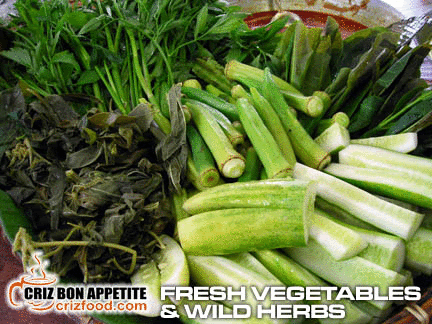 Do you know that before I went into the restaurant, there was this man outside preparing some grilled fish? The scent coming from the smoke got me even more prepared to jump right into the many varieties of fresh fish dishes they have in there. From the look of the tender yet juicy grilled stingray pieces, you can be assured of its freshness. Even the stuffed hardtail mackerels (ikan cencaru) and chubb mackerels (ikan kembong) had those crystal clear eyes.
I can say that they sure know how to prepare their seafood dishes well and with different combination of spices and ingredients. I was surprise to see many seafood dishes that I had not taken for a long time such as the Cockles Salad and Salted Fish Curry. On top of that, the taste of each individual fish curry had its own unique flavors. There were just too many to taste out at one visit. Maybe a slide of the seafood dishes would prove me right.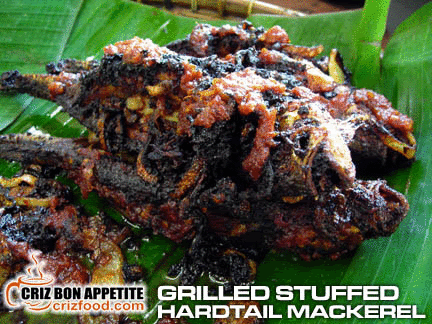 The poultry section was also impressing. They have so many options from a simple Beansprouts with Beef Stomach Salad, Indonesian Dry Beef Curry (Rendang Minang) to their house specialty such as the Red Curry Chicken (Ayam Masak Merah) and Village Style Fried Chicken. The delicious Village Fried Chicken was crispy, a bit like a spicier KFC Original Chicken.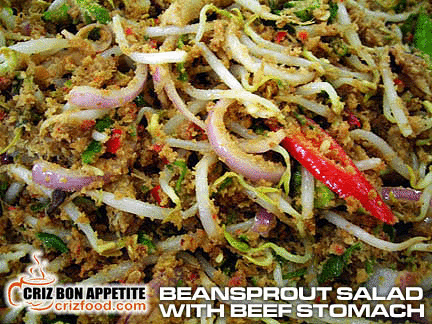 If you feel that there would be too much of seafood and poultry dishes in your meal, you could always check out their little vegetarian corner. There would be around 10 dishes such as tofu, mixed vegetables, and many assorted vegetables cooked in different styles to meet your desire.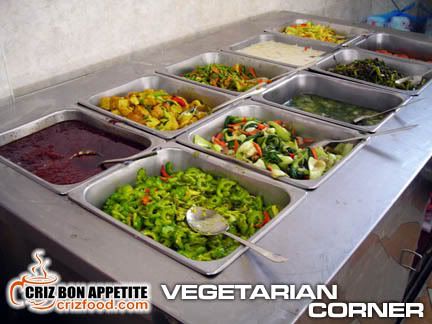 Do also watch out for their popular demanded Beef Bone Soup (Sup Tulang Lembu). The aromatic smell of the piping hot soup and the tender meat on the bone is a sure must have dish if you love thick and flavorful soups. Each bowl would cost between RM4.50 to RM6, depending on the amount of meaty bones you have scooped.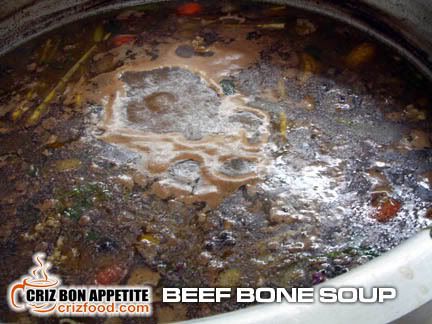 Well, it took me quite some time to study all the dishes in the restaurant but it's worth the effort to know more of these wonderful authentic Malay cuisines. I ended up with a plate filled with the different types of gravy to try out their cooking style. Moreover, I had a piece of Chicken Thigh cooked with Sweet Dark Sauce, some Turmeric Fried Tofu cubes, Indonesian Dry Beef Curry and a piece of Onion Omelette – all for only RM5. It's cheap right? You should try to make a visit there and I can assure that you would not regret the experience.
Note: If you are real adventurous to try out all the gravy – Do not put too much as my plate of rice ended up with too much oil. But then, I did finish to the last bit as the food was simply too delicious. Another thing to take note would be the visiting hours. The best time would be 7.30am for breakfast, 11.30am onwards for lunch as all the food would be out hot and fresh. They do not cook more dishes for dinner. The dishes would be whatever left during lunch but you can always order other items such as fried rice, noodles soup, etc.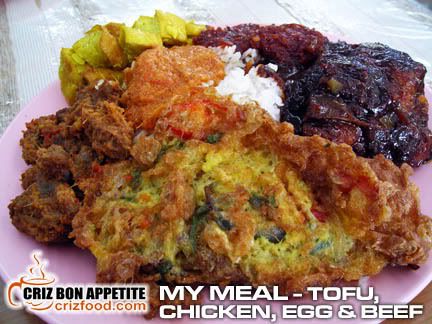 Although the restaurant was located at a heavy traffic area with quite limited parking areas, you could see it filled up with customers any period of the day. It would not be too hard to spot the place as the restaurant would be located just at the junction of Jalan Dato' Kramat and Jalan Macalister. Prominent landmarks to watch out would be the GAMA Supermarket and KOMTAR.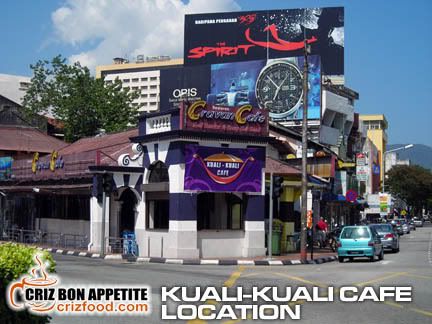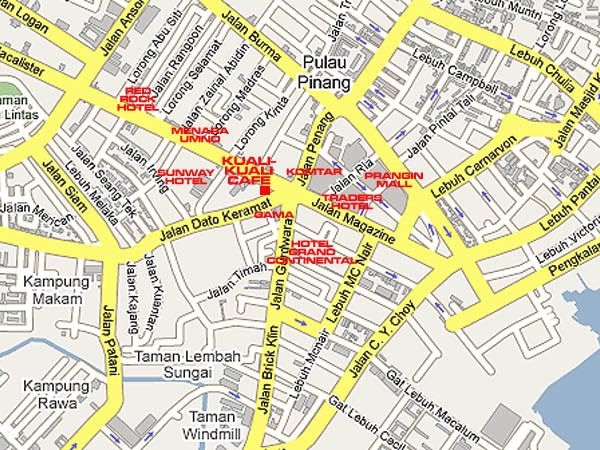 Name: KUALI-KUALI CAFE
Address: 2 Jalan Dato' Kramat, 10150 Penang, Malaysia.
Opening Hours: 7.00am-12.00am (Mon-Fri), 7.00am-4.00pm (Sat)
Contact: 016-426 2184 (Cik Sharifah Haslina Mufazzal)
GPS: 5.413997, 100.328167
RATING:
Ambience: 7/10 (1-4 cheap, 5-7 average, 8-10 classy)
Food Choices: 9/10 (1-4 limited, 5-7 average, 8-10 many choices)
Taste: 9/10 (1-4 tasteless, 5-7 average, 8-10 excellent)
Pricing: 6/10 (1-4 cheap, 5-7 average, 8-10 expensive)
Service: 8/10 (1-4 bad, 5-7 average, 8-10 excellent)